ORLANDO, FLORIDA—The massacre at Pulse, the gay nightclub that became the site of the worst mass shooting in modern American history early on June 12, has left a dead zone in the middle of the city. On Friday, within the restricted crime scene perimeter, several businesses, including a bike shop, a taxi dispatch station, and a Dunkin Donuts, were still inaccessible; vehicles of victims and survivors were still stranded. For many folks in Orlando, the area feels hallowed, suffused with the queasy energy that's released when a space of joy is violently transformed into a site of death.
I'd feel this first hand later that Friday night, when some new Orlandoan friends tried to get me to Pulse by car. A turn was blocked by orange barricades, the patchy street beyond them stretching into the shadows. They debated trying a back route through a store parking lot, but I declined—faced with the opportunity, there was something about the idea of going too close to the core of this disaster, this violation of hundreds of bodies and millions of minds, that unnerved me.
Earlier that afternoon, I was working in my room at the Parliament House, a charmingly weathered gay "resort" in an otherwise desolate section of town. (One does not stay at P House, I later learned from locals whose faces soured when I announced my accommodations, though one may certainly play in its sprawling compound of bars, dance floors, and performance spaces. In fact, friends of some of the victims desperately hoped that their loved one had been doing just that when their phones started buzzing last weekend.) Around 3 p.m., a less charmingly weathered man walked by my window and stopped to stare at me, aggressively, for a full 20 seconds. This, I later learned from the locals, was a turn of "Balcony Bingo." While the man did not take the square, he did remind me that wanting to fuck is a legitimate and common response to tragedy.
After sipping a Tito's-and-cran proceeds-to-Pulse special at Savoy, a gay bar with the rather ingenious marketing strategy of advertising its hunky bartenders as entertainment, I ubered over to the home of Jerome, a warm and wise-cracking middle-aged gay man who'd offered to introduce me around. My Uber guy Ilmar said he was scared to go out. He'd heard the shooter slid his guns under the patio fence at Pulse before coming inside to retrieve them, but you know there's a video online of how you can walk in anywhere with all those guns unnoticed anyway. I was glad, quietly, that Jerome had invited me to a private party that evening.
The party was at a very nice house in a gated community, with a backyard pool area that looked like something from a Bravo reality show shot in Los Angeles. A very tall gay named Jeremy was also scared to go out, but not (only) because of hidden firearms—survivor's guilt was putting a damper on things for everyone, he said. "It's Friday. We go out on Friday. What should we do?" Elsewhere at the very nice house, guests, mostly gay and male, savored bites of Jerome's suspiciously moist pineapple cake and argued over whether the shooter was driven to terror by religion or just by a horribly clichéd terror of himself. Waking up on Sunday Funday to a massive crater at the center of your social landscape is apt to raise all sorts of questions.
* * *
At the protest outside Drew Leinonen's memorial service on Saturday morning, three butch-ish lesbians walked by me with rainbow-patterned tape over their mouths, so I decided to shut mine for a while as well. The devastatingly homespun scatter of memorial sites on the generous lawn of the Dr. Phillips Center for the Performing Arts is a good place for quiet. In another part of town, a hippie bus painted in the visible spectrum was filling the audible one with stoner philosophy like "Homophobia is gay." But here, visitors reverently circled the largest collection: photos, candles, teddy bears, deflating balloons, flags (American, Puerto Rican, queer), poems by children, and thousands of grocery store flowers in various states of decline—all strewn according to the messy logic of grief.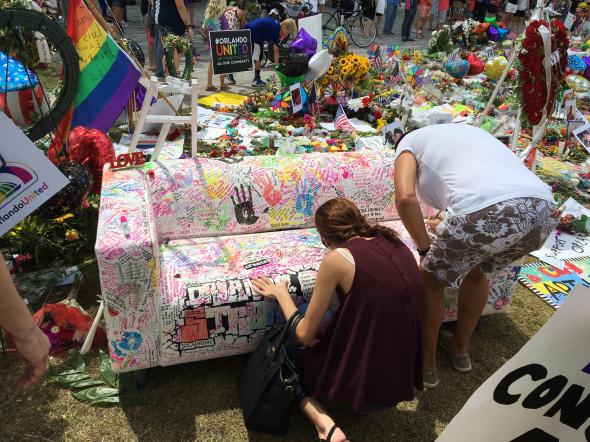 At one end of the assemblage, a white sofa—maybe a reference to Pulse's noted "white room" remodel—was gradually succumbing to notes of remembrance and support. A large man, sweating through his blue dress shirt, arrived with a bough of roses and carnations in pinks and reds. Eyes hidden behind oversized bejeweled sunglasses, he released the flowers gently, the way a pastor sprinkles water on a baby's forehead, around the edge of the oval. Church bells occasionally wafted over from the city center. It being Saturday, these were for funerals.
From the backseat of Roberto's Mercedes-Benz on Saturday night, I hear more reverberations of Pulse. His friend's mother—Brenda Lee Marquez McCool, by what he recalled of her looks—was one of the slain. Another female friend got shot twelve times and survived, though one of the bullets can't be removed. She insists there was a second shooter, and that someone else was holding the door. "It's been dead out this weekend," Roberto observes with a sigh. I rate his service with five stars.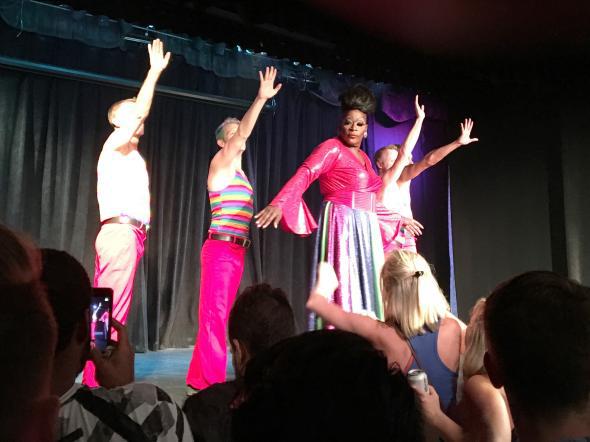 It's hardly dead at P House though. It's so busy, in fact, that Miss Ross, the door lady, is already getting testy with money fumblers like me in the $10 cover line, and it's not even 11. To be fair, the TSA-like pat-downs and wand scans are slowing things down, but folks seem more than happy to comply. There's a sense of purpose in the air.
I cannot tell you about everything that happened at P House on this night, exactly one week out from the massacre. Not about the breathtaking depth of head entertainer Ms. Darcel's lip-synch rendition of "Rise Up." Not about the intense admiration I felt for tonight's particular instantiation of that one shirtless, probably rolling queen who always insists on dancing alone until everyone else catches up. Not about what it meant to see a traumatized, jobless Pulse staff member tip a drag performer. And not about the old man who sobbed freely when the music went quiet at 2 a.m.
Not yet.
But I do want to show you one thing that happened on Saturday night at P House: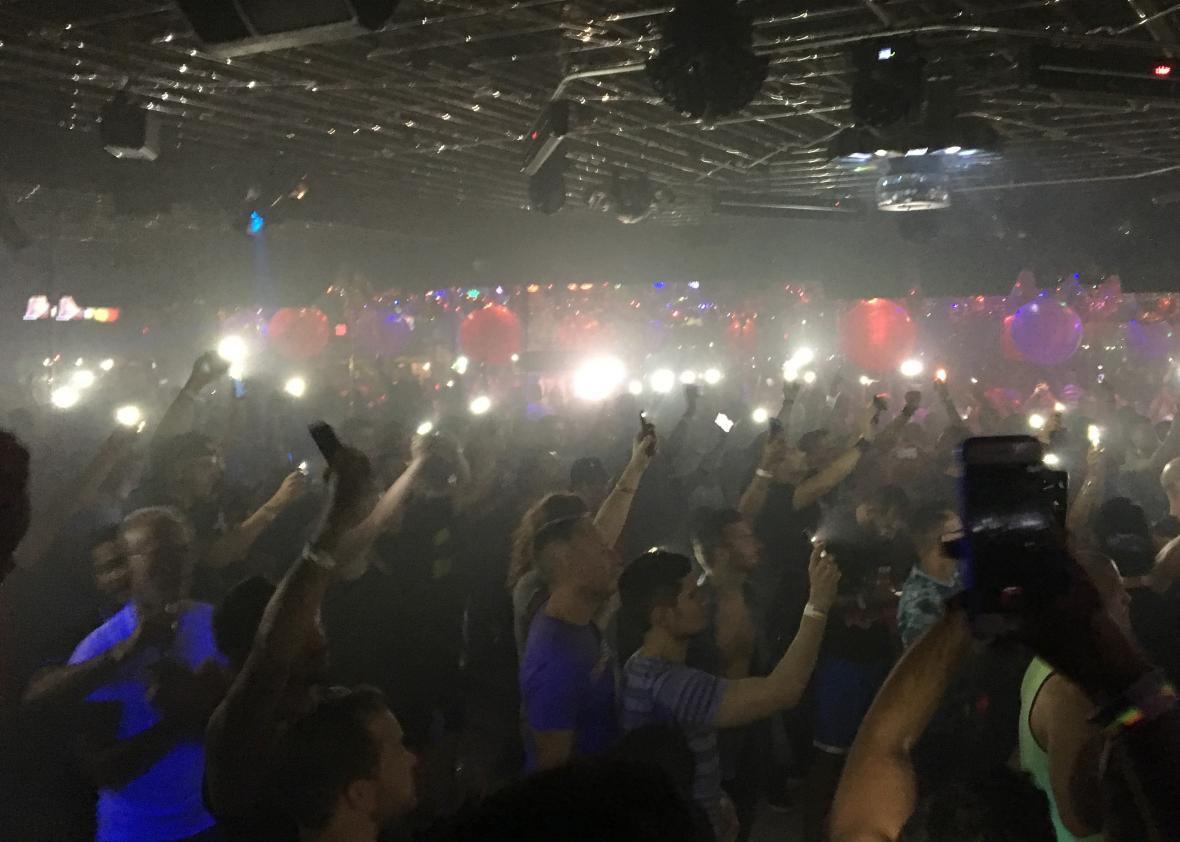 At around the same time, a friend of Drew's was over at Dr. Phillips, visiting the memorial once more before flying home. She and another friend circled the site in the dark, relighting every candle for every victim that the wind had blown out and adding some for those without any.
"It was very cathartic," she told me.
There was a lot of catharsis in Orlando that night.
* * *
By late Sunday morning, the heat had dissipated somewhat, enough that folks seemed comfortable while browsing the stands at the Lake Eola Park farmer's market and craft fair. In a few hours, around 50,000 people would pack the ring around the water to mourn the city's lost queer and Latino children, but for now, there was plenty of room for baby strollers and the lake's population of extremely unbothered swans to mix with ease.
In addition to the usual food stands and trinket hawkers, there was one woman selling something called "Orlando Strong" Salt Glow for $20, with proceeds going to one charity or another. And over at the Lavender Menace tent, a similar set-up was in place for Orlando Strong–branded dog bandanas. My non-alcoholic mojito green iced tea did not come with a hashtag. But the message of support was getting through: Never outside the walls of a gay bar (or bar elaborated into a community, like Provincetown) have I seen so many queer couples openly holding hands and expressing affection in public as I have this weekend in Orlando. Locals assure me this is new.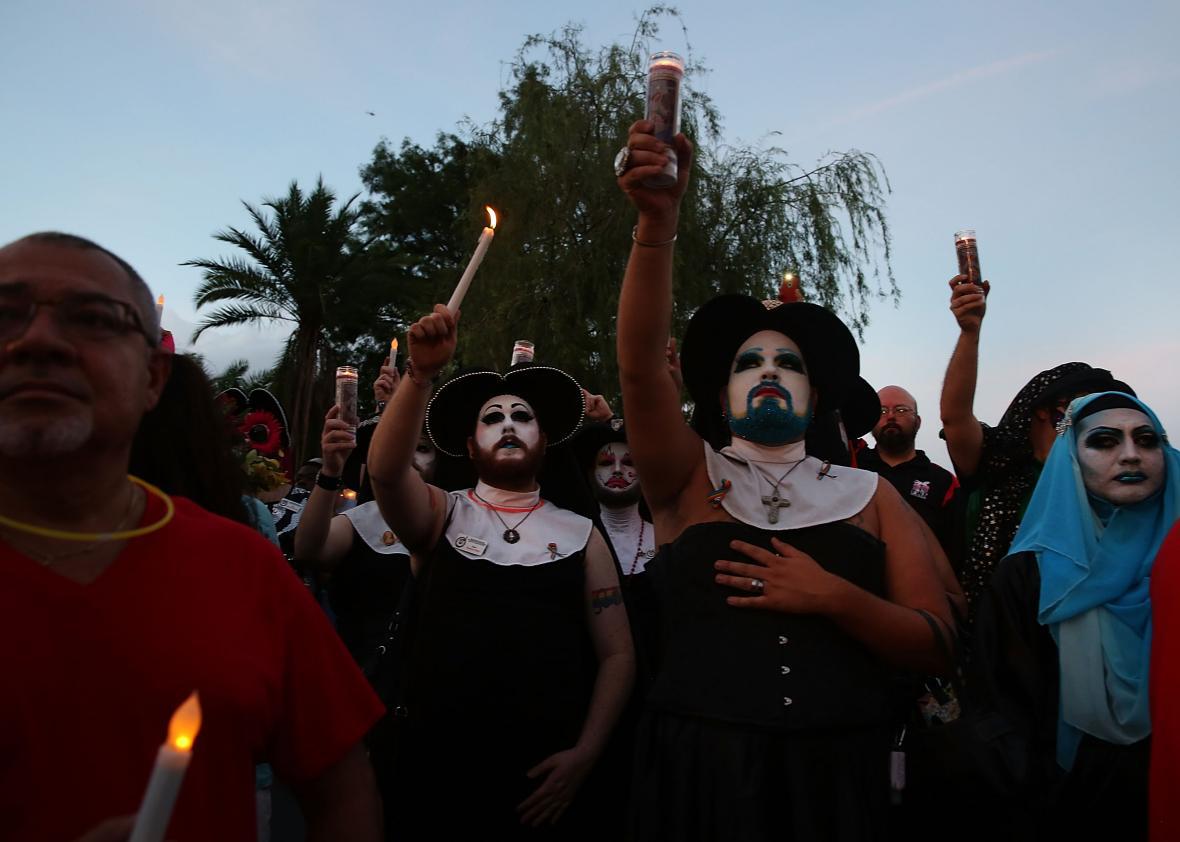 Mid-afternoon, I encountered Sister Starry Eyed on the patio of a Panera. She was part of a contingent of the Sisters of Perpetual Indulgence who were preparing for the evening's vigil. Wearing an emerald blouse and navy skirt along with the Sisters' signature white grease paint and a glittering veil, Starry Eyed assembled glow sticks and separated freeze pops as she shared her message to the community: "We're here, and we're not going to stand for this sort of thing."
The Sisters carried that resolve forward into the amphitheater where the vigil was centered, receiving a round of applause as they entered with fists raised to the heavens. One of their number later rewarded those lucky enough to find a seat with blessings of glitter cast up and down the aisle. On the mile-long loop around the lake, smiling volunteers offered other items: Target passed out gallons of bottled water; Randomacts.org handed me a paper bag containing a candle and tissues; 1-800-Flowers had donated over 22,000 carnations; a random old lady gave me a silver Hershey's Kiss. And then, just before speeches began at 7:30, nature gave everyone a goddamn rainbow.
Compared to that, even the best speeches and songs can't say much more. But even so, certain statements stood out: Orange County Mayor Teresa Jacobs admitted that straight people's homophobia, however passive, had enabled what happened at Pulse. City commissioner Patty Sheehan, a lesbian, affirmed that phobias, whether of Muslims or queers, are all bitter fruit of the same tree. And Diana Bolívar, President of the Hispanic Chamber of Commerce for Metro Orlando, said a bunch of things in Spanish that I couldn't understand—which, given the overwhelming Latinness of those who died at Pulse and those who must now deal with the aftermath in a foreign tongue, was the moral thing to do.
On the way back to the hotel, Jorge, another Uber driver, asked how the vigil went. It was beautiful, I told him. This was probably underselling what the sight of tens of thousands of strangers, mostly straight, holding up flames in honor of folks like me—folks who died while doing the kind of frivolous, essential, joyful thing I do most weekends—will mean for my sense of belonging in this world.
"You know," Jorge said of Pulse, "I used to go there, my wife and I all the time would go to Noche Latina." A disabled friend of his had survived the attack, he shared as we neared my destination, only because a bartender had hidden him during the spray. I was relieved to hear that, I said, and thanked him for the ride. As I went to get out of the car, Jorge looked at me in the rearview mirror.
"Hey man," he said, "you are my people." After what I had witnessed in Orlando that night, I believed him.