I find few things sadder than a print encyclopedia. Encyclopedias were once so stalwart and useful, sold as a stable repository of knowledge that would carry a family through life for years; the relic sets are now utter dead weight. I see them sometimes at library book sales, and spend a minute opening up a random volume, thinking about the night I wrote a fifth-grade paper on the Aztecs that relied overmuch on our old World Book. But despite a wave of nostalgia, I never take the orphans home. Who has the shelf space?
There are dead encyclopedias lurking everywhere, in basements and garbage dumps and church sales, because the publishing industry had such success at selling them to Americans in the 20th century. At their 18th-century Enlightenment origins, encyclopedias were for the educated elite. In the United States, historian Ann Katherine Johnson writes, reference books like encyclopedias and dictionaries began the 19th century as a luxury good—"tools for a relative few"—and exited as "mass-produced books designed 'for the people.' " By the 20th century, in North America, encyclopedias had become a middle-class social tradition.
"Through most of the twentieth century, as many as 90 percent of American encyclopedias were sold door to door," writes Jack Lynch in his book You Could Look It Up. Encyclopedia salespeople became so common as to be the butt of some pretty good jokes. But their pitch—"If you want to get ahead, you'll invest in a set"—hit on some serious anxieties. "They were selling not books but a lifestyle, a future, a promise of social mobility," Lynch writes. "You are holding your family's future in your hands right now," a 1961 ad for World Book, featuring a feminine hand grasping an order form, promised.
The advent of the home personal computer, and then the internet, killed the print encyclopedia dead. Why does this feel like such a tragedy to me? Encyclopedias were full of ideology, but pretended to be neutral; as proponents of the Wikipedia model point out, there is some advantage to the way we perceive authority now, as a distributed, ever-evolving web of edits and updates, performed by self-appointed experts who should be trusted only so far and no further. Yet my sense of nostalgia persists. 
Artists Brian Dettmer and Guy Laramée tap these feelings in their work. Dettmer explodes encyclopedias, ransacking their interiors for illustrations and scattered words, putting them on display in new configurations. When you look at the resulting pieces, you recover some of that feeling of endless browsing, catching your eye on one image, then another; in fleeting impressions, you get a sense of the kind of world the encyclopedia portrayed. Laramée, on the other hand, approaches the books as objects, leaving them closed and monolithic, their art and words lost to the viewer. Sculpted into landscapes, they transcend their form, becoming something totally new.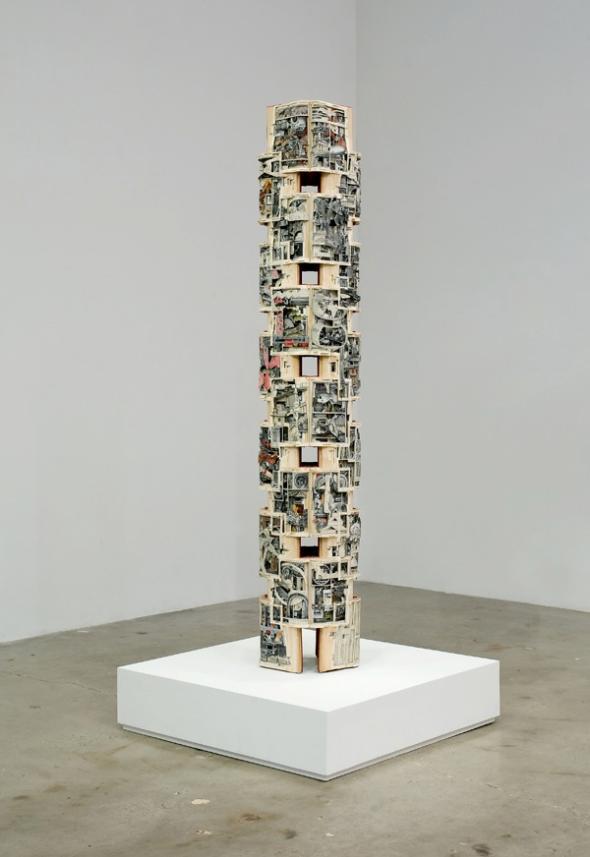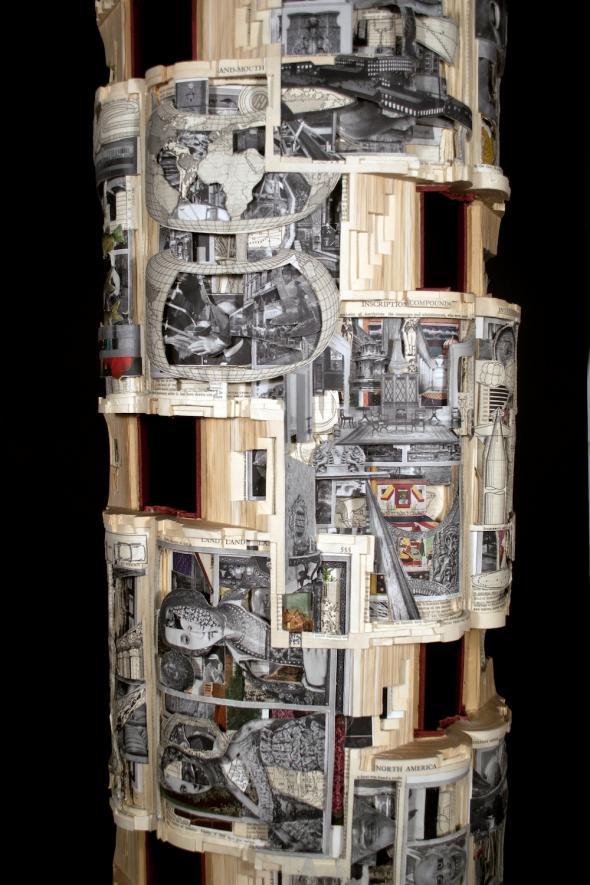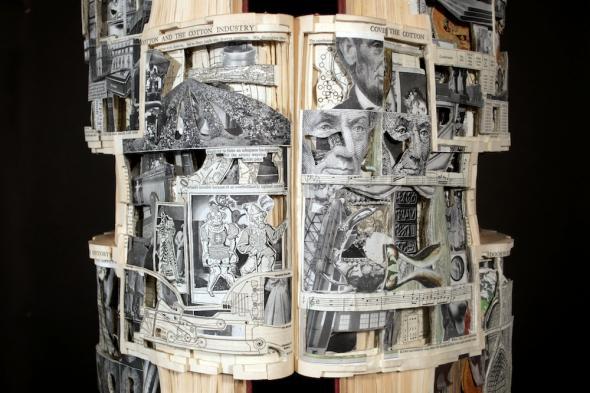 Dettmer (via email): "The encyclopedia is unique because it has an unbreakable dependence on the entire world around us. Its purpose is to be a representation or a reflection—a mirror of the entire world, so its relevance and functionality depends on the world to stay fixed. It began as the perfect companion (a term often found in the titles of encyclopedias) but the more progress and change that happens in the world, the quicker the encyclopedia becomes irrelevant or useless. It becomes the pathetic half of a withering marriage, a partner that is unable to change … I think this is where the pathos lies. A set of encyclopedias is a reminder of a time in our lives when it was full of life and essential. It completed us but it was unable to grow with us."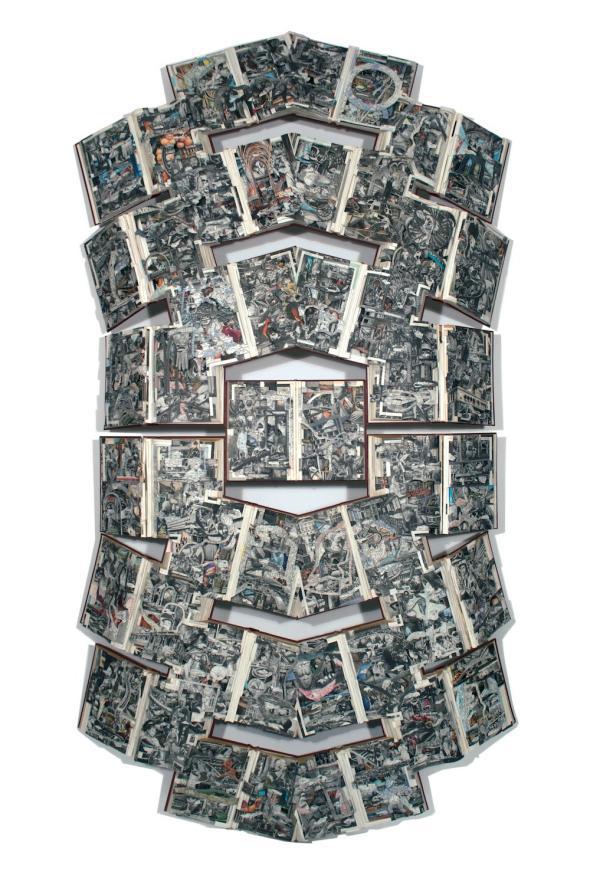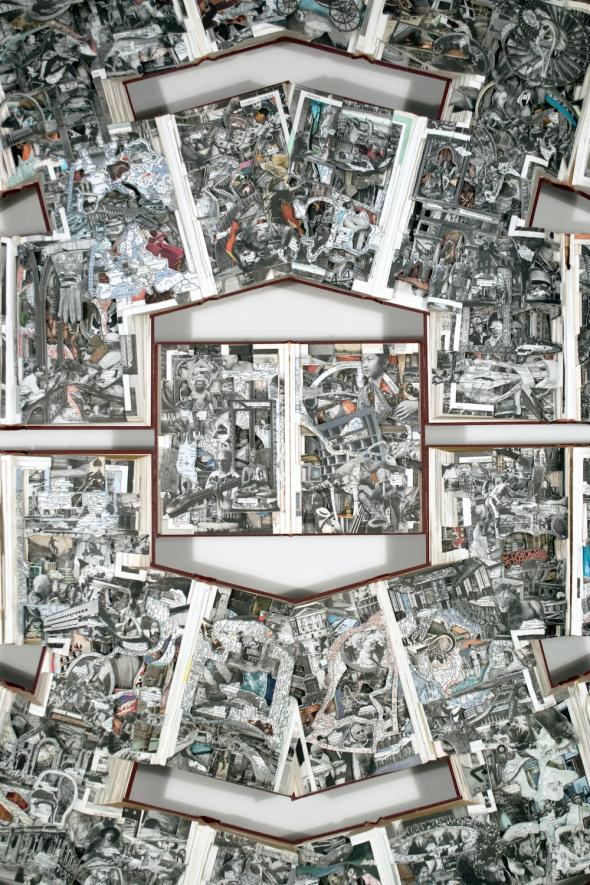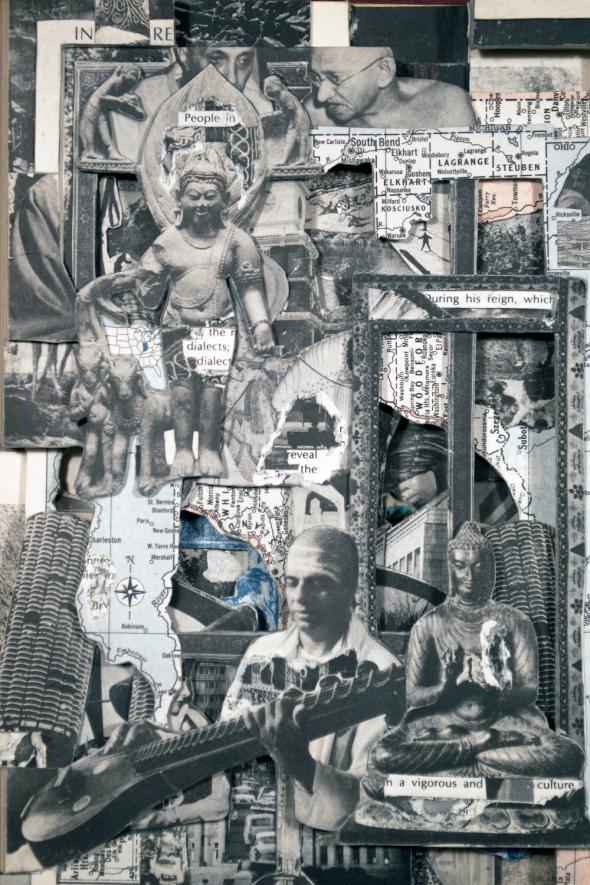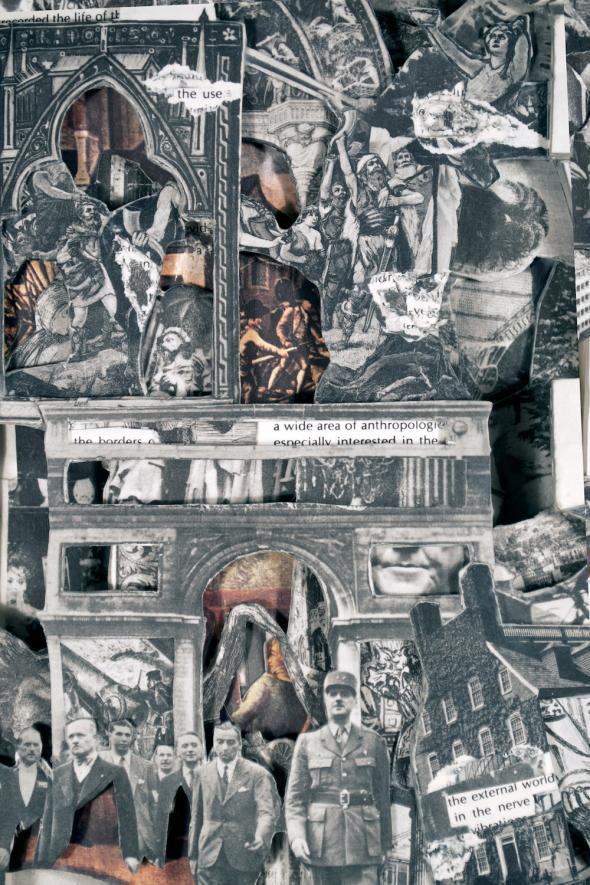 Dettmer: "Encyclopedias attempt to be completely encompassing—to cover everything about everything in the world. As we see them now, this is simultaneously honorable and humiliating. There is an amazing beauty but also a great sadness surrounding our relationship to these objects. Using encyclopedias in art embraces a nostalgic comfort paired with the discomfort we feel about a 'destroyed' book, and the discomfort we may feel about the broken relationship we have to these objects."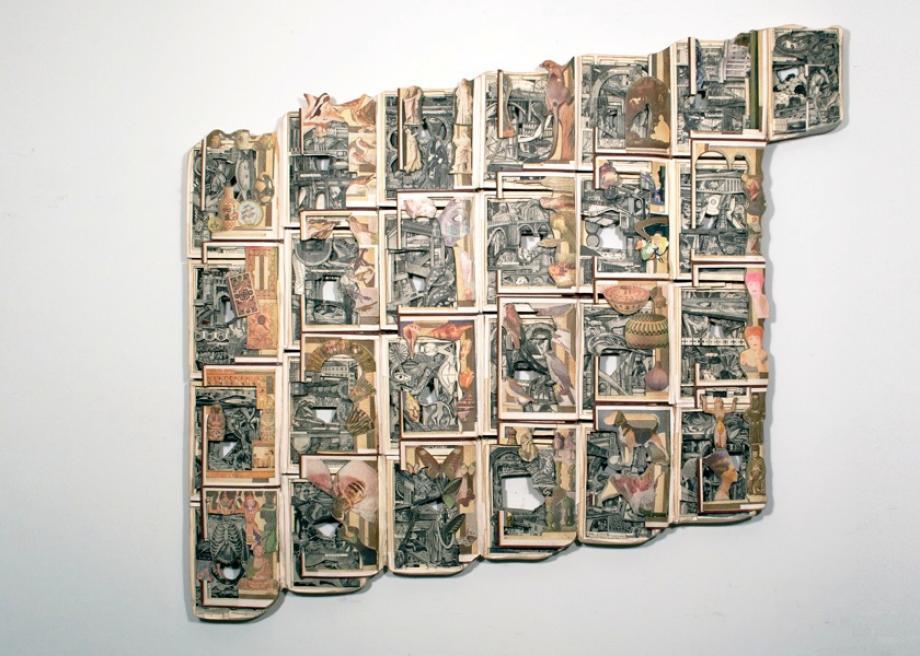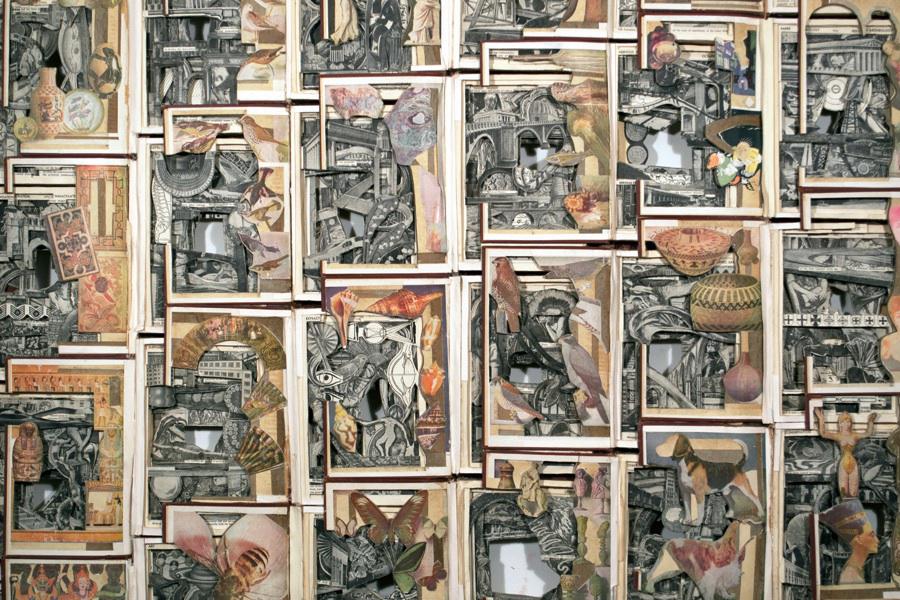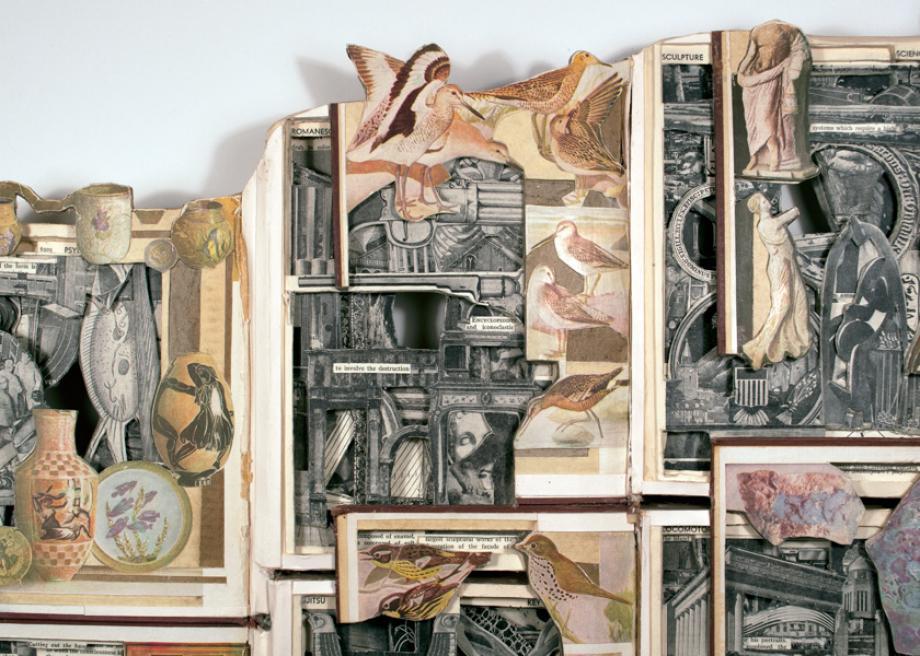 Dettmer: "I used to go to a lot of resale shops and used bookstores [to buy sets] but they are becoming harder to find. They won't carry them because nobody wants to buy them. Sometimes I will buy them on eBay or other online booksellers, but I get most of my sets now from donations. People will often email me—offering to donate an old set before another move or after someone has passed away. I am always happy to accept them, but the problem is that some of these sets are so common (and heavy) that they are not worth the postage it takes to send them to me. Nobody wants to throw them away and recycling them requires ripping them up from the covers which is even more traumatic. People put a lot of emotional value into the books they grew up with."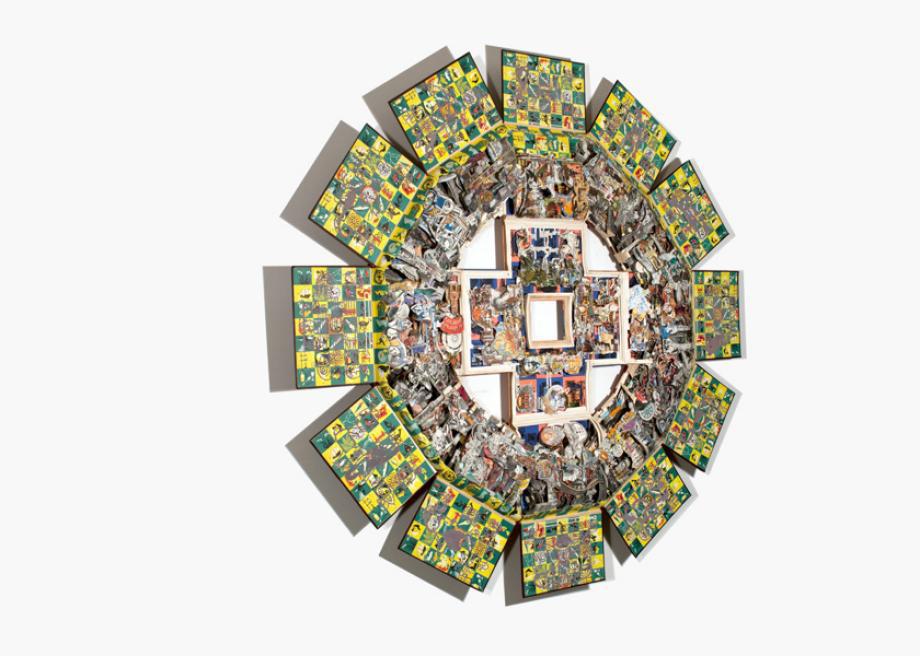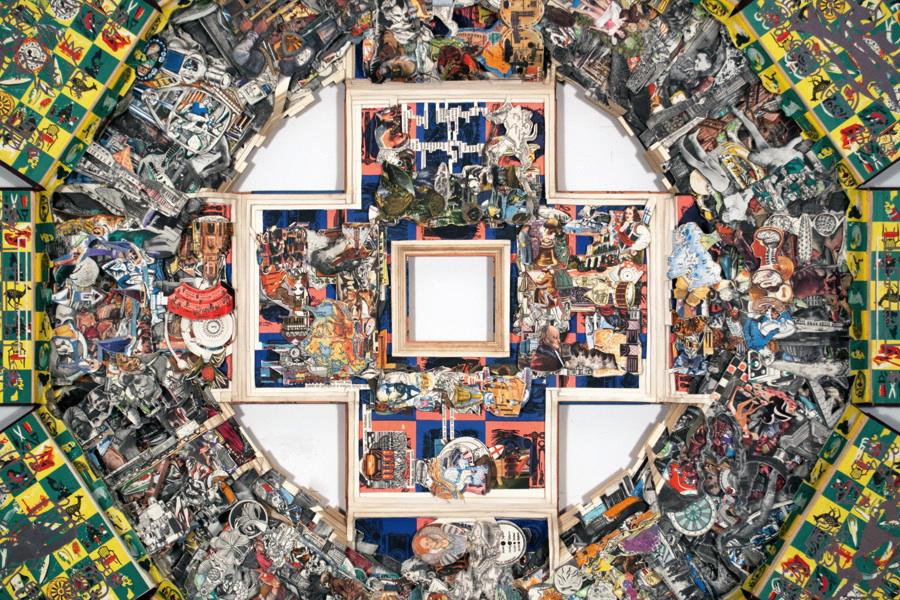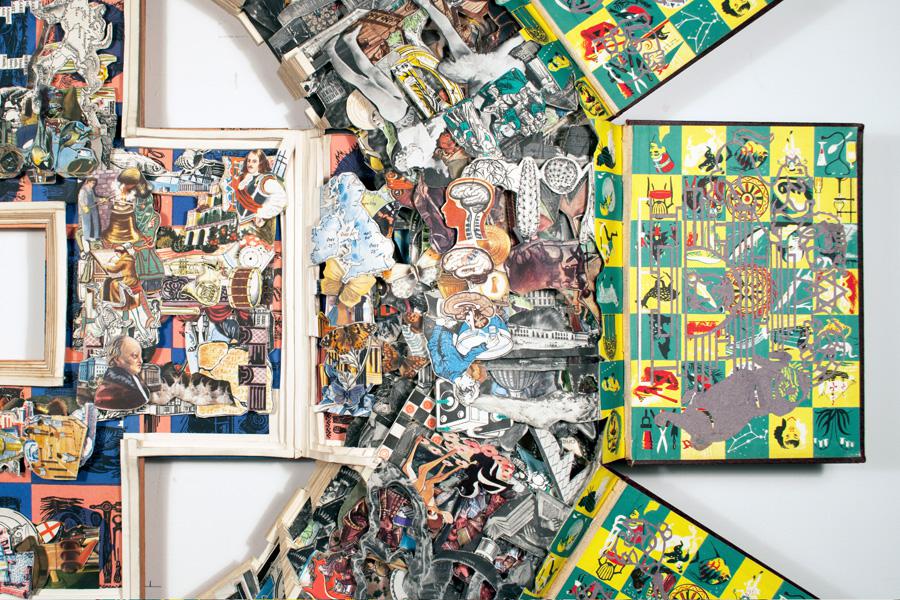 Dettmer: "When I first see an old set I haven't seen before, I feel like I'm walking into an undiscovered wing at a natural history museum or finding a beautiful antique. They are objects that may not be used the way they were originally intended, but they are rich with history and reflect the ideas and styles of their time. It is a mix of fascination—historic and aesthetic appreciation, but also reverence or even mournfulness. It was sad when Encyclopedia Britannica announced they would stop printing the hard copies a few years ago. But what can you do? We are all much better off having access to information the way we do now, and in most cases it would be anachronistic to pretend we need encyclopedias to research a subject … that is as long as we have a constant flow of electricity. We have now shifted all of our personal and cultural records to a media dependent on constant access to power. All of our information is now on life support. So I am not sad, but I am concerned."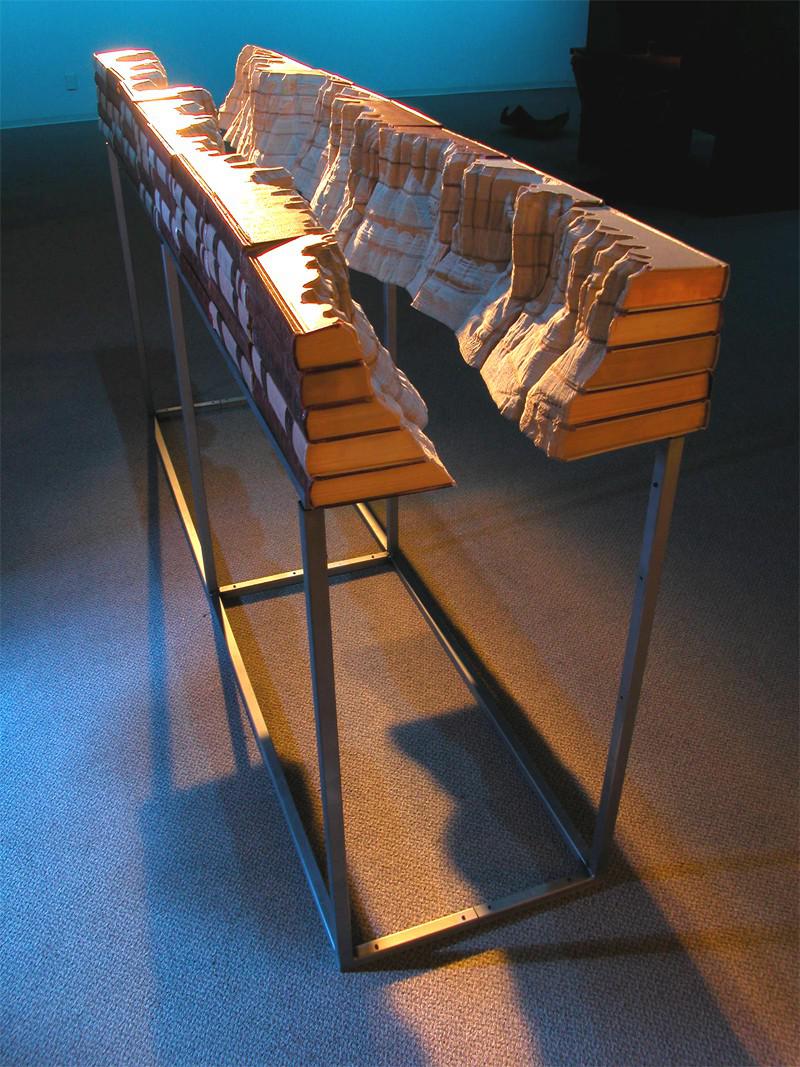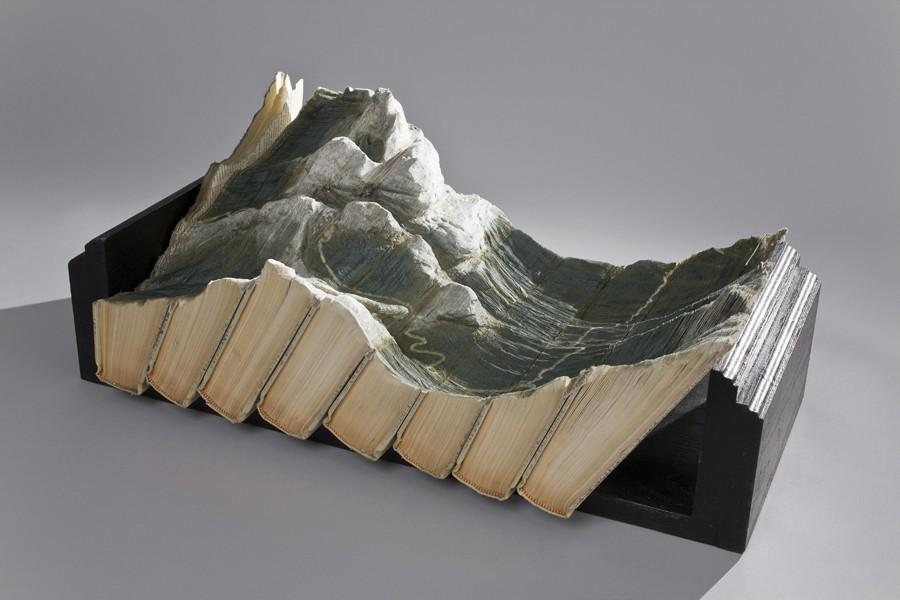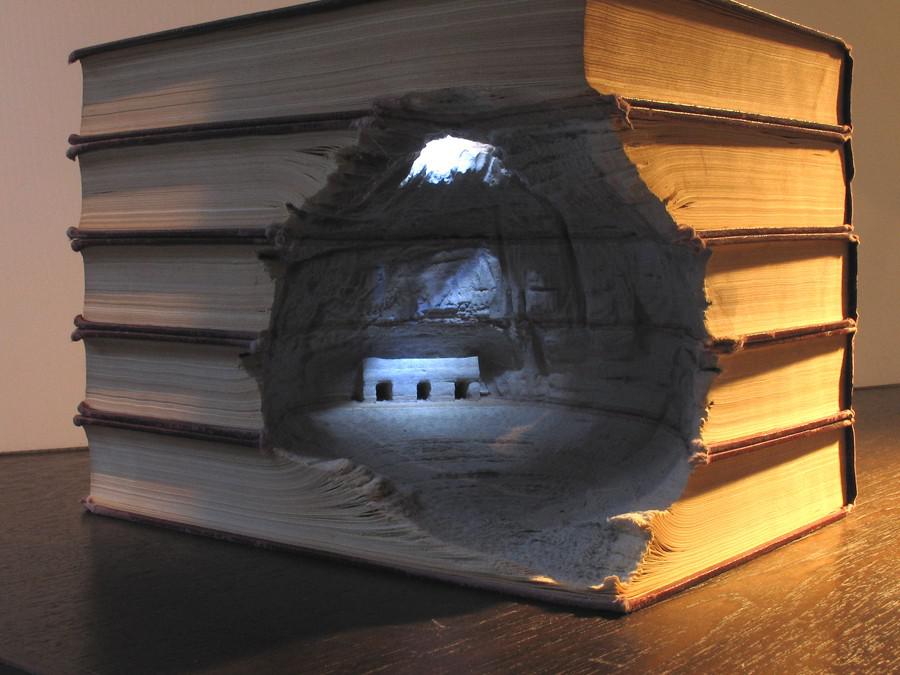 Laramée (in a phone conversation): "There was a sort of authority to [the encyclopedia] that we're losing a little bit, for better and for worse. Because the authority is, at least it would provide us some sort of a reference. 'This is the state of things.' And the articles were always written by professors, very knowledgeable people, officials. Which is not the case so much now … The imperialist or colonialist aspect of social science has been questioned for good, I think. But we're left quite lost as to what are the referents of our lives. So I think that's why I think we will still cling to this idea of gathering all the official stuff in the same place, and trying to sort what is good and what is, what is true and what is false, even if it's always temporary. …
Why the act of carving books becomes so symbolic, is that I sort of give them back to what we call nature. I give them back to, not nature in the naturalistic sense, but I give them back to that region of consciousness where we no longer suffer this distinction between good and bad, and great and small; we no longer suffer dualism."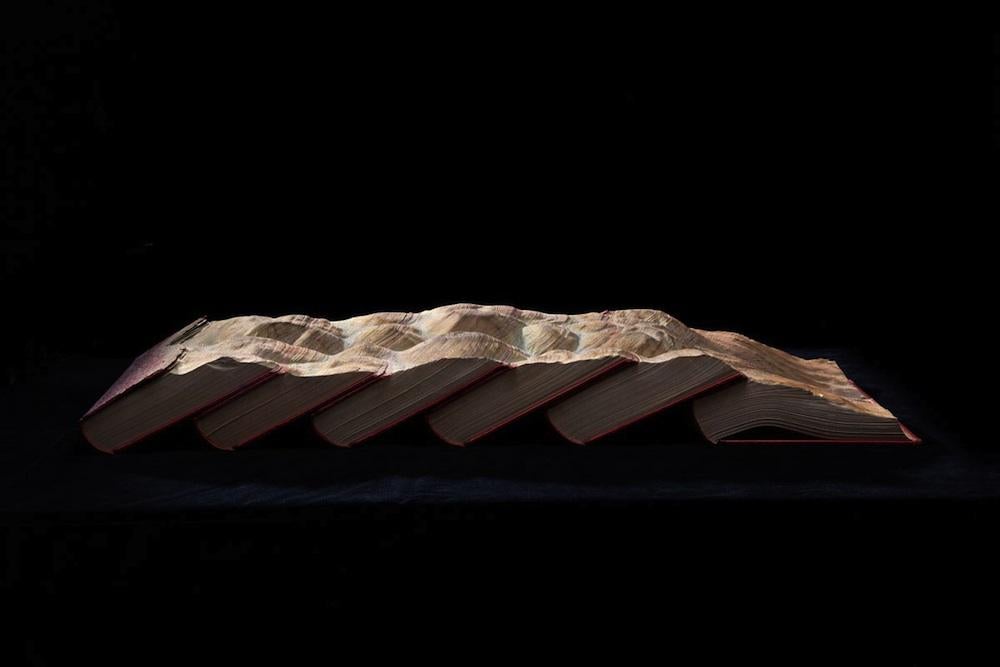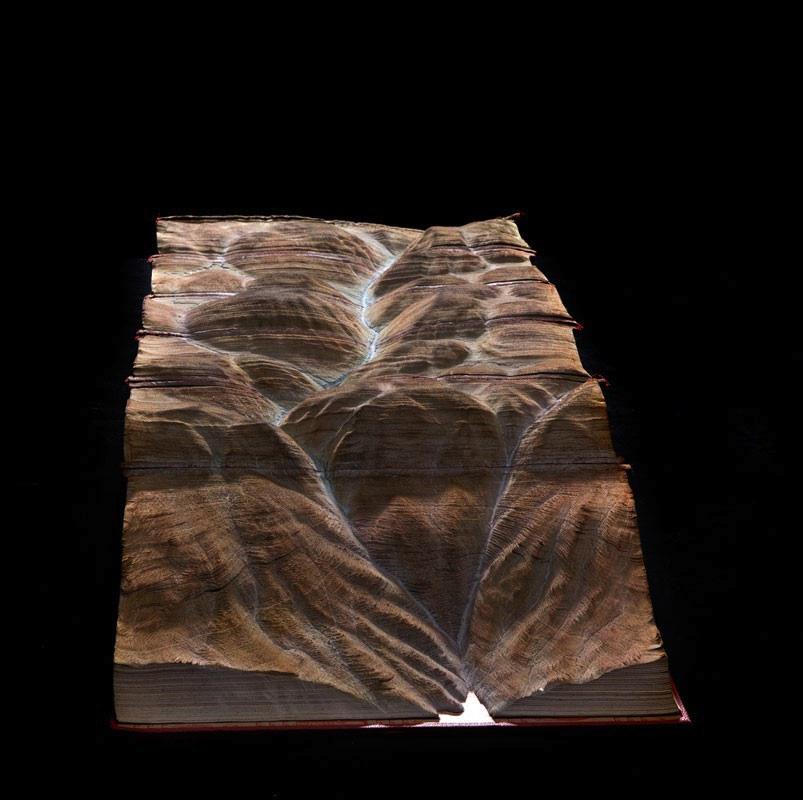 Laramée: "I've worked with very old books lately. It strikes me, if the book is too old, it's really hard to get into it, in terms of destroying it, because it's really beautiful. What strikes me is the care that people had, because they thought these things would last very long. Families would invest a huge amount of money in the encyclopedia, and they invested because they thought this would last, like furniture. Now we are in the Ikea age of mental processes. We no longer expect that our mental landscape is going to last more than a year, so why bother. This generates carelessness. As to these old books, you can see illustrations done by hand. Things that would require a month; there were armies of people doing these illustrations."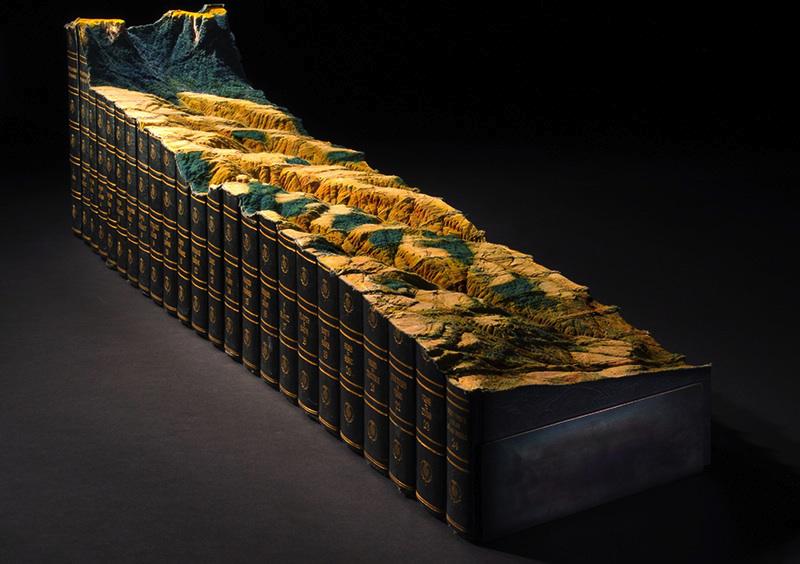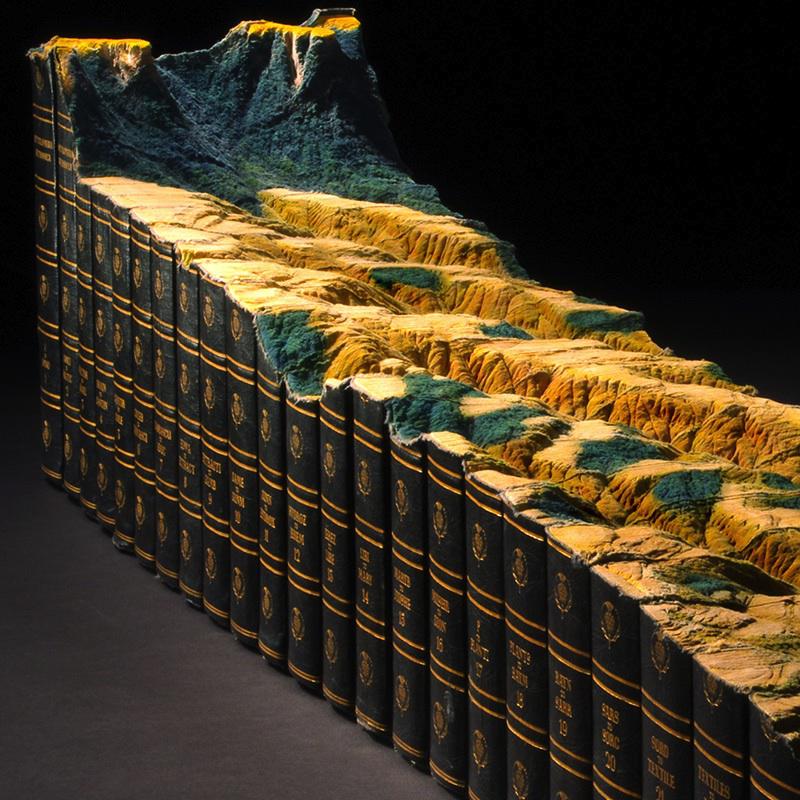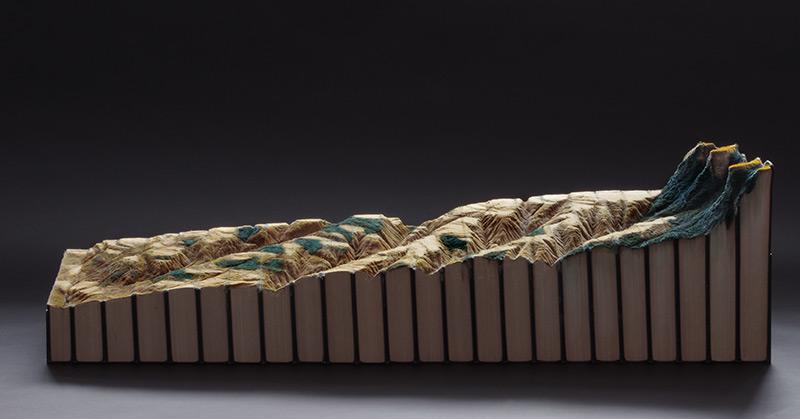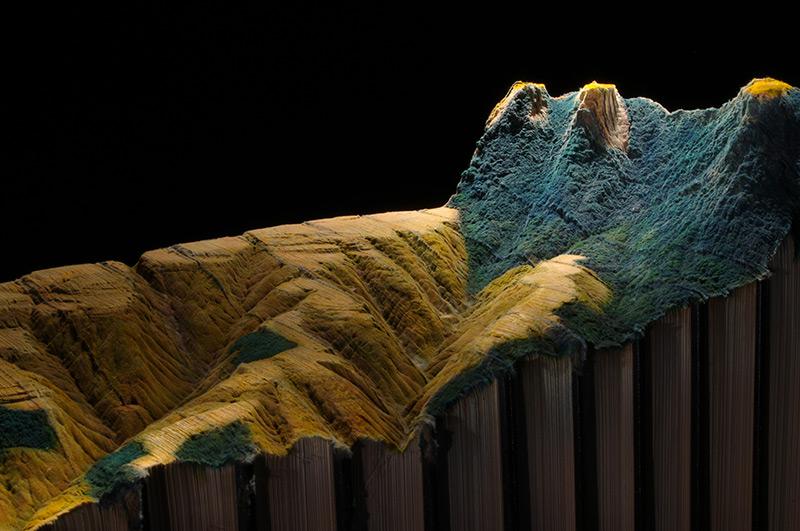 Laramée: "A project like Adieu expresses an idea of transformation and reclamation, but it's also a way to reconciliation, because even if we lose what has become useless, we're still losing it. We are still losing hundred of cultures, of dialects, of paradigms, of worldviews each day or year. That's painful because these are people who lose their home. Maybe in the view of so-called progress it's inevitable, and it was the case in every stage of human history, but still at each of these stages these are people who lose their home, their family, their worldview, and it's very painful.
So that was a way to acknowledge this. Like, the print encyclopedia is gone; adieu, farewell. But what I find is that it's a beautiful word, 'adieu,' because it's really hard to say it with anger. It's hard to say, 'ADIEU' [loudly], like 'GO AWAY.' It's not the way we see it; we fill it with nostalgia. 'Well, it's gone, so bad, I had a good time with you, and it was a part of my life, but this is gone.' Adieu means 'To God.' You send it back to God."