It's officially summer, which means that the thoughts of wine drinkers often turn to rosé. But Spanish startup Gïk has decided that rosés, reds, and whites are for old-school wine snobs. So this group of twentysomething designers, programmers, artists, and musicians with no background in winemaking has come together to engineer a shocking blue-colored sweetened wine that it is peddling as "a blasphemous drink."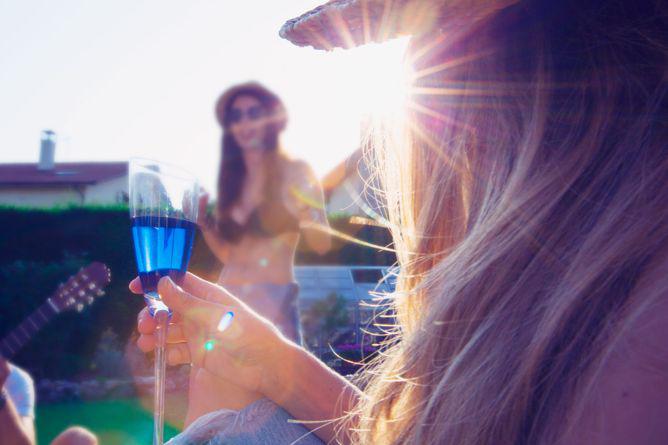 "Try to forget everything you know about wine," the creators write in their marketing materials. "Try to unlearn the hundreds of protected wine designations of origin, the complex and demanding service standards and everything that sommelier said at a tasting course to which you were invited. Forget traditions and forget that we are speaking about the liquid which represents the blood of Christ at church."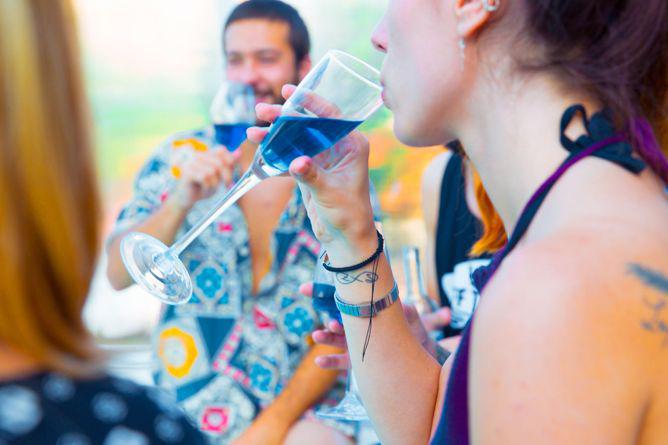 Most humans sensibly recoil from the oddity that is blue food (purple-ish blueberries notwithstanding), so why would anyone want to get tipsy on something that is the hue of window cleaner or mouthwash?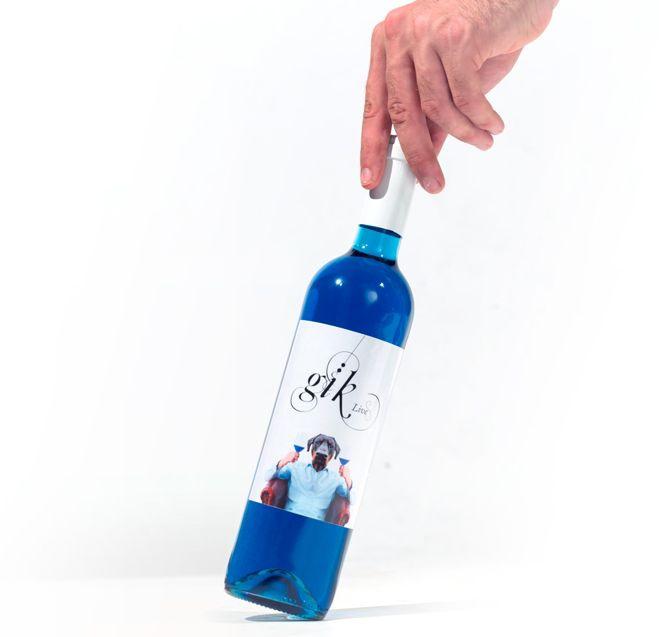 I asked Charles Spence, a professor of experimental psychology at Oxford whose work includes studying the influence of color on odor and taste perception and who has worked with mad scientist–chefs including Heston Blumenthal of The Fat Duck and Ferran Adrià's research kitchen in Spain, to weigh in.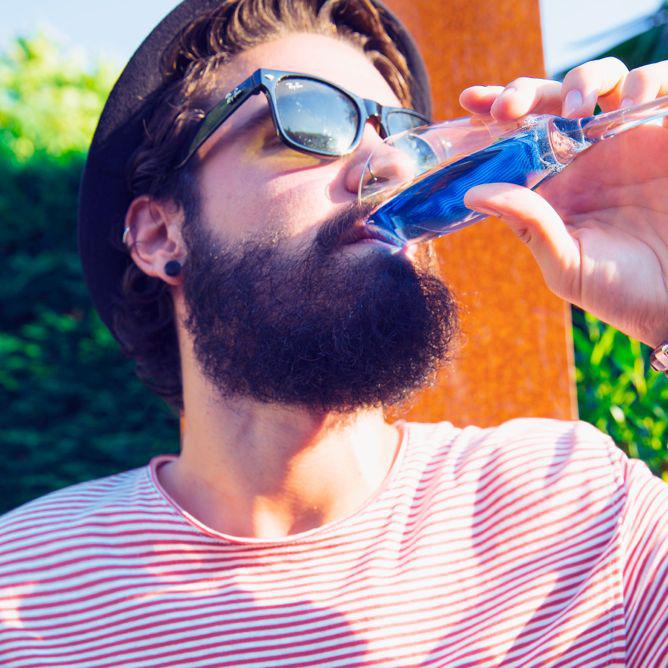 "The Italian Futurists were first to colour wine blue back in 1930s in Turin," he wrote in an email. "They used colour to discombobulate their dinner guests."
Spence added that in the '80s and '90s, "We had generation of marketers telling us that blue colour would never work" for beverages, as it was perceived as "unnatural." Then came blue raspberry Slush Puppies and Gatorade, he said, not to mention blue Magellan gin (tinted with iris flowers). Blue is revolting to humans only when applied to things such as meat or fish, Spence said.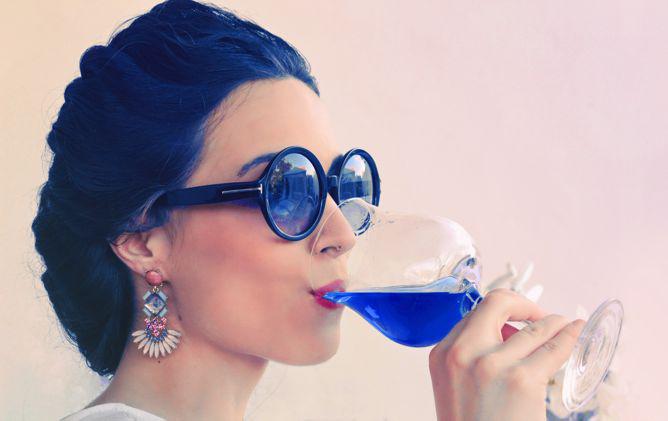 Unlike the liqueur Curaçao, tinted blue with artificial food coloring to lend it a supposedly tropical allure, Gïk's blue wine is said to be colored by adding organic indigo and anthocyanin pigments to a base made from a mix of red and white grape skins. The team vaguely explains that the wine is made using "different varieties of white and red grapes" from "various vineyards from all over Spain," is not aged, and is sweetened with a "non-caloric sweeteners." They like it chilled, but you can drink it any way you like, and judging by their marketing photos, in any vessel that you want.

The folks at Gïk aren't the first young company to try to make wine more user-friendly for millennials and people of all ages who are intimidated by the wine world. But unlike some companies using innovative design to make the connection between consumers and producers more accessible, Gïk's blue-wine marketing gimmick of a beverage thumbs its nose at winemaking culture itself.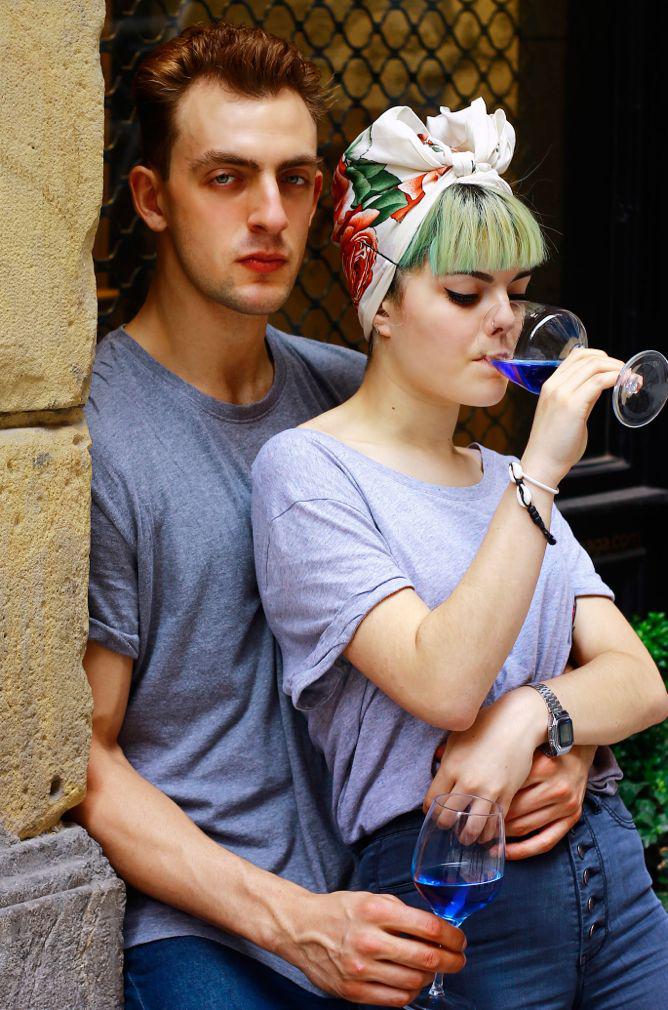 "Drinking Gïk is not just about drinking blue wine, you are drinking innovation," the creators write in a press release that reads like dialogue ripped from an episode of Silicon Valley. "You are drinking creation. You are breaking the rules and creating your own ones. You are reinventing traditions."
The company plans to make available for online ordering and delivery to the U.S. and other markets. But Spence was skeptical. "Adding colour to wine will undoubtedly change taste," he said, "and I would bet it will fail."