ORLANDO, FLORIDA—Sunburns began early on Saturday, the morning of the funeral for Christopher "Drew" Leinonen, 32, who was murdered alongside his boyfriend Juan Guerrero, 22, and 47 other people at the Pulse nightclub here on June 12. (Plans reported earlier in the week that the two victims would share a joint funeral could sadly not proceed due to differing mortuary needs, a source with knowledge of the situation explained. Guerrero was laid to rest separately on Thursday afternoon.)
A few hundred folks from Orlando and the surrounding area gathered on the downtown corner of Orange Avenue and Jefferson Street—just down the road from the Cathedral Church of St. Luke, where Leinonen's service would be held—with rainbow-streaked posters, umbrellas, flags, and even a few large banners of the kind that lead parades. The people were gathered there not only to pay their respects, but also to prevent an act of disrespect from violating the grief of Leinonen's family and friends.
The infamous Westboro Baptist Church had announced earlier in the week that they would protest the funeral (in addition to others) with their usual "God H8s Fags" signage. Though the city was required by law to grant the group a demonstration permit, Orlando locals were not inclined to accommodate them further.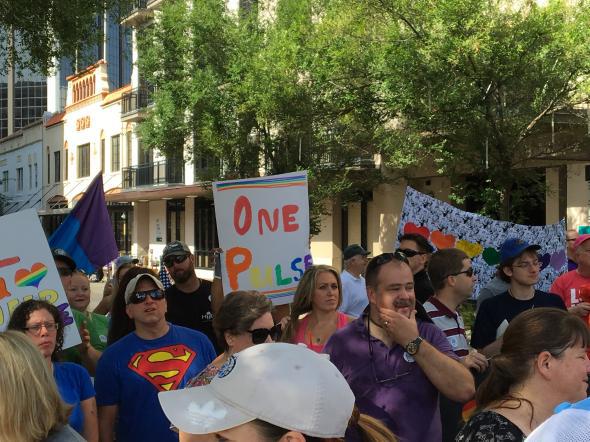 By 10 a.m., 15 minutes before WBC's advertised arrival time, an ad-hoc division of labor had formed among the protectors, who, taking advantage of closed streets, had organized along the southeastern legs of the intersection with the church at their rear. Most occupied themselves by forming a makeshift wall with their bodies, hand-scrawled messages of support and the other items held high, facing diagonally across the intersection toward Westboro's police-assigned protest zone. Others filled the famously Southern role of providing sustenance in times of crisis. A number of people passed around bottled water from coolers, and a gray-haired woman in a Grateful Dead concert T-shirt and khakis offered granola bars. Tupperware filled with homemade baked goods circulated above a woman in tie-dye as she knelt to chop up a watermelon in the middle of the street. I turned down offers of sunscreen more than once. An occasional misting from one of those handheld fan/sprayer devices was unavoidable.
Nicole Doria and Amanda Reh were standing alongside their bikes when we met, which lent them an air of being ready for action. Reh, a queer yoga teacher with dreads and intricate tattoos running down her arms, said that she came out "to show the world that hate will not last." Doria, glancing in the direction of the WBC contingent, added, "Those people who I'm not going to mention, they breed hate, they don't have a great message, and they can't win. We're showing them that they can't win because we have so much love."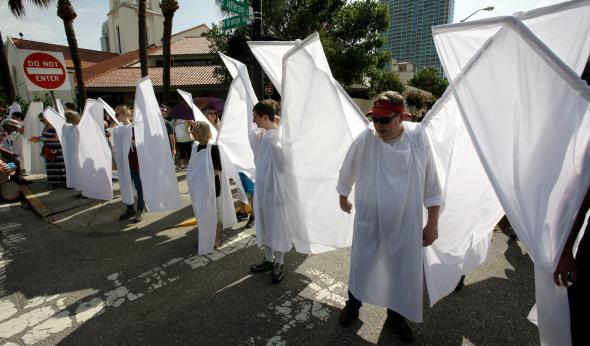 While the core message of most of the posters around us was indeed Orlando's surfeit of love, a few were more defiant, especially on the subject of religion. "God wants spiritual fruits, not religious nuts," explained one sign. Another declared, "Need Prayer? Westboro Baptist does not define me." My favorite secular entry read simply: "Keep on dancing."
If the protectors had an elite force, it was the angels: around a dozen people dressed in white with oversize wings made of cloth and PVC pipe on their backs. It was they who took the front line when four members of WBC finally piled out of their vehicle, placards in hand, just after 10:15. Until the Westboro contingent's arrival, the protectors had maintained a relatively reverent, subdued tone; now, they snapped to attention and the mood grew tense. "The relevant question of the hour," one of the WBC representatives called out: "Why did God destroy Sodom?" Cries of condemnation rang out in response, but some in the crowd reminded others that WBC exists to provoke—and often sue—counterprotesters. So the approach shifted to song. Strains of "What the World Needs Now Is Love" were eventually replaced by one of the most painfully gentle renditions of "Amazing Grace" I have ever heard.
As 11 a.m. and the start of Leinonen's funeral approached, a few dozen attendees proceeded down Jefferson through the middle of the intersection toward the church. WBC continued to scream insults from their corner, but as the weary smiles and raised fists of many of the mourners attested, the protectors had succeeded in proving another popular slogan: "Love wins." The protesters began packing up just after 11, drawing cheers. As the protecters started to disperse in kind, a middle-age woman wove through the crowd with a bag calling for trash. Quick as lightning, a nearby man answered, "Well, I don't have any, but I think there are a couple of articles across the street."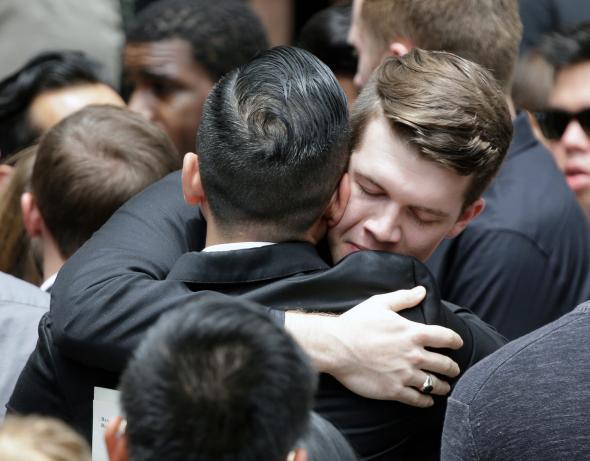 * * *
Inside St. Luke's, Leinonen's family and friends celebrated his life, and—importantly for a man who founded a Gay-Straight Alliance at his Seminole, Florida, high school well before such things even seemed imaginable down here—honored his wholehearted embrace of queer identity.
Catherine McCarthy, who attended the service, had been friends with Leinonen since their freshman year of high school (a relationship she's written about publically in a gorgeous eulogy). Speaking with me just after the Mass had ended, McCarthy recalled that Bishop Greg Brewer walked in with his arm around Leinonen's mother, Christine, who became a face of familial grief as she appeared on cable news searching for her son in the days after the attack, and that he welcomed all, "no matter your relationship with God." The Rev. Dr. Reggie M. Kidd, the acting dean of St. Luke's, did not shy away from the fact that this was a funeral for a gay person killed in a hate crime. According to McCarthy, Kidd said, "It's no mistake that we are at St. Luke's, who was the traveling companion of Paul." "I took that to be a wink," McCarthy explained. Joshua Goldstein, another friend of Leinonen's, agreed: "There were several nods and outright statements directed at the LGBT community." "It felt like they were saying, we're talking to you," McCarthy added.
To underline the point, McCarthy explained, Kidd made an effort to acknowledge the specific experience of the LGBTQ people in the room:
"He talked about how we are here today because we remember that life is very precious and fragile, and he just looked at these men in Pride tank tops and he said, 'No one understands that more than you. You who go out into the world and are beaten and yelled at and violated. You have this uncertainty—will I come home tonight?' "
"It feels like there are people that may have been in denial about the fact that gay people still have to deal with this kind of crap," Goldstein said. It will be harder for people to maintain that kind of ignorance after Pulse.
Recollections from Leinonen's loved ones focused on his seemingly boundless well of affection for those he held dear. McCarthy said that everyone acknowledged the bond between Leinonen and Guerrero, and in a particularly moving moment, an ex-boyfriend, Jose Arriagada—who said Leinonen taught him English "one word at a time"—recounted meeting Guerrero and blessing the new relationship. "I think that's a testimony," McCarthy observed. "Drew was truly friends with pretty much all of his exes. I would be like, How do you do that? and he would say, 'I just love them.' "
Goldstein said that multiple eulogizers described him as a "social glue," a kind of central node in Orlando's relatively tight gay community. But his reach wasn't limited to central Florida. At the service, McCarthy recognized friends from Washington, D.C., New York, Boston, Houston, Denver, and San Francisco. "We felt his presence even when he was far away," she said, a smile giving way to a wince. "And I hope we'll still feel it even though he's really far away now."