This post is part of Getting It Right, a field guide to the five tribes of modern men's fashion.
What do nuns, punks, existentialists, satanists, police officers, fascists, goths, and Upper East Side socialites all have in common? They all adore black. And why not? With black, there's a lot to love. From pure evil to crisp saintliness, the color black checks so many symbolic boxes in so many contexts that it makes one's toupee spin.   
When it comes to the wearing of black, women tend to be disloyal. For the average chick, little black dresses happily alternate with tangerine, fuchsia, and floral prints. Men? Not so much. When men commit to black, they COMMIT. It's hard to imagine the Ramones or Johnny Cash in magenta or chartreuse. Black is for rebels, with and without causes, and every generation seems to throw up a black-clad outsider cult: rockers, bikers, and punks. And now we have ours. Enter the Arty Ninjas.
The Arty Ninja is a graphic Japanese-inspired avant-garde look that says, "I am creative, I make and/or collect art, and I am also weirdly sportif, as in skateboard." Arty Ninja style has its roots in brands such as Comme des Garçons and Yohji Yamamoto, and it has now found its way onto the broader fashion landscape and, most notably, into the world of hip-hop. Key components include oversized T-shirts, oversized hoodies, leggings, and shorts that are so voluminous that they more closely resemble culottes. These skirtlike garments are worn over tights and are most often rendered in sweatshirt or T-shirt fabric but are also available in leather. Hardcore Arty Ninjas might also gird up their loins with—in lieu of the huge culotte—a black leather kilt.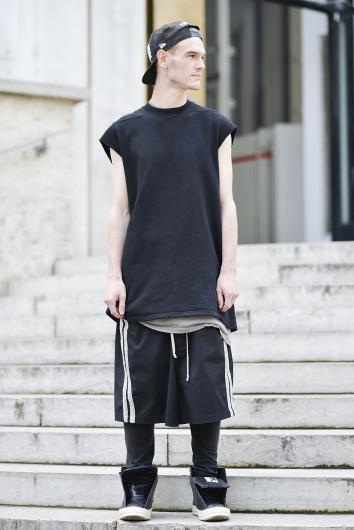 Aficionados of the Arty Ninja look include various fashion-forward rappers—Yeezy, bonjour!—and sports gods such as basketball royalty and fashion designer Russell Westbrook and Barca soccer star Dani Alves. And let's not forget the Asian college students in my NYU neighborhood who flaunt Arty Ninjoid ensembles by Givenchy, Public School (Dao-Yi Chow and Maxwell Osborne), Hood By Air (Shayne Oliver), and Off-White (Virgil Abloh).
The Arty Ninja is not for everyone. And especially not for me. Though I applaud these taboo-busting designs wholeheartedly and admire the way they look on dudes such as Mr. Westbrook, I have learned to avoid it. Why? Because it turns me into Louise Bourgeois or a Sicilian widow. There is, I hasten to add, absolutely nothing wrong with looking like Louise Bourgeois or a Sicilian widow. It's just that I would prefer to have a little more time before transitioning—tiny, wrinkled, and black-clad—into my Louise Bourgeois or Sicilian widow years.
The Arty Ninja is a young person's game. It's also a multiculti game. The Arty Ninja designers are predominantly men of color. Being d'un certain age I vividly remember when so many talented men of color—Willie Smith, Stephen Burrows, Patrick Kelly, Isaia, Clovis Ruffin, Geoffrey Banks—propelled fashion forward in the '70s and early '80s. It warms the cockles of my old heart to see it happening again.
Points to keep in mind: For reasons too obvious to state, the Arty Ninja is a great look for a larger gentleman. If proof is needed, look no further than Robert Smith of the Cure, whose goth '80s look is shifting seamlessly into Arty Ninja village. And last but not least, it is only fair to admit that Arty Ninja is not the sexiest, most alluring tribe on the planet. If you are single and about to throw yourself into the dating pool, you may wish to hold off before going Arty Ninja head to foot. If people mistake you for an oversized bat, they may feel disinclined to date you.
Next up: The Dedicated Follower of Satin.
Previously in Getting It Right:
Introduction: The Five Tribes of Modern Men's Fashion
The Perverse Prepster