Theme parties work best as the stuff of college frat parties and middle-school spirit weeks, but no one told that to the Met Gala, where last year's "China Through the Looking Glass" theme yielded a red carpet's worth of Orientalist show-and-tell material.
The 2016 gala theme, "Manus x Machina: Fashion in an Age of Technology," prevented the event from becoming a racist costume ball, but it also ensured that the futuristic path of least resistance would prevail. The odds that we'd see the equivalent of Rihanna's 2015 gown—one of the color yellow's most magnificent earthly showings, a fur-trimmed cape that scarcely needs an introduction—were slim.
Therefore, as expected, Monday night's Met Gala looks took most of their cues from mainstream robot-beauty ideals. There was silver, chrome, metallic gray, and gleaming white, all in structured, geometric-patterned forms—and not a hell of a lot else.
Beauty entrepreneur Julie Macklowe and model Karolína Kurková offer two glaring examples of taking a theme too literally. Macklowe's neck-to-ankle patchwork jumpsuit looks like a garment Scientology leaders might force their followers to wear during a solar eclipse. Kurková's gown lights up to reflect emotions ("joy, passion, excitement, encouragement, and curiosity") detected in tweets about the gala, setting a new high-water mark on the red-carpet thirstometer. The only way to do a light-up gown is like Claire Danes*, whose elegant white number is equally chic in the dark—about as minimalist as a glowstick costume could be. Before it appeared on the red carpet, the dress was rumored on Twitter to be Heidi Klum's.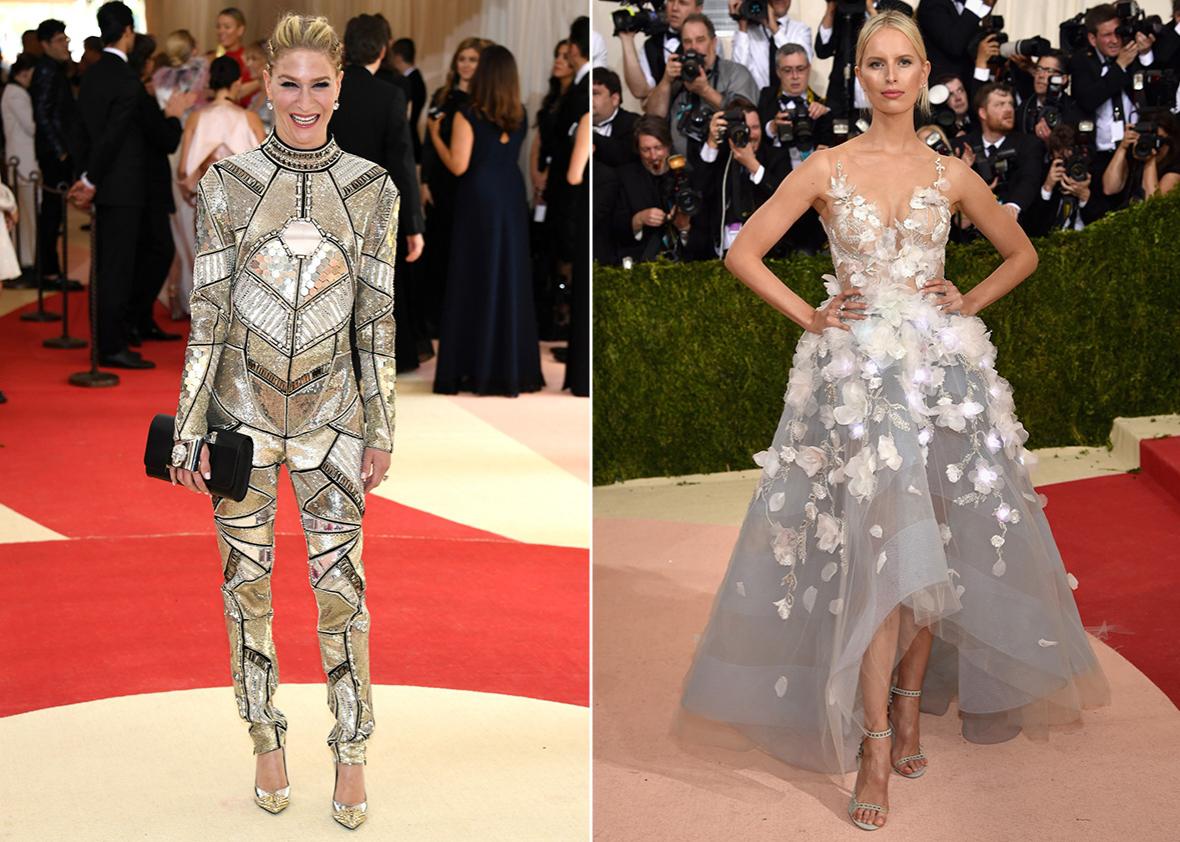 In architectural white gowns, Danai Gurira and Karlie Kloss present two alternate views, on opposite ends of the skin-showing spectrum, of a future that doesn't revolve around gray machinery or LED bulbs.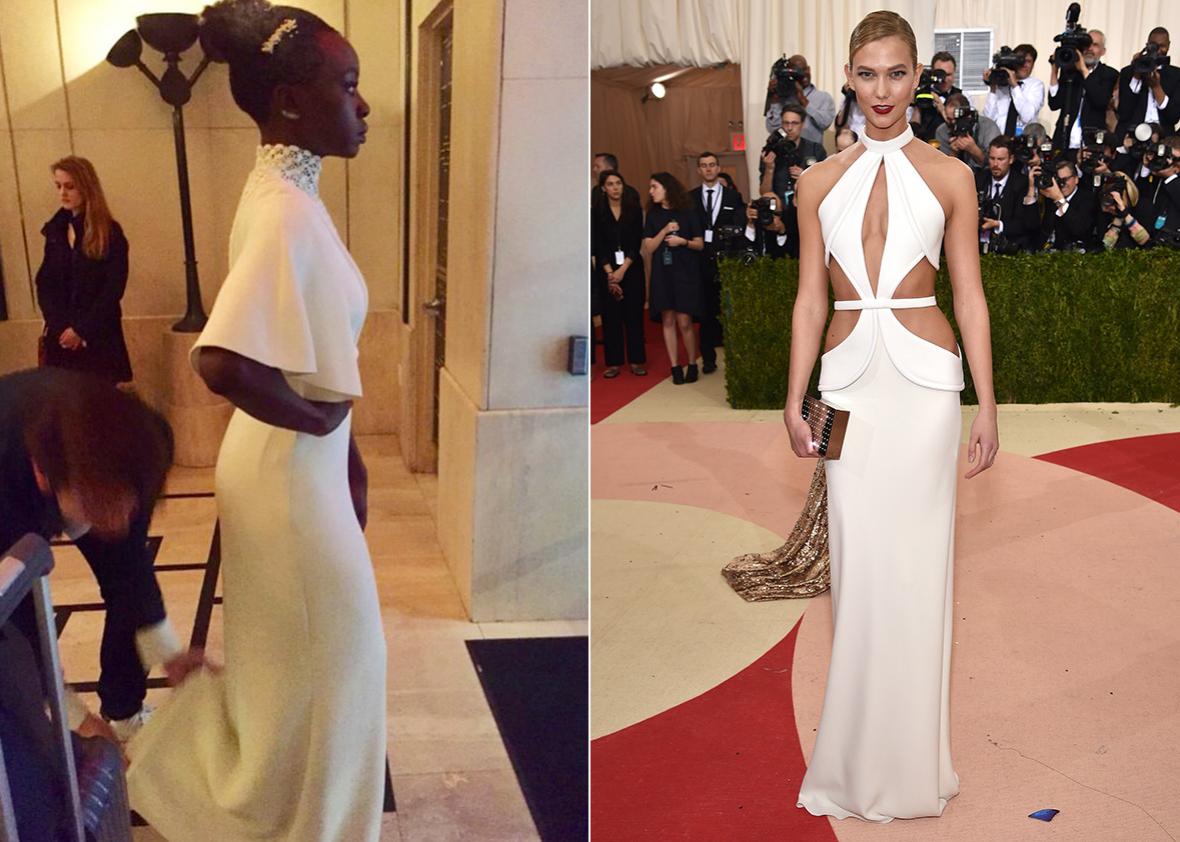 Kudos to Alicia Vikander for not crumbling under the pressure of dressing for a gala basically named for a movie she just headlined. (Why no one took the slyer, more understated route and dressed up like one of the Ex Machina characters is anyone's guess.) Vikander, who so aptly played a robot in Ex Machina, brings similar joy and restraint to the Met Gala in a lovely Louis Vuitton dress that reminds us that machines can be made of copper, too. The leather bustier top and asymmetrical hem make this one sexy without being overtly sexual, and Vikander's red fishnet combat boots are what shoe dreams are made of. Also in a short Louis Vuitton number: Taylor Swift, one this year's gala co-chairs, whose ruffled crocodile-print dress is far outshone by her fabulous new bleach-blonde bob and blue-black lipstick.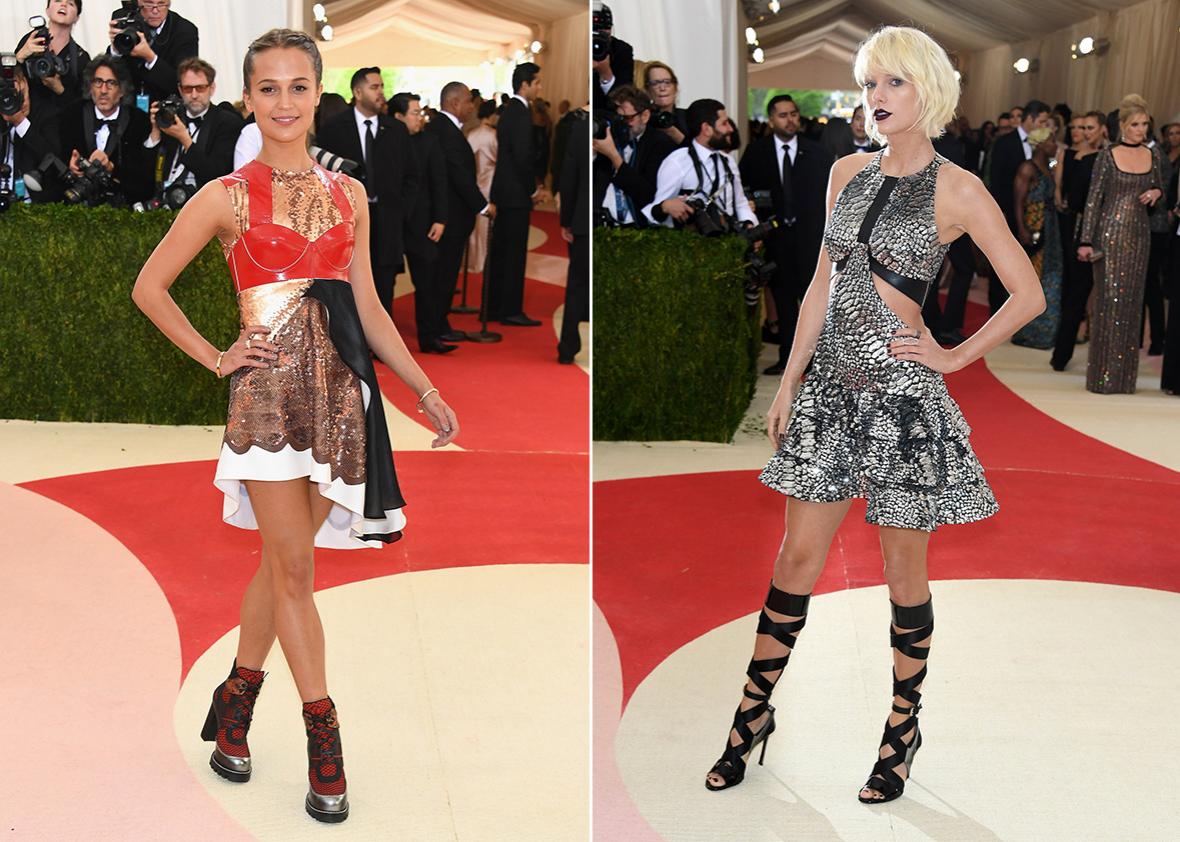 Like Swift, Saoirse Ronan and Anna Wintour mixed organic textures with stark structure—Ronan in asymmetrical ostrich feathers and Wintour in a floor-length column with what looks like branches of coral across her collarbones and lengthy fringe at the shoulders and hem. If Ronan would kindly remove the inexplicable butterfly appliqué from her waist, this not-for-the-ticklish gown would be a go.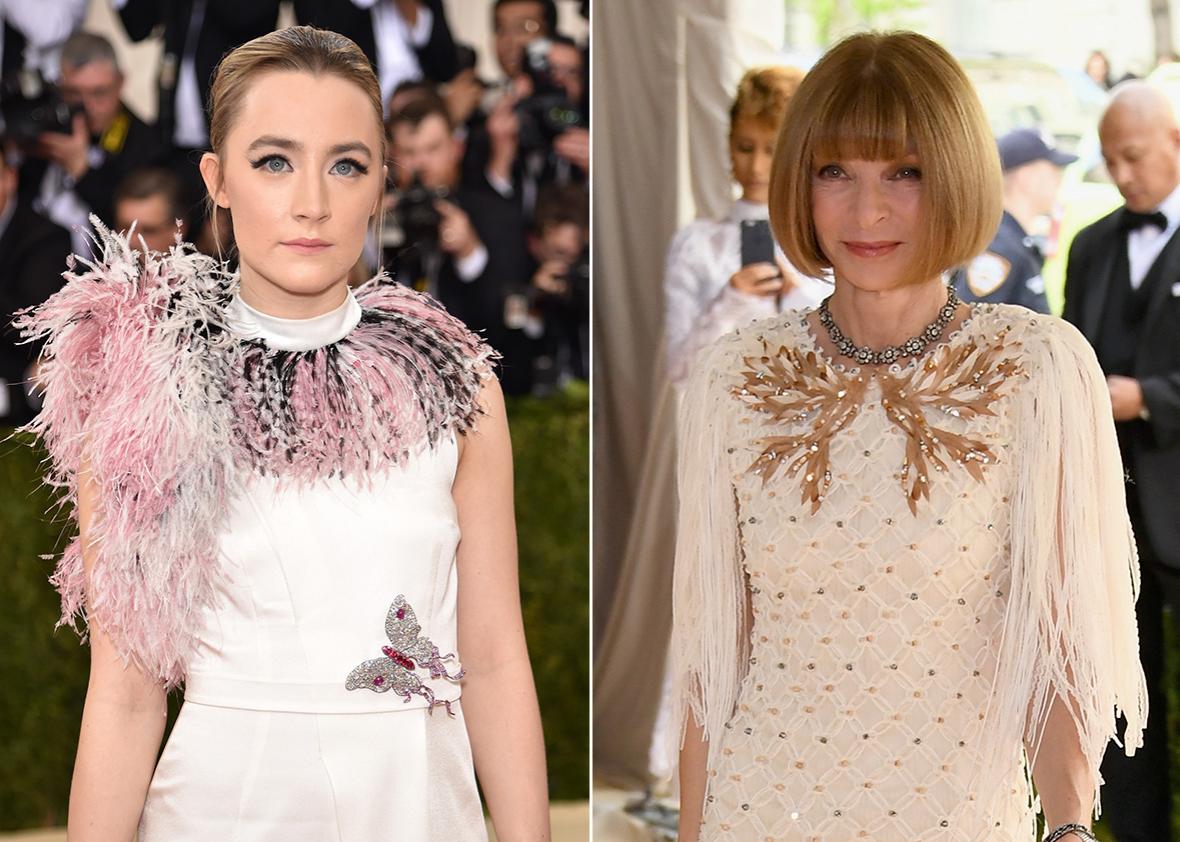 Ronan has a few feathered friends at the gala, including Zoe Saldana in a luxuriant confetti-strewn train and Rita Ora in a kind of bird-robot get-up straight out of a Hunger Games-themed Vegas act.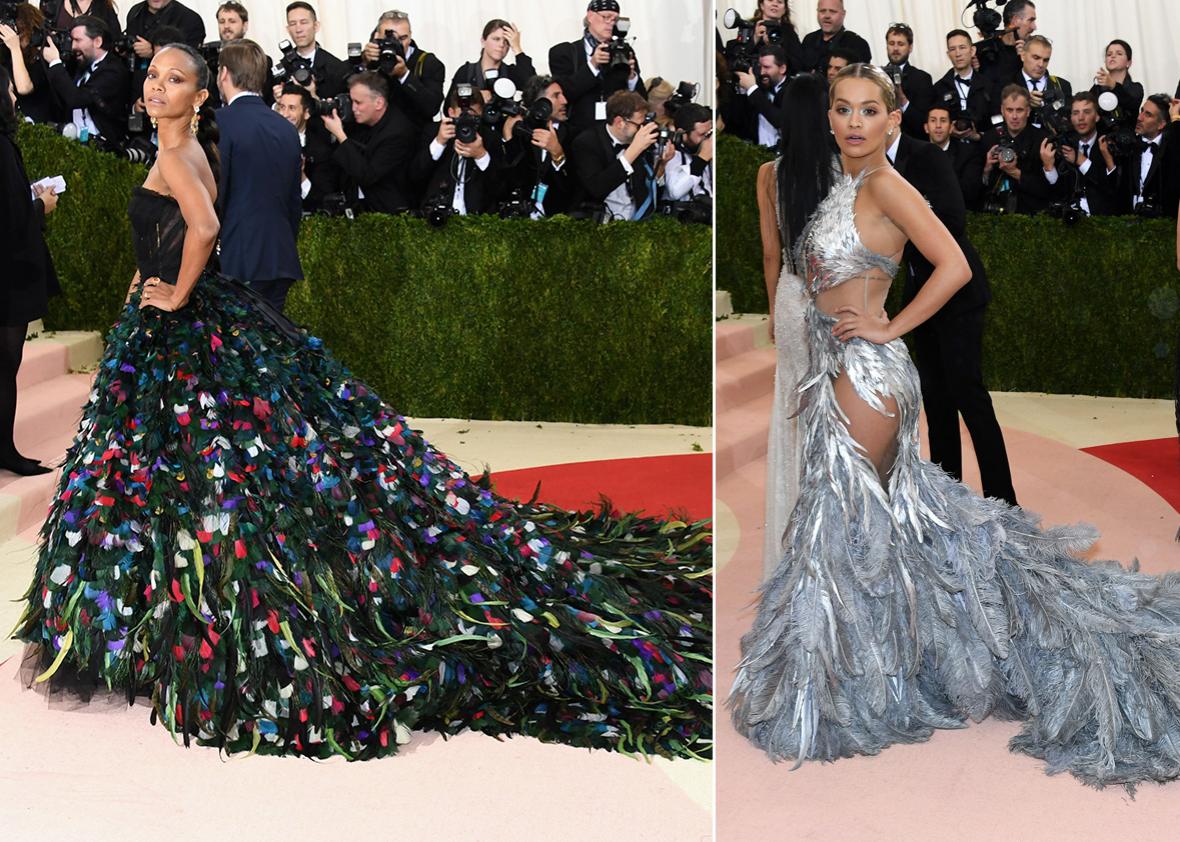 Three stand-up gals rejected the Met Gala's future-baiting theme altogether in favor of outfits from the recent past. Grimes has never looked more Grimes, or more like a teen hanging out at a Hot Topic in the early aughts, than she does in this oversized satin short-sleeved number, cross-body purse, and metallic boots. Also repping the mall directory is Selena Gomez of dELiA*s and flare-clad Amandla Stenberg, who's doing the Claire's headband-and-choker thing.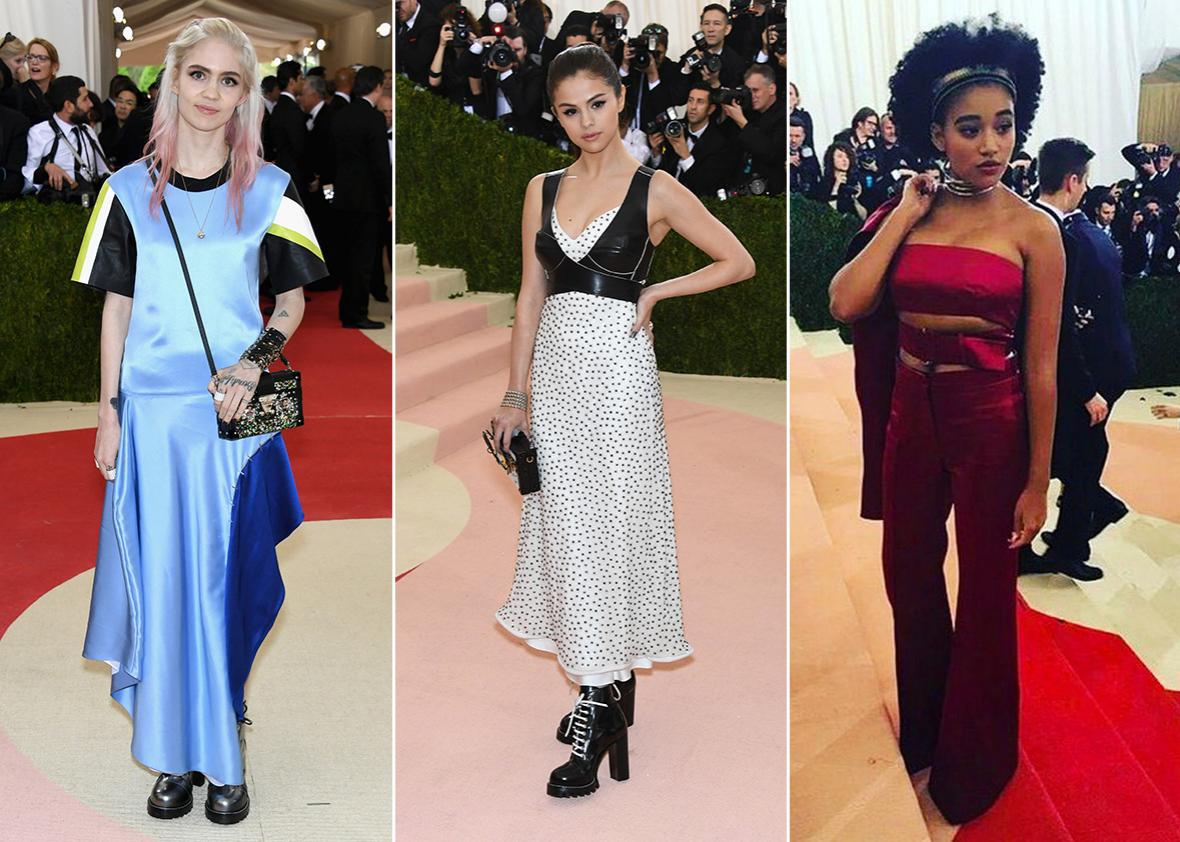 Further back in time, we find Nicole Kidman and Kerry Washington in two interpretations of Kidman's 1998 witch romance Practical Magic. Kidman's dazzling gown is worthy of moon worship with its cape and cutouts, but Washington's magenta streaks and shaggy black lace are better left to the costume closet.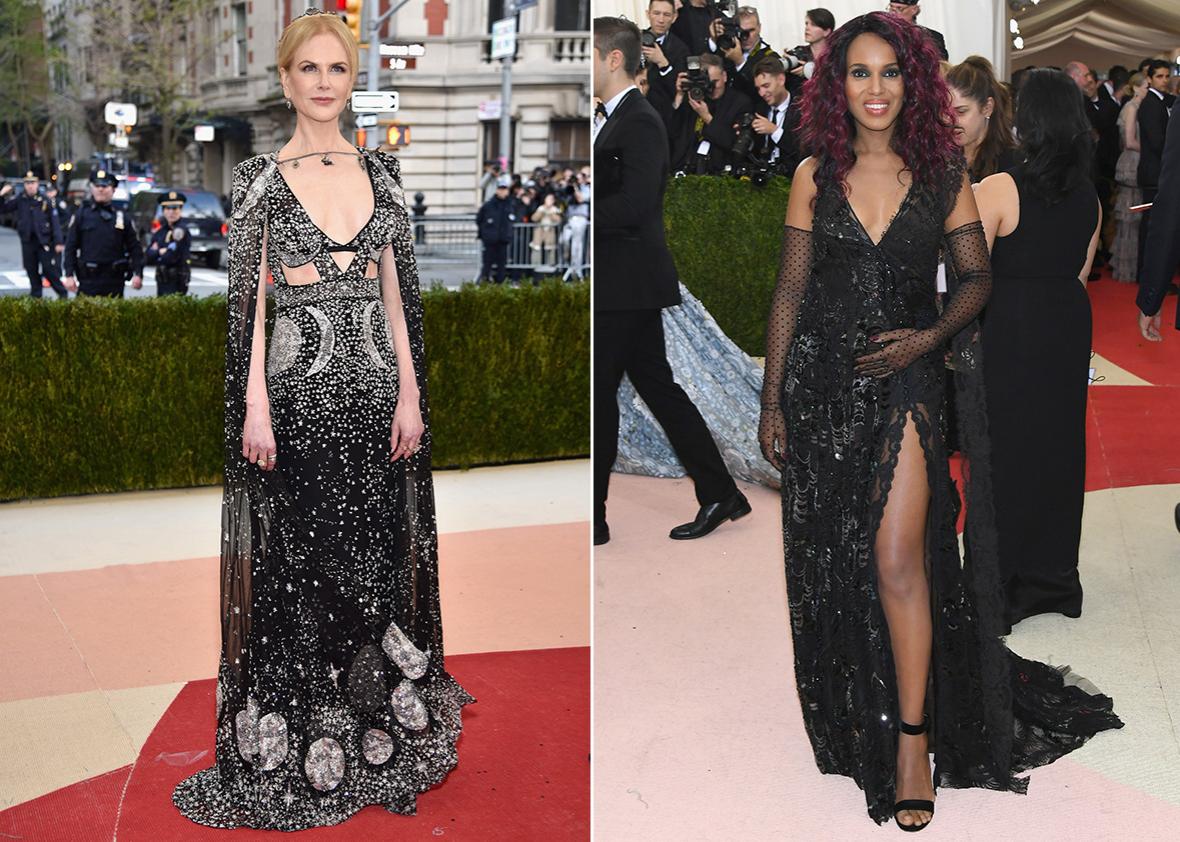 As for the men—matching the risk-taking extravagance and all-out glamour of the women is an impossible task. Still, Tremaine Brown Jr., Will.i.am, and Zayn Malik all gave it a go, and they ended up looking silly. (Malik hewed so close to the theme, he must have lost his arms in its whirring cogs.) To their credit, these men stood out at a party that still sees most of its male attendees arrive in traditional tuxes. At an event E! calls the "most exclusive dress-up party" of the year, that still registers as success.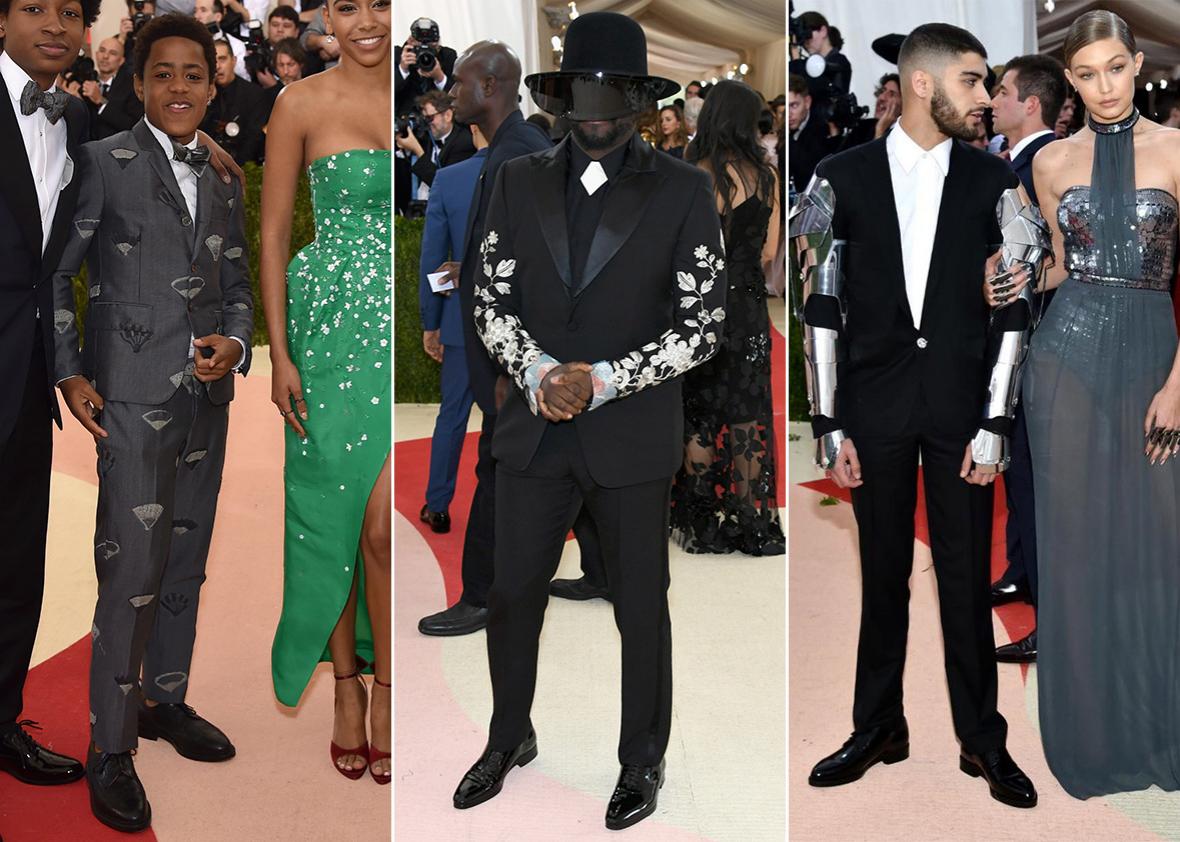 *Correction, May 3, 2016: This post originally identified the wearer of the white light-up dress as Heidi Klum. It was Claire Danes.