This post is part of Getting It Right, a field guide to the five tribes of modern men's fashion.
It seems appropriate to conclude this overview of the current men's fashion landscape with an inspirational crescendo. Concluding things with an inspirational crescendo is not without its drawbacks–we all know how noisy and messy inspirational crescendos can be—but I still feel it's worth it. So here goes: The Schlub is alive and well!!!
Despite Thom Browne and Tom Ford and Marc Jacobs; despite the metrosexual, the Brooklyn hipster, and the rise of Insta stars such as Nick Wooster; despite all the mandals, man-totes, wrist-scapes, and man-buns; in spite of it all, the Schlub is still with us. As if in reaction to the global obsession with fashion, a significant and growing number of today's men remain willfully indifferent to the siren call of la mode. It's paradoxical: We live in a culture that simultaneously privileges fashion but increasingly celebrates the Schlub. The entertainment world is filling up with style-oblivious megaschlubs. Jonah Hill, Paul Giamatti, and Seth Rogen are the Gigi, Bella, and Karlie of this movement. Jack Black is the Kendall.
So why is this a good thing? Why am I celebrating the persistence of the Schlub? Why am I not corralling Schlubs into pens and forcibly removing their stained sweatpants and fetid sneaks, shearing off their mullets, and manscaping their various overgrown areas?
As many men adopt the vanities and insecurities typically associated with women, the intrinsic appeal of the Schlub becomes ever more apparent. Schlubs are a force for good. Schlubs make the world go 'round. Schlubs are self-denying providers. Schlubs can mend sheds and build bridges. Schlubs are walking the dog while trendier men are wasting time and money with leg tattoo-ing and eyebrow-threading. Most important of all, Schlubs provide a flattering adjacency to fashionable men such as myself. Schlubs, in other words, are the salt of the Earth.
What's the look? Of all the tribes I have described in this series, Shlubs are the most mysterious and unknowable. There is no formula for the Schlub look. They do not seem remotely burdened by notions of getting it right or wrong. Their clothing is random and contingent. They are fashion nihilists.
For a clear view of the utter randomness of the Schlub's clothing choices, one needs to look at the history of the tribe. There is a wonderful tradition of heartwarming Schlub-style in American art and culture. As you will see, each Schlub style icon has a proprietorial flourish of some description.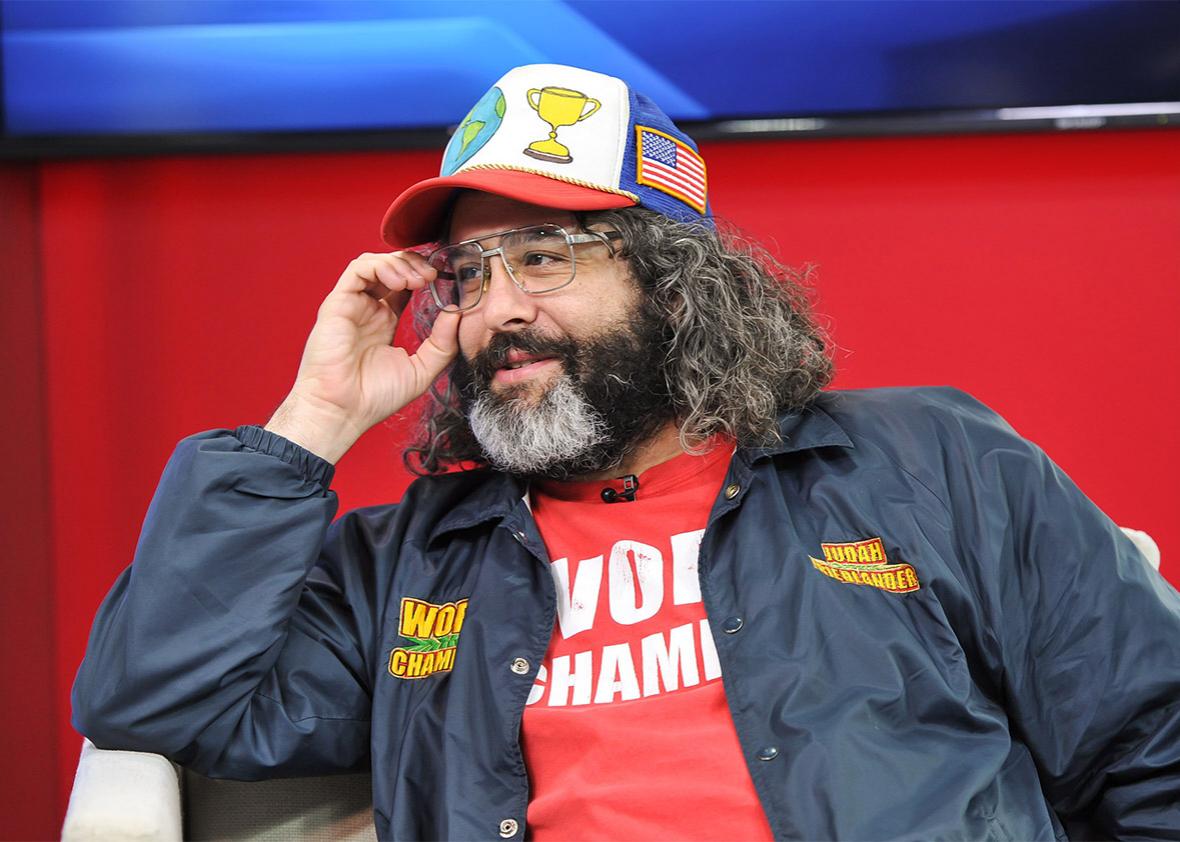 Sanford (Redd Foxx) gave carte blanche to millions of men to wear suspenders over pajama tops. With his plaid shirts and trucker hats, Dan Conner (John Goodman) gave a generation of plump gay men a road map for the pastiche of brawny masculinity that would define their bear subculture. Adam Sandler—I once spotted him wandering 'round the garden at the Beverly Hills Hotel wearing baggy running shorts and a massively oversized puffer vest emblazoned with a Yankees logo—showed us that it's possible to have a net worth of $360 million and look as if you live in a homeless shelter. My all-time Schlub icon? Judah Friedlander. The lethal combo of greasy tresses, trucker hat, and Cazals eyewear makes him Schlub platinum.
Today, the Schlub tribe is on the move, laying claim to whole areas of the country. Silicon Valley, for example, has become a Schlub hub of style. (See T.J. Miller's character on the thigh-slappingly amusing HBO series Silicon Valley.) The reason is simple: Sitting at a computer is a great way to acquire the ultimate Schlub accessory—a whopping set of love handles. The tubbiness of the Schlub gives him an air of comfy trustworthiness, which, as Shakespeare so eloquently noted, trimmer men always lack:
Let me have men about me that are fat;
Sleek-headed men and such as sleep o' nights:
Yond Cassius has a lean and hungry look;
He thinks too much: such men are dangerous.
The trusty Schlub is, ultimately, a father figure. Schlubs play catch with their kids without worrying about breaking nails, or whether they have sunblocked their schnozzes, or Crème-de-la-Mer'd their under-eye bags. Schlubs live in the now. Schlubs live lives of enviable laissez faire. If you feel the impulse to get it wrong, to abandon your tribe and all vestiges of fashion fabulosity and join the Schlubs—or maybe you were always a Schlub and you could use a little validation and a few style tips—all the inspiration you need is on the ridiculously amusing Instagram feed @fashiondads. What is the mathematical formula for those improbable juxtapositions? If, after scrolling through, you are able to decode the enigma of the Schlub, please let me know.
* * *
Et voilà! The five tribes that make up the current Get It Right fashion manscape: The Perverse Prepster, the Arty Ninja, the Dedicated Follower of Satin, the Statham, and the Schlub. Hopefully your chakras tingled at some point and you were able to connect with your tribal destiny, thereby guaranteeing that you will never ever get it wrong again.
If, horror of horrors, you felt no affinity whatsoever for any of the above tribes—maybe you are an avant-garde crackpot who only wears head-to-toe gingham—then you have my deepest sympathy. Since I am a kind and caring person, I will offer you a little advice: Start a new all-gingham tribe and pray that you are able to find other gingham-lovers like yourself. Just keep your expectations low.
If, for whatever reason, this strategy does not pan out, then simply seek safe haven with the Schlubs. You will find them to be a very warm, welcoming, and nonjudgmental group of individuals. Bon chance!
Previously in Getting It Right:
Introduction: The Five Tribes of Modern Men's Fashion
The Perverse Prepster
The Arty Ninja
The Dedicated Follower of Satin
The Statham