This post is part of Getting It Right, a field guide to the five tribes of modern men's fashion.
Most blokes have fantasized about dressing like Jimi Hendrix, Keith Richards, Jim Morrison, or Kurt Cobain. Few have taken the plunge. The average dude is plagued by the fear of looking like a total idiot, little realizing that looking like a total idiot is the whole point. Looking like a total idiot is not only a basic human right; it's actually fun. I should know—I have been doing it for years. When you dress flamboyantly and unconventionally, when you turn your back on the notion of dressing sensibly, your life becomes so much more interesting! People shout things at you on the subway like, "Rip Taylor wants his jacket back" and "The old dude is fly."
How to describe the look? The Dedicated Follower of Satin, or DFOS, incorporates a compelling mixture of hippie-dippie, glam rock, and rockabilly. If, this season, you elect to join this esoteric tribe, you will find a cornucopia of rock star styles from which to choose. It's no exaggeration to say that stores are awash in theatrical, vintage-inspired, silky embroidered bombers (aka souvenir jackets); flowery shirts; guitar strap–inspired accessories, and leopard-print everything. Think Dennis Hopper in Easy Rider, with a dollop of Hansel from Zoolander. If you cannot afford the sassy blousons and fringed rocker boots from Saint Laurent or the satin bombers from Louis Vuitton and Valentino, then shop Zara, or go vintage on eBay.
Another option: Shop across gender. If you can't find exactly what you need and you happen to be possessed of a narrow frame, then do what Rod Stewart, Marc Bolan, David Bowie, the New York Dolls, and I (back in my youth) did: Cross-dress in girls' sweaters and blouses #Topshop. If you start having second thoughts—who's going to roger me if I start wearing leg o' mutton sleeves—remember that Keith, Mick, Brian Jones, Ray Davies, and Jeff Beck, the originators of the DFOS look, were are all successful swordsmen.
Unlike conventional preppy clothing or dreary normcore solids, DFOS garments are mood-altering, in a good way. Funky, freaky, festive clothing is a bona fide anti-depressant, for both wearer and observer. We live in very challenging times. Glum thoughts can overwhelm even the butchest, most resilient guy. Dressing down is a bummer, while dressing like Jimi always delivers a nifty dose of Zoloft to your frazzled psyche.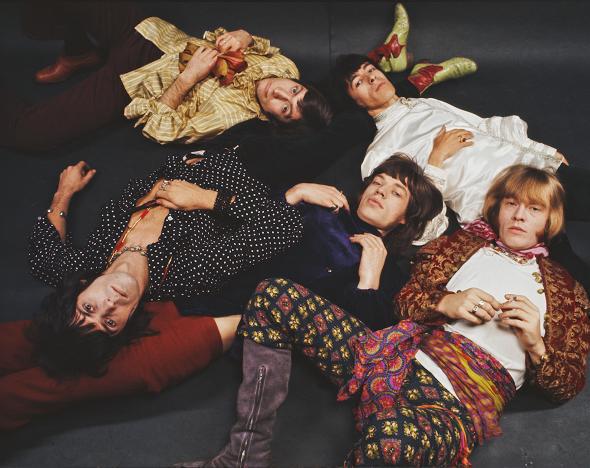 Of all the tribes currently rocking the menswear scene, the Dedicated Follower of Satin is by far the smallest group. Few people can embrace the exhibitionisms and the louche hedonism that are part and parcel of this style. Some, like Justin Bieber, mix and match their Arty Ninja clothing with their glam-slam items. Warning: For careerist millennials who are looking to communicate a rigorous office-y commitment, DFOS is a total nonstarter. You are better served to join the Perverse Prepster tribe.
The ideal customer? Scrawny, ageing boomers such as myself, and Willie Nelson. We have reached our don't-give-a-shit AARP years, and we are having a blast. If you'd like to join us, then jump aboard, but keep in mind the following: The Dedicated Follower of Satin look hinges on a certain random spontaneity. Individuals who are cursed with literal or overly logical thinking may not be suited for DFOS. Example: If you are going to wear a cowboy shirt, then maybe hold off on the cowboy boots. Choose instead a classic Adidas sneaker. If you love your camo surplus Vietnam vet jacket, then maybe unlove your camo jeans and substitute them with a brightly colored knit jegging. Vintage ruffled tux shirts look better with jeans than with tux pants. Improbable combos are the name of the DFOS game.
Next in our lineup: The Statham, as in Jason. Tatts are de rigueur.
Previously in Getting It Right:
Introduction: The Five Tribes of Modern Men's Fashion
The Perverse Prepster
The Arty Ninja