In April, Uganda entered the gay rights spotlight once again when Rebecca Kadaga, the speaker of Uganda's Parliament, declared that a harsh anti-homosexuality law annulled in 2014 could return at any time. Homosexual acts are already illegal in Uganda, but the law Kadaga supports would allow harsher sentencing, prohibit the "promotion" of gay rights, and call for the punishment of anyone who funds, sponsors, or abets homosexuality.
After the widely celebrated success of Pride Uganda last summer—the gathering drew record numbers and seemed to many like a sign of new hope—it's disheartening to imagine Uganda's queer community being thrust back into hiding by anti-gay legislation. But was last year's Pride really an indication of better times for LGBTQ Uganda? And what do Kadaga's threats really mean to that community?
For insight, I spoke with two people deeply invested in these questions: photographer Diana Zeyneb Alhindawi, whose intimate images of Pride Uganda recently appeared in Dazed Digital and Lens Culture; and Ritah, an organizer of Pride Uganda. They helped put Kadaga's remarks in context—and discussed what Pride means for Uganda's LGBTQ community in uncertain times.
For Alhindawi, Kadaga's declarations are just a small part of an ongoing tension. Alhindawi has followed Uganda's gay rights battle since 2013, when a close friend and activist introduced her to the queer community there. She has witnessed first-hand the damage caused by anti-gay legislation, even after the notorious law was withdrawn. "Under the anti-homosexuality law, queer spaces were completely on lockdown, things hit rock bottom," she told me. "So of course, when there was a change, people felt some optimism. But they've always been afraid that the law will come back into place."
Though Western readers might not be aware of it, the push to reinstate anti-gay laws has been a constant staple of Uganda's political conversation, making it impossible for queer people to feel secure. "We hear about that law every single day, because any politician seeking attention will have to mention it," Ritah told me. "We recently had elections in Parliament, and many politicians were talking about that bill being passed in their campaign. So I would say we're not at peace."  
And while legal persecution of queer people and their allies has been restricted for the moment, anti-gay violence in Uganda seems to be rising in the streets. Sexual Minorities Uganda reported a tenfold increase in violence against LGBTQ people in 2015. And Ritah has personally noticed an increase in the frequency and severity of attacks. "We have had three or four cases where people have been beaten nearly to death by unknown attackers," she told me, "By the end of last year, we began to realize that the witch hunt was coming back."
So while Kadaga's remarks may seem significant to outsiders, they represent something unfortunately all too familiar for queer Ugandans.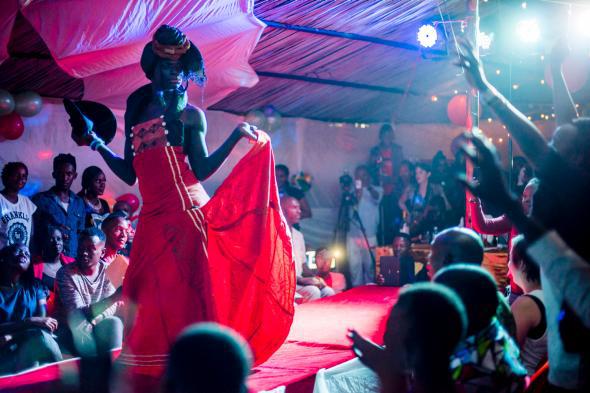 And that's what makes last year's Pride Uganda so remarkable. It was not, as some might see it, a sign of better times after the annulment of a cruel law. It was a rare safe space for self-expression and dialogue in the face of ongoing hardship. The four-day gathering offered not only cocktail parties, a march, and a Miss Pride competition, but also discussion panels examining legal, health, and safety issues for LGBTQ people. And it took place within a gated park where visitors could be monitored and protected. Describing the first days of the event, Ritah told me: "You could almost forget about the police and the media. Some people said, 'I cannot really be open out there, but here I can put on a dress, and be me.' " For many, Pride was a first chance to feel like part of a community, rather than an outsider or a target. "People told me, 'I didn't know that that there are so many of us,' " Ritah said. "You could see the reaction in their faces."
This sense of freedom is beautifully captured in Alhindawi's images. As a drag queen, I am particularly captivated by her photographs of the Miss Pride competition, which depict contestants mid-strut on a runway, striking glamorous poses in brilliantly colorful wraps. It's thrilling to see the confidence and happiness in these scenes, especially when you place them side by side with Alhindawi's portraits of LGBTQ Ugandans at home. Outside the magic circle of Pride, queer Ugandans worry over money, employment, family, safety, and that worry shows clearly in their crumpled poses and half-covered faces.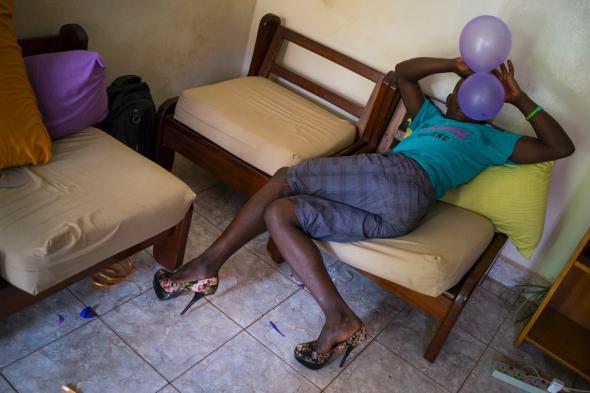 Alhindawi deftly captures Pride's power to create a sense of joy and togetherness, even as politicians like Kadaga preached what Amnesty International has described as institutionalized hatred. "I've seen this over and over again in persecuted communities, that despite suffering so much, they can still come together and celebrate life," she told me, "If you get people together and give them a chance to celebrate that they're alive, they'll take it."
But there's no guarantee that queer Ugandans will have that chance again. As Alhindawi notes, Pride Uganda was painstakingly planned to avoid incident, with safety precautions posted for attendees, and careful screening for media representatives to minimize negative attention from the local press. The gathering offered a vital oasis of freedom, but a fragile one that required vigilance from organizers and attendees alike. And the celebration did not go without incident. While leaving a closing event at a bar outside Kampala, Alhindawi and another attendee were separately attacked—Alhindawi was robbed at knifepoint and nearly strangled before being abandoned on an empty road.
So if Pride Uganda is to flourish again in the face of rising violence and continuing political persecution, it will require significant coordination and tremendous resources. And though Ritah is tirelessly optimistic, she's also painfully aware of her constraints. "We are running out of time," she said. "Pride is in August."
When I asked Alhindawi what the press misses when discussing Pride and queer life in Uganda and its neighboring countries, she described two frustrations. First, there are too many attempts to make generalized statements about what is really a complex and ever-changing situation. And then, there's a lack of genuine engagement. "Sometimes [LGBTQ people here] do get quite tired of getting media attention and nothing else," she told me. "I just contacted an LGBTQ refugee in Kenya, and he told me that journalists tend to write their story and then nothing happens—it doesn't translate into anything." Looking at Alhindawi's images of Pride Uganda—her contribution to an uphill battle—I wondered what I was doing.