Today, presumptive Republican presidential nominee Donald Trump gave the world a Cinco de Mayo gift it will never forget: a ridiculously tone-deaf tweet about taco bowls (which, for the record, aren't actually served at Trump Tower Grill):
Eagle-eyed former BuzzFeed editor Benny Johnson noticed that beneath the crispy-shelled peace offering was a picture of Trump's ex-wife, Marla Maples, wearing a bikini: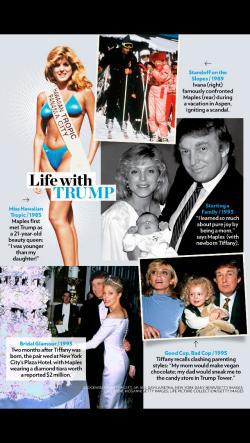 The picture is from a profile of Maples in the May 2 issue of People magazine. In that story, 52-year-old Maples admits that she lives in a 740-square-foot apartment, is working on a memoir, and wishes previous Trump wife Ivana "nothing but love." Maples also discusses her reported $2 million settlement from her divorce from Trump in 1999: "People saying 'He takes care of her'—that's not true. I feel very blessed for how my life is, but I do have to laugh when people think I walked away with a fortune." As for the bikini picture, it's from Maples' reign as a Miss Hawaiian Tropic contestant in 1985, the year she met Trump.