This post is part of Getting It Right, a field guide to the five tribes of modern men's fashion.
Shaved head? CrossFit body? Wall-to-wall tattoos? Dirty, slouchy denims? If this describes the fantasy you—or the super-butch alter-ego that lives inside your head—then you might well be a candidate for the Statham tribe.
Adopting the Statham look—the tribe is named, by moi, after Jason Statham, the charismatically grunty British star of numerous violent movies—is easy and inexpensive. In Statham world, nothing is fancy or elitist. Statham-ing is, however, not without its complications. Others will draw conclusions based on your appearance. Stathams are frequently mistaken for ruthless sex traffickers or Moldovan hit men.  
Before we probe deeper into the Statham profile, let's zero in on the style components. The Statham look is tough, edgy, and screams "rough trade." There is a whiff of sadism in those rugged Rag and Bone jeans and those artfully scuffed Viberg work boots. John Varvatos and Denim and Supply (the Ralph Lauren offshoot) are go-to designers for the Statham. The Statham owns stacks of James Perse T-shirts. If it's chilly, then V-necked sweaters will be worn—à la Simon Cowell, but minus the moobs—over rock-hard chests. U.S. Navy aviators are the Statham's one adornment. Navy and black are the Statham colors. Jacket? The Statham would never wear a biker jacket. Too costume-y. For the Statham, it's more about a stormproof, waxed-cotton, Belstaff motocross-inspired Citimaster or Roadmaster.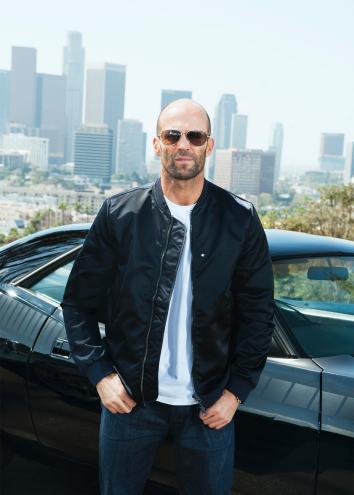 Now back to the demographic. The Statham look is, as I will demonstrate, misleading to the point of madness. Stathams work within a broad range of professions, none of which involve raping, pillaging, or garotting. He is, in many cases, a Sheila in wolf's clothing. Here are a few of the most prominent Statham vocations:
The Statham de coiffure: With nary a thought for the obvious irony of dressing like a killer while attaching hair extensions, both straight and gay hairdressers are devotees of the Statham look. How to tell them apart? Gay hairdresser Stathams tend to have bigger muscles than straight hairdresser Stathams.
The yeehaw Statham: In the world of country music, electric horsemen and rhinestone cowboys have been replaced by dressed-down, gritty Stathams such as Dierks Bentley and Brad Paisley. Charles Esten's character on sadly departed Nashville—Deacon Claybourne is the heart and soul of the show—is Statham-central.
The pampered Hollywood thespian Statham: Dorothy Parker said, "Scratch an actor and you'll find an actress." I say, "Scratch a Statham and you'll find an actor who uses eye cream." From Brad Pitt—he helped author the look—to Ryan Reynolds and Ryan Gosling, the hypermasculine Statham look is hugely popular with butch A-listers, especially when popping out to pick up a latte or girly pressed-juice concoction.
Why do A-listers, blokes who could presumably afford to buy the most outré designer fashion, prefer the Statham look? The answer is simple enough: High-profile dudes in a range of professions—we are talking everyone from David Beckham to Mr. Statham himself—opt for the Statham look because it is unimpeachable and hater-immune. The tough-guy simplicity of the Statham look provides an iron dome of social media protection to those who might otherwise be subject to endless critical bombardment.
Other devotees: The 1 percenters. Damian Lewis' character on the Showtime series Billions is costumed to Statham perfection. Wall Streeters may dress like Prepsters or even Perverse Prepsters on their way up, but once they reach the top, it's on with the work boots and the cotton-jersey hoodies.
Regarding Jason Statham himself: If you have not sampled his oeuvre, you are in for a treat. I recently watched Crank 2: High Voltage. It is a delightmare that involves Statham applying jumper cables to his nipples and tongue. This coming August, Statham fans will be tucking into Mechanic: Resurrection, in which Statham resumes the role of Arthur Bishop, wears lots of dark clothes, and kills loads more people in horrible ways that look like accidents. Statham's next role? He should play James Bond. It's high time a working-class lad—a baldy Bond—was given a chance to deconstruct the martini-drinking toff.
Statham takeaways: The most important Statham accessory is a car, preferably a banged-up, scratched-up '80s Porsche, a growling vintage Jaguar XJS, or an obscure Lancia. And the interior must be ravaged, soiled, and patina'd to within an inch of its life. The Statham look is dirty. It's clean dirt, but it's dirt nonetheless.
Tune in Friday for the last and most important installment in this sartorial tribal overview: The Schlub.
Previously in Getting It Right:
Introduction: The Five Tribes of Modern Men's Fashion
The Perverse Prepster
The Arty Ninja
The Dedicated Follower of Satin