Los Angeles–based artist Jedediah Corwyn Voltz is a prop-maker for TV and film by day who has a charming side business making tiny treehouses for potted bonsai trees, cacti, and succulents.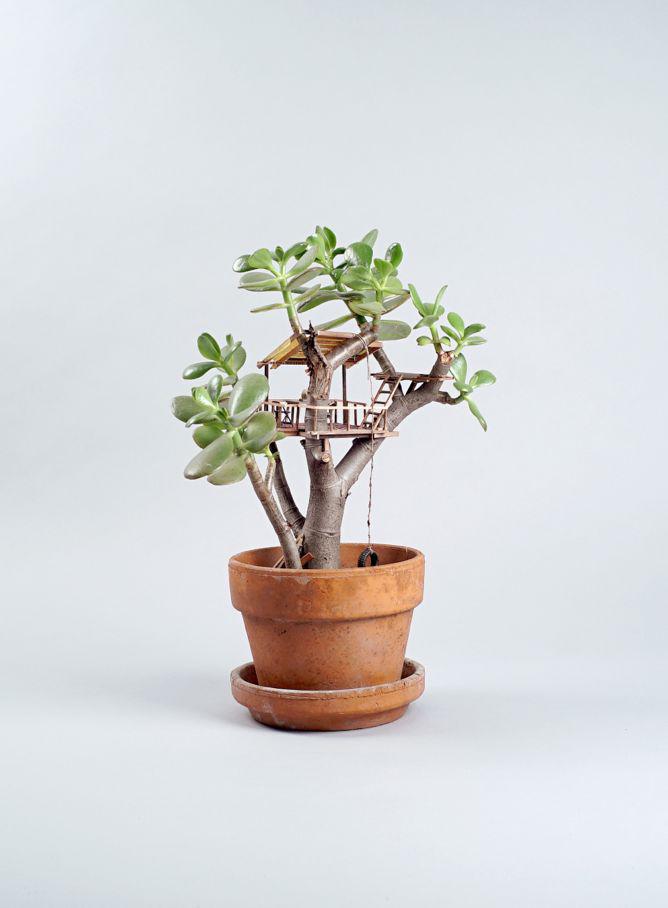 "Building miniatures for stop motion always leaves me with a huge bin of scrap balsa, basswood, various fabrics, etc. and I found myself making little fantasy constructions out of that stuff during my downtime," Voltz told me in an email. "Those little scrap forts led to me building some more serious ones in little diorama settings, and last year I built my first living treehouse."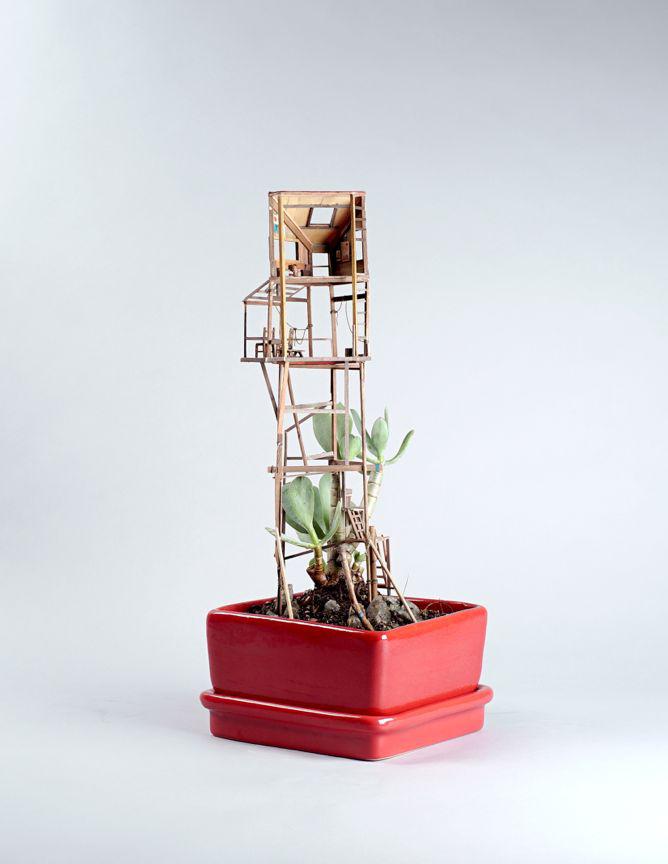 Since then, he's made nearly 25 miniature structures, from "tiny watchtowers in secluded forests, to quiet treetop meditation platforms, to giant bustling windmills and waterwheels," he said. "I try to build structures that complement the plant they're living in, and grow with them."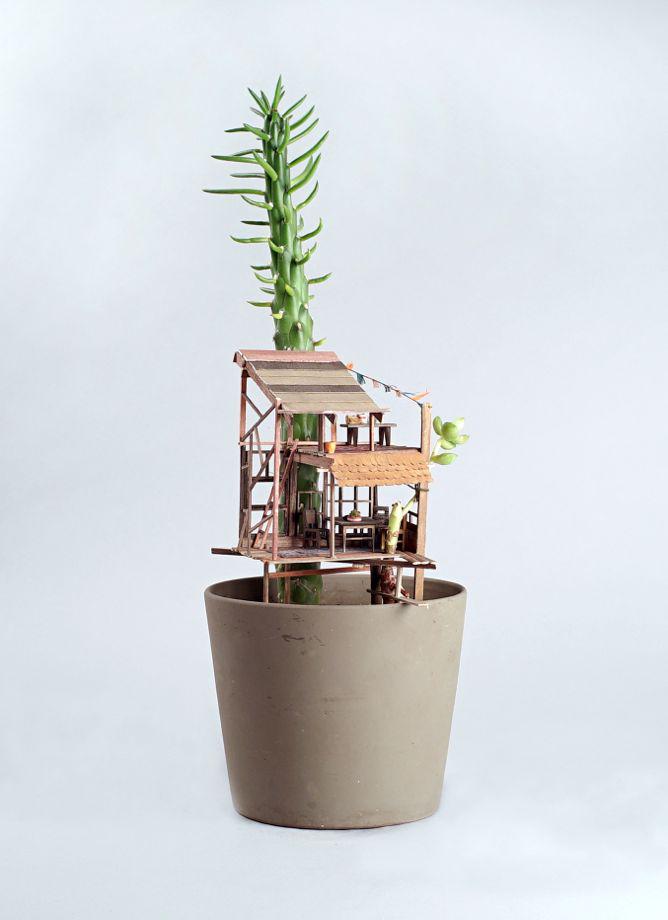 Voltz traces his creative endeavor to boyhood, when he would "build elaborate forts for my GI Joe toys," he said. "I'd dig into hillsides, move rocks to make fortifications, and eventually, when winter came around, turned to my mother's large selection of indoor houseplants. It was pretty common to have 4-5 of these secret bases going simultaneously, sometimes with ziplines or communication cables strung between them."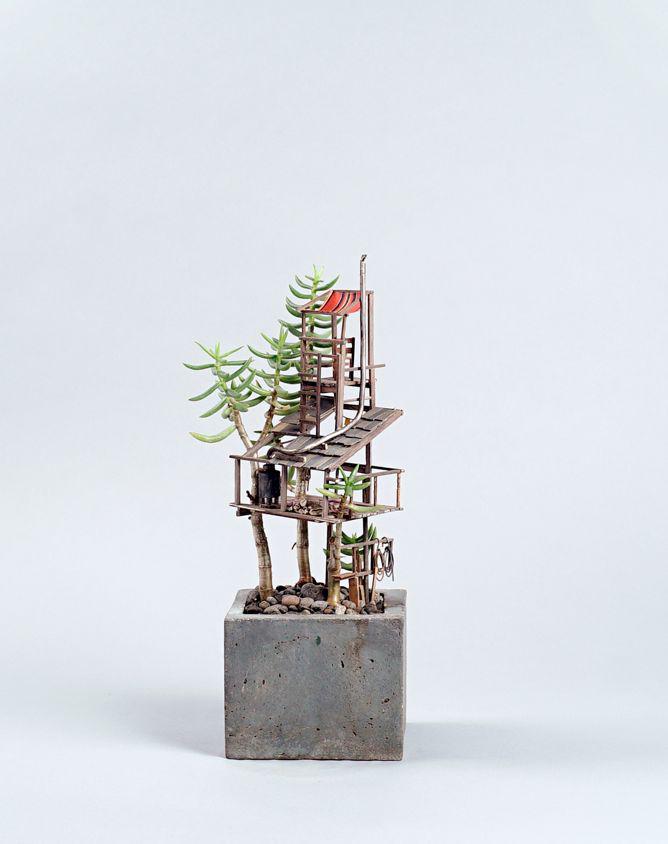 Voltz said that he felt his way into the design process, first by making crude forts and towers as a way to utilize leftover materials. "The majority of my buildings aren't exactly designed as they are grown," he said, adding that he usually starts with a base and builds out from there.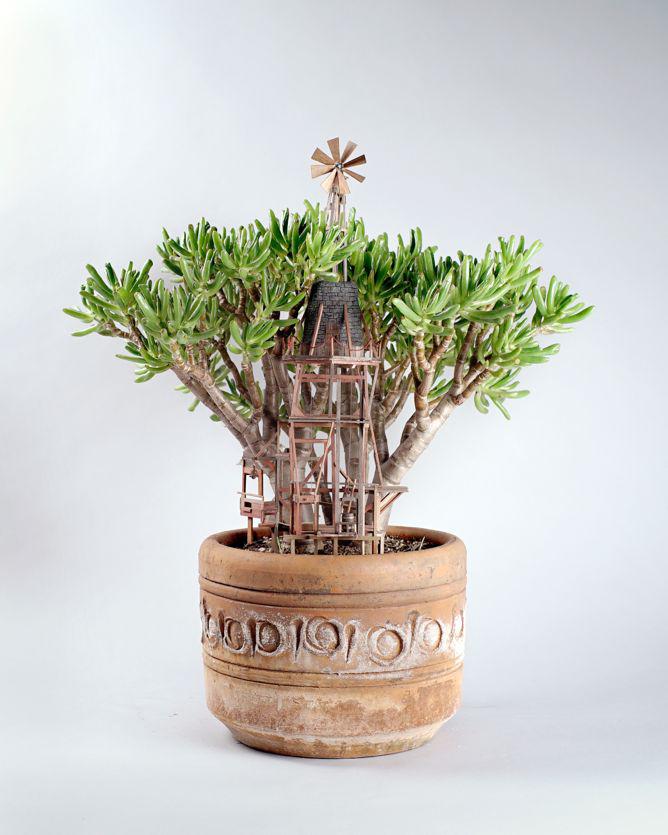 But he inherited his mother's green thumb and said that his windmill piece, for example, was inspired by the feel of his Crassula ovata plant. "I wanted to make something large and wind-related, to match the windswept treetop feel of this plant," he said. "I built the top of the windmill first, getting a feel for how I wanted it to peek out over the top of the tree, and then built down from there, adding two more work levels, and then eventually an attached living quarters."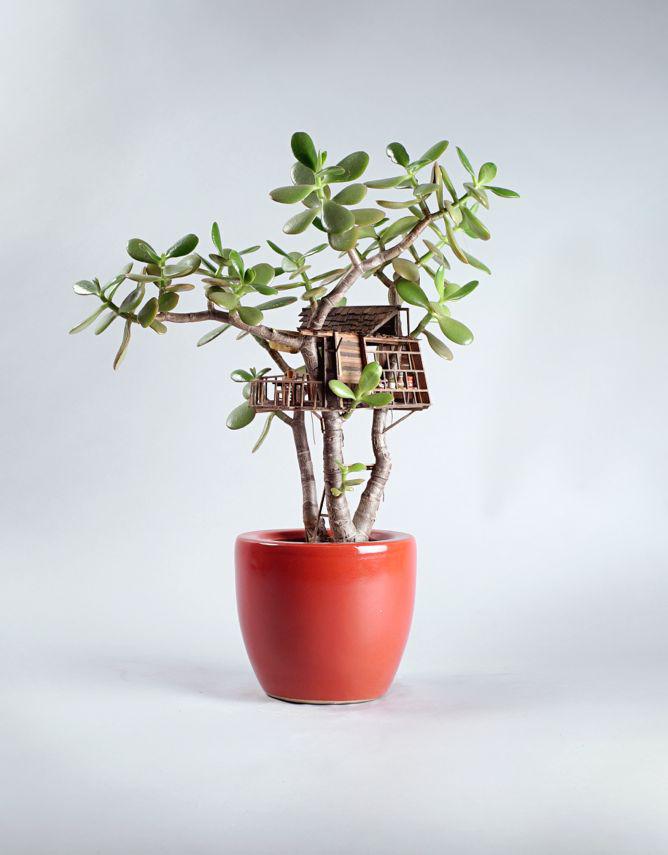 Then he got to work on the gearing, he said, so that the mill would actually turn a shaft running through the tower, and created an elevator that would transport barrels of materials down for shipping. "I really get into imagining how little people would use these structures," he said. "After the bones of the building are constructed, I start filling it in with little signs of life, adding silk and woolen rugs, handmade clay pots, mounted crystals and chips of semi-precious raw stones like Tiger's eye, quartz and amethyst, tiny artworks, potted plants, flags and pennants, and an assortment of handmade furniture. Nowadays it's tough to find a plant in my house or yard that doesn't have some sort of architectural adornment or small scene taking place within its branches and soil."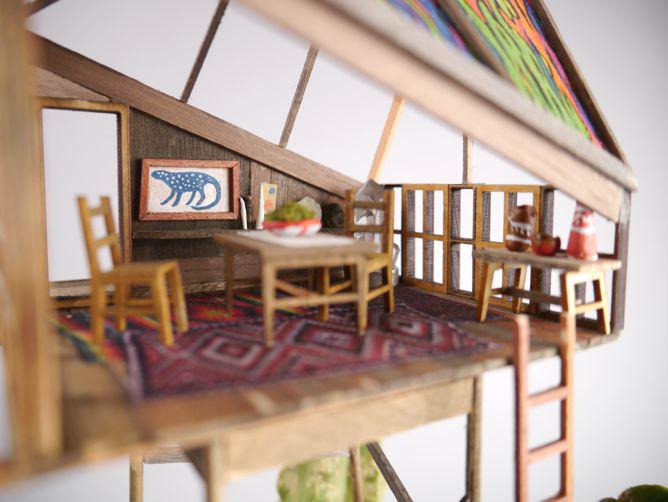 The tiny treehouses will be on display (and for sale) at L.A.'s Virgil Normal starting April 23. Voltz is available for commissions in L.A. and is developing DIY miniature treehouse-making kits that he hopes to make available next year. Check out more of his work here.