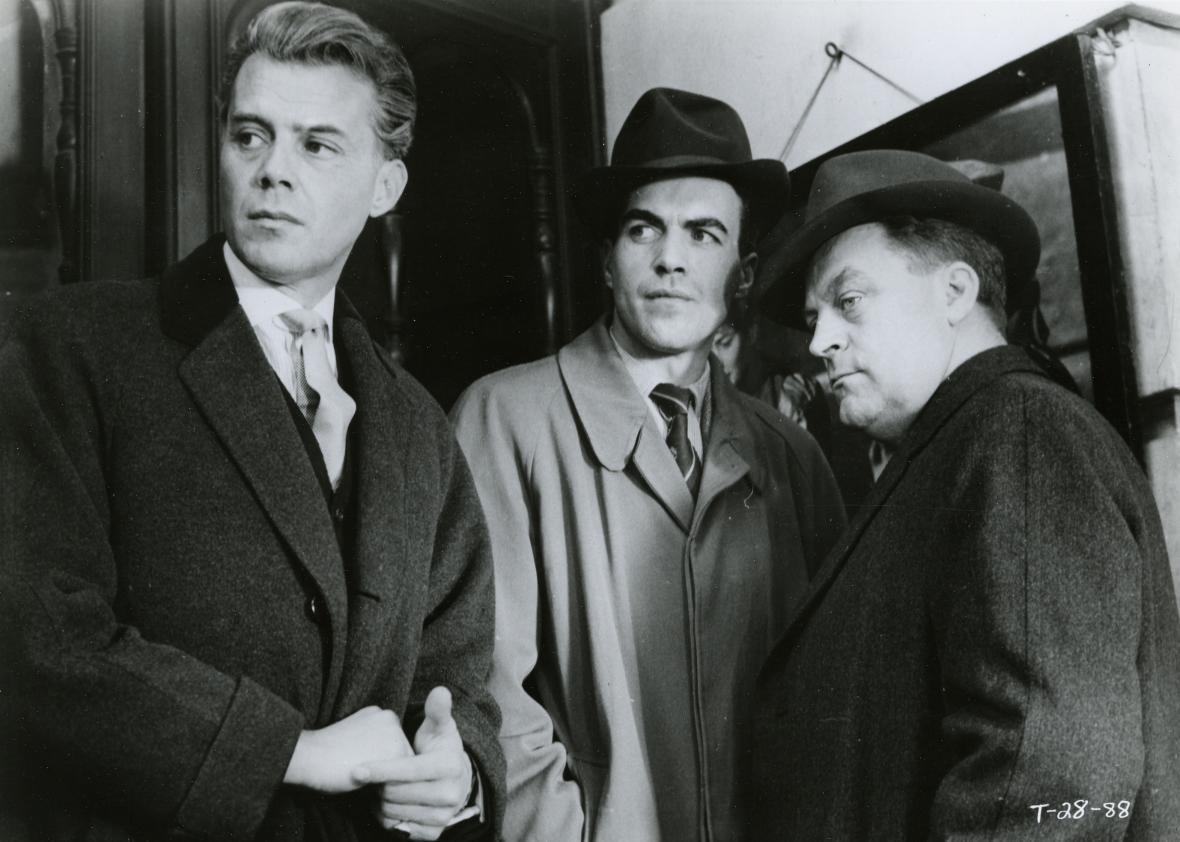 Jimmy, a blonde boy in a pristine white shirt, accepts a ride home from an older man, Ralph, after playing some ball in the park. The man buys him a Coke and takes him fishing. Ralph never takes off his sunglasses, but from the way the camera lingers on his face, you can tell he's doing some serious … glancing at Jimmy. Soon, the paternal narrator arrives with news: "What Jimmy didn't know is Ralph was sick. A sickness that was not visible like smallpox, but no less dangerous and contagious. A sickness of the mind. You see, Ralph was a homosexual."
This is Boys Beware, a 1961 short produced by the police department and school board of Inglewood, California, to warn young boys of an unseen threat. It is also, according to the pleasingly elastic definition of film programmer Thomas Beard, a notable example of early queer cinema. Beard explores this elusive category in An Early Clue to the New Direction: Queer Cinema Before Stonewall, a film series now playing at the Film Society of Lincoln Center in New York. For viewers in the area, the series is a must, packed with familiar staples (Hitchcock's Rope, Ed Wood's Glen or Glenda?) alongside lesser-seen touchstones (Vingarne, a 1916 Swedish silent film billed as the first to feature a gay relationship "more or less explicitly"), much of them screened on rare 35mm prints. For farther-flung viewers, Beard's complete program is a kind of patchwork syllabus for how to detect signs of queer life in films from the late 19th century to the cusp of gay liberation in 1969. Even for the studied fan of gay classics, the lineup offers some unexpected wonders.
"This is a show that I wished I'd been able to see when I was young," Beard told me. "When I was a teenager who had just come out—I grew up in small town South Carolina—I found myself in a position where I'd try to locate a political history that was very invisible to me, and also an aesthetic history that was invisible to me."
Quick to credit scholars like Patricia White and Vito Russo—pioneers in the area—Beard said the value of his series is to bring together the many strands of this history into a single slate that has it all. "This program allows for people to look at bodies of filmmaking as a whole that are usually understood with distinction—classical Hollywood cinema, underground filmmaking, educational films … pornography, let's say." Indeed, one hard-to-find highlight is No Help Needed, a bit of vintage lesbian porn borrowed from the collection of Jenni Olson. It's from 1932.   
Where does a propaganda PSA like Boys Beware fit into this? "Film programming as revenge," Beard said. Noting the film's helpful guide to places where curious young men might find like-minded individuals, he added, "It's an educational film, but maybe not for the reasons the creators intended." It will screen on Saturday alongside Hold Me While I'm Naked, an underground classic from the inimitable George Kuchar, and Ron and Chuck in Disneyland Discovery, about two men who meet in the titular theme park, where it was shot surreptitiously. If you are unable to make that dream lineup, you can watch Boys Beware below. (It's safe for work, provided you avoid audible laughter.)
Beard's wide purview for the series naturally raises some questions, like whether these films can really be called "queer" at all, given the historical moments in which they were produced. "It's a willful anachronism," he said of the program's title. "It's about gay and lesbian cinema prior to liberation, and prior to the political dimension of the word 'queer.' At the same time, it's about looking at early 'queer' cinema and thinking about how it can be brought to the present and how it can be reconsidered from a contemporary perspective."  
Yet the series is also far from a neck-craning exercise to find the hidden queer codes in old movies. Boys Beware aside, Beard said most of the films are worth considering both with and without a contemporary lens. "Sometimes what you're watching can be both a love story and censorship battle," he said, "or a cautionary tale and piece of camp revisionism at once. They are certainly historical documents, but they're not only that. The value can be found in many different places simultaneously." That befits Victim, a 1961 British entry about a shadowy enterprise blackmailing gay men, set amid the Wolfenden Report debate about whether to decriminalize homosexuality in the U.K. It screens Thursday and Friday in 35mm, and also isn't difficult to find online. "One of the powers of Victim is the way it works as a genre picture, particularly a detective film. It's doing what many genre pictures can do, which is allowing the pleasure of a familiar form, but elaborating upon that form in a way that is novel and most unexpected." The film pauses periodically for characters to debate the anti-gay law at its center, and their conversations can feel startlingly familiar 55 years later.
Whether at Lincoln Center or at home, viewers who settle into Beard's insistently eclectic selection may find themselves wondering why the Netflix LGBT section sometimes seems to feature only movies about summertime lesbian flings and German cops getting it on. Was "queer cinema" actually more diverse before gay liberation began? That seemed to be one conclusion of critic Wesley Morris, writing on the series in the New York Times: "'Queerness' is more normal than it was in, say, 1953. Things aren't particularly robust for gay films and movies post-Stonewall."
Beard is cautious here. Invoking filmmakers like João Pedro Rodrigues, he said, "Queer cinema is as formally adventurous and bold as it's ever been, but at the same time, there is an assimilationist arc to the way queer cinema has developed."
"There's the idea that gay people just put up with these movies until they could see themselves at the multiplex or on primetime TV. Then they're outta here," Beard added. This collection of films, he said, "could be a reminder that the goals of queer cinema don't simply have to be about gay versions of familiar Hollywood forms. A reminder, perhaps, that desire can be articulated in manifold and surprising ways."
---