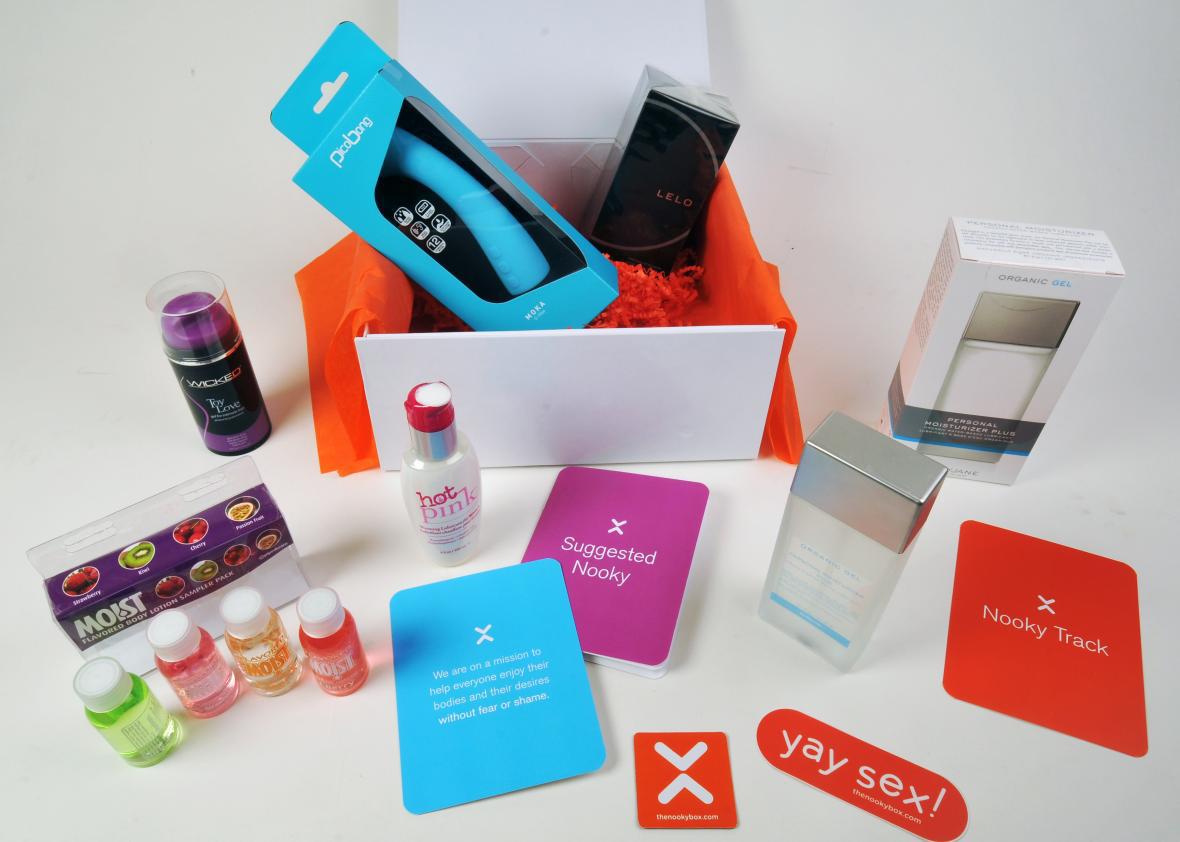 There are sex toy subscription boxes, and then there are sex toy subscription boxes. When Birchbox fever hit in the early 2010s, intrepid reviewers at Alternet, Bustle, and New York magazine surveyed the landscape of new services that popped up promising a monthly or quarterly shipment of bedroom products.
What they found was underwhelming. The boxes were crammed with cheap lingerie, lip gloss, snake-oil "sexual performance" drinks, and decidedly unsexual fillers like Luna Bars and tea. Aimed squarely at women and hetero couples, most of these boxes offered novelty kitsch better suited for a bachelorette party than a grown-up sexual encounter.
When Meg Ross considered starting a sex toy subscription service last year, she wanted to improve on the status quo. "I know there's a lot of people out there that are really excited about getting packages in the mail. That part's easy," she told me. The hard part: figuring out what she should put in them. "I started having little parties at my house and said, 'I'll give you wine if you tell me what you love in this industry, and what's missing.'"
Ross had learned the basics of business ownership eight years ago, when she started a Paul Mitchell cosmetology school on Long Island. After moving back to her home state of Montana at her parents' urging, she wrote a business plan for a brewery, then decided sex toys were a better outlet for her passions. Friends and family told her they got their information about sex toys and techniques from Google searches and sometimes felt too intimidated to strike up a chat with a proprietor of a brick-and-mortar sex shop.
Nooky Box, which Ross launched in February after raising about $10,600 on Indiegogo, has aspirations of combining the ease of a subscription service with the expertise of a professional sex educator. Every three months, for $300 a year, subscribers get a themed box with sex toys, a playlist, and an erotic story that includes all the items in the box. "Everyone has that friend they go to for advice in their sex lives or their love lives, and I'm that person in my friend group," Ross says. Since she doesn't have a sex-ed background, Ross has recruited sex therapists like Gina Senarighi, who runs a Portland, Oregon–based relationship counseling practice called Uncommon Love, to blog on the Nooky Box site about how to keep sex toys clean, find a G spot, and use a dildo on your own. They're working on building out the site to include videos and answers to subscribers' questions, too.
One of the major pieces of feedback users sent Ross during her Indiegogo campaign was that there was no need to offer separate boxes for gay men, lesbians, and straight couples, as she'd originally planned. A vibrating butt plug first found its home in the gay men box, but Ross realized that anyone with an anus might want to try that toy. "That wasn't on our radar initially," she says. Now, all subscribers get the same Nooky Box with products that can be used on all kinds of bodies and body parts, and they can choose different gender pairings featured in the erotic story for each box.
And oh, the story. The one I read, part of a box that contained a magenta PicoBong vibrator within its depths, featured a man reluctant to try the toys his more adventurous wife had ordered. Here's a representative excerpt:
The vibrator was a weird shade of purple. What had gotten into her? He thought he'd kept her satisfied, but obviously she was lacking something. His hard-on softened.
"Let me try it on you, first," she said.
"I don't have any place to put that," he said.
Spoiler: He does, in fact, have a place to put that. Later:
Grabbing the bottle from the nightstand, he lubed the vibrator. He was in control now, and he was going to rock her world. … Studying her reactions, he turned it this way and that, discovering the switch that controlled the speed of the motor.
The story's not immune from the cheesy tropes of mainstream erotica, but it's a hell of a lot more exciting than paging through an instruction manual. "One of the concepts I had was, 'Well, we're going to be sending these people products, and they're going to want to know how to use them," Ross says. "But we didn't want to make it clinical." The vibrating toys in Nooky Box are all part of the PicoBong brand, which is owned by the high-end LELO toy manufacturer. PicoBong toys are waterproof and made of silicone—a favorite among top-quality brands for its feel and hygienic properties—but are battery-operated and a bit cheaper than USB-rechargeable LELO products.
Still, Nooky Box is by no means cheap: Single boxes run from $80 for a single subscription box to $99.99 for a themed "signature box," like a lube sampler or a travel set. But PicoBong's vibrators alone cost between $40 and $130 each, and the convenience, curation, and element of surprise could make the service a worthy purchase for the financially secure toy-loving or toy-curious consumer. Unlike the sample-sized products in subscription beauty boxes, most of the items in each Nooky Box will last a good while. As they start to pile up, a quarterly subscriber would be wise to upgrade the tattered shoebox stashed under her nightstand.
---