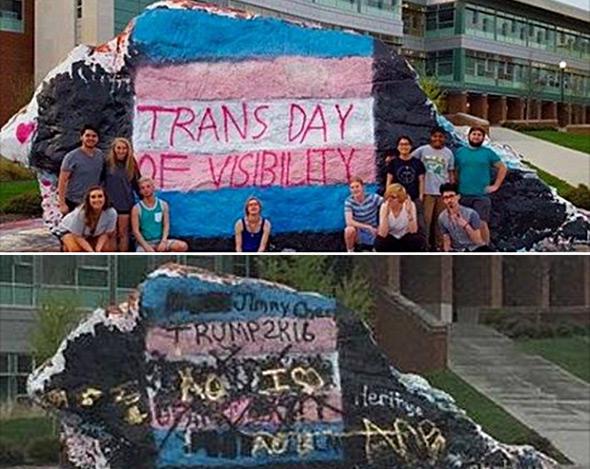 "You're a lesbian, we're not giving you our names. We don't give our names to lesbians," the father in a trio of family protesters at the University of Tennessee, Knoxville, told me last Wednesday when I attempted to interview him. Perhaps it was a bad time to ask—after all, I was requesting a comment just as he crossed the street in an attempt to get away from the 20 or 30 counterprotesters who had surrounded them, many holding rainbow flags and hastily drawn posters that largely succeeded in drawing attention away from the dense text of the Bible quotes the family was holding.
The protesters were upset that UTK was once again hosting Sex Week, the popular student-run, independently funded slate of educational talks about sex, sexuality, and related topics that runs for one week every year.
Eventually, I managed to speak with Christine Weick, another Christian protester who had driven to campus with the first group but who told me she preferred a quieter, more peaceful style of protest than that of the trio, whose tactics included stepping on and spitting on a Quran, as well as employing a megaphone to amplify their anti-gay and anti-Muslim messages. "This is Sex Week, and I'm here because I love my neighbor, to warn them that homosexuality is an abomination unto the Lord. That's not my opinion, it is God's," she told me. Perhaps because of this, or because she'd chosen a somewhat less busy corner of campus to stand with her large red sign warning of the evils of gay marriage, Weick was not mobbed by counterprotesters, at least not until the other three joined her at her corner, trailing an impromptu pride parade behind them.
Last September, I wrote about a tempest-in-a-teapot brought about when a Fox News columnist mistook an article explaining the use of gender-neutral pronouns for a campuswide policy that would do away with traditional pronouns she and he entirely. Fox News columnist Todd Starnes, who also does talk radio, seems to have something of a bee in his bonnet when it comes to UTK: In December, he went on to write about a memo suggesting ways to make holiday parties more inclusive (which he also misrepresented as official policy rather than a suggestion). He supported efforts to defund the university's Office of Diversity, as well as decrying Sex Week.
The University of Tennessee does not seem like a particularly radical place—at least not to my Massachusetts-raised eyes. Eighty-seven percent of undergraduates are Tennessee natives, and it's known for its excellent business administration and agricultural programs. There are more than 20 separate student organizations devoted to Christianity or particular Christian sects—many more than any other sort of student group. In addition to promoting multiculturalism, the much-maligned Office of Diversity supports students from rural and farming–family backgrounds, regardless of ethnicity.
In the eyes of conservatives, however, even the mildest sign of progressive values on campus provides more than enough reason to get upset, and the tensions between student activists and their conservative critics have escalated over the last school year.
"It started with the gender-neutral pronouns, but when the holiday-inclusivity backlash happened, that's when we all decided to really band together," explained Nic Brewer, who described herself as a nonbinary lesbian, as well as a disabled student. (Brewer uses a wheelchair.)
The students have staged rallies and protests, and 13 student groups, including women's groups, LGBTQ groups, and groups devoted to racial justice, have banded together under the name UT Diversity Matters and formulated a wide-ranging list of demands, which they are pressing the administration to act on.
In response, there have been incidents that suggest the school is divided on questions of diversity and tolerance, although opposition from within the student body (as opposed to at Fox News) has thus far been covert rather than out in the open. For instance, when members of student group volOUT painted the beloved campus rock for Trans Visibility Day in late March, within a couple of hours it was defaced with black X's and the slogan "Trump 2016." (Students are allowed to paint and repaint the rock freely, but angry defacement of other students' messaging is uncommon.) The Pride Center has had a rock thrown through a window, and students report that LGBTQ–supportive signs have been stolen and defaced several times during the last year.
For one member of the university community, the pressure of being known as a transgender student made it difficult to remain enrolled. Amanda Eleanor Pitts was a junior who had allowed her image to be used on some pro-diversity materials and who has now withdrawn from school after feeling she was unable to bear up under the scrutiny that came with being known as a transgender activist.
"Before, I could walk around, and unless I was wearing something really 'out there,' no one would give me a second look. But last semester, everyone stared, no matter what I was wearing, because they recognized me. And, honestly, I just couldn't handle the pressure. Some of the material for the Pride Center had my face on it, and suddenly people thought it was their job to voice their opinions [about LGBTQ issues]," Amanda told me.
As the end of the school year draws near, it seems unlikely that larger questions about how diverse and welcoming a campus UTK will be can be settled for a while. The students I spoke with seemed to feel that the underlying tension between conservative Southern culture and modern, progressive inclusivity were building, although they couldn't offer any predictions about whether the outcome would be positive or negative. In a state where Donald Trump won the Republican primary overwhelmingly, and a bill could allow therapists to refuse to see LGBTQ patients, perhaps it's not surprising that the fight to open up space for diversity of thought and experience feels so very urgent.
---