Glamour put Amy Schumer's name on the cover of its special-edition "Chic at Any Size!" issue, and Schumer isn't pleased about it. The issue features plus-size model Ashley Graham on the cover and includes fashion tips "that flatter sizes 12 & up," which Schumer is not.
Schumer posted a photo of the cover on Instagram and put Glamour on blast for implying that her body is plus-sized:
I think there's nothing wrong with being plus size. Beautiful healthy women. Plus size is considered size 16 in America. I go between a size 6 and an 8. @glamourmag put me in their plus size only issue without asking or letting me know and it doesn't feel right to me. Young girls seeing my body type thinking that is plus size? What are your thoughts? Mine are not cool glamour not glamourous
Cindi Leive, Glamour's editor in chief, defended the magazine's editorial decision on Twitter, clarifying that Schumer was not part of a feature on plus-size fashion, but just one woman on a list of several celebrities who've been proponents of a healthier conversation around women's bodies:

We love Amy Schumer, & would never want to offend her. To be clear, @glamourmag special edition never called her plus-size. Her 2015 cover story was included in the edition, aimed at sizes 12 and up, with the coverline "Women who Inspire Us" bc her longtime message of body positivity—& talking back to body haters—IS inspiring. (To me, too!) To be clear, size 6-8 is not plus. (Even size 12—frequent size of "plus" models—is smaller than average American woman!) But women of all sizes can be inspired by one another's words. So sorry if implication was otherwise, Amy.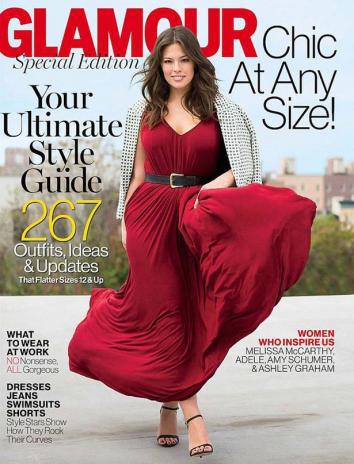 Indeed, whatever size Schumer may be, she's been a vocal critic of the distorted body standards to which America holds its female celebrities. She posed in nothing but skimpy underwear and a pair of heels for last year's Pirelli calendar, a half-century-old publication usually dominated by lingerie models covered in latex, body oil, or nothing at all. The 2015 edition departed from that mold with Annie Leibovitz portraits of clothed female luminaries; Schumer and Serena Williams, both of whom had faced down body-shaming trolls in previous months, were the only ones who posed half-nude. Schumer has spoken at length about the unrealistic beauty demands of the entertainment industry—she's even addressed it on her show—and openly battled nitwits who've called her "chubby" and "not conventionally attractive."
But more than once, in the same breath as Schumer has promoted the idea that women of all sizes are beautiful and worthy, she's slipped in the fact that she's a size 6. Her message is sometimes less "I'm cool with my body, and you should be too, because there's no wrong body" than "What a shame that someone like me, who isn't objectively fat, gets lumped in with all the actually fat women."
On one hand, Schumer makes a fair point: One of the most damning symptoms of Hollywood's body-image ills is its warped sizing paradigm, which tells any woman over a size 0 or 2 that she needs to lose weight. (Even the lithe Jennifer Lawrence once drew criticism from the New York Times for having a "seductive, womanly figure" that wasn't "hungry enough" for her Hunger Games role.) And lifting up a woman who isn't plus-size as a plus-size role model contributes to the erasure of actual plus-size women who are working to reclaim that term and celebrate their own fat bodies.
In the context of combating body-shamers, though, Schumer's statements seem to boost her own profile at the expense of any woman who's larger than her. Magazines don't have to ask celebrities for permission before including their names or likenesses in a publication, and the context of Glamour's piece wasn't fat-shamey, demeaning, or even about fatness at all—the tagline was the hilariously benign "women who inspire us." Demanding special notification and claiming special offense just because the magazine's issue was associated with plus-size women—or just because Schumer's name appeared alongside those of three women who might be a few sizes larger than her—implies that being called larger than the average celebrity is a grave insult.
The sad part is that, in the shameful reality of today's entertainment industry, it is an insult. The Schumer-Glamour kerfuffle is a helpful reminder that labels like plus-size serve no purpose other than to make women feel inadequate and quibble over an imaginary line between fat and not-fat. Dress size and weight bear little relation to a woman's looks, health, or how a particular piece of clothing will fall on her. Even the word itself is a misnomer, since plus-size clothing usually starts around size 14—about the size of the average U.S. woman. Two of the celebrities mentioned on Glamour's cover along with Schumer have previously expressed their distaste for the term. "I so look forward to not always categorizing. … And I don't think it's done so much with men," Melissa McCarthy said in one interview. Graham prefers the equally meaningless word curvasexalicious. "I know that a lot of women still love [the term plus-size] 'cause there is a culture out there of feeling belonged and feeling like a part of something. And I totally respect that," she's said. "But for someone like me—I don't feel the connection to the word plus-size. I just feel that it's ostracizing a lot of women."
In a second Instagram post published Tuesday, Schumer agreed. "Bottom line seems to be that these labels are unnecessary and reserved for women," she wrote. That's true—and the first step toward dismantling those labels is rejecting the temptation to squabble over their semantics.