In Yale's Payne Whitney gym on Sunday, March 13, navy-clad basketball fans squeezed onto the bleachers to watch the televised unveiling of the 2016 NCAA Tournament bracket. Yale's men's basketball team had closed out its dazzling season on March 5 by winning an Ivy League title and earning a spot in the Big Dance for the first time in 54 years. One by one the fresh-faced players trotted out in front of the giant screen to answer a softball question about their upcoming game ("I feel euphoric," "I feel excited," "I am very excited"), and divulge an endearing biographical detail. Then it was the staff's turn. Three assistant coaches put the "bro" in "bromide," agreeing that their head coach, James Jones, set an admirable example for one and all. "He will have your back no matter what," they said. "He understands the importance of family."     
As the players took turns engaging in the March Madness ritual of cutting a basketball net down from the rim, one woman, a former Yale tennis coach, wept with pride. And when the TV announcers revealed that the 12th-seeded Bulldogs would face Baylor in Providence, Rhode Island, on Thursday the 17th, the whole room swept to its feet. No one wanted to break the spell of giddy, goofy unity. No one wanted to mention Jack Montague.
Invoke the name of Yale basketball's missing captain in this crowd, and you'll get looks ranging from wary to surly to pained. "The Montague thing has overshadowed [the team's] success and it shouldn't," a member of the men's swim team told me. "I try to stay away from all that," said a pre-frosh who'd been recruited to play basketball for Yale next year, "but if he's their teammate, it's good to support him." A New Haven resident and Bulldog superfan, already planning his road trip to Rhode Island, called Montague's "notoriety" a "shame." "It's all been so covert," he said. "No one knows what happened. But, I mean"—a huge grin broke across his face as he pivoted—"the first time since '62!"
Only four students, all seated near the auditorium door, seemed immune to the celebratory mood. Their dubiousness, extended to the stranger who introduced herself as both Yale alum and reporter, resulted in a terse, guarded conversation:
"Why are you here?"
"Ethnography."
"Do you support the basketball team?"
* * *
For the past month, rumors have swirled around the conspicuous absence of 22-year-old Yale basketball captain Jack Montague. The senior had been out of the lineup since Feb. 6, and this past Thursday, the New York Times reported that a formal sexual misconduct charge had been brought against him in November.* Montague had been expelled, the player's father told the Times, following an investigation by Yale's University-Wide Committee on Sexual Misconduct (UWC). A week later, the provost had denied his request for an appeal. In the New Haven Register, Montague's father called the decision "ridiculous." "Soon enough," he said, "I'd love to tell the other side of the story. … It's probably going to set some sort of precedent. We're trying to do things the gentleman's way, so we're keeping things close-knit. But you guys will get a story."
According to CNN, the disgraced senior guard has claimed the charges relate to a consensual relationship he had with a fellow student back in 2014. At issue, he says, is the fourth of four alleged sexual encounters between Montague and this student, who filed a complaint with a Title IX coordinator in the fall of 2015. On Monday, Montague's lawyer released a statement calling Yale's decision "wrong, unfairly determined, arbitrary, and excessive by any rational measure," and announcing the family's intention to sue. The student who made the complaint against Montague has not talked to the press. The university's press office hasn't spoken up either, due to a federal regulation prohibiting the release of students' personal records, as well as its own internal confidentiality policies. The press office could not confirm Montague's expulsion, had no comment on his father's reproofs, and was unable to speak to whether any UWC procedures had occurred. And so, for now, that letter from Montague's lawyer stands on its own, the only account of an event that may or may not have happened, and may or may not have led to the basketball star's expulsion.
Despite or maybe because of all the opacity, Montague's absence from the basketball court became a point of convergence for two fervent Yale subcultures: athletes and sexual assault activists. At the buzzy Harvard-Yale face-off on Feb. 26, the Bulldogs performed their warm-ups in shirts they'd emblazoned with Montague's nickname (Gucci) and jersey number (4). The uniforms also sported "Yale" spelled backward and inverted, in what some construed as veiled criticism of the administration that had exiled Montague; sources from the athletic department, which claims no prior knowledge of the team's sartorial plans, maintain that this was an innocent attempt to avoid copyright issues. Star forward Justin Sears said in a press conference that he and his teammates merely wanted to show "how great of a guy Jack is and how well-liked he is on campus."
Nonetheless, the Yale community erupted in hurt and anger. Posters imploring the Bulldogs to "stop supporting a rapist," "end rape culture," and "stop silencing women" appeared on bulletin boards around campus. Players admitted to tearing many of them down, according to the YDN; more cropped up in their place. The student group Unite Against Sexual Assault Yale hosted a chalk-in at which more than 450 participants inscribed the concrete expanse above the central green with messages, including "The only team I'm cheering for are survivors @ Yale—dismantle men's athletic privilege" and "Imagine if Yale men cared as much about ending rape culture as they care about sports." Student publications overflowed with words about the callousness of the T-shirt gesture, the sense of threat that some Yale women feel, and the consequences of UWC's confidentiality policy, which, it was argued, hamstrings fruitful and informed discussion of campus-shaking events.
The controversy—in some ways, a contest between First Amendment rights and safe spaces—seemed to reprise a crisis from this past semester, when protests over an administrator's qualified defense of offensive Halloween costumes spiraled into a passionate debate about free speech and inter-cultural respect. According to members of UASAY, the same groups and individuals that are now censuring the basketball team also called upon lecturer Erika Christakis to apologize for an email in which she wondered whether the university should be advising students against donning blackface or turbans. Christakis resigned from teaching at Yale, to administrators' quiet dismay. Meanwhile, the activists' mushrooming influence unleashed a fierce—if largely covert—conservative backlash, with several student protestors reportedly receiving death threats.
But after the fresh fusillade of protests against the basketball team, something surprising happened. The team issued a careful statement apologizing for the shirts and reaffirming their commitment to a "healthy, safe and respectful campus climate where all students can flourish." Individual basketball players spoke out in contrite, sensitive tones. "We just wanted to make it as clear as possible that Jack is one of our brothers," Sears told reporters, emphasizing that he and his teammates had no intention of using the shirts to comment on the allegations against Montague. The official statement finished: "We look forward to learning and growing from these recent incidents. As student representatives of Yale we hope to use our positions on and off the court in a way that can make everyone proud."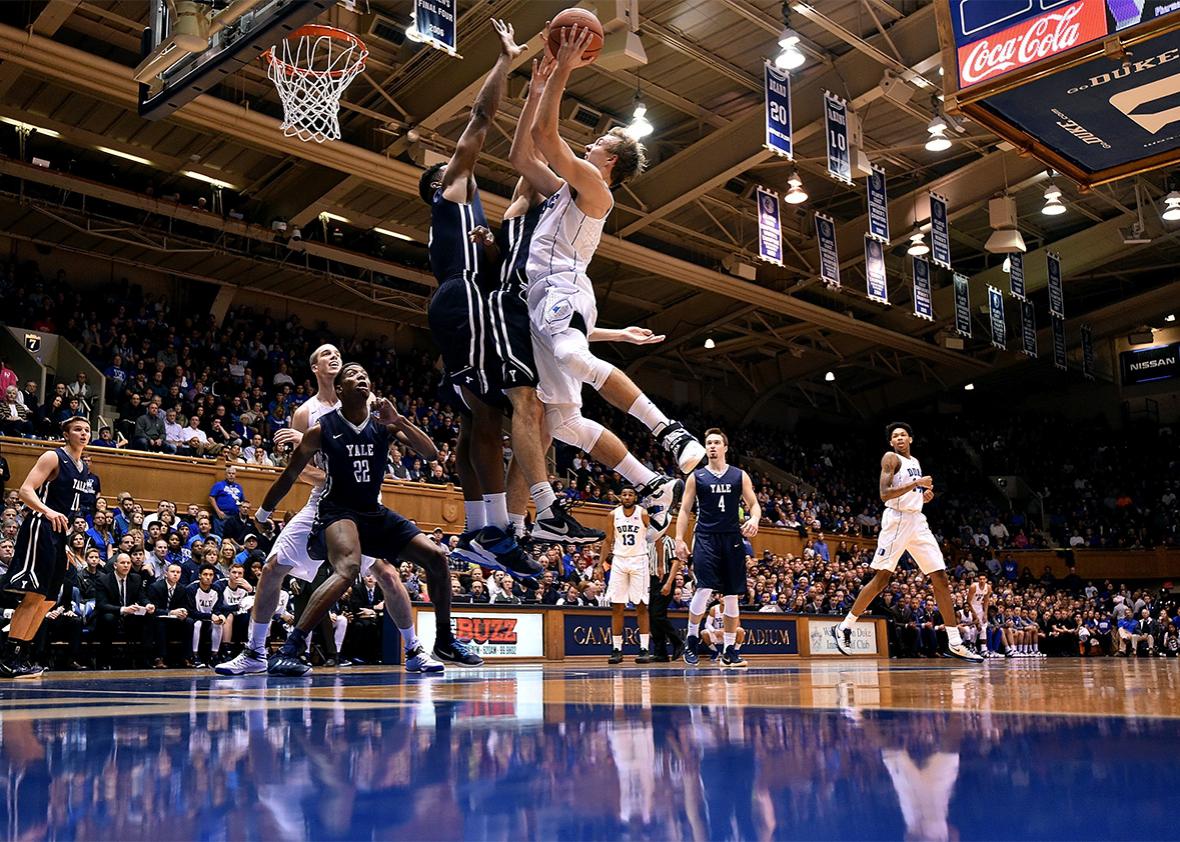 Outrage about Yale's approach to rape has long rolled in from both sides. In 2011, the university became the subject of a Title IX investigation after 16 students and alumni filed a complaint against its "hostile sexual environment." To cherry-pick a few data points invoked in the charge: Yale fraternity brothers horrified the country when they wound through a residential courtyard chanting "No means yes! Yes means anal!" A different group of pledges posed in front of the Women's Center holding a sign that read, "We Love Yale Sluts." A notorious "preseason scouting report" assessed the hotness of about 50 Yale freshman women on a metric of drinks-required-to-have-sex-with-her.
Administrators responded to the investigation by rebuilding the school's sexual assault policies from the ground up. In 2011, they established the UWC, which streamlined formal and informal processes for reporting and adjudicating misconduct; a year later, they assigned each residential college a quartet of "Consent and Communication Educators."
The basketball players' show of remorse appeared to signal that real progress has been made since "No means yes! Yes means anal!" It suggested that the ongoing nationwide debate over sexual assault on campus—which has manifested in myriad ways over the past few years, from a presidential task force on sexual assault to The Hunting Ground documentary to Rolling Stone's disastrous UVA article—has moved the needle at Yale. Celeste Dushime, of UASAY, told me that the team's apology was "huge." "We are very enthusiastic that they admitted they'd done something wrong," she said. "We appreciate and are encouraged by that statement."
It's not just that they apologized. A source with knowledge of the event said that the athletic department learned of the customized shirts just moments before the game began. They attempted to dissuade the players from displaying their Gucci garb, but had to concede the team's right to "free speech." With their mea culpa, then, the Bulldogs weren't simply accepting accountability—they were walking back an act of First Amendment–protected expression. This gesture fanned hopes that Yale might be evolving a more nuanced politics of speech, wherein one is allowed to talk and yet expected to be sensitive, too.
A campus-wide email from Jonathan Holloway, the dean of Yale College, on Saturday the 12th provided further evidence of this arc toward graciousness, entreating students to "treat each other civilly" in the wake of the basketball team's show of solidarity with Montague. When a Yale Daily News columnist posted portions of the message on the popular Facebook group "Overheard at Yale," along with criticism of Holloway for not taking a stronger stance against sexual assault, students echoed his call for respect and understanding in the comment threads.      
Outside the realm of public statements and official emails, however, a more complicated picture emerges. In ephemeral and incognito forums, Yalie anger bursts forth, gets erased, is reiterated, gets erased again. The flyers accusing the Bulldogs of supporting a rapist went up and then vanished; "comment removed" tags litter the online discussion sections of Yale's news and opinion rags. The "Overheard at Yale" back-and-forth also featured anonymous rants against "political correctness gone insane." These comments were swiftly deleted, prompting more comments: "Overseen on Overheard at Yale: Censorship." Then those comments got deleted.
A representative yak from the anonymous social media platform Yik Yak reads: "Victimization is ruining this country. You all need to read some Nietzsche and sack up." And in a free-for-all in the comments section of one YDN article, posters condemned the "Title IX Star Chambers" and "kangaroo courts" that they claimed were railroading innocent men. "What did due process ever do to deserve being raped by Yale?" wrote user marcedwards, even though records available online reveal an extremely low number of convictions relative to the volume of sexual assault complaints at Yale. (Also available online: the very thorough and transparent UWC procedures for litigating a formal complaint, which at least to me inspire more confidence than the gentler and foggier methods associated with informal complaints.)
There's a stubborn, still-painful divide between "sports Yale" and "non-sports Yale." On one hand, I spoke to students who believed that both the press office and athletic department were overplaying how apologetic the team felt about their show of fealty to Montague. To them, the beautifully crafted public statement just meant players had wised up to Yale's progressive moment. That the team's original protest was allowed to go forward on "free speech" grounds struck some as a pointed dig at the activist forces on campus. On the other hand, a member of the Bulldogs staff told me regretfully that non-athletes did not understand or honor the close bonds between teammates. It was a "shame," this person said, that Yale's community could not rally behind the players in their time of triumph: an Ivy League championship, a Big Dance invite, and a season record that rivals the best in the university's history. Yet another student told me that the problem with the Bulldogs' T-shirts was that the team had chosen to express "non-sports feelings" (individual ties of loyalty to their friend) in a public, "sports-like way."  
Raw expressions of frustration, hurt, and disgust have inflamed the margins of the university's polite dialogue. Meanwhile, many students, faculty members, and staff said that they did not want to talk about Montague for fear of either retaliation or mischaracterizing the views of groups they belonged to. People seemed anxious to echo the entrenched narratives of their particular social circles. They supported the basketball team and didn't want to jump to conclusions about Montague. Or they had faith in the restorative and unifying powers of the conversation unfolding in public.
* * *
Like many colleges across the nation, Yale appears to have found itself in a moment where students, faculty, and staff must at least pay lip service to tolerance and awareness. Its more conservative elements haven't evaporated—they've just gone underground. This is new, and promising: In the past, UASAY's Dushime speculated, the basketball team probably would not have felt they needed to apologize at all.
How did we get here? For one thing, it seems unlikely that the Bulldogs' display of post-Gucci sensitivity could have unfurled at a school with a bigger, noisier sports constituency. My contribution to the "Overheard at Yale" genre, courtesy of a youngish, sweatpants-clad guy at a coffee shop near campus: "At another college, it would have been really easy to get away with the whole 'save the captain' thing."
More importantly, Yale has become a watershed for three distinct but converging streams. There's a fascinating and fervid swell of student activism, one that's shaped administrative policy in the past few years. With that upwelling has come a reactionary backlash cloaked in concerns about traditional liberalism. And then there is the university's historical slowness—shared with virtually every other institution of higher learning—to address the needs of sexual assault survivors.
Yale has a legacy of tepid response to the real problem of campus rape. According to a much-hyped survey of 27 colleges last fall, 23 percent of female students at Yale have experienced "unwanted sexual contact." Yet in 2015, only one student was thrown out for nonconsensual sex; in 2013, none of the six students the UWC found guilty of rape faced expulsion. Two years after the Title IX investigation against it, Yale paid a fine of $155,000 for neglecting to report all sexual violence crimes on its campus between 2001 and 2002.
The perception that Yale doesn't care about sexual assault hasn't been helped by the university's confidentiality policy, which prevents anyone involved in a UWC hearing from discussing any aspect of the proceedings. Confidentiality is meant to protect vulnerable victims and witnesses; it's important to make sure men and women feel safe coming forward. But some have interpreted such secrecy as a cover for inertia or negligence. Yale recently strengthened its confidentiality clause after documents related to an investigation of the SAE fraternity leaked to the YDN. According to Jezebel, the records exposed "Yale's reported reluctance to enforce punishments or hold the fraternity publicly accountable." What's more, FERPA, a federal law governing all schools that receive government funds, obligates Yale to lower a curtain over students' academic records, including disciplinary actions taken against them. Again, it's a noble impulse, intended to soften the potentially ruinous impact of a youthful mistake. But it can feel to victims as though the university is sheltering perpetrators—and the Yale image—instead of publicly condemning a widespread problem.
The bigger issue with confidentiality, though, is that it's unrealistic, especially in a close-knit community awash in social media designed for the anonymous sharing of secrets. Inevitably, wisps of an incident slip free. And without any clarity about what happened, the community at large fantasizes into the void, or retreats behind hardened ideological positions.  
For instance, when Yale senior and quarterback Patrick Witt decided to turn down an interview for the Rhodes scholarship in order to compete in the Harvard-Yale game, the university did nothing to counteract a media narrative in which Witt's loyalty to his team trumped his desire for individual glory. It later emerged that news of sexual assault allegations against Witt had reached the Rhodes committee; they had requested a letter of re-endorsement, which Yale may have been unwilling to provide. The university's apparent equivocations left people wondering whether the star football player had been unjustly protected, or perhaps insufficiently championed. Because Witt's case was tried behind closed doors, he became a symbol to everyone: those who assumed he'd been slimed by a stifling feminist orthodoxy, and those who assumed that the school had let a brilliant athlete off easy.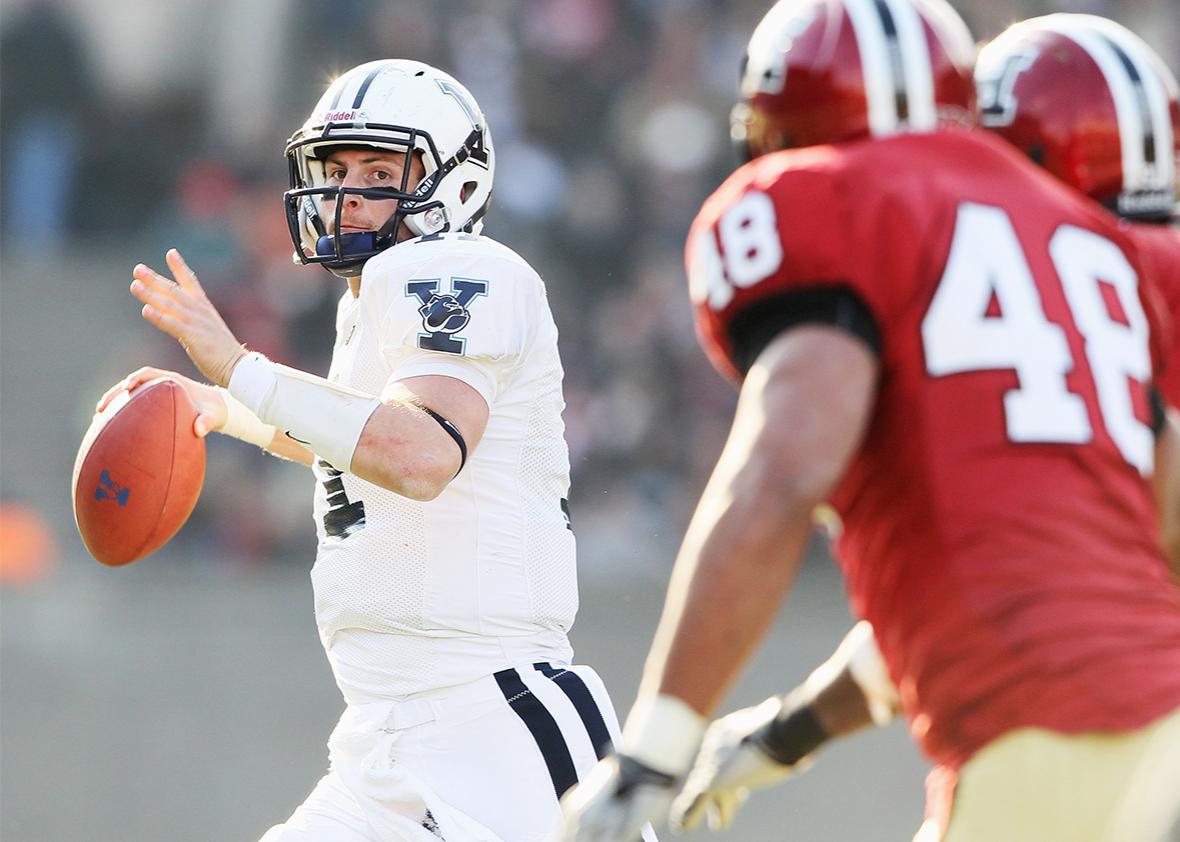 Yalies seem to have internalized a larger cultural debate and projected it onto Montague. Sexual assault activists feel personally attacked by the Bulldogs' unflinching support for an accused man. Meanwhile, in invoking free speech to justify their devotion to an alleged rapist, the basketball team has—intentionally or not—mapped the incident onto a messier struggle between liberalism and social justice. This big conflict shows no sign of departing from Yale—or the American college campus generally. In the absence of agreed-upon facts, the conflict supersedes the individuals caught in its whorl.
At the watch party, the master of ceremonies moved through the bleachers asking people to talk about their favorite memories from the 2015–16 season. Then, she posed a new round of questions to the players. Their answers glowed with words like together, hard work, enthusiastic, and brother. Newscasters angled their microphones to pick up the sounds. What the cameras and mikes failed to capture was the nervousness and defensiveness creeping around the edges of the official quotes. No one spoke Jack Montague's name, but everyone heard it anyway. 
Correction, March 16, 2016: This piece originally misstated that a formal sexual assault charge had been brought against Jack Montague. The charge was of sexual misconduct. (Return.)