For more than 100 years after the founding of America's first medical school at the University of Pennsylvania in 1765, faculty members personally peddled tickets to their classes in order to fill lecture halls. So if a prospective surgeon, like Samuel Gartley, whose name appears on this delightfully morbid ticket featuring dancing skeletons, wanted to study anatomy under W.S. Jacobs at the University of Pennsylvania around 1800, he would seek out Jacobs and buy a ticket to attend his "dissecting class."
"With roughly 10 to 15 dollars in hand, anybody could purchase admission to a course of lectures directly from the professor, who profited directly from the students' fees," write Carol Benenson Perloff and Dr. Daniel M. Albert, the authors of a new book, Tickets to the Healing Arts: Medical Lecture Tickets of the 18th and 19th Centuries. Customers included not only matriculated medical students but also practicing physicians and "apprentices" laboring within the older, informal system of medical education. This proprietary enrollment system was upheld by unsalaried professors who worked like independent contractors, paying rent and overhead to the school's dean out of ticket sales while pocketing the proceeds.
This kind of arrangement became less common in the late 19th century, but it has fortuitously left us with a trove of ephemeral medical lecture tickets of different sizes, colors, and design; the oldest are handwritten, but most are printed with the name of the student, and sometimes the professor, added in handwriting . A few employ graphic illustrations. The University Archives at the University of Pennsylvania holds a collection of 1,150 such tickets from American medical schools (some now defunct) and "private practice" doctors. The illustrated book, Tickets to the Healing Arts (and its digital counterpart), describes 100 examples.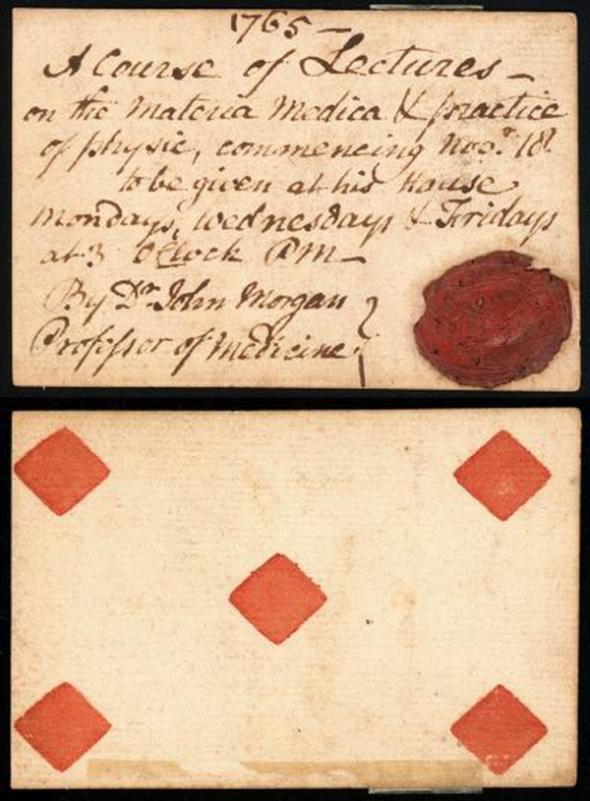 One of the earliest tickets in the collection is entirely handwritten on the back of a playing card. John Morgan, the first professor of medicine at the College of Philadelphia (later the University of Pennsylvania), issued it to James Armstrong in 1765 for a "course of lectures on the Material Medica + practice of physic…to be given at his House Mondays, Wednesdays, + Fridays at 3 OClock PM."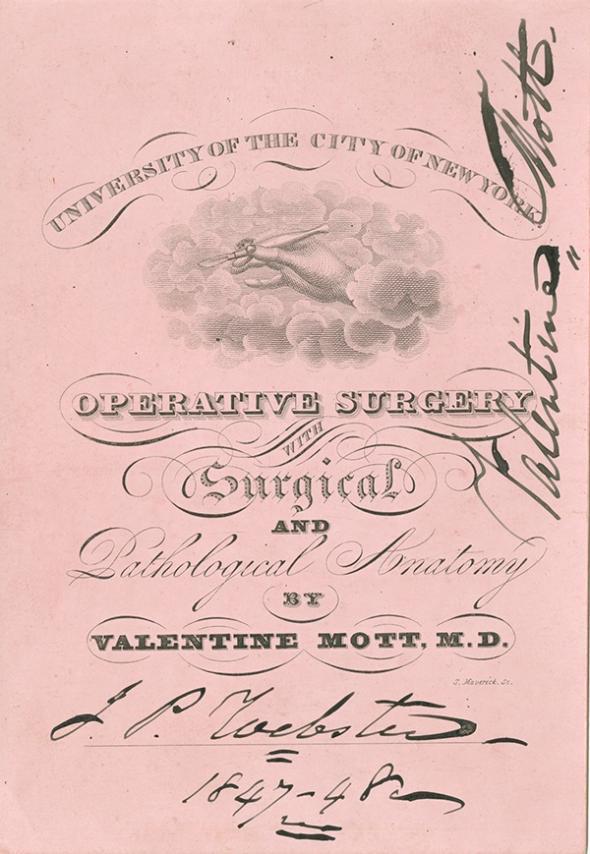 This ticket to Dr. Valentine Mott's 1847-48 course on operative surgery with surgical and pathological anatomy at the University of the City of New York (later New York University), attended by one J.P. Webster, depicts a scalpel-wielding hand emerging from the clouds.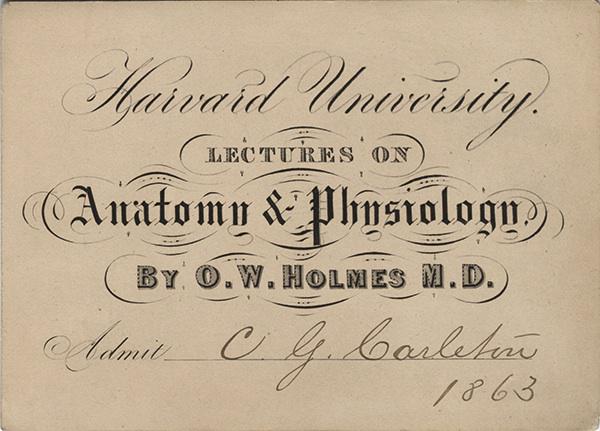 Physician, poet, and educator Oliver Wendell Holmes Sr. (also the father of Supreme Court Justice Oliver Wendell Holmes Jr.) served as professor of anatomy and physiology at his alma mater, Harvard University, for 35 years. C.G. Carleton procured this ticket to attend Holmes' class in 1863.