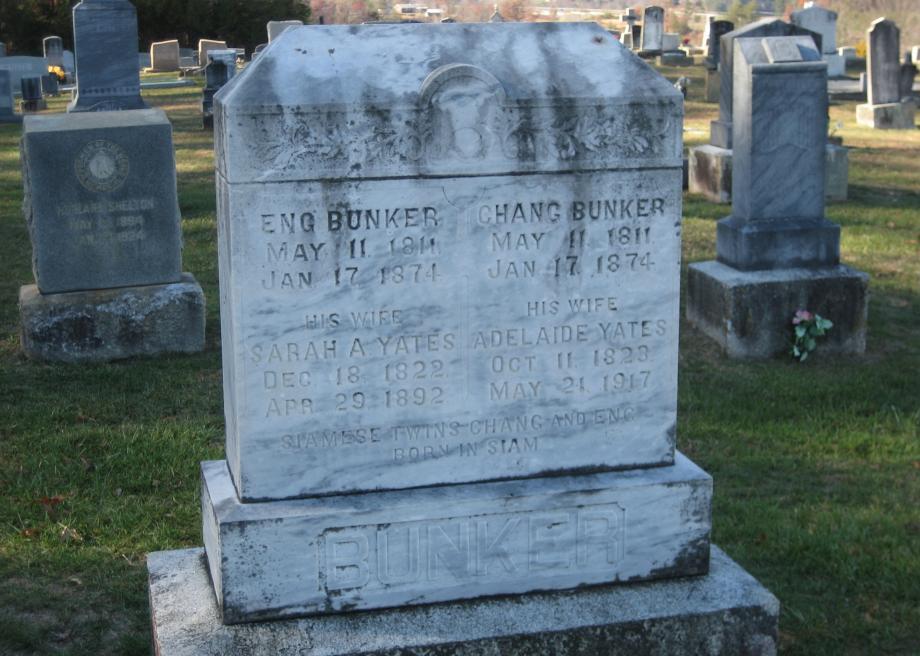 Atlas Obscura on Slate is a blog about the world's hidden wonders. Like us on Facebook and Tumblr, or follow us on Twitter.
Chang and Eng Bunker are buried in picturesque Mount Airy, an area where over a thousand of their descendants still reside.
Chang and Eng Bunker (a surname they did not take until retiring in the United States) were born in Siam (now Thailand) in 1811. Joined at the chest by a bridge of cartilage, the duo traveled the world as the famed "Siamese Twins," first for Scotsman Robert Hunter, and later as an independent act.
After years on the road, the brothers were tired. During a trip to North Carolina, they became enchanted with the state. They bought a small plantation in the town of Traphill and settled down to live second lives as gentleman farmers. In 1843, they married Adelaide and Sarah Anne Yates, sisters native to the area. The brothers ran the plantation and lived together until tensions between Adelaide and Sara Anne forced them to set up separate households in the town of White Plains. Between their two marriages, the brothers produced a staggering 21 children.
In their final years, Chang's health declined and he began to drink heavily. He died in his sleep on Jan. 17, 1874. When Eng awoke to find his brother dead, he was distraught and cried out, "Then I am going." He died three hours later. The bodies of the twins were carted around for ghoulish poking and prodding. They were eventually laid to rest in Mount Airy, where their children had begun spreading out with families of their own. The twins' wives were also buried next to them in their final plot.
Chang and Eng's gravestone can still be visited in the White Plains Baptist Church Cemetery. It is estimated that around 1,500 descendants of the superstar twins still reside in the vicinity of Mount Airy. At an annual gathering, hundreds of descendants come together to celebrate their unique ancestors' birthday.
Submitted by Atlas Obscura contributor devilmachine.
For more on the grave of Chang and Eng Bunker, visit Atlas Obscura!
More wonders to explore:
---