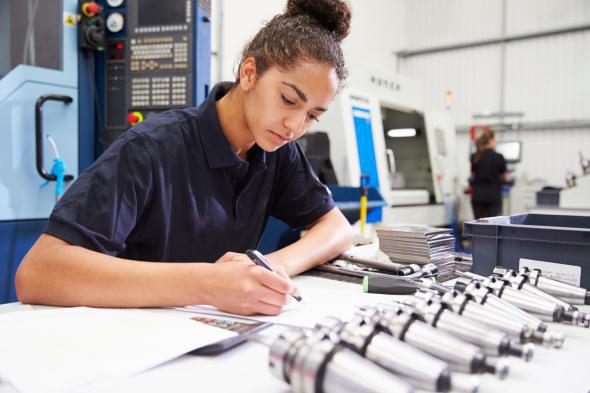 When the U.S. government set a goal to spend 5 percent of its contracting dollars on women-owned businesses, it was a different world. The year was 1994: South Africa was holding its first democratic election. The O.J. Simpson trial had yet to begin. Justin Bieber was a helpless infant. Hillary Clinton had just settled in for her first stint in the White House.
A lot has changed in the intervening two decades, but passing over women-owned businesses for federal contracts has remained a time-honored tradition. It took the government more than 20 years and two additional pieces of legislation to finally reach its 5 percent goal in fiscal year 2015.
The U.S. Small Business Administration announced on Wednesday that small businesses controlled by at least 51 percent women earned $17.8 billion in federal contracting dollars, a whopping 5.05 percent of the total amount spent, in the fiscal year that ended in September. Small businesses as a whole earned a new high of 25.75 percent, $90.7 billion, of all federal contracts.
Since the 5 percent goal was set in 1994, the federal government has implemented two new rules built to boost the chances of women-owned businesses in the bidding process. The first, adopted in 2011, allows federal agencies to set aside contracts that only women-owned businesses can win. The other, from 2015, lets agencies award some contracts directly to eligible companies run by women without any bidding, meant to prevent the 2011 rule from becoming moot in situations where there aren't at least two qualified women-owned businesses that are required for a bid. Still, just last month, the Commerce Department released a report showing that women-owned businesses are 21 percent less likely than similar men-owned businesses to get government contracts. Even after controlling for the age and size of the businesses, those run by women lost a disproportionate percentage of bids.
Instead of patting itself on the back for finally reaching a modest goal it set while a good number of today's female entrepreneurs were still in grade school, the federal government ought to take a hard look at its priorities. Fiscal year 2015 also marked a historic high for the proportion of federal contract money spent on businesses owned by veterans who were injured during their military service. A total of $13.8 billion of all small business contracting dollars, nearly 4 percent of the total, went to what the government calls service-disabled veteran-owned small businesses. Women-owned businesses earned just over 1 percent more of the government's contracting money than those owned by service-disabled veterans.
The New York Times reports that women own about 36 percent of U.S. businesses; most consist of a single owner/employee, but the larger ones employ a total of more than 8.4 million people. The same census report, from 2012, notes that veterans make up 9.1 percent of business owners. (The two populations don't much overlap—only 4.4 percent of veteran business-owners are women.) Of those veteran business-owners, about 9.3 percent, 150,000 people, have service-related disabilities.
It's possible that a decent percentage of those business owners run veteran- or military-related businesses, which would make them more likely to be eligible for federal dollars than any woman-owned business selected at random. And preferencing service-disabled veterans in contract competition is a noble, appropriate ambition for the government that put them in harm's way in the first place. But when a population of 150,000 business owners gets almost as much federal contract money as an entire country's worth of female business owners—who run more than 9.8 million businesses—the system is deeply flawed.
---