Glass-bottomed (occasionally cracking) bridges and observation decks used to be enough of a thrill for tourists wanting to suspend disbelief in their mortality to take in an extraordinary view. But a few recent eye-catching projects suggest that merely hovering on transparent glass structures high above the ground is for wimps.
Following on the gimmicky daredevil heels of London's Sky Pool, the Skyslide is a terrifying outdoor glass slide that will be affixed to a Los Angeles skyscraper some 1,000 feet above ground, allowing somewhat intrepid visitors to plummet outside the 70th and 69th floors of the U.S. Bank Tower in downtown L.A.
The slide is the crowning flourish on OUE Skyspace LA, which will be California's tallest open-air observation deck when it opens on June 25. Designed by architecture firm Gensler, it includes an outdoor terrace on the 69th floor and a lobby with panoramic, 360-degree views of L.A. Designed by Brooklyn-based engineering firm M.Ludvik & Co., which specializes in glass structures like the TKTS booth in Times Square, the 4-feet-wide, 3½-feet-tall, 45-feet-long slide is made of 1¼-inch-thick triple-laminated hurricane glass.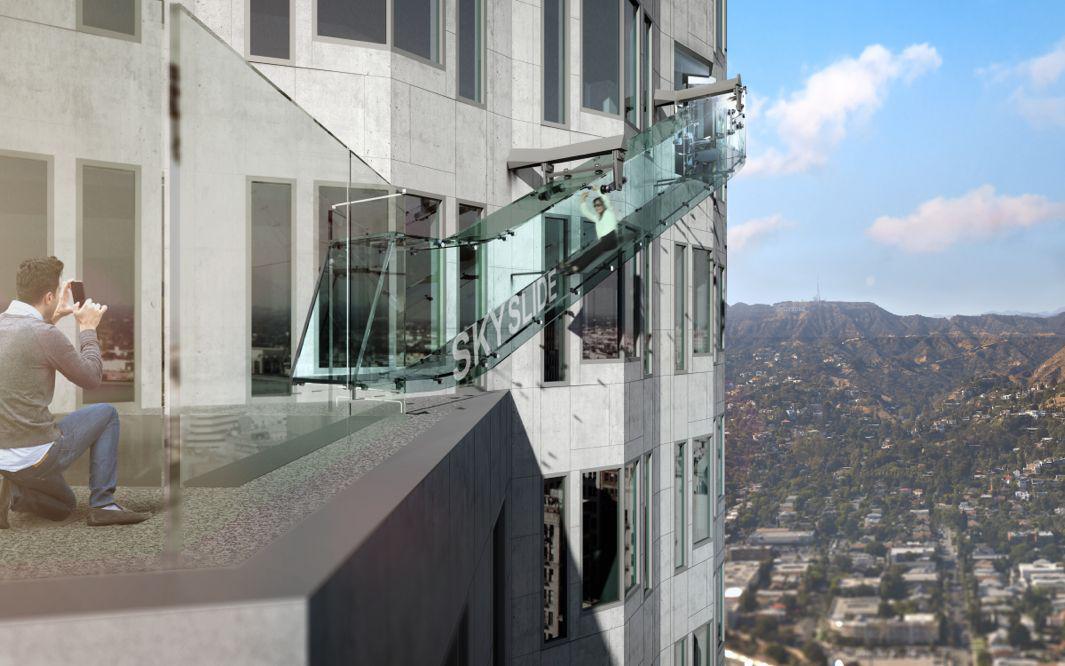 And how exactly is this thing safe, especially in the land of earthquakes?
"The wonderful contradiction of the slide is that it only feels unsafe," engineer Michael Ludvik said in an email. "It's built with factors of safety and levels of redundancy which would make the most conservative engineer blush." Ludvik said that glass is "brittle but is strong like metal," adding that the key to building big glass structures is "to engineer around the brittleness." New oversized fabrication technologies allowed them to engineer single pieces of bent and twisted glass made with a chemical strengthening technology that renders it "as strong as structural steel," he said. The structure is bolted together with components that swivel to prevent stresses at the connection points. The wall glass carries weight, while the roof and the floor carry wind and seismic loads. "A lot of the structural magic is made possible by the ability to bolt glass components together and have them carry high loads," Ludvik said.
Tickets for the Skyslide are available online starting March 18 for $8 (diapers not included).