Let's say you're "a 30 year old New Yorker whose fashion instincts have been rapidly dulling in recent years." You're looking for a way to perk up your wardrobe, and "to stop overthinking outfits." What do you do?
If you're Brooklyn dog-walker Ruth Barabe, you draw inspiration from some of your favorite literature from childhood: The Baby-Sitters Club. Barabe recently launched a blog called Babysitters Fashion Club, in which she dresses up as grown-up versions of the main characters from the wildly popular book series Ann M. Martin launched in 1986. In addition to explaining the textual rationale behind each outfit—for instance, the tomboyish BSC president Kristy "didn't wear unfussy clothes to hide her body or blend into the background, she wore them because she didn't have time to be tugging at hemlines while running the world"—Barabe weaves surprisingly poignant stories about their adult lives in New York.
Barabe isn't the first enthusiast to write fan fiction about Kristy, Claudia, Stacey, Mary Anne, Dawn, Mallory, and Jessi as adults—writers for The Hairpin and The Billfold, among many others, have reveled in imagining how the archetypal adolescent girls turned out post-college. But Barabe's decision to explore the grownup BSC members' lives through clothing is particularly inspired, given Martin's (and her ghostwriters') interest in fashion. As fans of the children's series surely recall, nearly every book contained an intricately detailed description of at least one babysitter's outfit (especially Claudia and Stacey, the "fashionable" ones). The outfits Barabe chooses for the characters reveal a deep familiarity with the books: Prim Mary Anne wears pencil skirts; sophisticated Stacey dons simple, flattering cocktail dresses; hippy-dippy Dawn sports flowing, flower-printed skirts. But the blog reflects Barabe's own taste, too. "The main idea is to work with what I already have, within my own budget, and in clothing that I would find myself drawn to anyway," she told me in an email. One of my favorite manifestations of Barabe's personal style is how she envisions the formerly nerdy Mallory, who's grown into a studious, slightly pretentious adult, prone to wearing monochromatic culottes, sweaters, and black tights.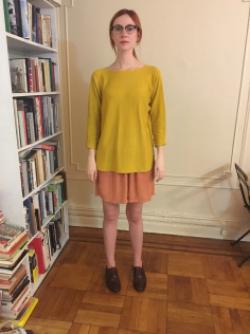 Barabe says she's mostly working from her childhood memories of the books, instead of revisiting the texts for ideas. "Even the direct references to their clothing in the books wouldn't be the most useful thing in the world to me, because they're a lot younger than I am and the fashions are dated," she says. "I guess what I'm saying is that I don't want to lock myself into dressing the most authentically like any given member, and getting too deep into the literature might encourage that."
The outfits are only part of the joy of visiting Barabe's blog; the writing is also a perfect mix of homage and inspiration. Barabe writes that the artistic Claudia "has been a jewelry designer, chalkboard letterer for fancy cocktail spots, costume assistant, animator, and a modestly successful makeup tutorial host for a Youtube channel." Mary Anne has overcome her childhood shyness when it comes to men and goes home with a stranger from a work party. Stacey is a hedge-fund analyst; Jessi does improv; Dawn goes on spiritual hikes along the California coast. Barabe says, "I was worried about how it could be taken as just some silly, 'ain't I cute' kind of vanity project, or that I am trying to infantilize myself by regressing into this affected pseudo-obsession with nostalgia." But the care, thought, and creativity she's put into each post make Babysitters Fashion Club a delight on its own merits.