Female flight attendants at British Airways just spent two years fighting for the right to wear pants on the job—and they finally won. The airline crew's union, Unite, celebrated the triumph earlier this month, saying, "Female cabin crew no longer have to shiver in the cold, wet and snow of wintery climates, but also can be afforded the protection of trousers at destinations where there is a risk of malaria or the Zika virus." Good news all around! Unite also declared, "Not only is the choice to wear trousers a victory for equality it is also a victory for common sense."
But wait. Isn't the equal right to make the common-sense decision of wearing pants a victory that women had already won? (At British Airways, trousers have been accepted wear for established crew since 2003, but the airline has applied different rules to attendants hired since a set of strikes in 2010.) Why are we still talking about women's right to pants? Like many of women's battles, pants-related activism stretches back centuries and continues with no sign of abating in the present day.
In America, the first women to seek pants also sought power. In addition to suffrage, 19th-century feminists such as Elizabeth Cady Stanton advocated what they called "rational dress," a costume with a short skirt over loose trousers that was pioneered by the activist Elizabeth Smith Miller. In 1851, Amelia Bloomer famously defended the pants against social ridicule in her newspaper, the Lily, the first "ladies' journal" in U.S. history; thereafter, both the clothes and their wearers became known as "bloomers." But the fashion's run was short-lived. As Kathleen Cooper has noted in her excellent short history of women and pants at the Toast, "Prominent feminists were more concerned with gaining women's rights than dress reform, and most of them dressed like 'ladies' to avoid detracting from their main cause of securing the vote."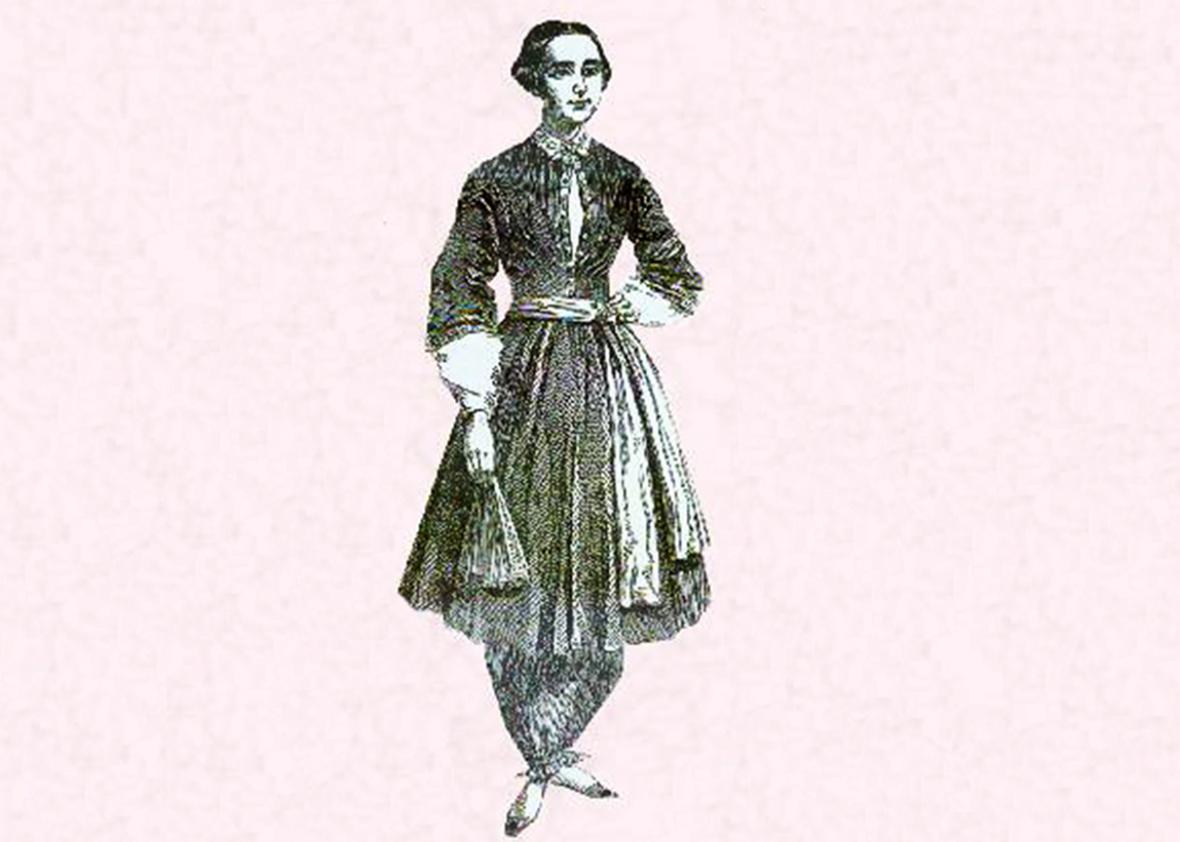 Even as East Coast suffragettes began to worry about spending their political capital on pants, other women across the country continued to don them. Cooper found records of "a 'Marie Susie' " who "lobbied the Board of Aldermen for the right to wear pants in Gold Rush–era San Francisco, saying that she had worn 'masculine habiliments' for twenty years and wished to be protected against arrest for doing so." Photos of frontierswomen wearing pants, or a few decades later of women who cross-dressed to fight in the Civil War, prove that she was not alone.
In the early 20th century, the subversive quality of women's pants became a source of chic appeal; fashion designers, starting with Paul Poiret, began to design collections around them. World War I hastened the trend as women wore pants to the factory jobs that men had vacated for the front lines. Notes the Fashion Encyclopedia: "After the war ended women were reluctant to give up the freedom of movement their pants had given them. Another French designer, Gabrielle "Coco" Chanel … loved wearing pants herself, often dressing in her boyfriend's suits, and she began designing pants for women to wear while doing sports and other activities." Vogue first featured women in pants in 1939—not long after Katharine Hepburn hit the scene in her now-iconic slacks and loafers.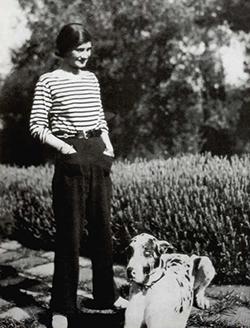 "I wore pants when they weren't fashionable; I sat down on the curb if I was tired; I did what I wanted and what I thought was reasonable so long as I didn't hurt anyone," Hepburn once told an interviewer. "But is that so unusual?"
One might have hoped that would settle the matter. But instead, pants walked right back into the political realm in the latter half of the 20th century. First, Rep. Charlotte Reid, a Republican from Illinois, caused a stir when she became the first woman in Congress to wear them on the chamber floor in 1969. The Washington Post reported at the time that Reid's colleagues were "incredulous"; one congressman gushed, "I was told there was a lady here in trousers, so I had to come over and see for myself." Washington has never inhabited fashion's cutting edge. The Post continues:
Mrs. Reid said later she didn't think she would wear them again. "I am really quite serious about my service in the Congress and I wouldn't want to do anything that seemed facetious." She continued, "Neither would I want to do anything to take away from the femininity of the women in the House, even though I think pants are feminine-looking."
The legislative branch returned to the issue of women in pants in 1972, when it passed Title IX, prohibiting universities that receive federal funding from discriminating on the basis of sex—including in gender-specific dress codes. Two decades later, female senators finally followed suit in ditching their skirts. Until 1993, a rule in the upper chamber barred women from wearing pants on the floor, but when a small cadre of Democrats, including Barbara Mikulski of Maryland, started wearing trousers in protest, female Senate staff joined them, and the prohibition was abolished.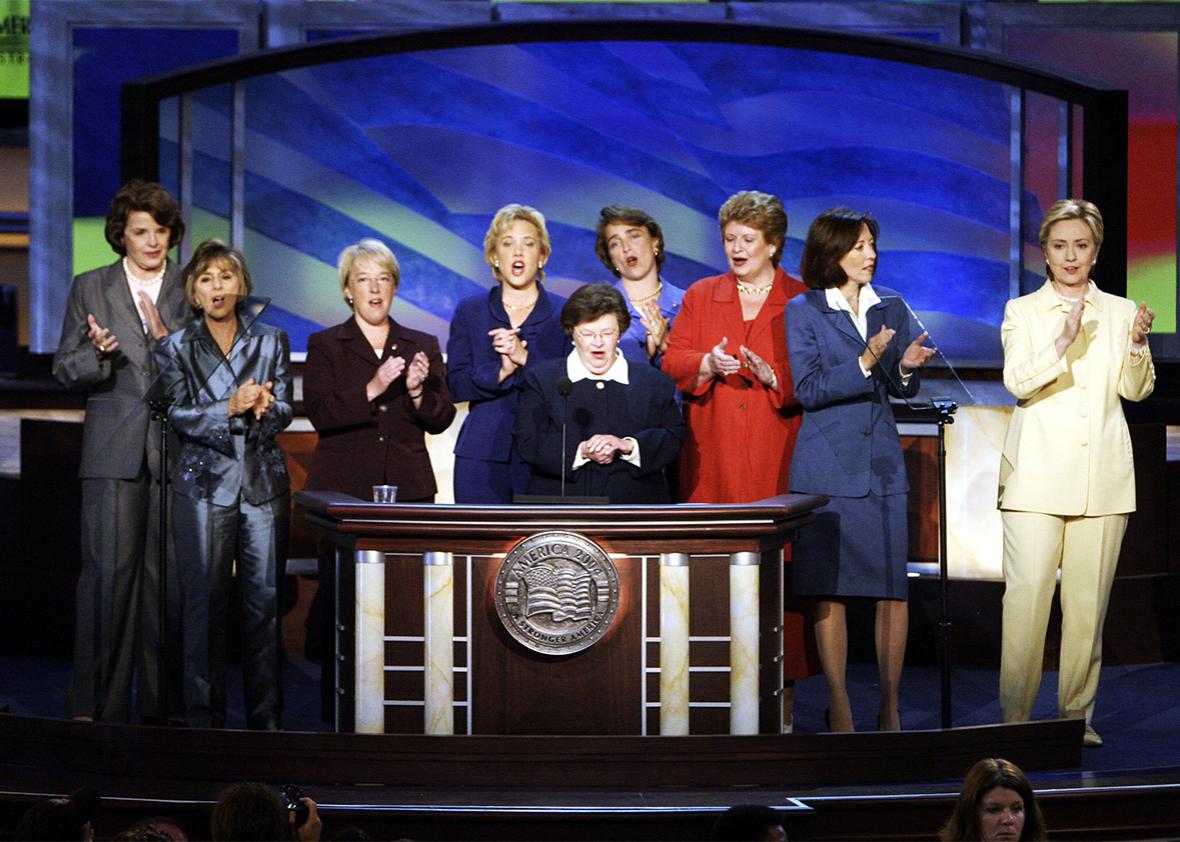 Hillary Clinton's pantsuits have their own special place in history: She was the first, and so far the only, first lady to pose for a presidential portrait in pants. In this election cycle, Hillary Clinton has continued blazing her trouser-wearing trail, inspiring the likes of Lady Gaga in the process. The New York Times recently continued the decades-long conversation about Clinton's pantsuits with a piece about how we've finally stopped talking about Clinton's pantsuits, in which reporter Vanessa Friedman acknowledged, "yes, I know I am contradicting my point by writing about this, but consider it the exception that proves the rule."
When will we be finished advocating for women's right to wear pants? Doesn't men's right to wear skirts deserve some love after all these centuries? At the Toast, Cooper suggests, "Men's skirts are in the 'ridicule' stage now, just as trousers were on women 150 years ago." Celebrities like Jaden Smith and Jared Leto have signaled an interest in this fashion-forward cause. Meanwhile, I fully intend to wear pants on my next flight, and I hope the crewmembers will have the option to do the same.