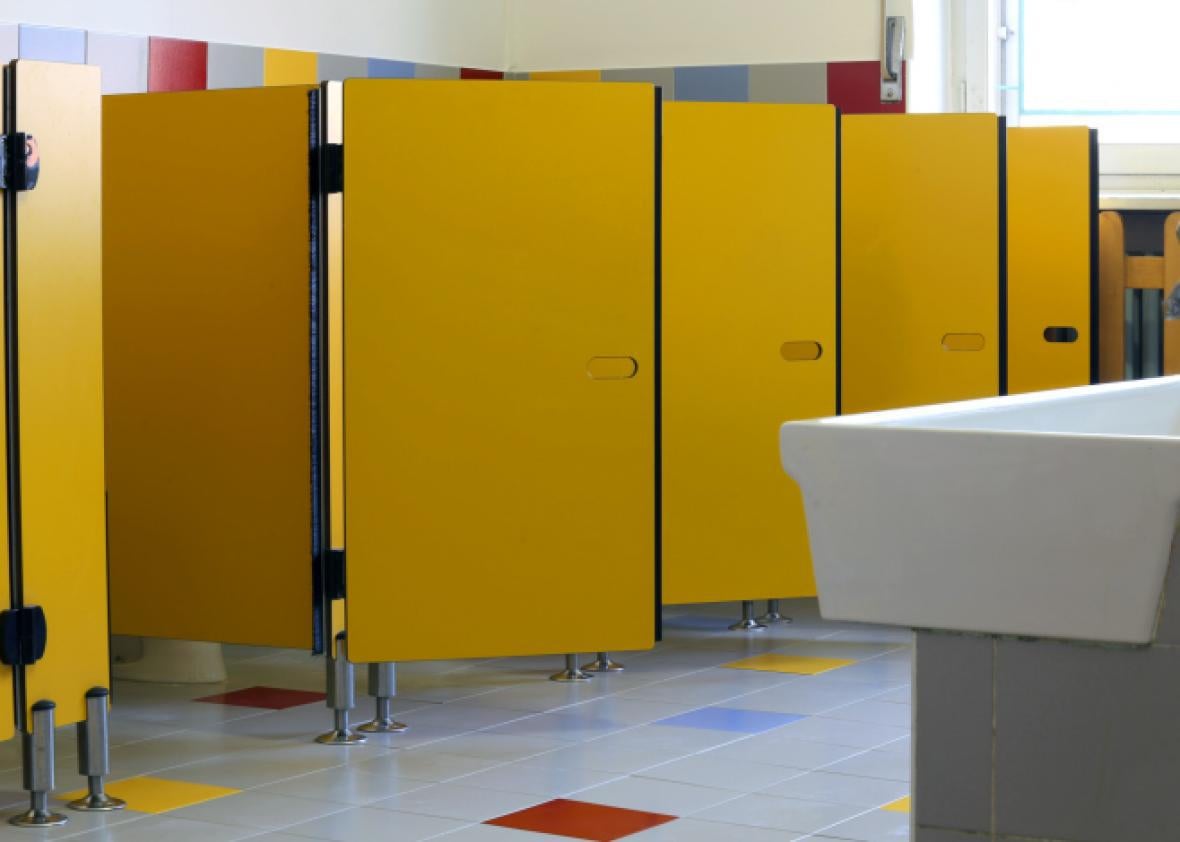 A first-of-its-kind anti-trans bill that compels students at public elementary and secondary schools throughout South Dakota to use only restrooms that correspond with their "chromosomes and anatomy as identified at birth," regardless of their gender identity, hit Gov. Dennis Daugaard's desk on Tuesday.
That same day, the governor, who said earlier this month that "I have not met a transgender person that I'm aware of," sat down with three transgender South Dakotans. I spoke with one of the students present at the meeting, which was closed to media, to find out if the conclave was a sign that Daugaard—who now has four more business days to decide whether to sign or veto the controversial bill (or do nothing, in which case the bill automatically becomes law)—is leaning toward a veto.
First, some background on the bill and why it's such a big deal. Previous anti-trans restroom restrictions, like the suburban Chicago fight over one transgender student's locker-room access, have generally gone down at the district level. The South Dakota bill, HB 1008, is different—and far more dangerous—because it supersedes whatever policies school districts may or may not have in place to enact a statewide ban. HB 1008 is also troubling, as Slate has already reported, because it violates both an "individual's constitutional right to informational privacy" and the 1972 Title IX statute that prohibits sex discrimination in federally funded education facilities.
So, if Gov. Daugaard greenlights the bill, HB 1008 could end up costing South Dakota nearly $200 million a year in federal education funding—that's a lot for a state with only 853,000 residents. "Title IX will continue to mean what it means," said Josh Block, staff attorney with the National American Civil Liberties Union's Lesbian Gay Bisexual Transgender & AIDS Project. "So the bill is really just a tax increase for any taxpayer in public school district—they'd be on the hook for paying financial penalties when the Title IX funds are withdrawn."
Thomas Lewis, 18, a senior at Lincoln High School in Sioux Falls—the largest city in South Dakota, with a population of 164,000—was one of two transgender students who spoke with Daugaard and Lt. Gov. Matt Michels on Tuesday. He described the meeting to me as friendly and productive. "We just put forth our stories and talked about how a bill like this would affect us," Lewis told me. "In some cases, it was 'I'd been bullied' and in other cases it was 'I haven't experienced bullying, but I'm still afraid to use the appropriate restroom.'"
Lewis, who came out last March, said that while he hadn't personally been bullied—the whole coming out experience for him had been "all positive, I have a very accepting environment"—he still avoids using restrooms at school.
"Using the male bathrooms was a slight problem at first because I still presented as female when I came out," he said. "It was recommended that I not use the men's room right away and I understood that—I didn't want to make it awkward for anyone. So I just go home and use the bathroom there because at least that bathroom will always be clean. I don't use the bathroom at all at school." Obviously not an ideal long-term solution.
The governor, Lewis said, made for a respectful audience. "He could've very easily just sat back and only acted like he was listening, but he didn't. He was very receptive and responded to everything we were saying."
Lewis declined to speculate on what the governor's willingness to meet with transgender students indicated about the fate of HB 1008. "I have no idea what he's going to do," he told me. "He said he's yet to listen to the committee hearing about the bill, and that he'll take what he can from that before making his decision. I do feel that we've opened his eyes a bit to show that transgender people are also human and deserve the same human respect and the same human kindness as everyone else."
The governor appeared to agree: "It helped me see things through their eyes a little better and see more of their perspective," Daugaard said, according to a report in a local paper Tuesday night.
Whether this new perspective will sway him toward a veto remains to be seen, however. Lewis said that he initially thought that the bill would die on the Senate floor, since students all over the state had been speaking out against it, but "representatives still felt the need to say, 'Yes, we need a bill like this.' "
"I'm just not going to make any predictions this time," Lewis told me. "The ones I made before didn't work out, so I'm not going to try to predict it this time."
---