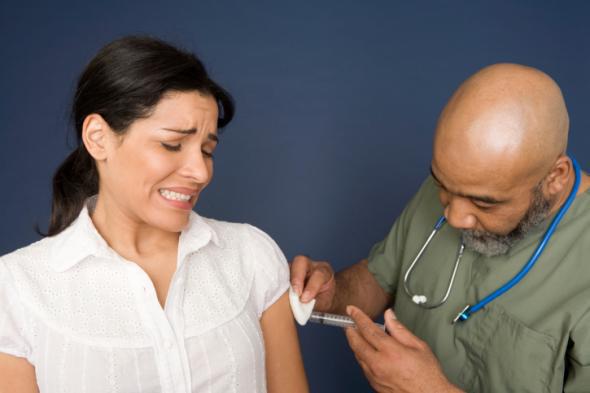 According to a new data analysis, U.S. women aged 21 to 30 are far more likely to undergo medical procedures for reproductive health than their male peers. Seven of the top 10 procedures performed on women in that age group were reproductive-health related, compared to just two of the top 10 procedures for 21- to 30-year-old men.
Using its 22.4 million–person health care database, Amino (a site that books medical appointments based on doctors' experience with different conditions) mined insurance claims from patients who got at least one procedure in 2014 and sorted the most common procedures by age and gender. For kids aged 10 and under, gender appears to have little impact on medical procedures: Echocardiograms, tonsillectomies, EEGs, and allergy shots top the lists for both boys and girls. (Circumcision rounds out the top 5 for boys under 11, and the HPV vaccine does for girls.) Mammograms and colonoscopies showed up as the most common medical procedures for both men and women over the course of their lives, capping the top-5 lists for people aged 31 to 70.
One surprising stat: The fifth most commonly performed procedure on girls and young women aged 11 to 20 is a Cesarean section. That's horrifying at first glance, but it speaks more to the rarity of other procedures than it does to the prevalence of pregnant teens in need of surgery. "Young women ages 11 to 20 are generally healthy, so they aren't undergoing as many medical procedures as their middle-aged counterparts," Jorge Caballero, Amino's medical director, told me in an email. "Pregnancy is the exception to the rule, which is why pregnant women in their late teens appear to drive the observation."
But real gendered differences show up among people in their 20s. The majority of the most common medical procedures for women aged 21 to 30 are related to pregnancy, birth control, sexually transmitted infections, and reproductive cancers, indicating that reproductive health care is both more complex and more invasive for women than it is for men. Women routinely bear most of the responsibility for sexual health, including additional STI screenings, long-term birth control devices, and the HPV vaccine; reproductive health care for men is so noninvasive that arthroscopic knee surgery and appendectomies made it onto their top-10 list of medical procedures:
Most common procedures for women aged 21 to 30 in 2014
Cesarean section
HIV testing
Pap smear
IUD
Echocardiogram
Colposcopy (an examination after an abnormal Pap smear)
Colonoscopy
HPV vaccine
Tubal ligation (sterilization)
Gallbladder removal
Most common procedures for men aged 21 to 30 in 2014
Echocardiogram
Colonoscopy
HIV testing
Allergy shots
Sleep study
HPV vaccine
EEG electroencephalogram 
Knee arthroscopy 
Appendectomy
Hernia surgery
Once men reach the 31 to 40 age group, their reproductive health care gets more invasive: Vasectomies and fertility treatments rank fourth and seventh, respectively, among the most procedures in that age group. Reversible birth control methods still have some catching up to do.
---