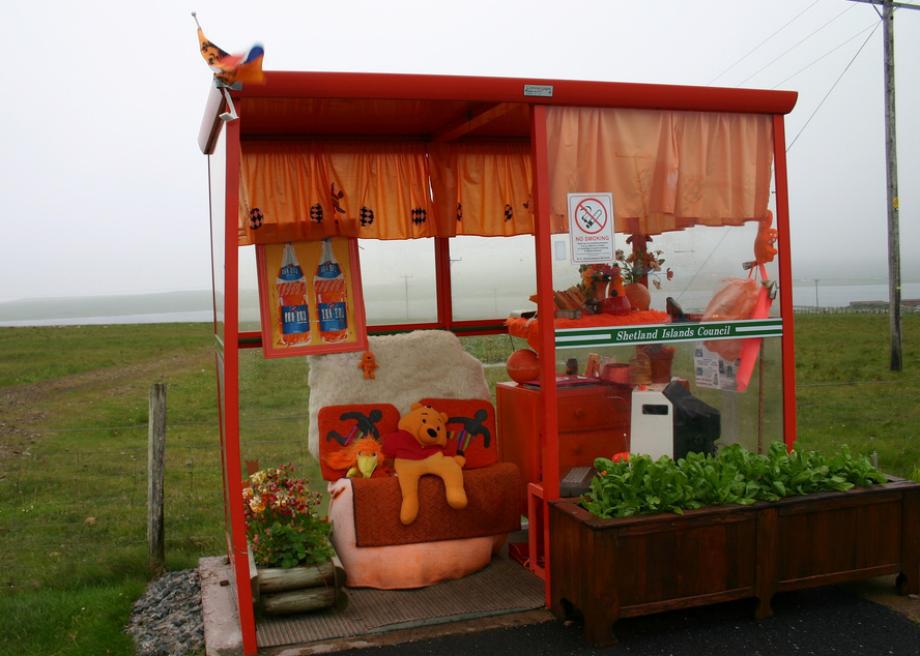 Atlas Obscura on Slate is a blog about the world's hidden wonders. Like us on Facebook and Tumblr, or follow us on Twitter.
The Shetland Isle of Unst, the U.K.'s most northern inhabited island, may have only about 650 residents, but tourists venture far out into the North Sea to visit this beautiful and remote outpost. Most visitors make a beeline for the north coast, up to the historic Muckle Flugga Lighthouse. There you can briefly boast of being "Britain's most northerly person." But just outside Baltasound, Unst's main settlement, is a small glass enclosure you might call "Britain's most famous bus shelter."
For a schoolchild in the Shetlands, waiting for a bus is an experience in its own right. With some of the harshest and most changeable weather in the British Isles, you need a decent structure to protect you from the elements. It was 20 years ago when 6-year-old Bobby McCauley and his two friends caught the bus to get to school. Their bus shelter was just a nondescript brown structure with a rusting iron chair, but it still provided the boys with a much-needed respite from the weather. But being exposed to the wind and rain, day in and day out, takes its toll, and eventually the shelter was deemed unsafe and duly demolished.
Bobby took umbrage with this and wrote a letter to the local newspaper asking for a new bus shelter. The paper, touched by the 6-year-old's sentiments, petitioned the council for a new shelter. Bobby eventually got his way, and a shiny, new shelter was soon installed. Not long after, items began mysteriously appearing inside, starting with a small wicker table and sofa. Then a microwave, then a carpet, telephone, and curtains.
There is now a dedicated team that maintains the bus shelter, but originally all the additions and redecorating were done anonymously. Since 2002, the shelter has been transformed to celebrate an array of themes—from Van Gogh to Outer Space, from the Queen's Jubilee to Sheep, Tall Shipsc and Life Underwater. Eventually that little boy grew up, and he moved to Swaziland. Bobby's Bus Shelter was sure to honor that too.
Submitted by Atlas Obscura contributor ribo81.
For more on Bobby's Bus Shelter, visit Atlas Obscura!
More wonders to explore:
---