Last August, Target announced that they were going to reduce the number of gender-based signs in their stores. This meant fewer labels in the toy, entertainment, and home decor section instructing customers whether or not a particular quilt or building set should be for boys or girls. The news, although celebrated by many, didn't go over well on the right. Fox News ran a number of segmentsdedicated to examining the potential fallout from what they saw as a radical and dangerous move.
"God made us male and female and that is just a fact, and to think we are gender neutral is just foolishness," Rev. Franklin Graham told Fox, echoing other guests' fears over what they saw as Targets foolishly P.C. attempt to deny gender difference.
What made these critiques ridiculous wasn't just the irrational fear of gender neutrality, but also the belief that a change of signage would make a big difference. Target's labeling shift couldn't have much in the way of impact until the goods on the shelves were less gendered too. Nobody needs a laminated sign with the word "Girl" on it to help them figure out who the intended recipient of a pink, glittery princess wand is.
In a move that's likely to infuriate their critics all over again, Target just announced a new home goods line and it's gender neutral. Called Pillowfort, the collection features bedding, lighting, pillows and decorative objects whose style will be familiar to anyone who's ever flipped through a catalog from Land of Nod—Crate & Barrel's hip, and pricey, children's division. There are taxidermy-style stuffed animal heads, tassels and teepees, and stuffed animals that would be right at home on Etsy.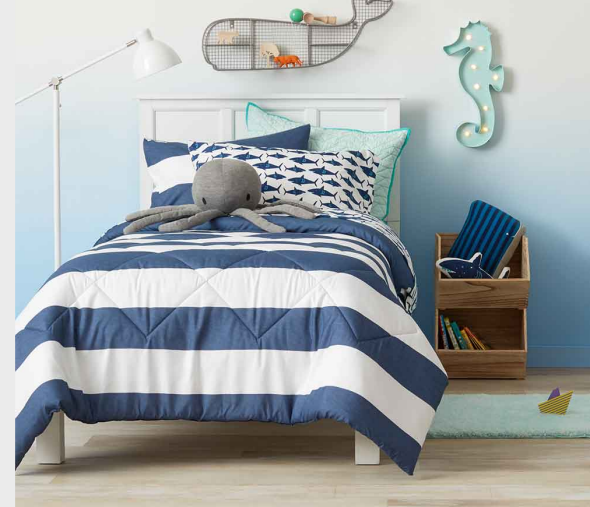 Not everything has been stripped of the semiotics of gender; there is a floral print bedspread in pink and an astronaut bedspread in gray and blue.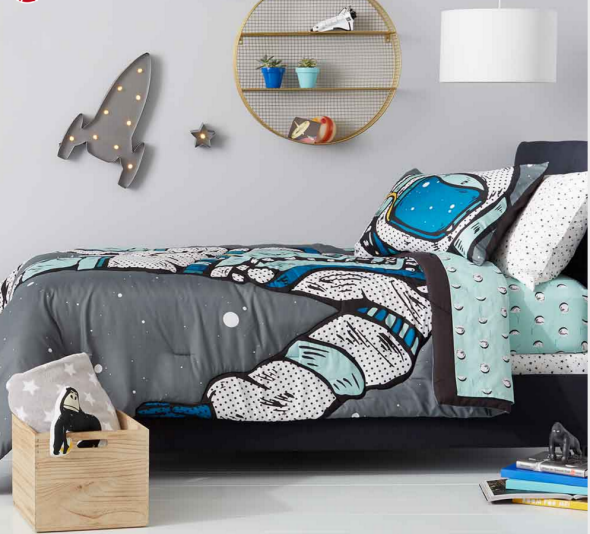 Still, the mixy-matchyness of the whole collection allows for the organic integration of elements that might, in another context, appear as intended for one gender. For example, I could see my son liking the ice cream throw pillow, even if he might not opt for the bright pink ice cream bedspread.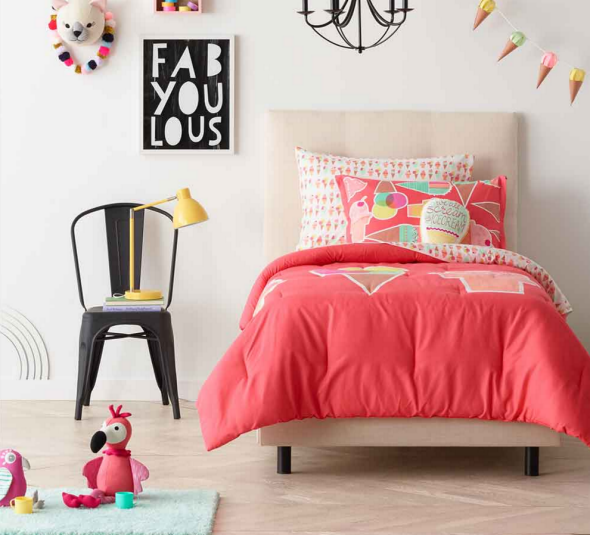 Julie Guggemos, Target's senior vice president of design and product development, told the Star Tribune that the inspiration for Pillowfort came from the feedback they got from parents tired of the blue and pink aisles. "Who are we to say what a child's individual expression is? We really wanted to develop a collection that would be universal," Guggemos told the newspaper.
This isn't as progressive as it sounds. As sociologist Elizabeth Sweet explained in the New York Times, gender was mostly absent from children's products marketing at the turn of the 20th century. During the pre- and post–World War II years there was a rise in gendered branding, but by the 1970s it had largely disappeared. It wasn't until the late 1990s that this type of marketing returned, and, because it's profitable, it's stuck around. Nevertheless, studies show that children aren't nearly as inherently gendered as today's children's goods market suggests.
My son turned three in November, which makes him right around the age when children begin to be aware of gender and its implications. My husband and I are careful about not ascribing any behaviors or characteristics to a specific gender, and encourage him to pursue his curiosities, however "pink" or "blue" they may be. We want him to feel open to whatever moves him, regardless of his gender, but at the same time we are careful to never make an example of him. (For instance, we'd happily sign him up for a dance class, but would never dress him in a tutu.) Our excitment for a more gender-fluid future doesn't change the fact that, should our son step too far outside the conventions of his gender, he would likely pay a social cost. 
In this sense, Target's new collection is perfect for parents like us. Instead of starting from scratch with an entirely new gender-neutral visual language for kids, or coarsely inverting typical gender markers (like making trains in pink or florals in army green), they're offering us a slower, and therefore more realistic, transition away from the heavily gendered status quo. Hopefully, this time around it will stick.
But that's not all there is to celebrate here. The new line also gives me hope that one day, in the not so distant future, parents will be able to buy one set of kid stuff and be able to re-use for their other children, regardless of gender. Talk about a revolution.