Last December, Emily Blistein, a former lawyer and women's advocate turned independent shop-owner in Middlebury, Vermont, responded to her dismay over another news report about gun violence by putting out a call on social media asking if anyone would be interested in designing postcards that could help advance the conversation about how to end it.
Blistein asked for cards "celebrating love over fear," she told me in an email, adding that she "left the prompt intentionally vague" to allow the designers to freely interpret the message. Calling the effort Love Is Mightier, Blistein has released the first set of 10 postcards just in time for Valentine's Day, with plans for more.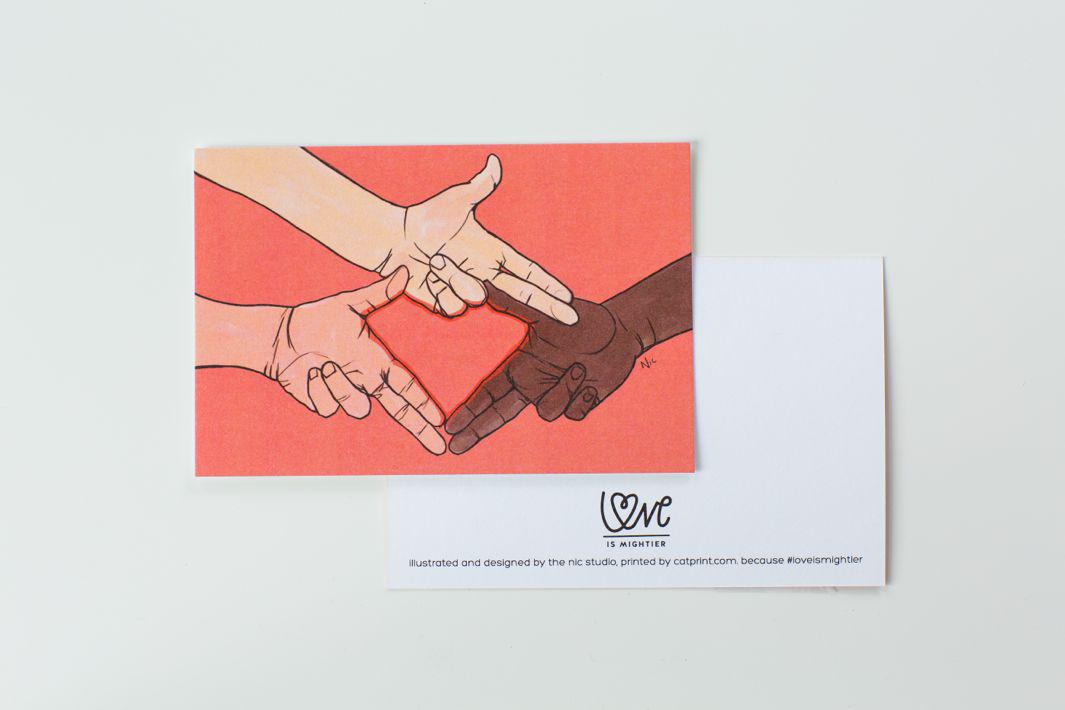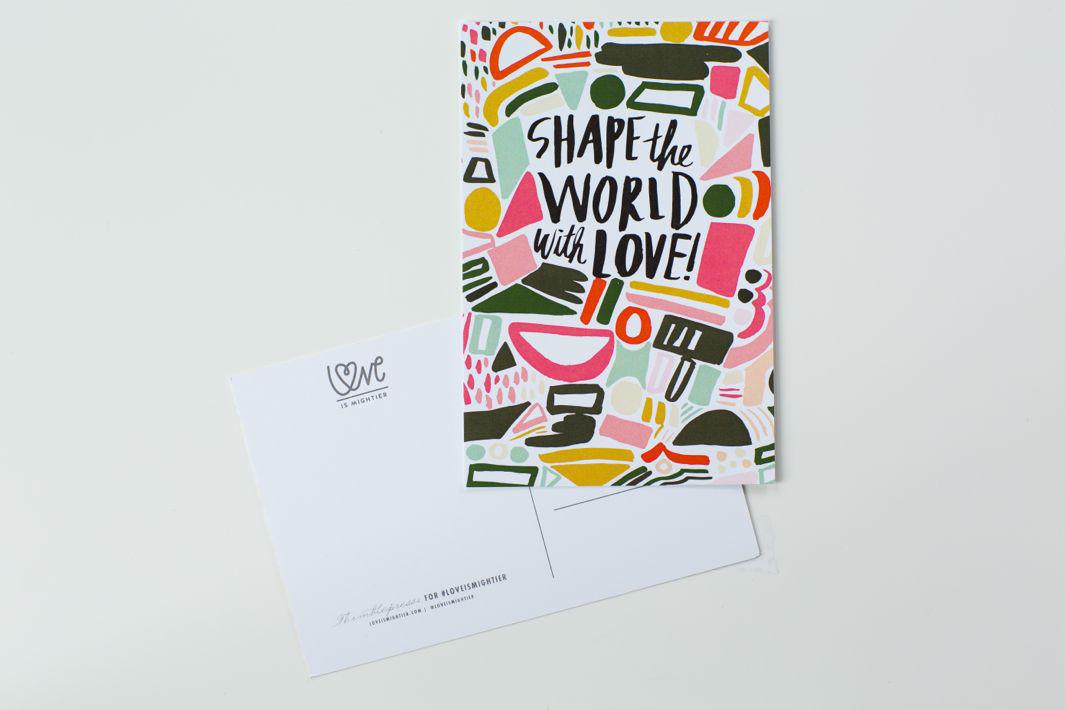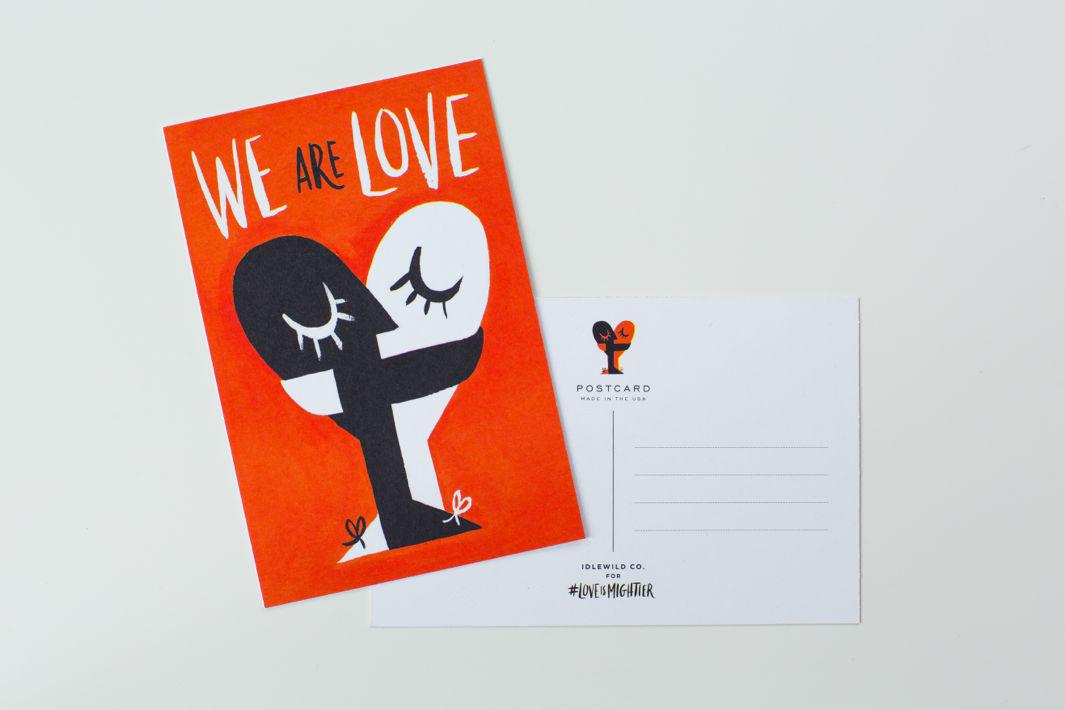 How can postcards contribute to the debate over gun violence in America?
"Art and design often speak loudest when words fail," Blistein said, explaining that she settled on postcards because they are "a powerful, small canvas for designers to share their work" and "an approachable medium" for customers. "I want to remind everyone that we each have a role to play in ending gun violence," she said. "Doing something—no matter how big or small—is the most important thing."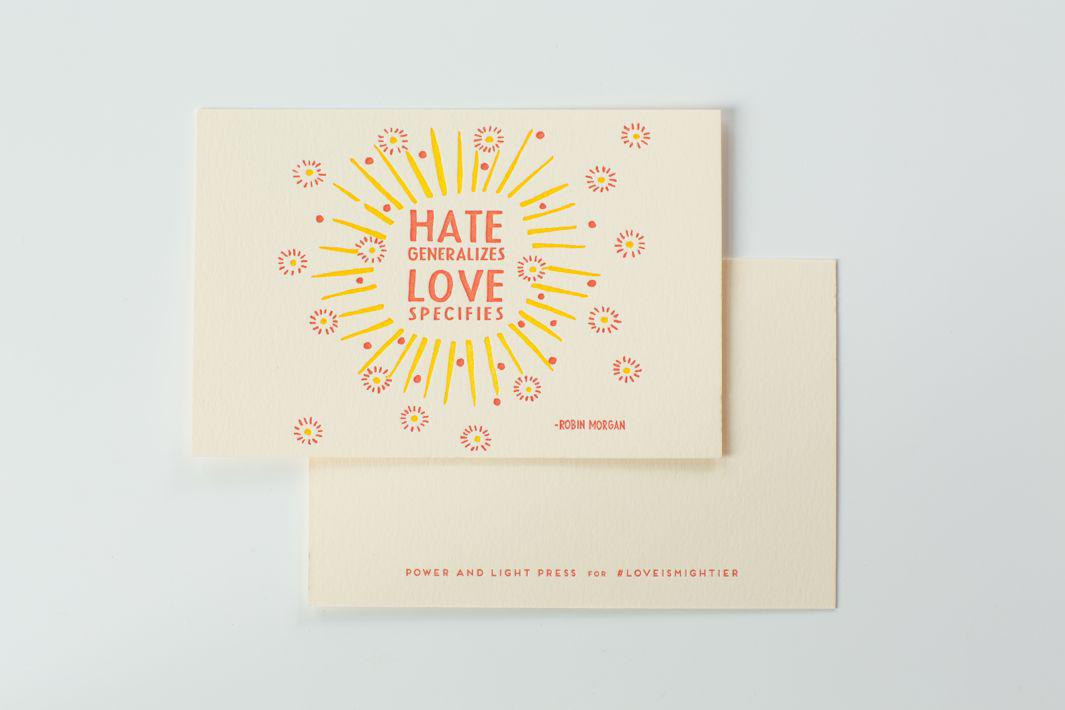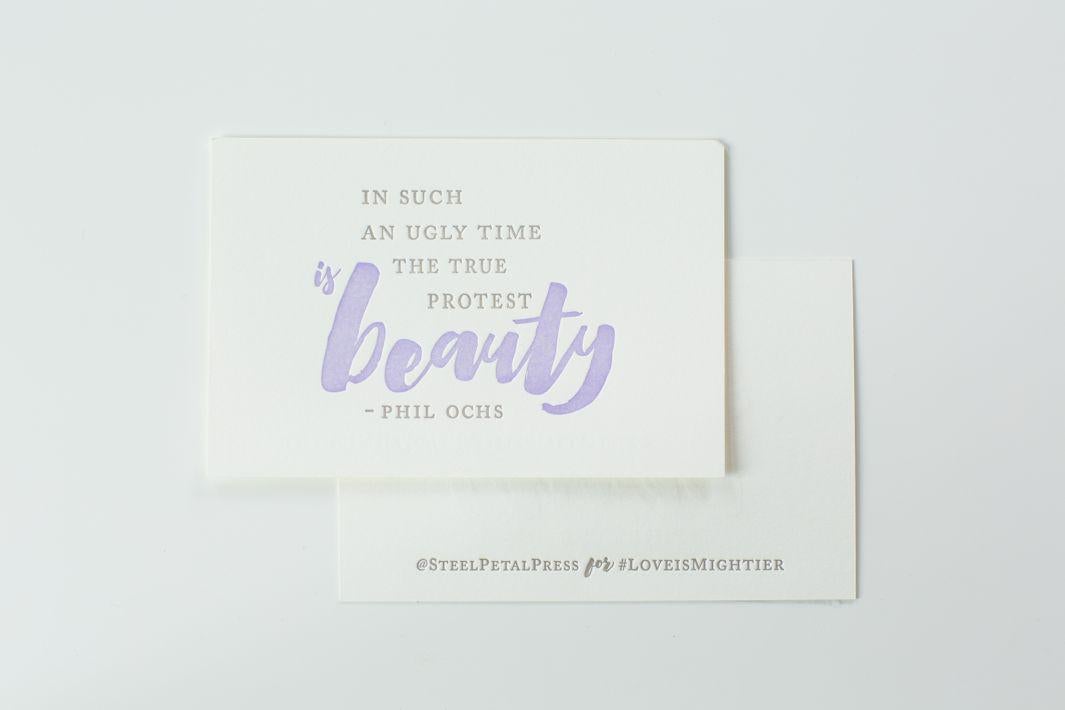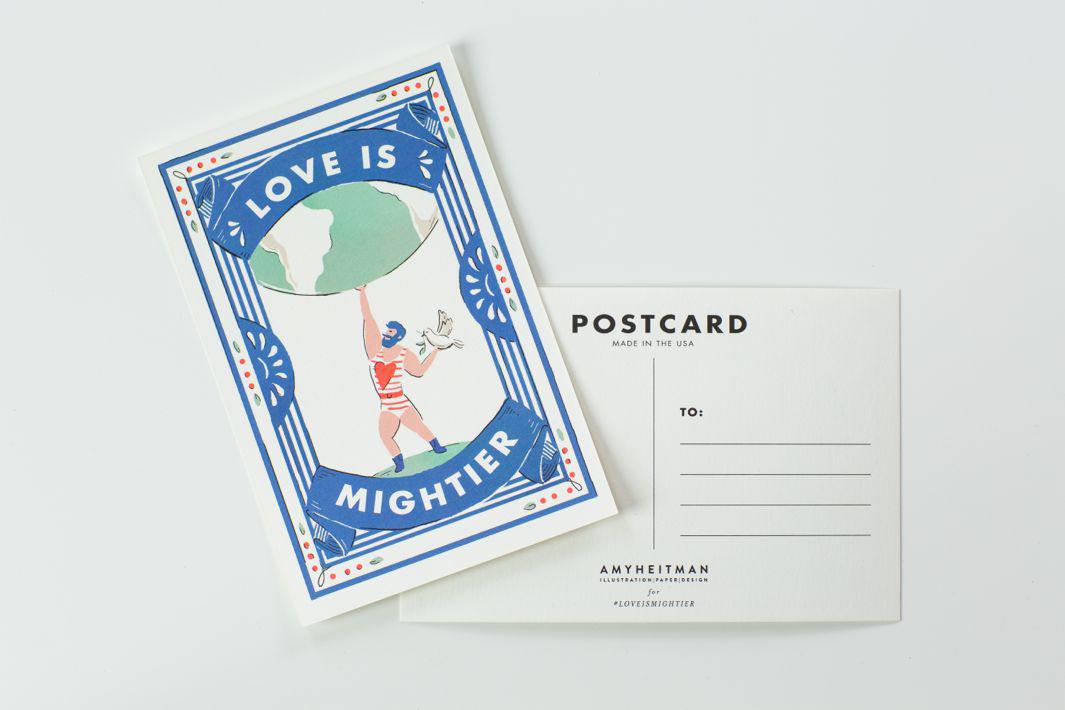 One of the postcard designers, Nicole Block of Nic Studio in Brooklyn, told me in an email that her late father was a New York City beat cop in the '60s and '70s who never drew his gun in 20 years on the job and turned it in when he left the force because he didn't want it in the house with his wife and daughter. Block, a born-and-bred New Yorker, said that crime, violence, and guns are "always a topic of conversation" and that her father discussed his "distaste for gun use" openly at home.
"We're clearly aware of the violence the world holds, but the answer to it is not more violence," she said. "If a man facing violent people on a regular basis still felt as though the use of his gun was too extreme, then guns should be respected and not just the first option for defense."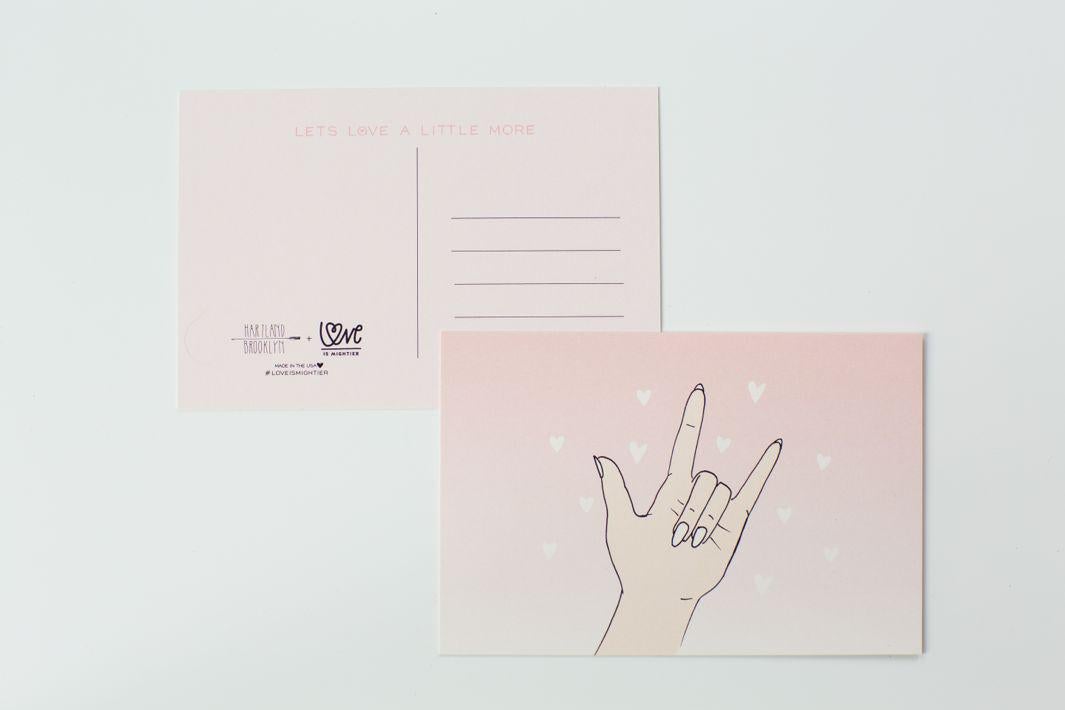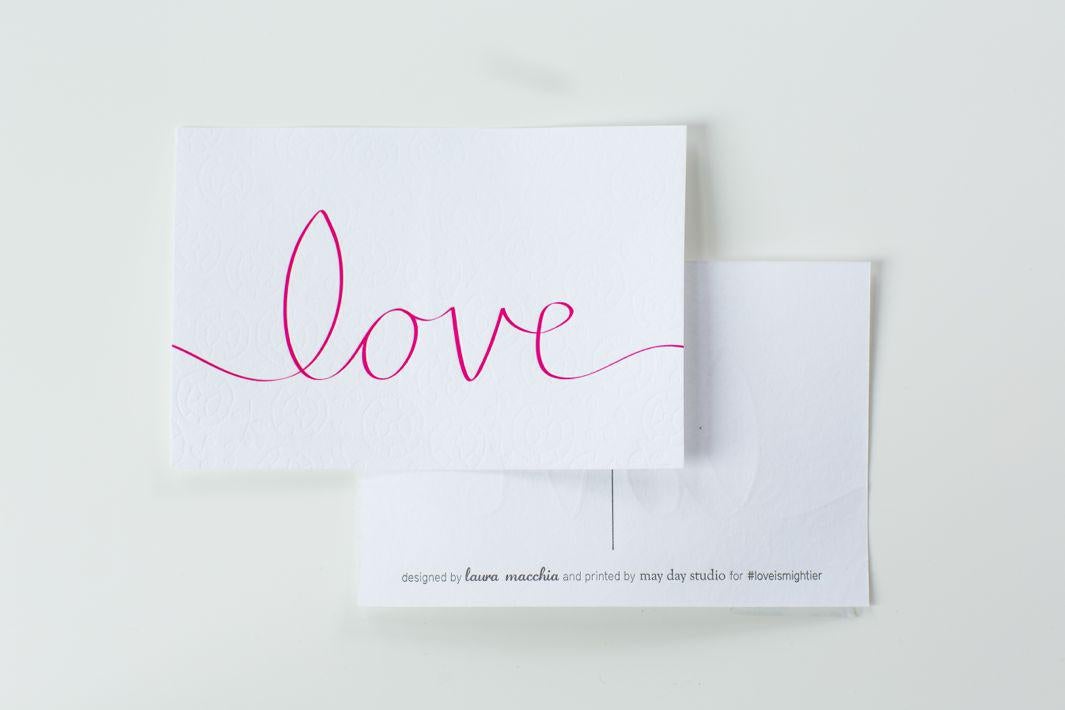 Block said that her design of joined hands posed as finger "guns" (second from top) is a variation of a gestures-based greeting cards collection she has created. "As an artist, I've always felt that hands are just as expressive, if not more expressive, as our faces or words," she said. "The formation of the three hands into a heart brings attention to love first. Love over violence, any day. I just hope that this collection of cards get people talking, sharing the cards and reminding each other that peace and love can do more good in this world than guns and violence."
Blistein said that 100 percent of the design and printing costs were handled by the designers and that all of the sales proceeds will be donated "to organizations, entities or individuals working to end gun violence." The first set of 10 cards can be purchased online at Blistein's shop, Clementine, for $10.