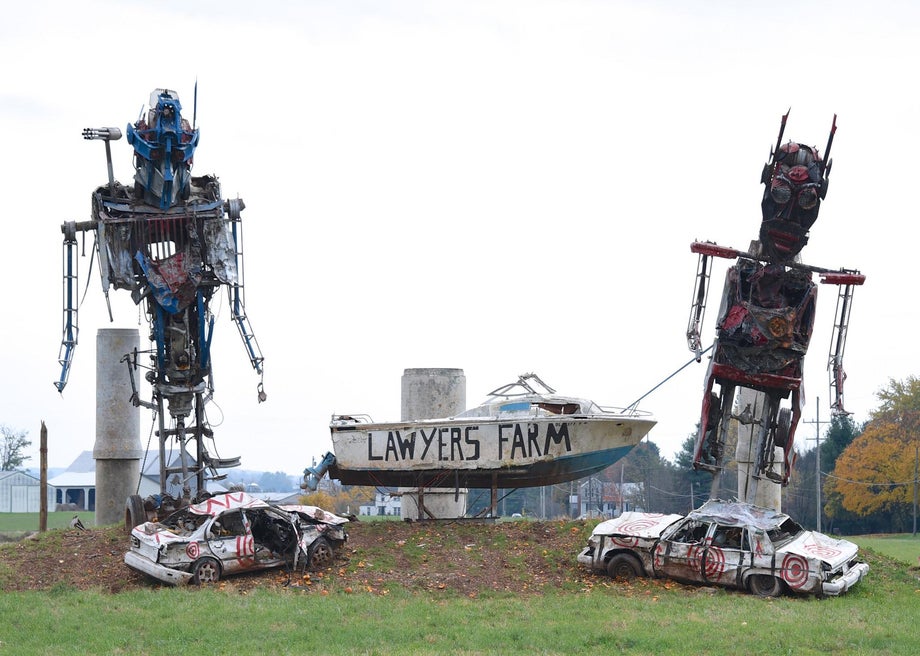 Atlas Obscura on Slate is a blog about the world's hidden wonders. Like us on Facebook and Tumblr, or follow us on Twitter.
The Lawyer's Farm in Thurmont, Maryland, is not unlike a number of farms across America, except for the massive, junk-made transformer robots standing sentinel at the entrance.
Driving by Lawyer's Farm, one might be forgiven for thinking that he or she was passing by a homegrown sculpture garden instead of a farm, and in some ways, that'd be right. The farm, which grows both corn and pumpkins, was started by Jan Lawyer, who had a knack both for fixing things and for creating things out of next to nothing. Most memorably, Jan created a handful of giant Transformer-like robots that he installed at the entrance. He built the giant robot sculptures from scratch, using old junk and car parts.
Jan has since passed away, but his creations still stand, welcoming people to the farmstead. Today, the property is owned and operated by his children, and it is not just junk statues that are on offer. The farm also offers visitors the chance to see their homemade pumpkin cannons and take a stroll through the corn maze, which is newly designed each fall. You can even go pumpkin-picking if you are so inclined. In honor of Jan, some of the proceeds go to the American Brain Tumor Association.
The flamboyant farm makes sure to keep its corn maze fresh. In 2015, they carved the maze to look like Gov. Larry Hogan, who was battling cancer, even carving out a hashtag, proving that maybe corn mazes aren't so old-fashioned after all.
Submitted by Atlas Obscura contributor r0n0c0.
For more on Lawyer's Farm, visit Atlas Obscura!
More wonders to explore:
---