Over the past couple of decades I have watched, with a mixture of horror and profound boredom, as Oscar red carpet frocks lost their reckless spontaneity and became stunningly conventional. No more dead swans, no more back-to-front Dior pantsuits, no more blokes in plunging Versaces. The reason? The Internet peanut gallery, slowly but surely, terrorized the A-listers out of anything jolly or experimental and into old-fashioned country club glamour gowns. Yes, I am talking about dresses with bust darts!
The fact that I have not thrown myself into on-coming traffic is due to one thing and one thing only: the Grammy Awards. (The fact that the traffic in NYC no longer moves at all is also a factor in my continued presence on Earth, but let's not get sidetracked.) I now rely exclusively on the studs and starlets of the music industry to deliver that life-enhancing jolt of fashion eccentricity. Gimme some Jimi! Gimme some Janis! Gimme an Elton, a Madonna, or a one-boobie Lil' Kim!
Great news! Monday night, on the red-carpet of the 58th Grammy Awards in Los Angeles, the rappers, cowboys, and chanteuses let their freak-flags fly. Oh wait, no they didn't.
In office environments all over the world people are dressing like musicians—tats, James Perse t-shirts, Rag and Bone jeans, and Stan Smith sneakers are now totes the norm—and as of Monday night, the musicians are dressing like office workers.
Zendaya and Demi Lovato gave serious business-lady realness in staggeringly understated pantsuits. Miguel and Mark Ronson wore pinstripes. Sam Smith also opted for elegant, tailored simplicity … in an I-am-the-manager-of-the-Prada-store kind of a way. Even George Clinton and Diplo looked equally businesslike in their gray suits. Yes, you heard right: George Funkadelic Clinton wore a gray suit.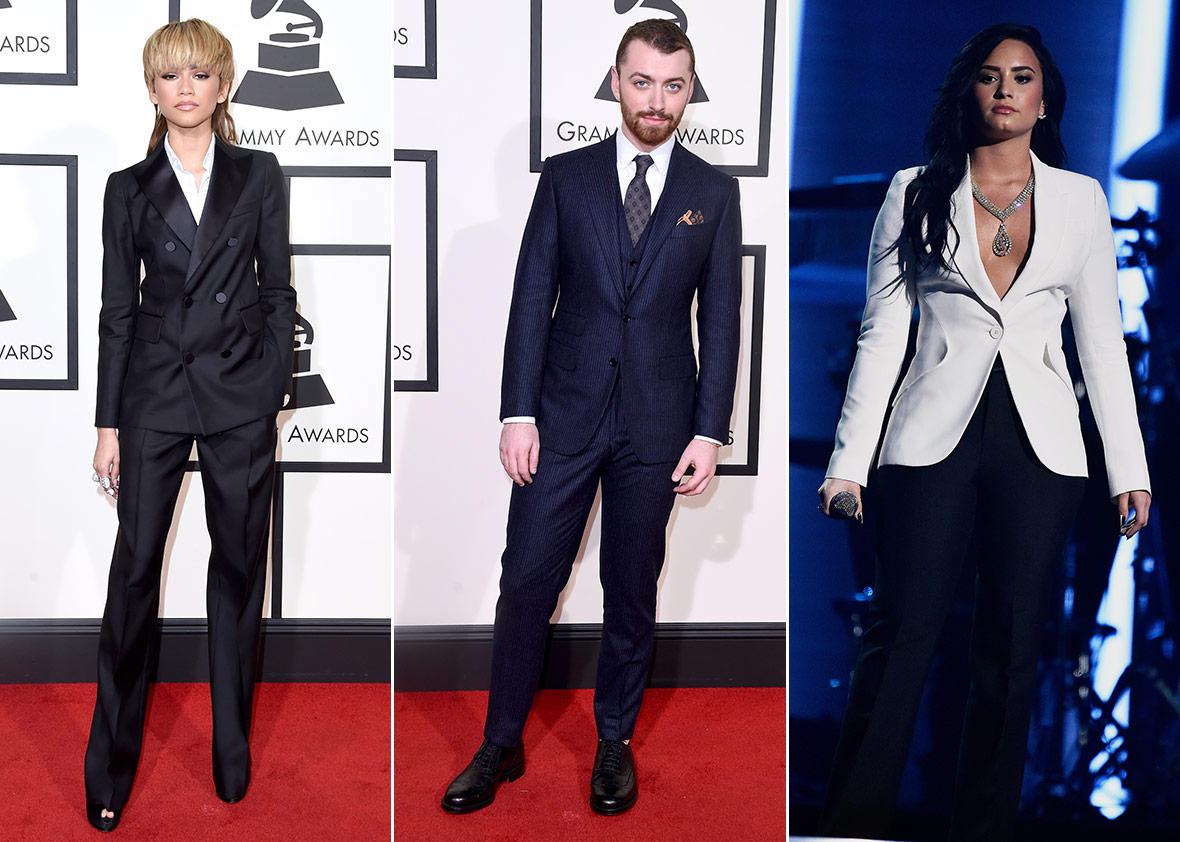 John Legend, Common, Charlie Puth, and Lionel Richie each exhibited a tentative attempt at swagger in a black-on-black tuxedo. Which brings us to the white tuxedos, and the shocking plethora thereof: Big Sean, James Corden, and the Biebs all opted for this signifier of old-school Palm Beach style. See you at the Bath and Tennis Club!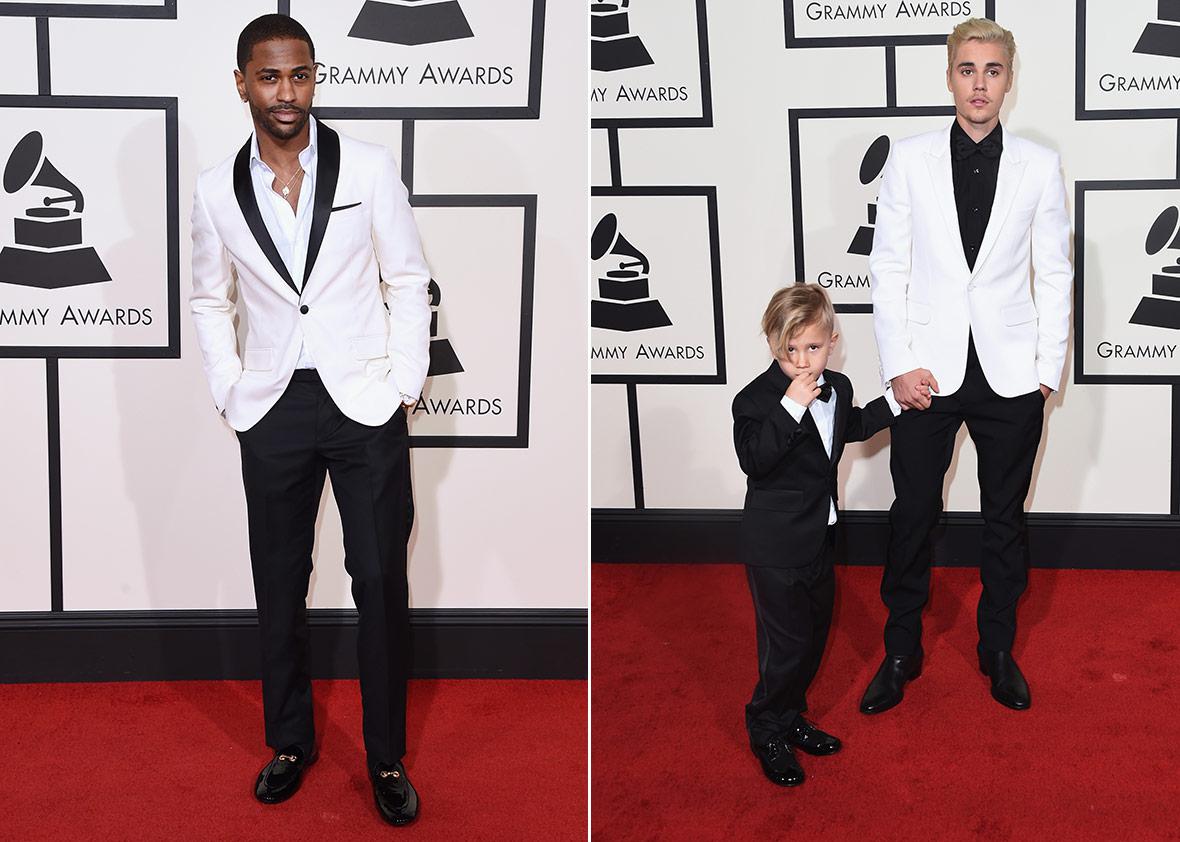 The biggest disappointment for moi were the country stars. Remember the era when country stars wore glitzy, gaudy Western-wear embroidered with cacti and musical notes? Well, it's over.
Carrie Underwood in her black bustier and foofed-back hair resembled uber-chic Lee Radziwill, circa 1965. Kacey Musgraves in an Armani Prive bustier, looked more like Natalie Portman than Loretta Lynn.* Sam Hunt wore a flesh-colored Dolce and Gabbana suit, minus any embroidery. Little Big Town, coiffed and appropriate, screamed corporate holiday party.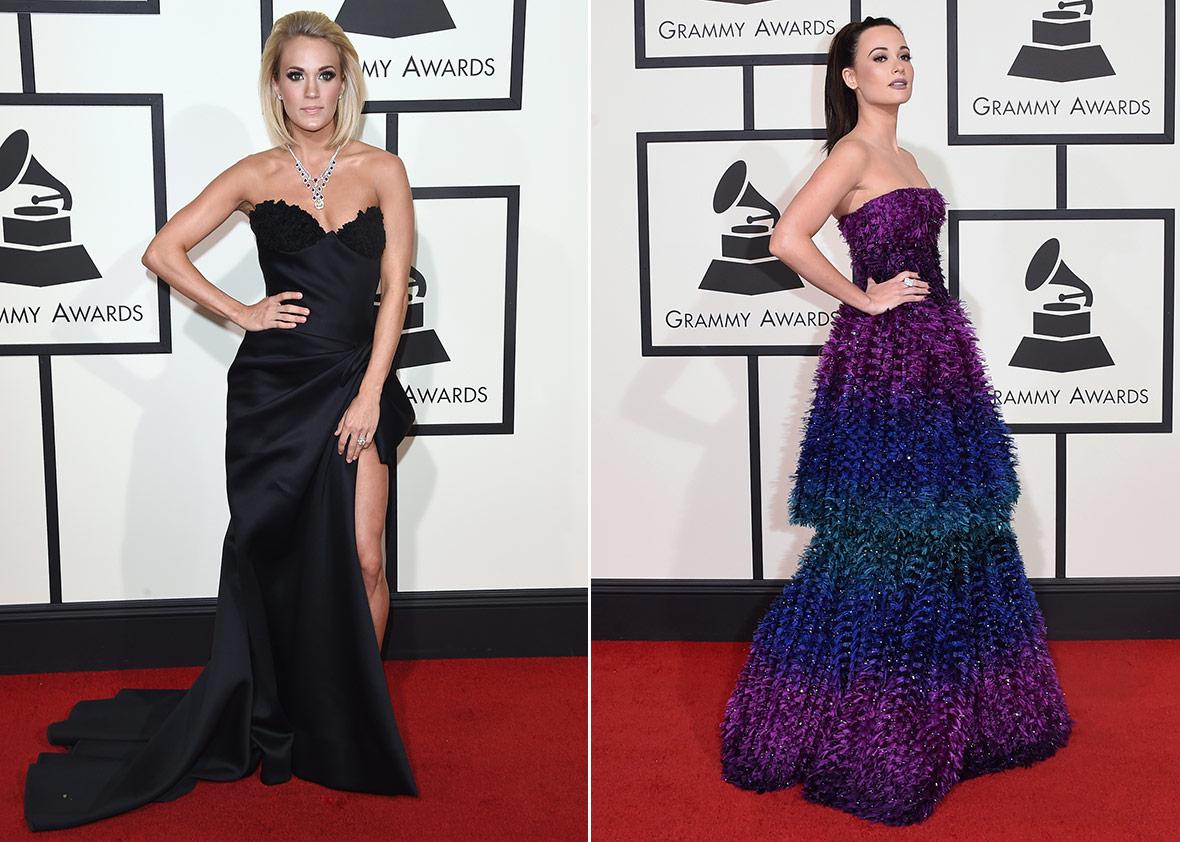 There were a few notable holdouts: James Bay with his long hair and fedora resembled a male Patti Smith. Elle King exuded gaudy glam. The Hollywood Vampires—Alice Cooper, Johnny Depp and Joe Perry—were refreshingly Keith Richards–ish.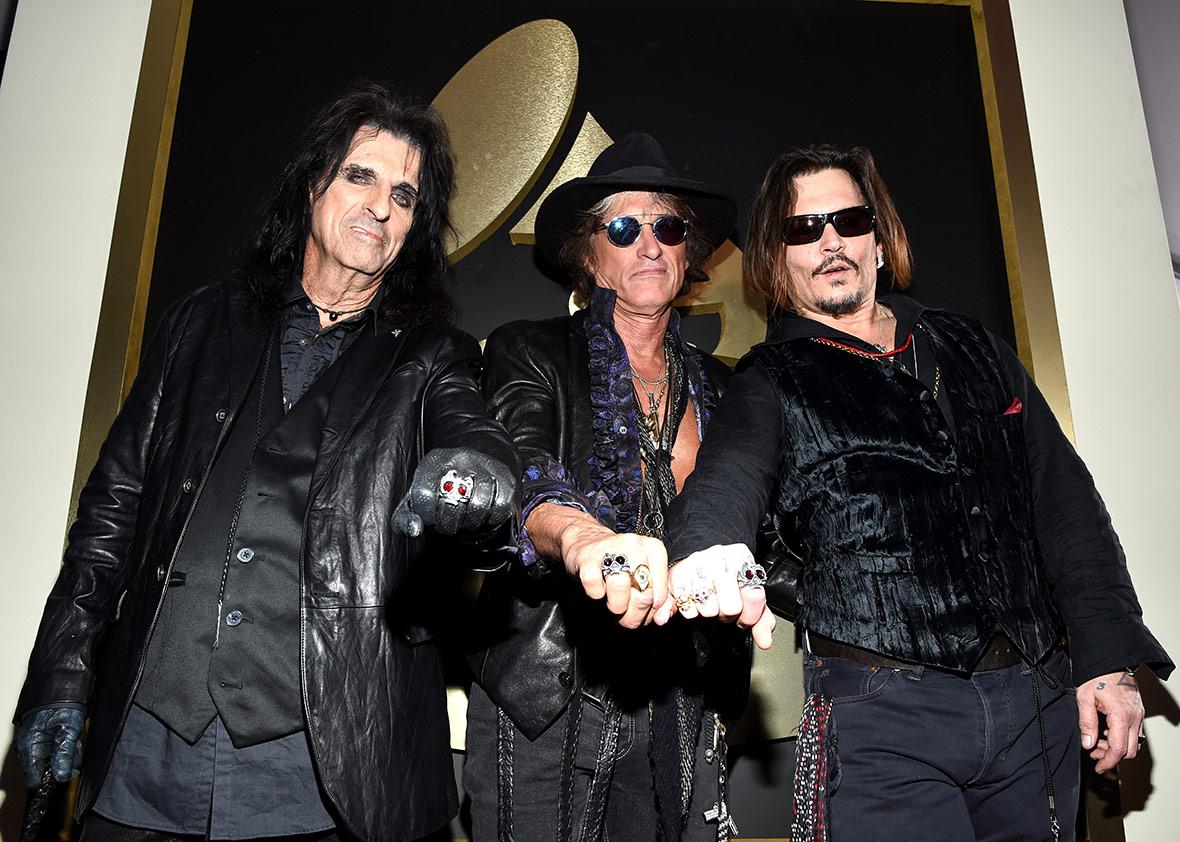 ASAP Rocky looked freaky and funky, and I'm not just saying that because he was carrying my Goyard man-bag.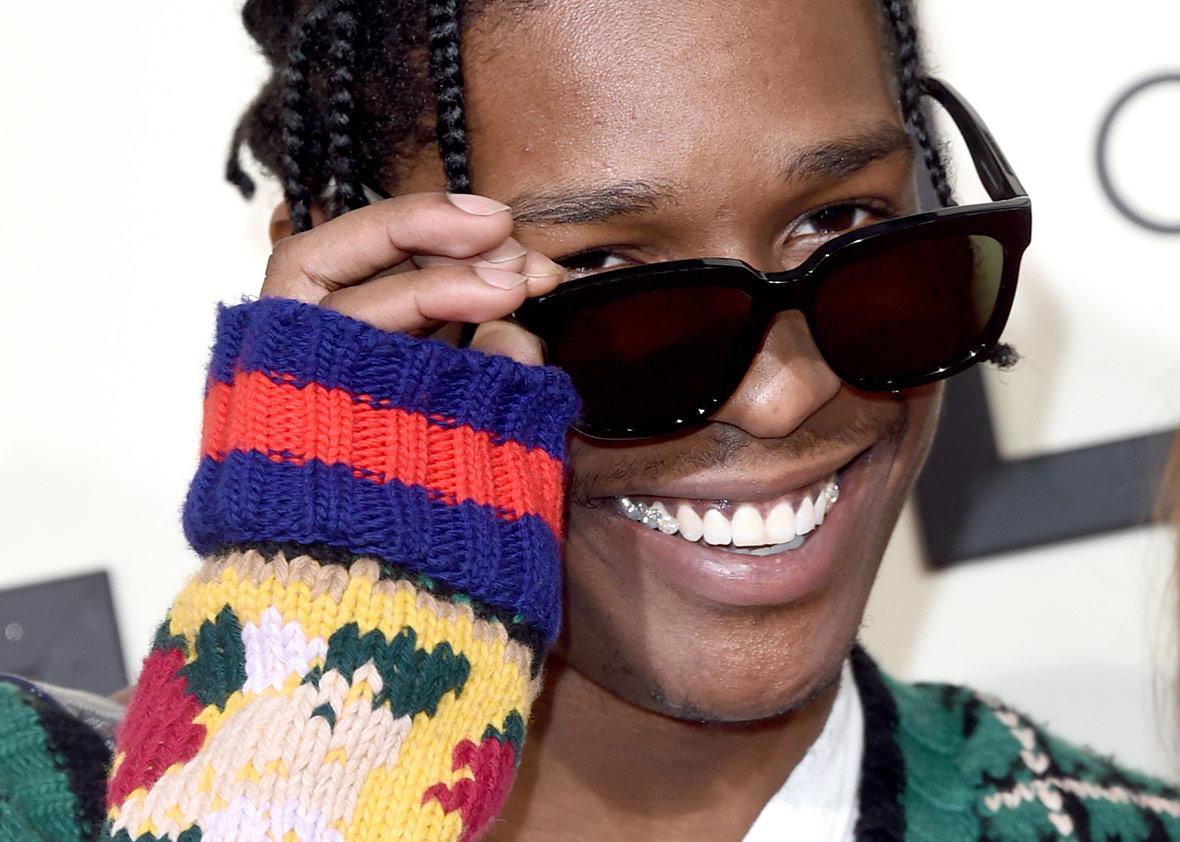 Gaga, clearly readied for her much talked about Bowie tribute, teamed a blaze of Ziggy hair with a severely glam-rock kimono. However, compared with the time she arrived inside an egg—born aloft by muscle dudes in 2011—she looked like Reba.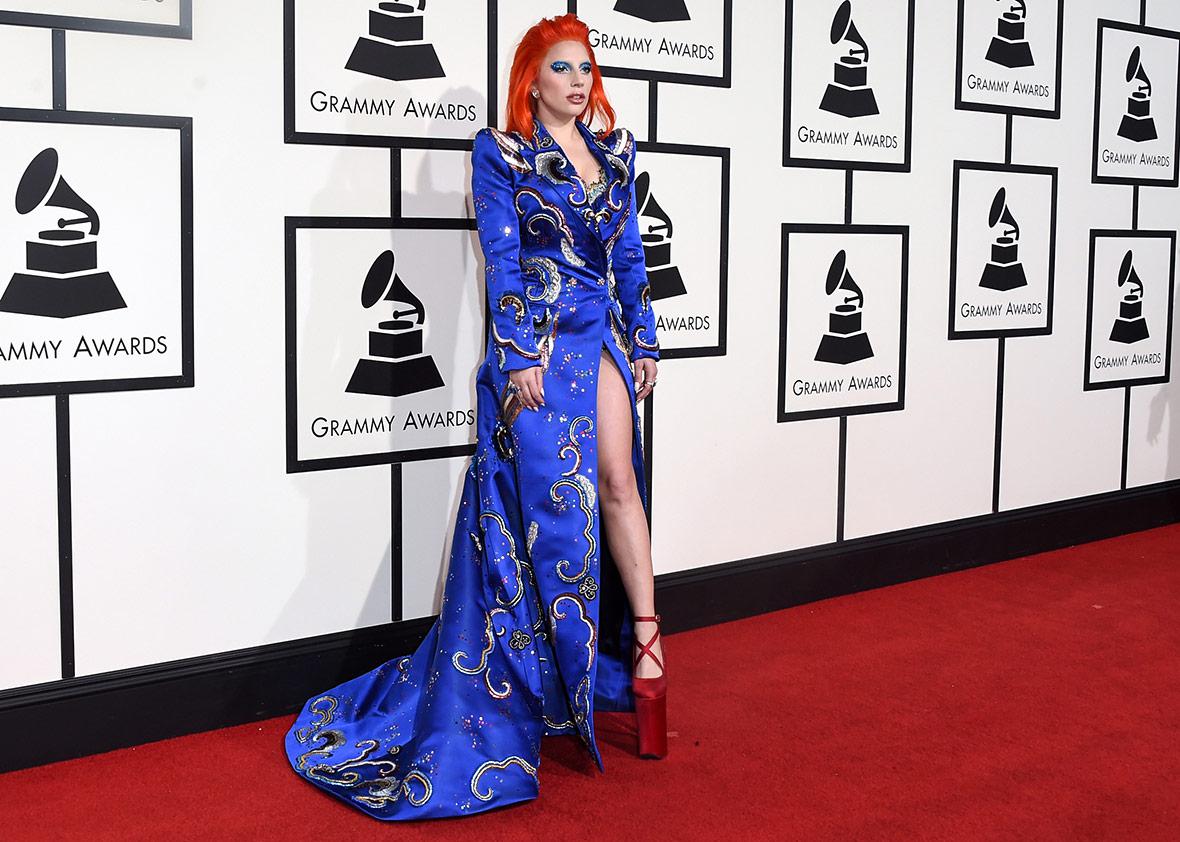 Here is my theory about what went wrong: In their effort to look like viable "brands"—I'm not a drug-addled temperamental performer; I am a sensible business entrepreneur!—the stars dressed in restrained office attire. The result? Shockingly, they looked even more conservative than the attendees to the Academy Awards. Thereby proving something that I have always suspected: Being a "brand" is a huge, anti-fun bummer.
The upside? Now I am actually looking forward to the Oscars.
*Correction, Feb. 16, 2016: This article originally misspelled Natalie Portman's first name. (Return.)