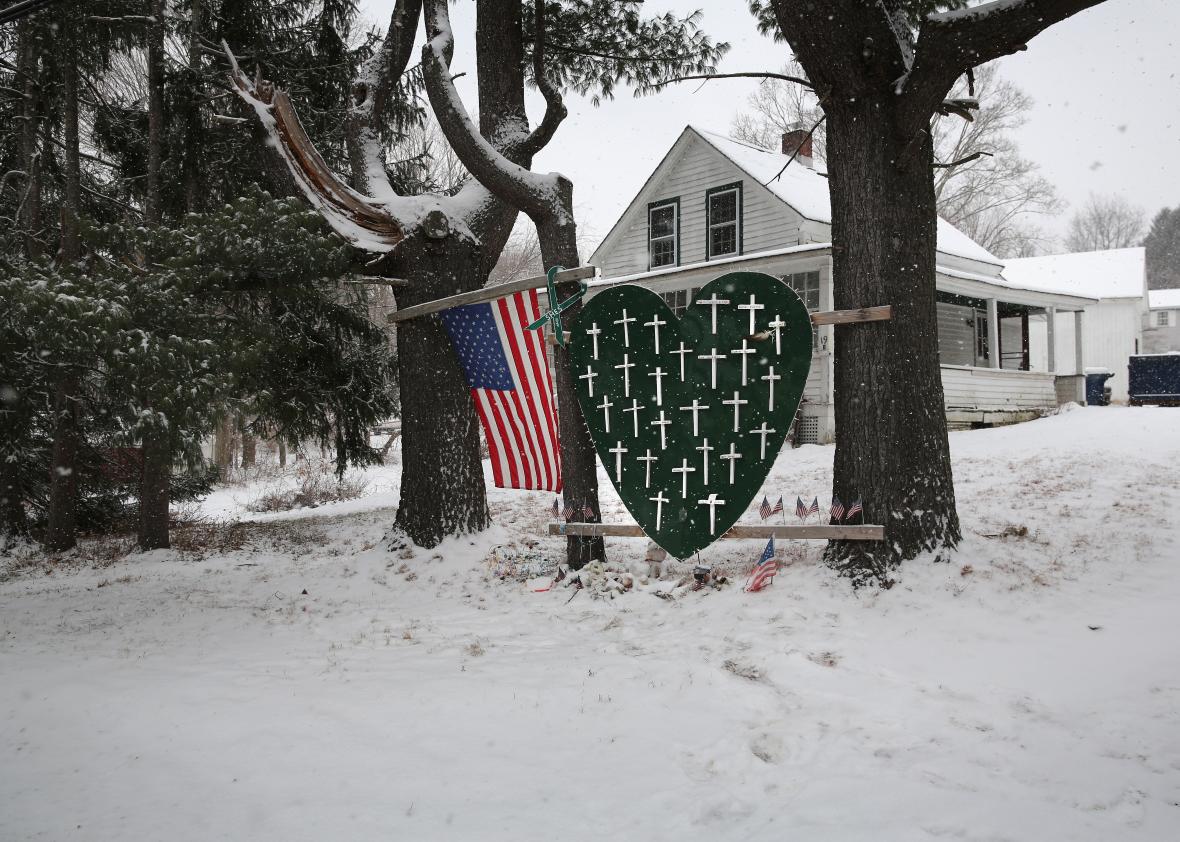 School leaders in Newtown, Connecticut, spoke Wednesday to Connecticut's state board of education about the ongoing trauma of the Dec. 12, 2012, massacre at Sandy Hook Elementary School. "I think the perception is that Newtown has rebuilt, they have recovered, they've moved on," Superintendent Joseph Erardi told the board, reports the Hartford Courant, "but it is far from reality, extremely far from reality. There are challenges in Newtown that will go on for decades."*
Does anyone really believe that Newtown has "moved on"? The memory of those 20 slaughtered first-graders and their six teachers made President Barack Obama cry just this week. Last month, I had trouble sending my own first-grader to school on the third anniversary of the Newtown shootings, the first to fall on a school day. If the rest of us have yet to recover, how could the people of Newtown have come close?
June will see the expiration of a $7.1 million grant awarded by the federal Department of Justice's Office for Victims of Crime last summer that has funded counseling and mental health services in Newtown schools since the shooting—but securing more money, Erardi said, was less important than simply promoting an "awareness" of the trauma people in Newtown were still enduring. (Newtown has received several grants from a number of federal agencies, including one of the largest ever Project School Emergency Response to Violence grants from the Department of Education, to help residents cope with the aftermath of the shooting.)
Because of the unprecedented circumstances of the Sandy Hook shooting, Erardi said, "we will continue to need help over the long term because each year is marked by new challenges that have never been dealt with by a school district before." Tom Kuroski, president of the Newtown Federation of Teachers, provided an example of one such challenge:
When the town's high school students go off to college, Kuroski said, they often find at freshmen orientation that their answer to the simple question "Where are you from?" can bring the conversation to a standstill.
"As soon as they say 'Newtown,' you can see the room just change," Kuroski said students have reported to him. "I've been told by multiple students that orientation becomes a challenge in itself because they are afraid to reveal that they come from the [school system] that went through this horrible situation."
In addition to detailing these and other difficult transitions, the Newtown officials made recommendations on school security (Newtown schools now have a hefty security presence, with armed and unarmed officers in every building) and student mental health procedures. "We would like to take what we learned and create our own road map for others to follow who might face a similar tragedy or possibly prevent one," Kurowski told the board members, who said they would consider adopting the recommendations statewide.
*Correction, Jan. 7, 2016: This post originally misspelled Joseph Erardi's last name.

---