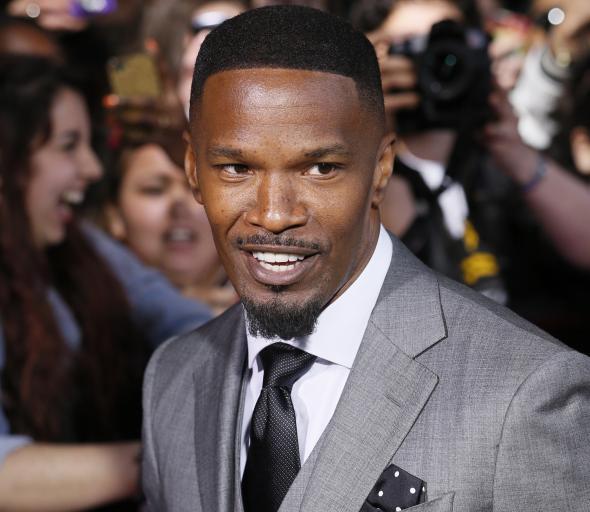 On Monday evening, a 32-year-old man was driving at a "high rate of speed" in Moorpark, California, when he crashed his Toyota Tacoma into a drainage ditch and it caught on fire. Hey, it happens. What doesn't happen as often: Actor/singer/comedian/alleged Katie Holmes boyfriend Jamie Foxx leaped into the wreck to rescue the driver from the flaming pickup.
"As I'm getting him out, I said, 'You've got to help me get you out because I don't want to have to leave you,' " Foxx told a local news station. "I said, 'You've angels around you.' " The actor later Instagrammed a photo of himself embracing the father of the driver. "No heroes," he wrote, "just happy fathers." That'll do, Jamie Foxx. That'll do.
The odder thing about this incident is that it's not remotely the first time that a celebrity has dabbled in off-screen heroism. I do not personally know anyone who has saved another human life in such dramatic fashion, but headlines suggest that it happens to famous people all the time. In November, Blake Shelton rescued four men whose truck had slid into a mud hole near the Oklahoma River. Heidi Klum saved her son and two nannies from a dangerous ocean riptide; photographers captured every gasp and splash (and bikini slip). A 74-year-old London jogger said that Dustin Hoffman saved his life when he collapsed with a heart attack a few years ago, and John Malkovich once used his scarf to apply pressure to an elderly man's bleeding neck wound. (Think of all the good Lenny Kravitz could do!)
Once in a while, celebrities even help one another out. Richard Branson credited Kate Winslet from rescuing his 90-year-old mother from a serious house fire in the British Virgin Islands in 2011. Best of all, director Werner Herzog rescued Joaquin Phoenix when his brakes failed on Sunset Boulevard in 2006. As Phoenix lay in the wreckage, Herzog tapped on the window, told him to relax, helped him out, and then disappeared. "There's something so calming and beautiful about Werner Herzog's voice," Phoenix said at the time. "I felt completely fine and safe." (Then there are the more long-term rescues: Iggy Pop said last week that David Bowie saved him from "annihilation" by buoying him through a rough period in the 1970s.)
Upon closer inspection, many of the more dramatic stories here merit an asterisk. Foxx was aided by an off-duty EMT in his rescue this week. Hoffman didn't call the ambulance for the jogger, as was originally reported; instead, he merely stayed on the scene and told the paramedics, "Great job, guys." A few years after supposedly being saved by Winslet, Branson's mother told the Guardian that Winslet and her children were behind her on the stairs as they were all fleeing the house fire, and the actress "just sort of picked me up and took me down four steps and that was it." It was her grandsons who woke up everyone in the house and deserve the real credit for life-saving. Winslet, she suggested, may have just been in a hurry to get down the stairs.
Still, this is an awful lot of heroism, or least heroish-ism. What's going on here? I suspect it's at least one part superhuman self-confidence: Why wouldn't Jamie Foxx believe he could do anything? The other likely factor is how the presence of a celebrity turns an already surreal situation into the stuff of legend. If Dustin Hoffman ever sits by my side for 15 minutes after I collapse on the sidewalk, I don't care if he's actually the one who calls the ambulance—I'm telling everyone he saved me. If dynamite stories are the stuff of life, it'll be true.
---