In this 1933 letter, Amelia Earhart took time to advise 13-year-old aviation enthusiast June Pierson of Detroit on strategies for successes in the nascent industry. The letter, which has been in a private collection since it was sent, is now up for sale through Philadelphia's Raab Collection. 
Starting in 1928, when Earhart wrote a book about being the first female passenger on a trans-Atlantic flight (20 Hrs., 40 Min.), she became a celebrity who embodied the female face of the new age of flight, endorsing products and acting as Aviation Editor for Cosmopolitan magazine. But by the time "Miss Pierson" wrote to her for advice, Earhart had become the first woman to fly alone across the Atlantic and then the North American continent, and her fame was at its peak. 
Earhart was a booster of fellow female pilots; she was trained by one (Neta Shook) and later banded together with others to form an advocacy group called the Ninety-Nines. She was concerned about the image of female aviators and wanted to promote the idea that the profession was an acceptable one for women. As she wrote in her 1932 autobiography:
Of course, [female pilots] are as different as individuals from any other group. There are slim ones and plump ones and quiet ones and those who talk all the time. They're large and small, young and old, about half the list are married and many of these have children. In a word, they are simply thoroughly normal girls and women who happen to have taken up flying rather than golf, swimming, or steeplechasing.
Yet, as her letter to June Pierson shows, Earhart knew how difficult getting into the professional pilot's seat could be, and her advice is deeply realistic. The girl would have to pass a physical exam first, and even then, might find herself taking some of the less glamorous jobs female pilots were then holding in the industry: teaching or ferrying airplanes from one place to the other.
On the bright side, Earhart said encouragingly that she thought "women's opportunities" would "improve as they have in all industries." Moreover, she wrote, "I think you are fortunate to have the full cooperation of your parents." Earhart knew of what she spoke; her own mother supported her emotionally and financially, enabling the purchase of her first airplane in 1921.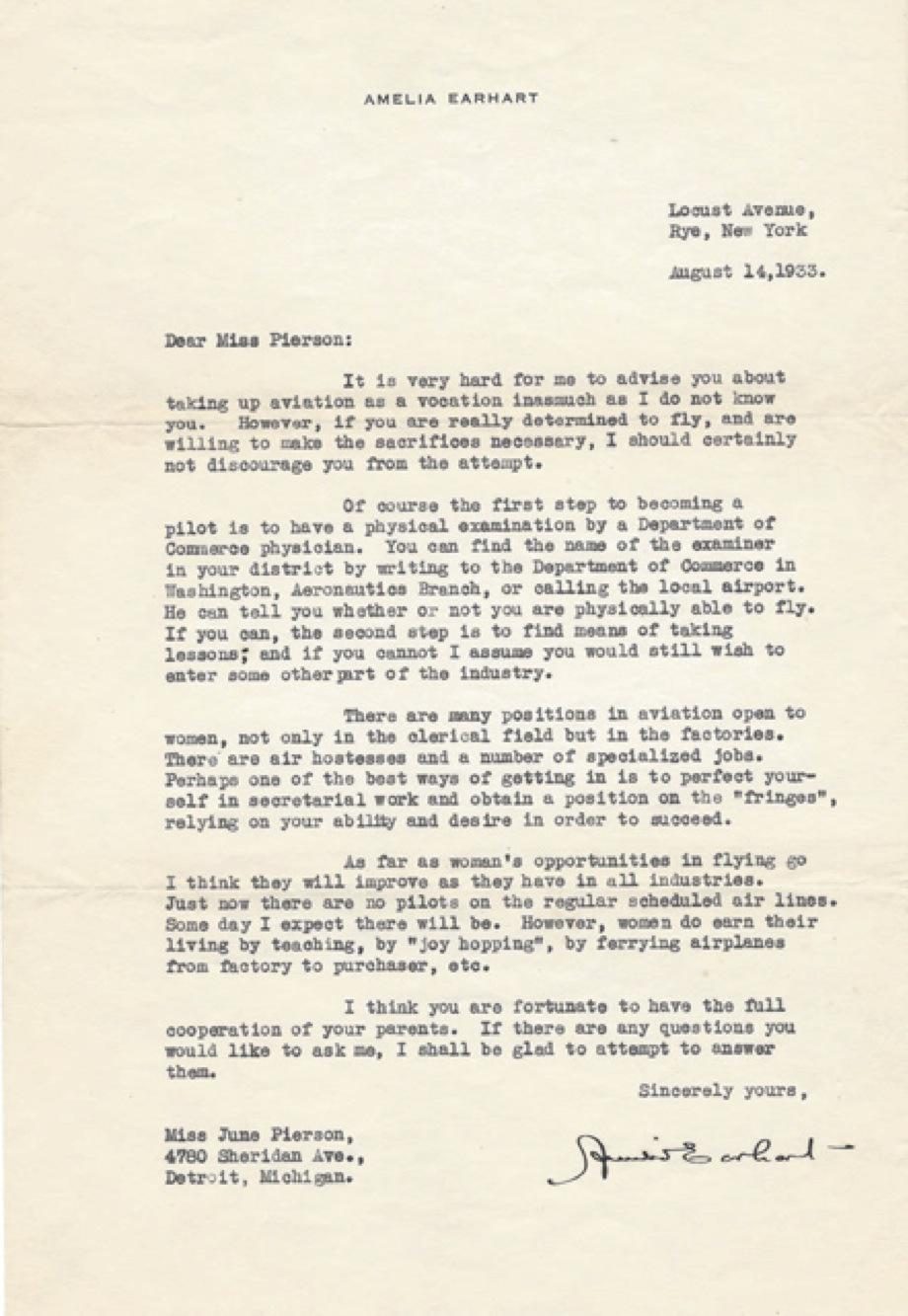 *Correction, Jan. 20, 2016: The original version of this post misstated that the letter is being auctioned, rather than sold.