It is Dec. 23, and the skeleton crew here at Slate, feeling a little punchy and underoccupied, does what it always does in similar situations: We talked about how we love Oscar Isaac, want to have sex with Oscar Isaac, and want to have Oscar Isaac's babies. Oscar Isaac! Hottest pilot in the Resistance; thespian shape-shifter; one-half, with Lupita Nyong'o, of the most mesmeric gif of our time—the gif that launched a thousand ships.
But when did we fall in love with Oscar Isaac, and which Oscar was it? Every journey is different. But each of them leads to the same destination. Join us, won't you?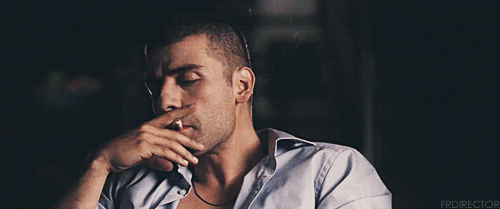 Amanda Hess, staff writer: The year is 2011. America is at Peak Gosling. That summer, the blonde wonder stars in Drive, a movie about Hollywood, cool jackets, synth music, and murrrrder. The moment Gosling affixes his gaze on Carey Mulligan in an elevator, we know the two blondies are destined to hook up, but it's hard to feel the spark when the obstacle to their romance is Mulligan's hubby, a petty criminal sweetheart played by you-know-who. (Poor, lost Carey Mulligan: always sleeping on Oscar Isaac). The filmmakers take desperate measures to muffle Isaac's appeal—his character's name is literally "Standard" and his chiseled jawline is obscured by a Drake Beard—but soon they realize there's only one way to make the choice of Gosling over Isaac feel plausible: Isaac gets shot like a zillion times and dies.
June Thomas, culture critic and editor of Outward: In his eponymous role in Inside Llewyn Davis, Oscar Isaac toted a cat around Manhattan. Look, he's doing it on the poster. Sure, holding a cat in your arms is not the best way of transporting it, and Llewyn's cat-wrangling skills were shown to be even more lacking once he and his cat left New York City. Nevertheless, by taking responsibility for the beautiful marmalade kitty, Isaac won the hearts of the Lesbian Nation. The man can now do no wrong.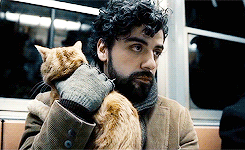 Aisha Harris, staff writer: The shrewd oil baron Abel Morales in A Most Violent Year is a complete 180 from the depressed struggling artist Llewyn Davis—which was the first time I took notice of Oscar Isaac—and learning that he can channel such distinct and fully realized characters made Isaac, in my world, the perfect acting specimen. And oh, those chocolate-brown puppy-dog eyes, which alight with such intensity in Abel's every business negotiation. And those perfectly bushy brows! Even the slightly tacky Godfather-like pompadour and the awful '80s period-appropriate turtleneck sweaters couldn't distract from the allure that is Oscar.
Sharan Shetty, Brow Beat blogger: In the sun-washed, vaguely noirish Two Faces of January, I finally stopped resisting and succumbed fully to this man's charms. The movie sees Isaac play a con man in Greece, one who deploys an all-beige wardrobe and a trilby hat or two to somehow outfox the silver fox himself: Viggo Mortensen.
Jacob Brogan, contributor: From the first frames of HBO's Show Me a Hero, it's clear that a grim fate awaits series protagonist Nick Wasicsko. But as Wasicsko rises and falls, Isaac's almost hypnotic charisma makes a narrative that could have been a slog into easy, almost enchanting viewing. I don't think he's ever been as seductive as he is in Star Wars, but it was in Show Me a Hero that he created a real awakening of the Force for me.
Katy Waldman, words correspondent: In the opening moments of Star Wars: The Force Awakens, a phalanx of storm troopers led by an animate basalt formation alights on a sand-swept planet and starts shooting. The planet dwellers panic, wondering what's going on, and the audience is uncertain, too: What's the deal with this brand new Star Wars movie? Is it going to work? Then someone drags a captive in front of the mouth-breathing black obelisk in the face helmet. It's the dreamy pilot guy who was just talking to the older guy about something Jedi something. He's uncowed by Face Helmet. "Do you talk first, or should I?" he cracks. This is Poe Dameron, star pilot, heartthrob, wiseass, ace leather jacket–bestower, Finn's OTP. When he grins up at the sentient rock formation, all rakish charm and derring-do, we know the movie will be OK.
Rachael Larimore, senior editor: I would make for a terrible film critic: I do not remember that Oscar Isaac was in Drive, and just last week, within a couple days of watching The Force Awakens, I finally watched Ex Machina and did not recognize Isaac in that, either. So it's safe to say that I fell in love with Oscar Isaac in his Force Awakens resurrection, when we realize he's survived the Tie Fighter crash and is fighting for the Resistance. Particularly when he hugs Finn and tells him to keep his leather jacket. I love the warm fuzzies that exude from that scene; I love the chameleonic ease with which he eludes recognition from part to part. The lush head of wavy brown hair is just a bonus.
Josh Voorhees, senior writer: About halfway through the sci-fi thriller Ex Machina, Nathan, the bro-genius billionaire played by Isaac, enters the room wearing an absurdly deep-V and holding a bottle of beer. His entrance is half stumble, half swagger, and you don't know whether to be charmed or terrified. Moments later, though, the answer becomes clear: You should be both. "I'm going to tear up the fucking dance floor, dude, check it out," he says before doing just that. It's the moment in the movie I realized Nathan was capable of just about anything, and the moment in life I discovered the same thing about Isaac.
Jamelle Bouie, chief political correspondent: There's a sequence in A Most Violent Year when Abel Morales chases a hijacker down roads and tunnels and railroad tracks to confront him with a demand: Who hired him, who is trying to destroy his business? In this sequence, you see Isaac's single-minded intensity, the quality that draws countless comparisons to a young Al Pacino (that and his interesting good looks). It's in that scene that I got Isaac as an actor. And now, I'm kind of a stan.
Chelsea Hassler, deputy audience engagement editor: In a 2006 episode of Law & Order: Criminal Intent, Isaac fell victim to the charms—or just lithium-spiked water bottles—of a voodoo woman, and that's when I fell victim to his popped collar-wearing, flip phone-toting, eyes-always-pleading-me-to-hug-him self.
Allison Benedikt, news director: I first knew that I loved and would have babies with Oscar Isaac a few minutes into Inside Llewyn Davis, a movie my husband thinks I like for the soundtrack. Inside Lleywn Davis was directed by the Coen Brothers and is about some stuff. It has themes. Oscar Isaac is in every scene, disheveled, impregnating women, wearing a worn corduroy blazer and dragging around an acoustic guitar. He is mopey and selfish and has a beautiful voice and good lord is he hot. You can have your Star Wars hero and your GQ cover. I would rather have to contemplate aborting Llewyn Davis' baby any day.