On Friday, I shared five digital history projects that dazzled me this past year. Here are five more. (The whole list is in no particular order. They're all amazing.) Happy browsing!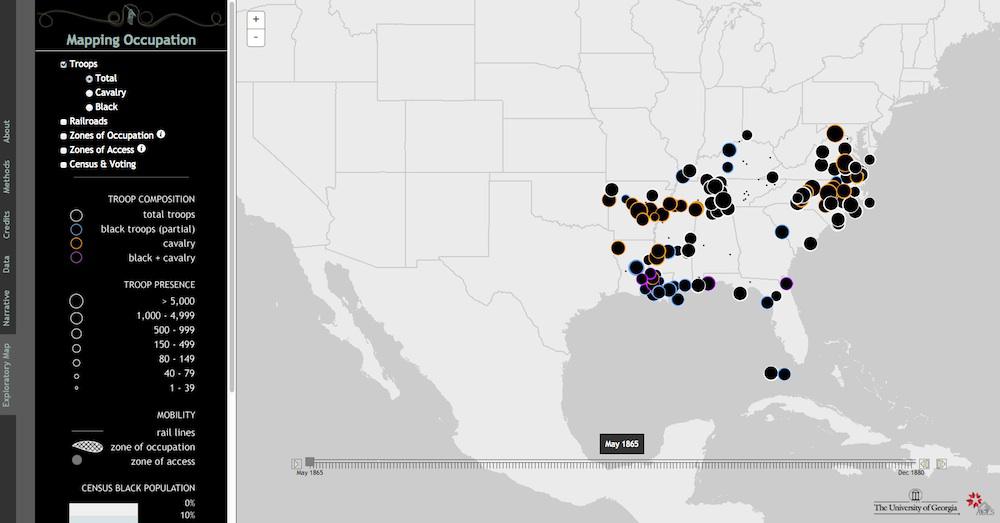 While researching his most recent book, After Appomatox: Military Occupation and the Ends of War, historian Gregory P. Downs tried to find out exactly where the Army was in the Reconstruction years. This task, he reports, was surprisingly hard to accomplish. "After former rebels and Southern-sympathizing historians of the early 20th century created wildly exaggerated tales of 'bayonet rule' by the U.S. Army [during Reconstruction], scholars over the last half century have worked to undercut those myths and legends," text introducing the project Mapping Occupation reads. "But in the process, many of the best works of history have dismissed the idea that there was a significant occupation of the South." Yet knowledge about the location of Army bases and outposts could change our understanding of the way Reconstruction worked. 
Mapping Occupation, directed by Downs and historian Scott Nesbit, uses the data Downs put together in his research to show the Army's presence in the South through interactive maps. The site's Narrative section walks you through a series of maps, accompanied by explanatory text. Among these: Army posts at the time of Lee's surrender in April 1865; the Army presence in September 1865, mapped in relationship to the percentage of black population; and a map called Zones of Occupation, which shows how far soldiers might have been able to travel from their bases and how far freedpeople in a given place might have had to walk or ride to press a complaint with military authorities.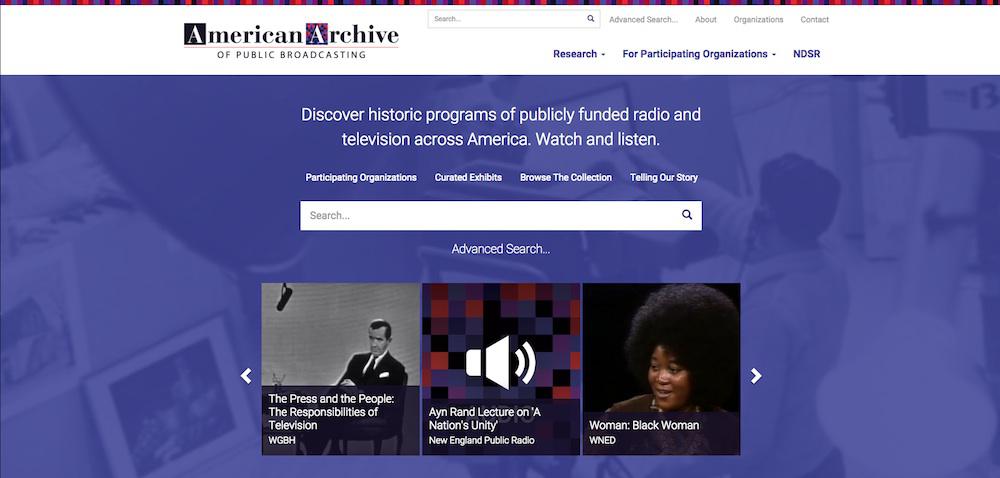 I first heard about the American Archive of Public Broadcasting, a project of the Library of Congress and WGBH in Boston, in 2013, when the two organizations landed the grant that resulted in this website. The idea was to digitize and make available some of the many thousands of hours of public radio and TV that are in the archives of local stations around the country.
The AAPB site now holds almost 10,000 streamable radio and TV programs that can be viewed online. Researchers can also find records for about 68,000 additional items that can be viewed at the Library of Congress or WGBH and for almost 2.5 million more items that have been cataloged but aren't yet digitized. Exhibits bring together broadcasts on the topics of civil rights, climate change, and the history of public broadcasting stations. Alternatively, use the Browse the Collection page, which surfaces records by type and topic: "call-in," "fine arts," "local communities," "interview."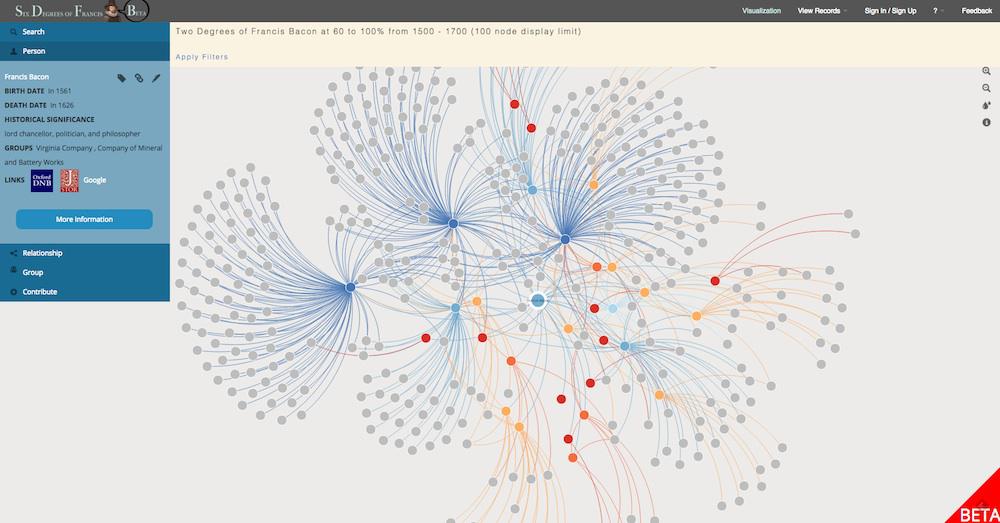 Six Degrees of Francis Bacon, a project from a group of scholars at Carnegie Mellon and Georgetown universities, visualizes the relationships between people in early modern England, between the years 1500 and 1700. The site takes its name from the good Sir Bacon, but he's just a figurehead; the idea is to define networks of communication and collaboration between as many people as possible. Authors, politicians, statesmen, artists, and natural philosophers all find their place in the database. You input a person's name, then use the network visualization to click on connections and see how they were related. 
The site is currently in beta. It's a partially crowd-sourced project, and the team invites people interested in contributing to add new evidence of relationships to the database.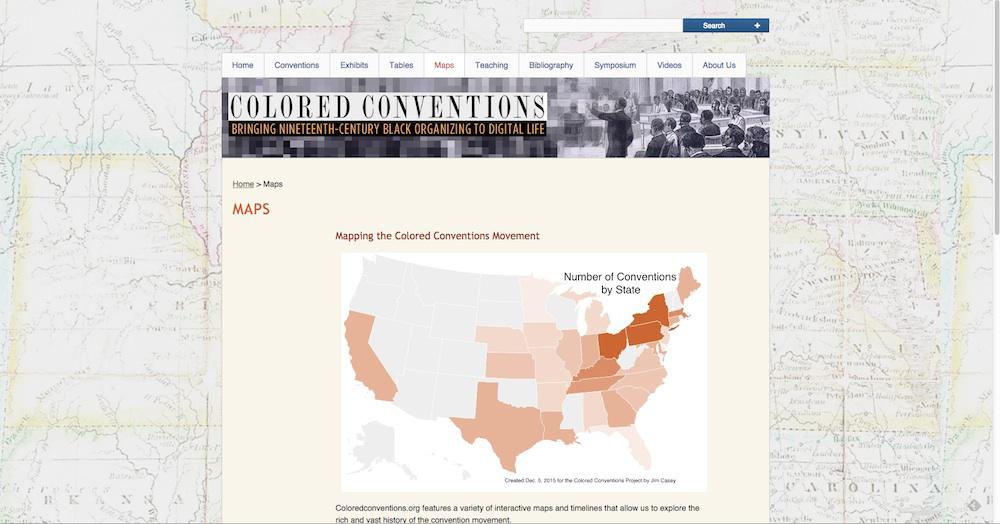 Colored Conventions uncovers a rarely considered early history of black organizing in the United States. Between 1830 and 1880, delegates at more than 150 "colored conventions," mostly in the Northeast and the West, discussed community-building, racial violence, and labor equality and found ways to support educational projects and further political goals. The conventions also collected vital documentation of black life in the middle of the 19th century, including a remarkable census of assets held by free black citizens, taken at conventions in New York and Ohio in 1843. 
The Colored Conventions site, produced by a group from the University of Delaware that's led by historian P. Gabrielle Foreman, contains exhibits about the movement; documents from conventions, organized by year; and tables and maps showing how the movement evolved. Readers can contribute by transcribing convention minutes to add to the site's archive; the site also offers a curriculum package to help teachers integrate work on the site into their classes.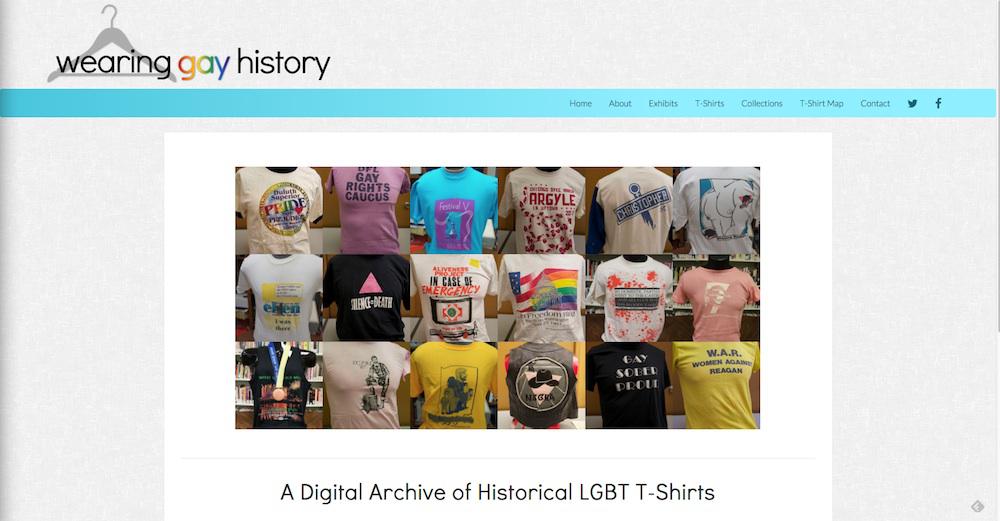 I first heard about Wearing Gay History, an online archive of LGBT-themed T-shirts, last year, but this year they added a ton of material and relaunched their site. The online collection now holds digital records of shirts from nine archives, plus personal collections—2,458 shirts in total.
The site, run by George Mason University history graduate student Eric Nolan Gonzaba, is designed to include shirts from across the country, and from places outside of our borders (not just from New York and San Francisco). Exhibits show off shirts from Indiana and Minnesota. A bonus is the historical snapshots of people wearing the shirts, at Pride marches, Disney Gay Days, and just hanging out. 
This is the third year I've compiled a two-part year-end list of interesting digital history projects. Here are 2013's first and second installments, and 2014's first and second.