In 2013, a Canadian-born actress named Sonja O'Hara was scanning Backstage, an industry newspaper that lists casting calls, when she came across an ad seeking egg donors. "Help another woman get pregnant," it said next to a photo of a gorgeous, smiling young woman. "Egg donors are compensated $8,000." She suspected the ad was targeting aspiring actresses because they're thought to be both beautiful and poor—possessors of prime genetic material and willing to sell it. "I saw that they were offering large amounts of money to really broke girls, and I thought that kind of seemed negligent," she says.
O'Hara was disturbed but also intrigued. Then 26, she had recently moved from Los Angeles to New York City. In L.A., she'd been getting by with parts in cheap slasher films and even, at one point, a Scientology propaganda video; in New York, she was seeking more substantive projects. "I was determined to not be in any more direct-to-DVD slutty teen movies," she says. Hoping to create the sorts of roles she wanted to play, she was taking a writing class at the Manhattan Theatre Club, and she wondered if there could be a story in a fertility clinic seeking designer eggs. "I thought it would be really interesting if I went and did one interview," she says. She submitted her headshots—a required part of the clinic's process—and was called in.
It felt like an audition, she said. And it led, in more ways than one, to the conception of her new film, Ovum, which she wrote, produced, and stars in. Ovum is a dark, quirky comedy about a struggling young actress, Calpurnia Dylan, who donates her eggs to a clinic that specializes in actresses and models. O'Hara financed it in part with money she received for twice donating her own eggs. The movie depicts the world of egg donation as exploitative and even sinister, yet the film's very existence is testament to how some young women can make it work for them. (Ovum screens Friday in New York at the Big Apple Film Festival and debuts on video on demand early next year.)
Ovum has fortuitous timing, because designer eggs are in the news. In October, a group of donors filed a class action lawsuit, arguing that industry guidelines seeking to limit donor fees to $10,000 amount to illegal price-fixing. The American Society for Reproductive Medicine, as Tamar Lewin reported in the New York Times, says capping the price is in women's interest, ensuring that "low-income young women are not drawn to donate by a huge payout without considering how it may affect their lives." But not all clinics abide by the guidelines—some pay much more for particularly desirable eggs. The donors in the suit argue that all clinics should drop the $10,000 ceiling, since, under the veneer of altruism, it shortchanges women who are taking potentially serious medical risks.
The suit underlines the strangeness of the term egg donation, because what is really going on is egg sale. Egg donation is nothing like sperm donation—it requires weeks of daily hormone shots followed by surgery under general anesthesia. "[I]t is intrinsic to the process that doctors, clinics and agencies who recruit donors and harvest the eggs focus less on donors' interests than on getting what the recipients paid for," Lewin writes in the Times. The argument that women who undertake this grueling process deserve more money makes a lot of sense. But if the brokering of human eggs is left entirely to market forces, it seems likely that ever more women will find doing it economically compelling. Further, without price guidelines, the eugenic aspects of the business—the higher payments for the eggs of women who are conventionally beautiful or have Ivy League degrees—could become even more pronounced.
O'Hara's story—both the real one and the fictional one—dramatizes the moral ambiguity at play. She says that the clinic in Ovum, an icy place that appraises young women like expensive merchandise, is similar to the one she visited; much of the dialogue is based on contemporaneous notes she took for her writing class. In both the movie and in real life, a clinic doctor says, "Everyone loves a pretty girl, and everyone loves an actress."
As O'Hara was writing her screenplay, the New York Post reported on the exact practice she'd discovered. "In an industry where attractiveness is a prerequisite and steady income is hard to come by, actresses often are an egg agent's perfect target," wrote Uptin Saiidi in the Post. The piece featured an actress named Robyn Young, who was quoted saying, "I didn't want to be a stripper. I wanted to figure out my career, so there was really no other choice at the time." O'Hara read the story and contacted Young, who ended up playing a small roll in Ovum as an actress who gets a part that Calpurnia wants. Another character at an egg donor support group in the film echoes what Young told the Post: "I needed the money; I didn't want to be a stripper."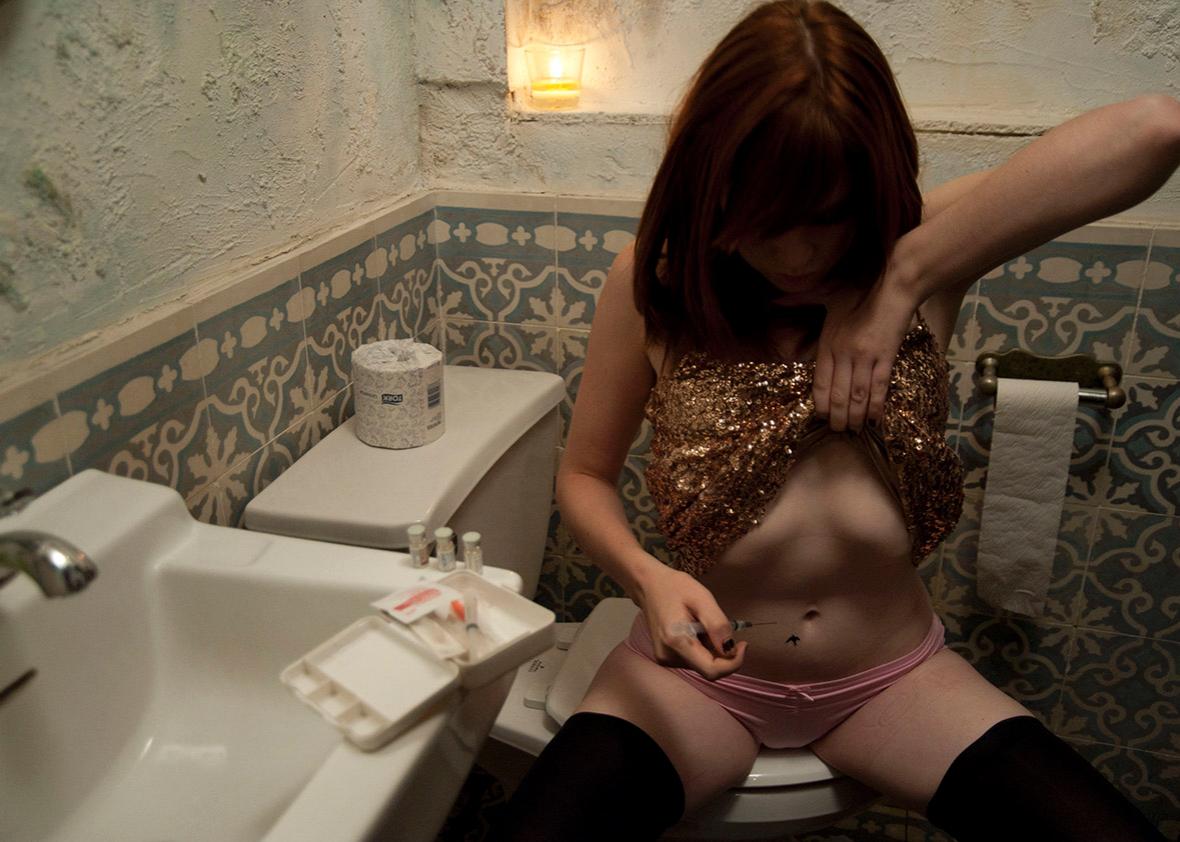 As grim as egg donation appears to be in Ovum, Calpurnia, like O'Hara, is ultimately able to use it to her professional advantage. In the end, the film is about what it means to sell yourself and the sometimes-fuzzy line between empowerment and exploitation.
At first, O'Hara assumed nothing would come of her initial interview with the clinic: The employees projected an air of exclusivity and made her feel like she wasn't good enough. When she got a call saying she'd been matched with a potential parent, it felt like validation. "The Type-A part of me was like, 'Could I get picked?' " she says. "It was like, I made another round; I got another callback; I'm closer to the part. Which is kind of perverse." And once the prospect of a payout became real, it was hard to resist. "I was broke, to be honest," she says.
Still, selling her eggs filled her with shame. She kept what she was doing secret from those close to her, even as the hormones made her wildly emotional; her stomach swelled out as if she really were pregnant. "I was constantly afraid that a syringe would fall out of my bag and that someone would catch on to what I was doing," she says.
After the operation to remove her eggs, O'Hara was given $8,000 in cash in an envelope. She used the money to make a trailer for the film that would become Ovum. That trailer helped her attract investors, including a former high-school classmate who now works in finance. She found a director, and they shot the film. Then, while in postproduction, O'Hara ran out of money again and decided to donate her eggs one more time. She spoke to an agency that offers its clients the eggs of women who resemble celebrities—she describes an interview with someone who pondered whether she looked more like Amy Adams or Emma Stone. The agent told her she could make more than $10,000, but she found it far too creepy.
Instead, O'Hara sought out a clinic less focused on donors' appearances and had a far more positive experience. "They were good, honest people that were just like, 'You're helping someone, and you're doing a great thing, and this person's going to be grateful,' " she says. "And as long as they have a healthy baby, they're happy—it doesn't matter if the baby is hot."
In the end, O'Hara isn't sure where she comes down on the class action lawsuit. "I think egg donation is fantastic; I just think the way they go about getting designer eggs is really gross," she says. "I think helping an infertile woman or a gay couple is awesome, and I'm all about that." She's bothered by the idea of even more clinics openly marketing the ova of the genetically blessed, which some fear will happen if the $10,000 cap is lifted. "I just don't like the idea of people being like, 'If I spend more money, I can get Angelina Jolie–looking eggs,' " she says. A few moments later, she reconsiders slightly. "I can see giant bidding wars for the most desirable qualities, but I guess that's already happening in the egg world," she says. "So could it be any worse?"