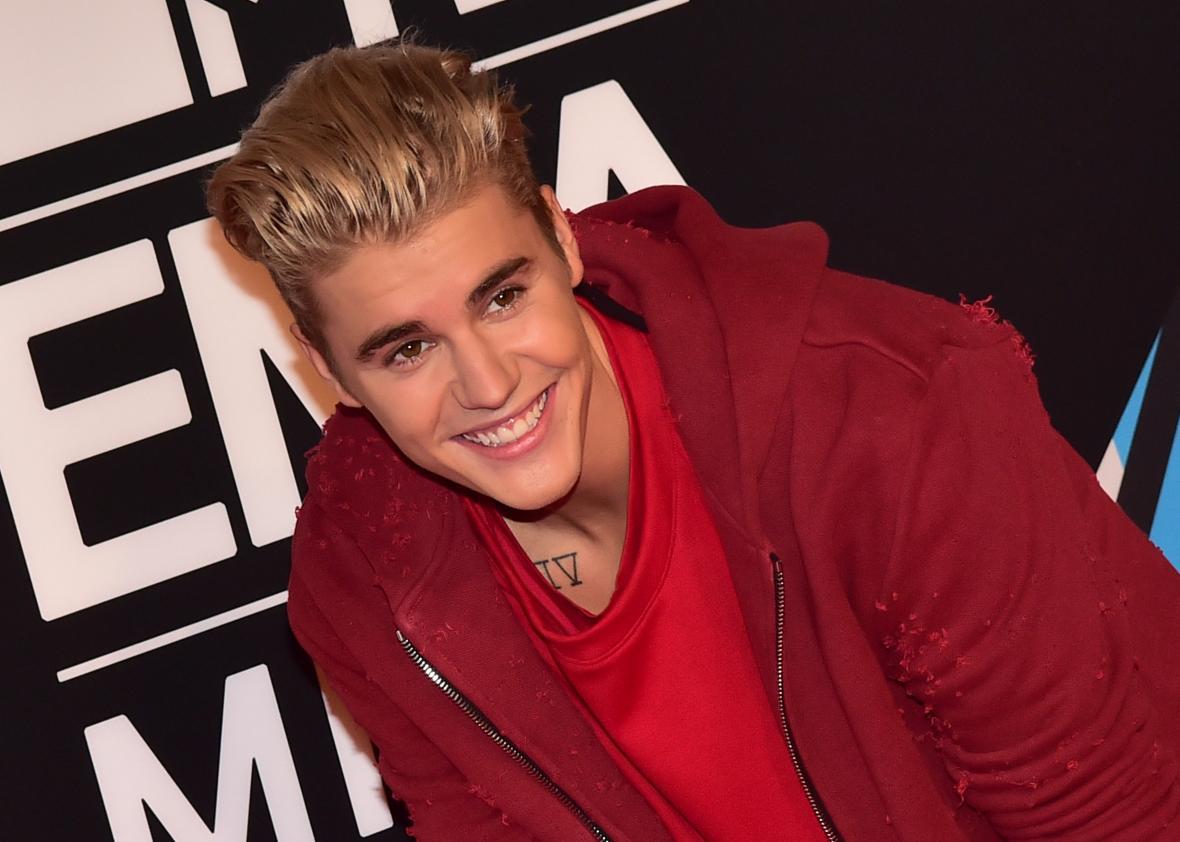 If you're not already a fan of the Canadian popstar responsible for the Internet's latest unauthorized dick pic, Billboard's latest cover story just might make a Belieber out of you. Chris Martins' profile of the reformed, repentant Justin Bieber renders the musician as a sincere, self-aware guy who's still trying to have a childhood at age 21.
Bieber's adolescence, to the extent that he had one, was marked by the pressures of sudden stardom and ruthless public scrutiny. It sounds like he's reflected quite a bit on the surreal nature of celebrity life, which briefly found him better known for public urination and driving under the influence than for his music. "I wouldn't suggest being a child star," he told Martins. "It's the toughest thing in the world."
It's easy to see why Bieber might bemoan celebrity culture as based "on people's looks and stuff." The public has shuttled at warp speed from making fun of him for allegedly stuffing his underwear to compensate for a tiny penis, to ogling his actually-quite-large penis in paparazzi photo. "I do feel the photo was an invasion of my privacy," he says in the Billboard piece. "I felt super violated."
Bieber seems to have cleared the bulk of his coming-of-age hurdles, despite the adorable fact that he'd never tried seared tuna before his Billboard interview dinner and still grimaces at the taste of hard liquor. He feels for his younger peers who are still figuring it out:
"I want people to be more kind to young celebrities, like Kylie [Jenner]. Look at her world: She has been living on TV since she was a kid. Every time she's looking around she sees a camera, and that's affecting how she's thinking and how she's perceiving people and why she has to do certain things … Situations that happen taint your mind, especially in this industry. Especially for girls… Look at the statistics on how many child stars have crumbled and turned out to be wack jobs. It's because—it's fucked, bro, this lifestyle."
If anyone knows about the trials of child stardom, it's Drew Barrymore. The actress's new collection of essays, Wildflower, is lighter on salacious Hollywood teen party stories than her 1991 memoir, Little Girl Lost, but it puts some of her adolescent struggles with alcohol and drug abuse in context.
When Barrymore was 11, she writes in Wildflower, she spent several months in Munich filming a made-for-TV Christmas movie called Babes in Toyland. "I really have no idea how or why I was given such a long leash, but I could go anywhere I wanted by myself, and I loved it," she recalls. Along with the other kids in the film and some teens from an area army base, Barrymore's regular pastime on the trip was to "sit around, get drunk, and listen to heavy metal." One night, she and the others got wasted, stole laundry bags off other hotel patrons' doorknobs, and threw them off hotel balconies into a stream below.
In Barrymore's narration of the guilt she felt (and still feels) afterward, it's painfully clear that she lacked any real boundaries or guidance to help her figure out her relationship to the world. Ditto the charmingly naïve segments on finding her first apartment and learning how to use a laundromat at age 14 after filing for legal emancipation from her parents. Her fridge filled up with near-empty takeout containers and half-eaten sandwiches, molding away, because she didn't realize she was supposed to throw them out.
Bieber's parents had him in their teens and didn't lead an easy life. They've both had periods of no contact with him; it sounds like he's weathered his turbulent ride through puberty and fame largely on his own. It's not hard to imagine a world where Bieber's gone the way of the "wack job" celebrities who didn't survive their addictions and reclaim their careers like Barrymore has. But in the Billboard interview and other recent appearances, he seems humbled, even faintly mature. "I've done some things that might not have been the greatest," he said on the Ellen DeGeneres Show earlier this year. "I just want to be able to laugh about it and…own up to some of the things." I have a feeling Justin Bieber, former child star, is going to be just fine.
---