By all accounts, April Hoagland and Beckie Peirce are wonderful parents. The couple was already raising two children, ages 12 and 14, when they began fostering a baby girl three months ago. Hoagland and Peirce hope to soon formally adopt the baby; they have already passed home inspections, background checks, and interviews with the Division of Child and Family Services. The girl's biological mother is thrilled with her child's new home.
But on Tuesday, Utah Judge Scott Johansen ordered the girl removed from Hoagland and Peirce's home and placed with a heterosexual couple. Not because Hoagland and Peirce are bad parents, or because the state objects to their fostering abilities—but simply because they are gay.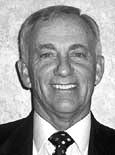 At the hearing, Johansen declared that "research" proves children do better when raised by heterosexual couples. This statement is empirically false, as more than 71 scholarly studies from the last 35 years (including one released just this month) amply demonstrate. Johansen's decision also makes no sense in context: As Peirce explained to the Salt Lake Tribune, "DCFS wants us to have the child, the Guardian Ad Litem [a person appointed by the court to represent the best interests of the child] wants us to have the child, the mother wants us to have the child, so the only thing standing in the way is the judge."
Johansen didn't just get the facts wrong; he got the law wrong, too. Under Utah law, sexual orientation is not a factor in deciding the best interests of a foster child. For good reason: The Supreme Court's decisions in United States v. Windsor and Obergefell v. Hodges explicitly state that the right to "bring up children" is "a central part of the liberty protected by the Due Process Clause." Moreover, a state may not bring "stigma" upon the children of same-sex couples by disadvantaging their parents on account of their orientation. And Romer v. Evans makes clear that any state action motivated exclusively by "animus" toward gays is unconstitutional.
DCFS is currently working to appeal and overturn the plainly illegal order. Hoagland and Peirce are shattered, telling KUTV that Johansen's "heartbreaking" decision was "not fair" and "not right." With luck, a speedy appeal should remedy Johansen's lawless action. But don't expect any remorse from the judge himself. Johansen has a history of extremely questionable rulings: In 2012, he ordered a mother to cut off her teenage daughter's ponytail in public court and sent a boy to jail for getting a bad report card. In 1997, he was officially reprimanded for slapping a 16-year-old boy in court. Johansen is obviously out of control. It's a shame that a loving couple like Hoagland and Peirce have been sucked into his whirlwind of prejudiced, vindictive illegality.