For more than half a century, Italian tire-maker Pirelli has released an annual calendar full of photos of supermodels in pin-up poses wearing skimpy lingerie or nothing at all. This year's iteration marks a drastic departure from the form: The calendar's models are luminaries of art, business, sports, and philanthropy, photographed by Annie Leibovitz.
In fact, the only two women who appear in partial nudity are Amy Schumer and Serena Williams, who've each been targeted by body-shamers over the past year. Their gorgeous images do more to turn that shame around on their trolls than any Instagram comment war ever could.
Yoko Ono, Ava DuVernay, Iranian artist Shirin Neshat, Patti Smith, author Fran Lebowitz, actress Yao Chen, and Tavi Gevinson show up in the calendar, too. "I wanted the pictures to show the women exactly as they are, with no pretense," Leibovitz told Vogue of the studio portraits. The calendar isn't for sale; as in past years, it'll be gifted to 20,000 "VIPs, musicians, politicians, and royalty."
The nudity of Williams and Schumer stands in stark contrast to Pirelli's usual M.O. Previous decades have seen the world's top professional beauties showcasing individual exposed, oiled-up body parts—with their faces, at times, cropped out—in what amounted to a fancified soft-core porn magazine. Last year's featured women, which included lingerie models Adriana Lima, Joan Smalls, and Gigi Hadid, were shot swaddled in latex straddling bike seats and bathing in bubbles. Flip through the past 50 years of calendars and you'll find just a few years of clothed women in editorial-type shoots. Taken as a whole, the archive testifies to the longtime persistence of one particular beauty ideal in fashion and mainstream media, one that can rarely accommodate a roll of fat, bulge of muscle, or pinch of age-spotted skin.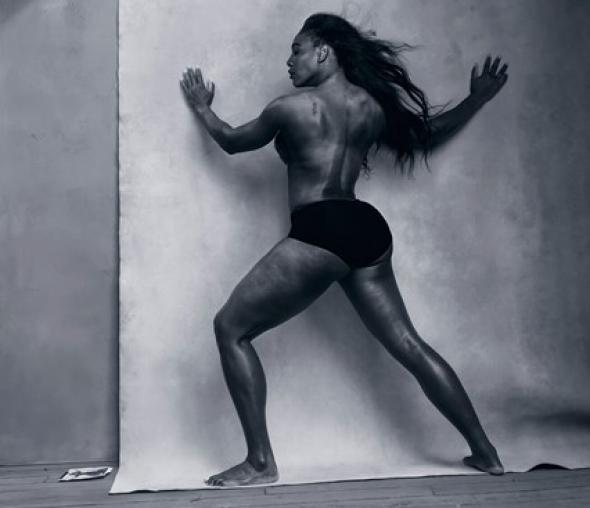 Now, Pirelli seems to realize, the world has gotten bored of this tired tradition. "A white, able-bodied cis-gendered woman being naked is just not revolutionary anymore," Gevinson told the New York Times. "I don't think anyone is going to be like, 'Damn, I wanted those naked chicks.' " The calendar's two naked chicks, Williams and Schumer, are the perfect step away from Pirelli's nudity of yore. 
In any state of dress or undress, Schumer and Williams have been scrutinized for their looks, and both have resisted pressure to retreat into more modest clothing or a different strength-training regimen. Schumer has parodied her trolls' ridiculous fixation on her looks and doubled down on her overtly sexual image. Williams, whose "large biceps" and "mold-breaking muscular frame" have been pondered over nearly as much as her athletic prowess, has batted down claims that her body shape makes her less feminine. ("First of all she's a woman, and she wants to be a woman," coach Tomasz Wiktorowski has said of his strategy to keep tennis player Agnieszka Radwanska small and lean.) In a Good Morning America interview, Williams praised her own body's athletic form. "I love that I am a full woman and I'm strong and I'm powerful and I'm beautiful at the same time," she said.
Some celebrities deal with looks-based insults by redirecting the conversation to their career accomplishments or other admirable qualities. That's a smart strategy, and it's true that famous women are judged far too often by their looks rather than their substance. But, by posing in their underwear despite relentless taunts, Schumer and Williams give us another, subversive model for handling superficial criticism: Love your body in the most public possible way.