Abercrombie & Fitch is bundling up for winter—and for the rest of eternity. On Tuesday, the brand launched a new winter line and ad campaign that lean a lot lighter on its trademark hypersexualized advertising. It's one part of a company-wide effort to recapture some of Abercrombie's quickly diminishing market share, which has led to the closure of hundreds of stores in recent years.
Craig Brommers, the company's senior vice president of marketing, told Women's Wear Daily that the decision was based on customer feedback. "With the evolution of the brand, we wanted to try something new," he said.
New, indeed. There's nary an areola nor abdominal ridge to be found in the promotional images for this winter's line, which consequently reads as shockingly off-brand. For a company whose cool factor has tanked so far that it's had to scale back production of any clothes that bear its logo, that may be a good thing. That one certain breed of shirtless dude—not too twinky, not too beefy, and not at all furry—was so entwined with the Abercrombie look that it had basically become the company's signature T-shirt. The store's gimmick wasn't just fun for people: The hormonal catnip on Abercrombie shopping bags allowed curious felines with adolescent family members to mimic a strapping set of muscles for a sexy pic. Even in the winter months and colder climes, Abercrombie made sure to leave some of its models' rippling muscles exposed beneath their ski-lodge outerwear (see: the half-naked gents in Munich, above).
Now, Abercrombie must rely on the aesthetic value of its garments, not its hired torsos, to sell its wares. The new line is called "From Past to Present," and it's fine. There are Nordic-inspired sweaters. There are jeans and flannel and a godless crossbreed called "sleep leggings." But without the softcore imagery, I'm not sure what I'm supposed to feel. Can I have sex in these clothes, or nah? Will people want to have sex with me when I wear them? Will I want to have sex with other people who wear them? Must the pants be worn with a shirt, or is that a mere suggestion?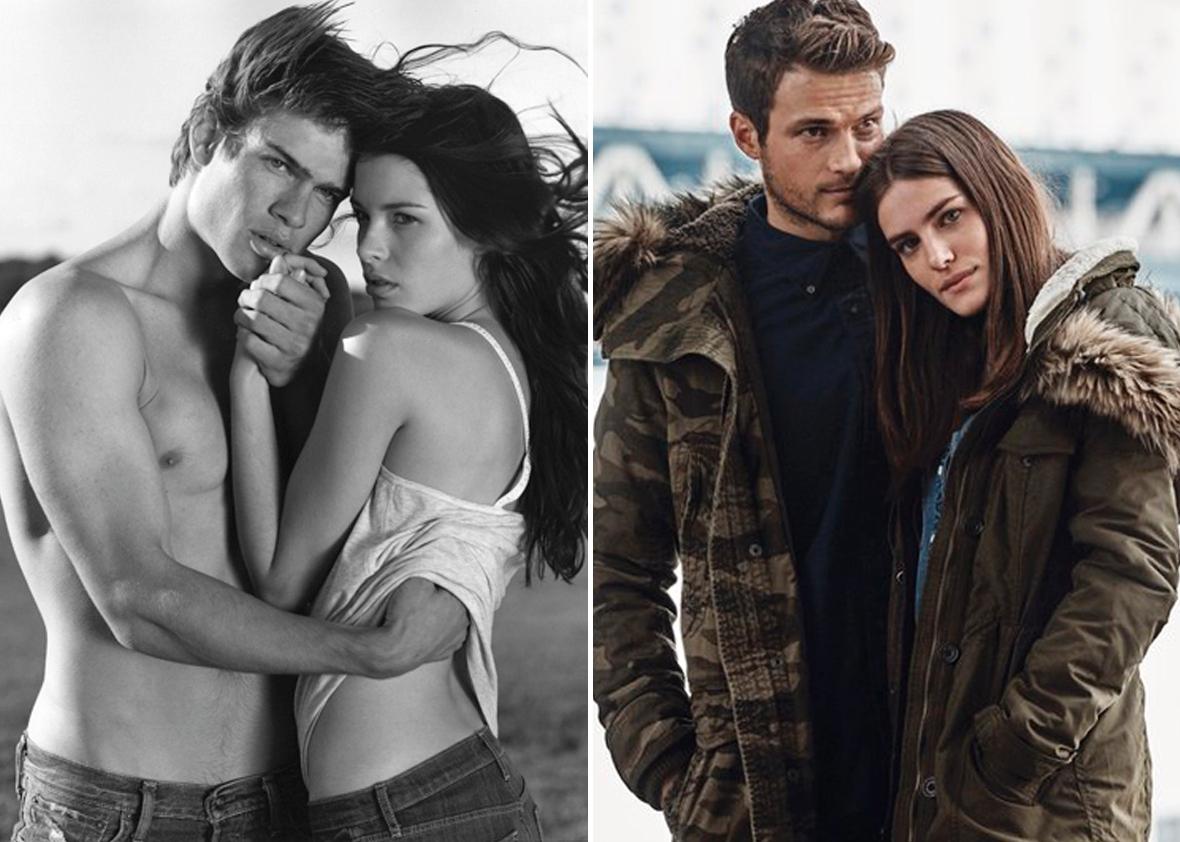 Abercrombie's thoroughly clothed clothing campaign is a sad departure from its oversexed and, I like to think, self-aware advertisements of yore. As Slate's Forrest Wickman pointed out in an essay this week, subtlety is overrated. I'm going to miss the gloriously unsubtle, teenage-wet-dream Abercrombie. Here's hoping the store-bought clothes still come drenched in cologne.