At Tuesday's congressional hearing on the Planned Parenthood Federation of America, when Republicans weren't repeating bogus claims about selling fetal tissue or talking over CEO Cecile Richards' testimony, they were feigning horror at her salary. The chair of the House Committee on Oversight and Government Reform, Utah's Jason Chaffetz, noted that Richard's annual compensation had topped half a million dollars in recent years. Later, referring to Planned Parenthood's revenues, endowment, and fundraising, Wyoming Rep. Cynthia Lummis quipped, "You make a ton of dough." 
New York Democratic Rep. Carolyn Maloney came to Richards' defense: "The entire time I've been in Congress I've never seen a witness beaten up and questioned about their salary," she said. What's more, a quick look at Richards' peers puts her salary in perspective: As far as income goes, she's just about average among her peers. With an annual take of $524,000, Richards ranks 19th among 38 heads of health care nonprofits with revenue comparable to Planned Parenthood's.
It's worth noting, too, that all but two of the CEOs who make more than Richards are men.* How kind of House Republicans to grant us this opportunity to shine a light on the nonprofit gender wage gap. (Click to enlarge the chart below.)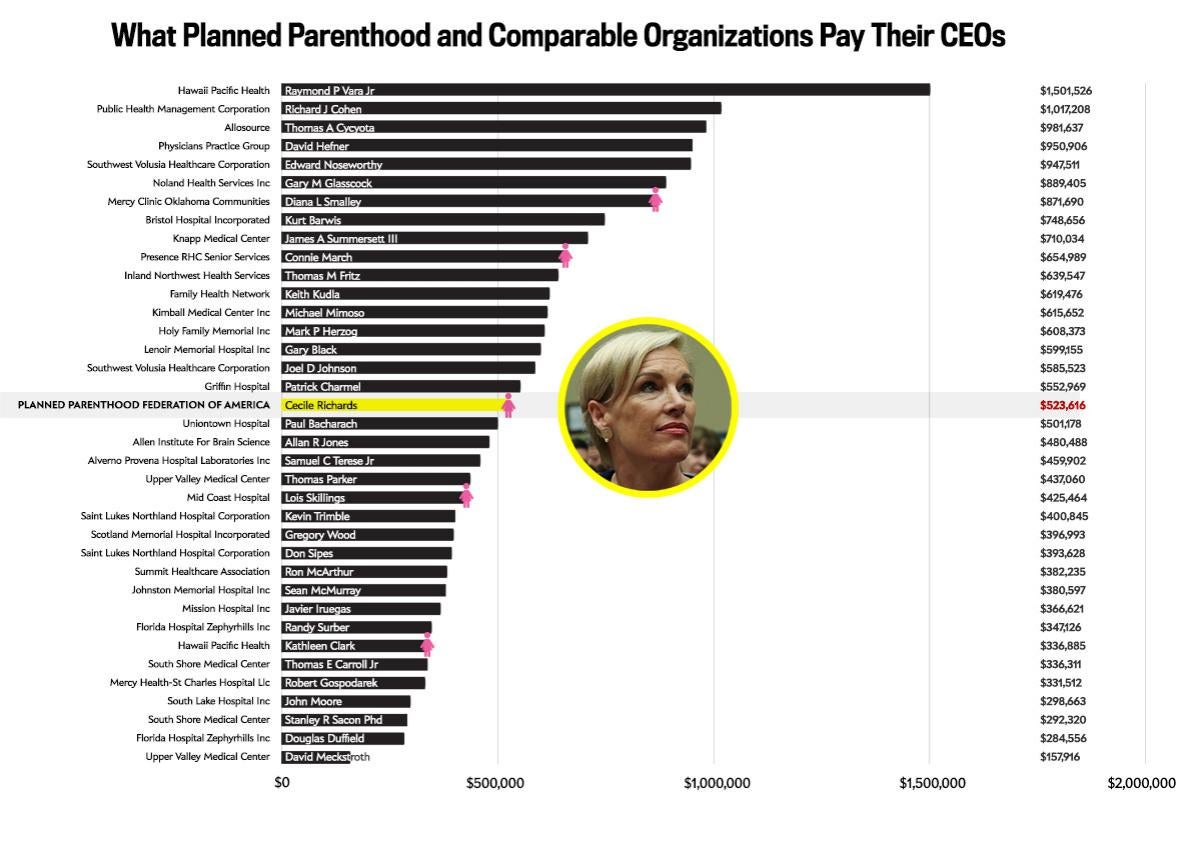 Correction, Oct. 1, 2015: This post originally misstated that all but one of comparable CEOs who make a higher salary than Cecile Richards are men; it is all but two.
Correction, Oct. 5, 2015: This chart originally listed Centegra Health System's Michael S. Eesley as the top-earning CEO; Eesley should not have made the list, as Centegra's revenue is far greater than the other organizations listed.