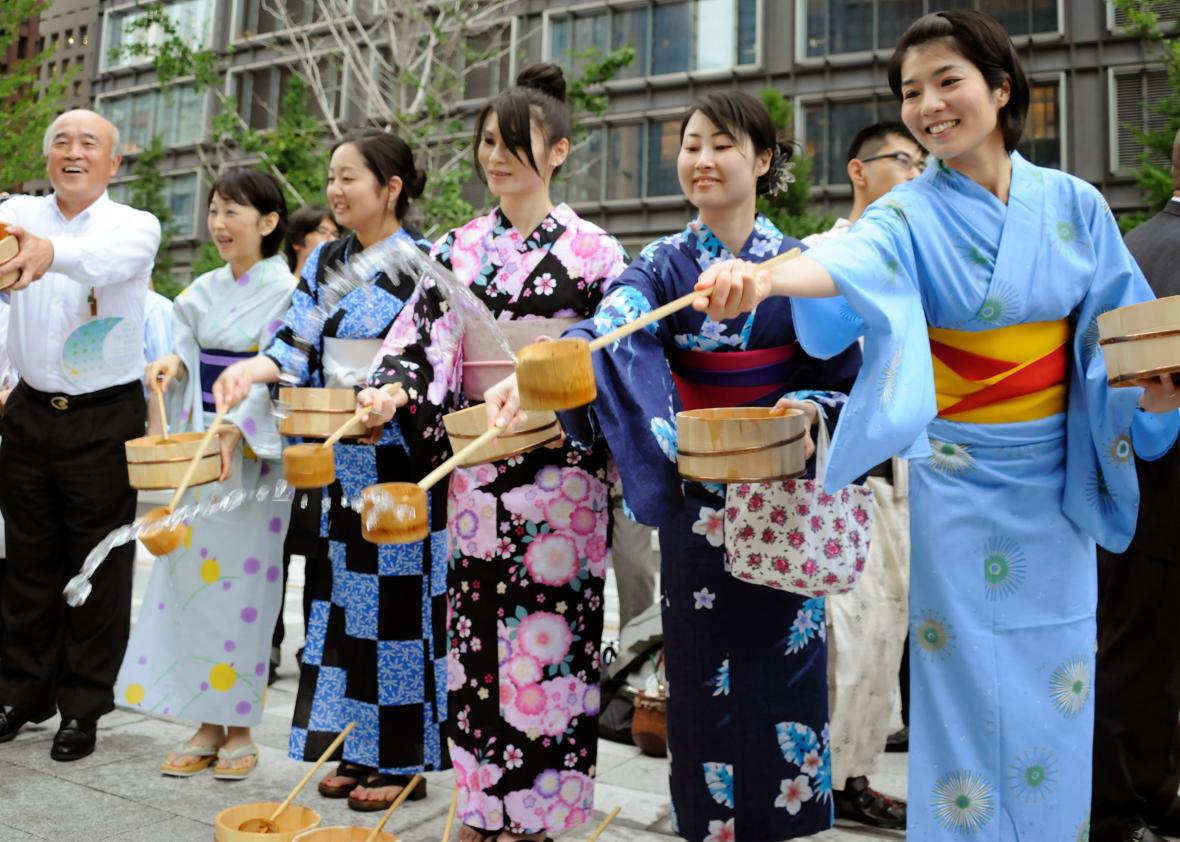 Japanese corporate culture boasts some of the most punishing white-collar working conditions in the world. Employees are often expected to work long hours in unpaid overtime, a brutal lifestyle that many have blamed for a rash of depression cases and suicides. Taking time off is perceived as a weakness; it's gotten so bad that the government has considered forcing employees to actually use some of their 10 federally-mandated annual vacation days.
And still, more Japanese women than ever are choosing to enter the workforce—now, at a slightly higher rate than women in the U.S. Since Japanese Prime Minister Shinzo Abe took office in 2012, he's made several moves to boost women's employment, partly through support for working parents. The plan, called "womenomics," marks a change of both heart and economic policy for Abe. His Liberal Democratic Party once encouraged women to stay at home, hoping that they'd have more babies and help boost the economy through sheer population growth. Instead, the fertility rate plummeted.
"In other rich countries, higher birth rates nearly always accompany higher female employment," the Economist reports, "and in Japan itself the birth rate is higher in the countryside, where more women work, than in the big cities, where fewer do." Family policies in the workplace have a redoubling effect—the better the working conditions for parents, the more women seek employment and keep their jobs; the more women work, the more money they have to support a growing family.
Abe's push for more daycare centers and more humane working conditions seem to have yielded the desired effect: 64 percent of Japanese women now work outside the home, compared to 63 percent of U.S. women. Yesterday, the Washington Post drew an unflattering comparison between the two countries: Japan guarantees women 26 weeks of paid maternity leave; the U.S. offers them none. The Japanese government has made women's employment a priority, leading to an opportunity boost; in the U.S., women's employment has bounced back from the recession more slowly than men's.
But Japan is far from a paradise for working women. This June, a survey of 500 pregnant working women in Japan found that 16 percent reported some degree of pregnancy-related harassment by colleagues and supervisors, with 41 percent of those incidents involving implications that they should be fired. The Japanese wage gap is cavernous, too—women earn 40 percent less than men and hold just 10 percent of management roles, disparities far more dire than ours in the U.S.
So why has Japan surged past the U.S. in women's employment? It's not a simple one-to-one comparison. In 2012, more than half of Japanese women said they'd rather stay at home and rely on their partners' income than work for pay, but with a rising divorce rate and a stalled economy, that option isn't widely available. While many of Japan's measures to bring women back to work have focused on making life easier for parents—including those taken by private employers like Uniqlo, which offered employees a flexible four-day workweek—Japanese women say they're more likely to leave their jobs because they're dissatisfied and relegated to "dead-end" positions than because of parenthood. Part of the pressure for married women to stay at home comes from the interminable shifts their husbands work, leaving them to spend more than an hour less on average than U.S. men on chores. A corporate culture that encourages people of all genders to work fewer hours and take more paid leave could be as important as daycare and child subsidies for working women in Japan.
Meanwhile, college-educated U.S. women named child care and elder care responsibilities as their top reason for quitting their jobs. Goldman Sachs estimated that elevating Japanese women's employment to the rate of men's would give Japan's economy a 13 percent bump. Imagine what decent family leave and affordable child care could do for ours.
---