In most cases, the job of a gay-bar go-go boy is simple: Have a great body, show it, and sort of dance—but not so enthusiastically that patrons can't slip a tip into your jockstrap. However, at Bar Mattachine—a swanky new gay craft cocktail lounge that opened last Friday in the currently re-gentrifying neighborhood of downtown Los Angeles—the boys follow a different script. They're stupid hot and mostly naked, definitely. But the addition of a few props—open white dress shirts, stylish retro glasses, sock-garters, and, most strikingly, works of classic gay literature that they leaf through with one hand while caressing themselves with the other—make clear that this particular establishment has more going on than the bland mixed drinks and coarse sexuality of your typical gay bar.
If the well-read dancers didn't tip you off, the name should have. The Mattachine Society, founded by Harry Hay and a group of his friends in Los Angeles in the 1950s, was the first major gay advocacy group in the United States. It took its name from a medieval French "masque society" that would perform as jesters and often criticize the nobility from their position of anonymity; the creators of Bar Mattachine, in an act of historical tribute all too rare in the gay community today, have in turn borrowed it for their new venture. Garrett McKechnie, a master mixologist who co-owns the bar with Vianey Delgadillo and Jigger Mercado and who devised the cocktail menu, said that after stumbling upon the name late one night, he did further research on Hay and L.A. gay history and became "even gayer." "It gave me chills," he said of discovering the pioneering work of the Mattachine members.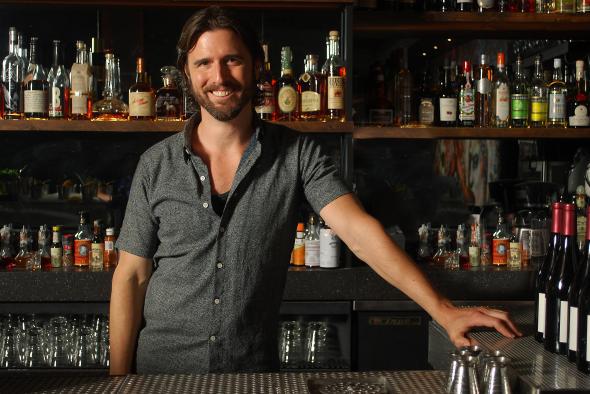 The explicit connections to gay history and culture don't stop in the name. McKechnie explained that while most "gay bars forgot about the cocktails a long time ago," his carefully curated list needed to be intelligent as well as delicious. "I like to root my cocktail programs in history or the building or something to do with whatever theme I'm working on," he explained. Given Bar Mattachine's explicitly gay theme, the cocktails here have names like the Harry Hay (recipe below!), the Pershing Square Fix (after the infamous L.A. cruising ground), or the Bitter Queen (self-explanatory). For the Hay, McKechnie started with the gay pioneer's favorite spirit—whisky—added a "tart, fruity" note of sweet vermouth and maraschino liqueur (echoing Hay's firm belief in a unique gay culture), and finished the drink with a flamboyant garnish of caramelized lemon oil and a cherry, a nod to Hay's eventual founding of the Radical Faeries. "The cocktail didn't really seal the deal until we flamed the lemon peel," McKechnie recalled.
While a sense of gay history is strong at Bar Mattachine, McKechnie and his team are thinking about the community's present and future as well. The space—a seductive two-floor affair with custom light fixtures, paintings and photography by queer artists, and an interior balcony upstairs from which you can easily cruise the pretty people waiting for drinks below—will eventually host drag shows ("but good drag," McKechnie specified), queer performers, and other community events. "What really interests me as a member of the gay community is where we're gonna go now that we have equality," McKechnie said. He wants Bar Mattachine to be a place where those next steps can begin.
In believing that gay bars can do much more than just get customers drunk or laid—that they can be sites for community organizing, political empowerment, and cultural transmission—McKechnie is refreshingly old-fashioned. While he acknowledges that growing equality allows queer people to mix socially with their straight counterparts more and more, he maintains that gay bars are special spaces worth preserving. "Sometimes I just want to go to a gay bar—I want that," McKechnie said. "Yes, we could go anywhere, but sometimes you want to look across the bar and say I have more than a 10 percent chance. I hope we never live in a time where gay bars don't exist."
For those that agree, Bar Mattachine is ready—to serve them well-made drinks in a sexy atmosphere, certainly, but also to remind them of the rich and inspiring history that made it possible to enjoy those drinks openly with their gay brothers and sisters today. "I want them to feel proud," McKechnie said of his customers. "I want them to walk away with a little bit of history of the culture—I know that's a lofty sort of aspiration for a bar, but maybe it could have an effect like that."
Further details about Bar Mattachine, including location and hours, can be found at their Facebook page.
* * *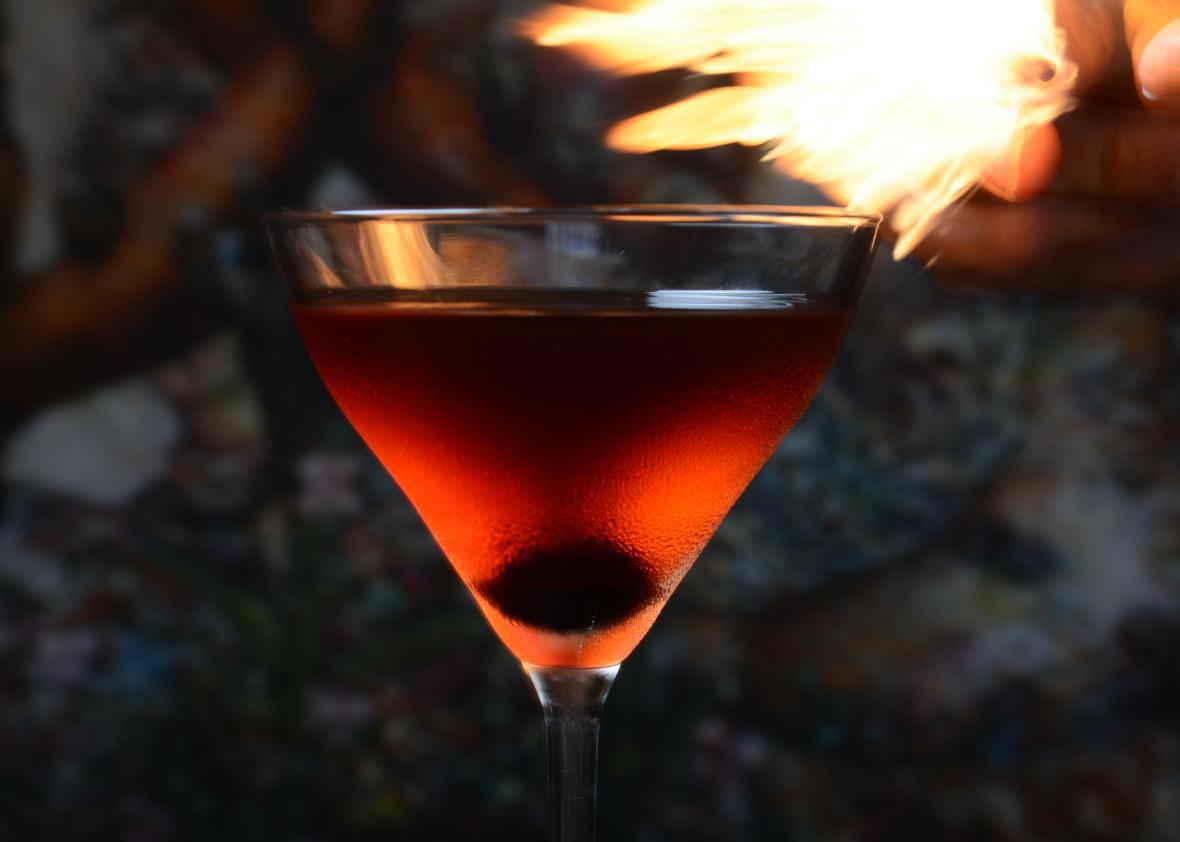 The Harry Hay
Created by Garrett McKechnie
 2 ounces Rittenhouse Rye
.5 ounces Dolan Rouge
.25 ounces Amargo-Vallet Bark of Angostura
.25 ounces Boudier Maraschino Liqueur
1. Stir in a shaker over ice; strain into a coupe glass.
2. Light a lemon peel and flame the caramelized lemon oil over the cocktail, and then discard the peel.
3. Add a Maraska cherry and enjoy!