The ads that plaster New York City's subway system have shown women in the throes of passion, showing off most of their breasts, and wearing just a skimpy bikini—or nothing at all. Can't they show a woman in a full shirt and modest underwear?
Not if the ad includes the word period. THINX, a recently launched company that makes underwear built to absorb period blood, has been trying to launch a subway ad campaign for the past month. Late last week, Outfront Media, the company that sells the subway's ad space, sent back THINX's designs, which feature women in nonsexualized poses sporting full-coverage underwear, tank tops, and turtlenecks.
The Metropolitan Transportation Authority has neither approved nor rejected the ads yet, but Outfront Media has expressed concern about the ads' content. In an email on Monday, an Outfront representative told THINX CEO Miki Agrawal that the ads with models "seem to have a bit too much skin." And the ones depicting a peeled half-grapefruit or an egg out of its shell? "Regardless of the context," Outfront wrote, they "[seem] inappropriate." Whole grapefruits, it seems, can be employed as sexual innuendo, as they were in this subway ad for breast augmentation. Just don't slice those grapefruits in half!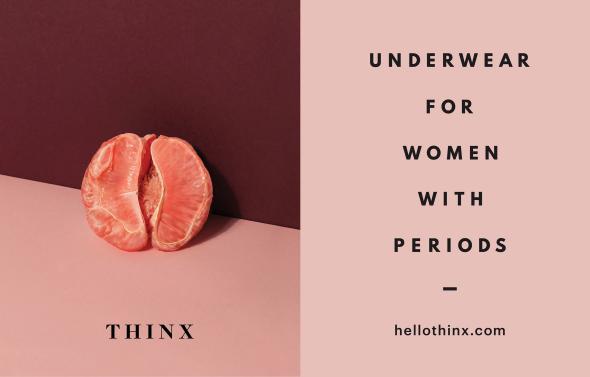 Agrawal told me she suspects that the double standard might have something to do with the fact that all of Outfront's sales representatives and five of seven members of its leadership team are men. She says an Outfront rep told THINX's marketing director that a silhouette of women's underwear would be better than putting the underwear on models. When she protested what she perceived as Outfront's hypocrisy, he told her not to make it a "women's issue."
According to Agrawal, the rep also asked what a 9-year-old boy might think if he saw the ads and how his mother could explain them to him. One imagines that a 9-year-old boy who rides the New York City subway has seen more objectionable images and heard crasser language, both in ads—such as one for the Museum of Sex that depicted fleshy, intertwined body parts inside the words "Hard Core"—and from fellow subway patrons.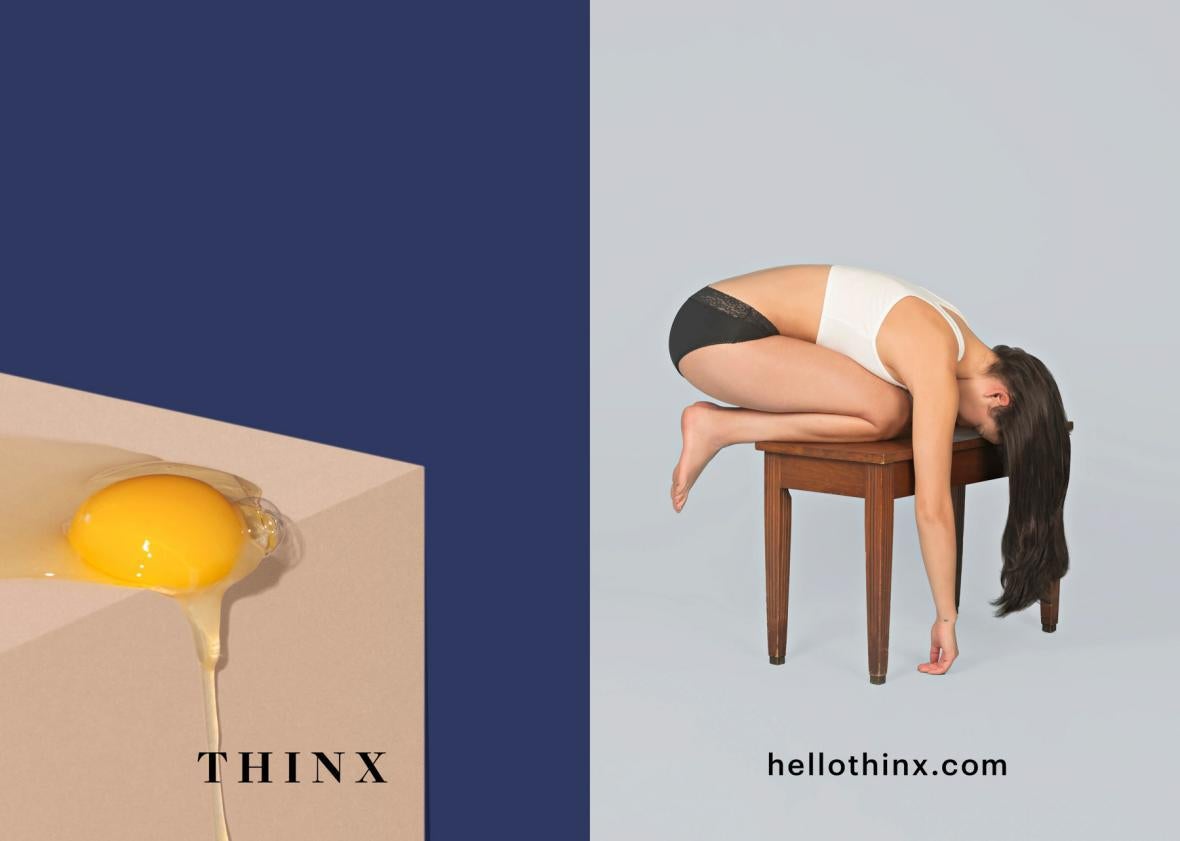 "We suggested changes that we felt were appropriate for the riding public and were hoping to work with the advertiser to refine the copy," Outfront wrote to me in a statement. But propriety is subjective. Most of the many ads that have plastered women in various states of undress on subway walls have been designed from the perspective of how others (read: heterosexual men) see women. The THINX ads address how women see and take care of themselves. "You don't want to talk about how women's bodies actually work, but you want to doctor the way a woman feels about her body?" asked Agrawal, comparing THINX's designs to the breast-augmentation ads.
Ads for menstrual products tend to flounder when they go for delicate depictions of the truly metal monthly affairs of women's bodies. They often fall back on images of women performing physically demanding activities (like doing the limbo or an arabesque) in white clothing. When the Atlantic published a post on an Upright Citizens Brigade video that imagined a pad advertisement that used red liquid instead of the ubiquitous blue, it included a warning: "The video is uncomfortable to watch—the substance they use has both the color and viscosity of the real thing." Even fake period blood is too icky for the unsuspecting public.
THINX's ads are only shocking because they call a period what it is: "the shedding of the uterine lining" of "any menstruating human." That kind of matter-of-fact language might be uncomfortable for a portion of subway riders. But that's their hangup to get over, not THINX's to sidestep.