Rand Paul sounds like the name of a horny Beverly Hills hairdresser from the 1970s. And, come to think of it, his hair looks just like the hair of a horny Beverly Hills hairdresser from the 1970s. That boyish arrangement of moist curls—Betty Grable's poodle fringe meets Caligula–raises a million questions. How long is it and where does it start? Is he using a Jheri-curl treatment? Does such a painstaking arrangement of Greco-Roman ringlets qualify or disqualify Mr. Paul for the office of commander in chief?
Some people read palms. Some pore over astrological charts. In my homeland there are scary old broads who can even read your tea leaves. With me, it's hair. I can tell everything about a person's destiny by what's going on with le coiffure. Who has presidential hair, and who doesn't? Cross my palm with silver—I also take American Express and Starbucks gift cards—and I will reveal all.
I call it hair-certainty. Presidential hair = hair with certainty. Kennedy had it. Nixon had it. Even the Bushes had it. Hair-certainty describes hair that is what it appears to be. No illusions. No Greco-Roman fakery. Presidential hair can be thick or thin. Presidential hair can be messy. Presidential hair can be sparse, naff, and filled with dandruff. But, whatever it is, it just needs to have that certainty.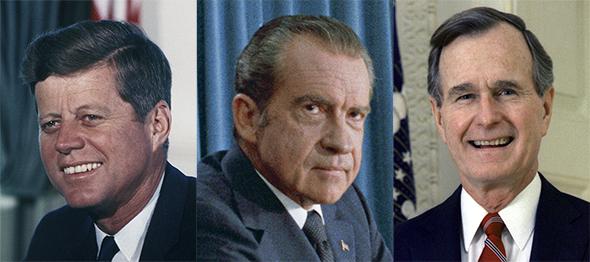 Many of the presidential hopefuls possess the appropriate degree of hair-certainty: Jeb, Carson, Christie, and Kasich are all hair-solid. No elaborate camouflage or artistry there. They are good to go. On the other hand, the dudes with uncertain hair—hair that has been foofed and whomped and putzed-with, hair that is a mirage—are riding a one-way ticket to the guillotine. Example: the now-defunct Scott Walker.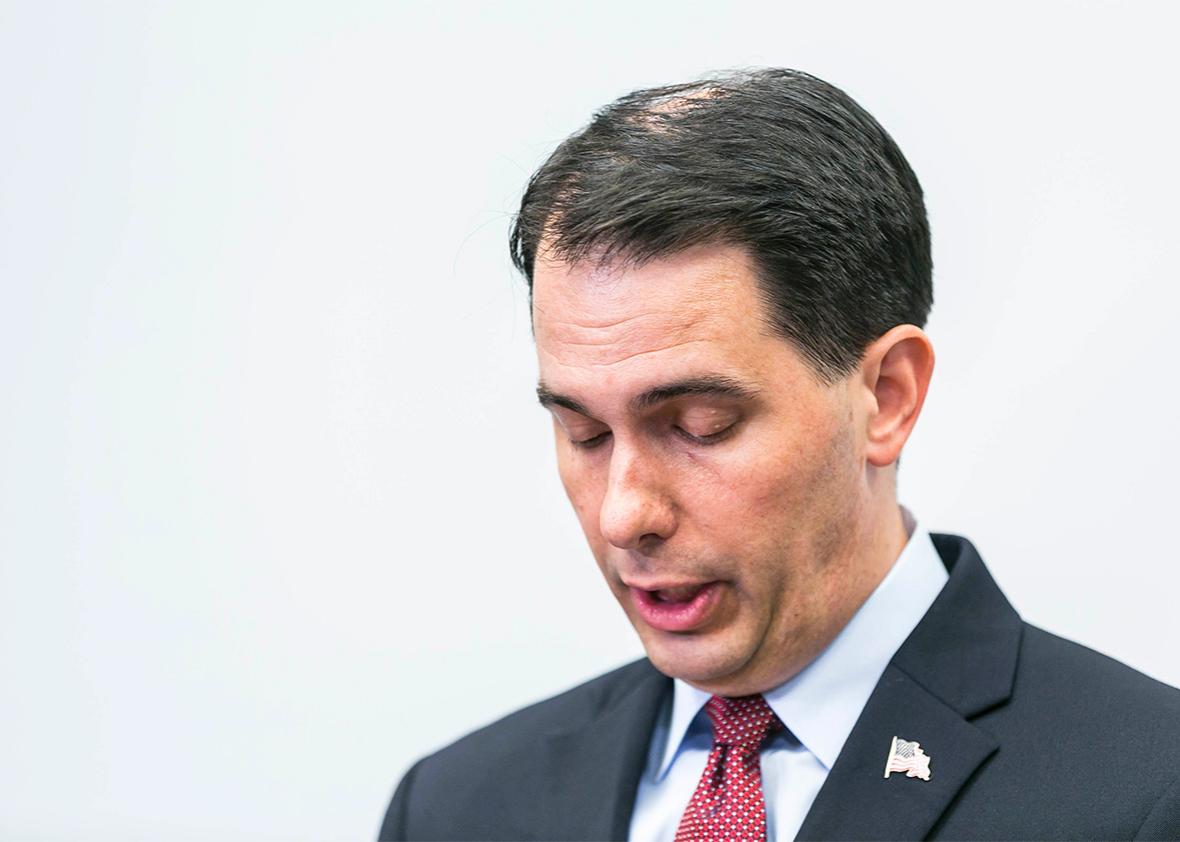 From the front, everything looked fine. But the minute Scott Walker moved his head, the uncertainties of his hair—the poignant battle with hair loss, the aggressive dye job—all revealed themselves. The artifice is all fine and dandy for a car salesman, or even a governor, but for a presidential candidate any kind of hair-uncertainty becomes a nerve-wracking distraction. Instead of listening to Gov. Walker's homilies, I always found myself playing out catastrophic hair scenarios: What happens if somebody snaps a pic of him in a salon, with his head filled with foils? What if the black dye starts to run, à la Dirk Bogarde's character in Visconti's Death in Venice?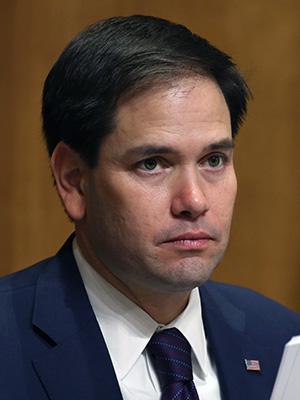 Marco Rubio may well be next in line for the chop. At first glance, his hair looks normalish; however, as recent malevolent zephyrs have proven, he lacks hair-certainty. Mild-mannered Marco's hairdresser is making a crucial mistake: He has attempted to create the illusion of abundance, and a fake hairline, by foofing his follicles forward into a flying-saucer shape that hovers over M.R.'s forehead. Not exactly a crime, and fine for a game show host or a TV evangelist, but a president? Never.
What makes uncertain hair such a deal killer? Why is tonsorial artifice so profoundly unpresidential? The answer is terrifyingly simple: An uncertain coiffure, a deceptive do, is not only a distraction; it also becomes a symbol, an emphatic, front-and-center hello-I'm-over-here metaphor for authenticity, or rather, the lack thereof. Back in the day, it was acceptable for men to poof and dress their hair and even wear wigs. I lived in Los Angeles during the '70s when it was toupée central. #Charltonheston. From the Brown Derby to Canter's Deli on Fairfax, playing count-the-rugs was a popular pastime. (This is what people used to do before they had phones to stare at.) Sy Sperling and his Hair Club for Men were unremarkably omnipresent. But did Gerald Ford or Jimmy Carter avail themselves of his legendary restoration services? NO. The White House has always and will always demand hair-certainty of its chief occupant, and the candidate with the uncertain hair is, accurately or inaccurately, advertising himself as an illusionist, a faker, and the good people of America will eventually call foul. I am not sure I trust a bloke who obviously spends so much time in a salon chair/under a dryer attempting to persuade me that he is not graying/balding/thinning. What else is he trying to conceal? is the line of thinking.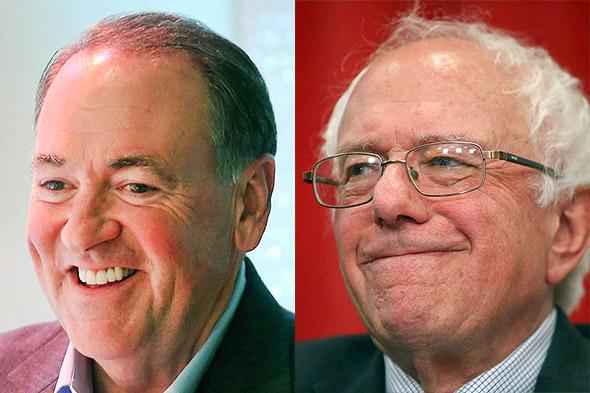 Here's the good news: The issue is easily resolved. If a receding hairline is the problem, why not simply crop it short? In this era when shaved heads are considered modern and distinguished, why does any politician feel obliged to create meringues and mirages out of what's left of his hair? Baldness is not a deal breaker. This is not a beauty pageant or a Zoolander male model-casting, fur Chrissakes! If shaving is too Otto Preminger for you, then follow Huckabee or Sanders. They have each adopted a hair-certain strategy to deal with their thinning locks: Huckabee wears his hair tidy and nondescript, and Bernie S. allows his to sprout hither and thither, lending him a trusty professorial air.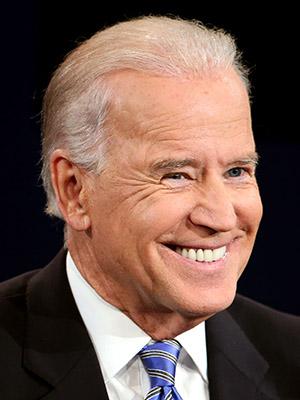 Elsewhere in the Dem field, I'm getting a bit worried about Joe is-he-running-or-isn't-he Biden. His recent bout of mysterious tonsorial augmentations—Oh, come on! You all know what I am talking about—must be painful and expensive and may actually be counterproductive. Careful, Joe. Blatant expressions of vanity are very unpresidential. Remember John Edwards? His marital skullduggery was shocking, but it was his love affair with his own hair that ultimately did him in.
Let's recap: Presidential hair must be unmoving, uninteresting, uncomplicated, untended, and unremarkable. No dude with uncertain/illusory hair has ever been elected prez. No commander in chief ever jumped out of a helicopter at Camp David only to have his uncertain hair publicly and catastrophically unmasked. Uncertain heads never make it that far. Lincoln, FDR, Reagan, and Bill C. were all possessed of an abundant hair-certainty. LBJ and Gerald Ford were balding but with a bold degree of honest hair-certainty. And Barry? President Obama has maintained a commendably consistent haircut. No tricky trims for him. That's why he got elected. Hello people! This is what I am talking about.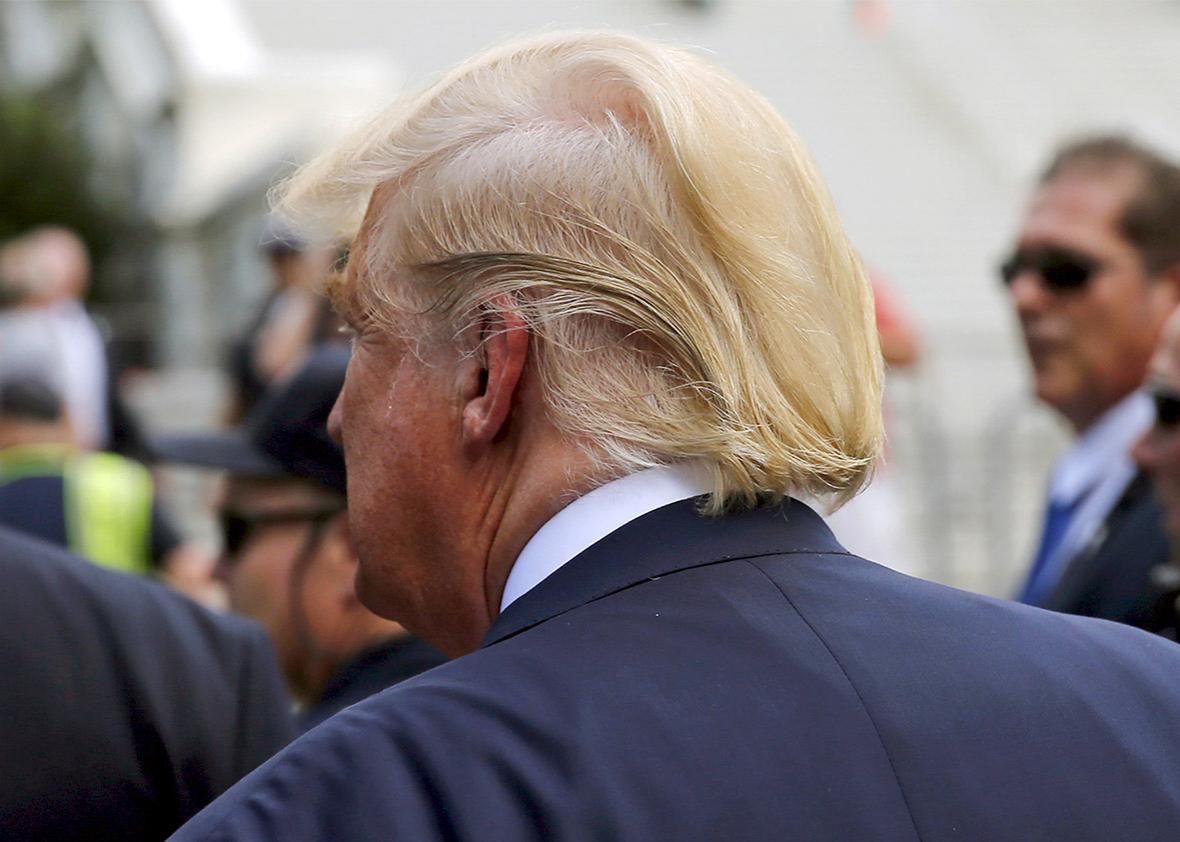 All of which brings us the flaming jumbo sheitel in the room: Donald Trump. I personally have always loved and admired The Donald's iconic coiffure. It's Liberace's candelabra. It's Mick Jagger's lips. It's Michael Jackson's white glove. It is, in many ways, the eighth wonder of the world. But is it presidential? I am rather afraid not. And, judging by how often he resorts to jamming it under a baseball cap, The Donald seems more than aware of his own lack of hair-certainty. One cannot simply plonk a chapeau on one's head every time one is thrust into a breezy al fresco glad-handing situation, can one? And, besides, hurricane season has already begun. It is only a matter of time before Dame Nature unravels the artifice and leaves Donald with a waist-length Rapunzel situation.
Speaking of Rapunzel: What about the girls? Does the same mandate for hair-certainty apply? Yes, and no, and yes. Though female leaders have more beauty-shop carte blanche—nobody on Earth expects the Queen of England to execute her own shampoo 'n' set—the chicks must also strive for hair-certainty. Inspirational examples include Maggie T. and Golda M., whose hairdos exhibited an unflinching certainty that assured their places in the history books. As if in recognition of the need to communicate hair-certainty, some wise women of history have sidestepped the issue by covering their heads: See Benazir Bhutto, Indira Gandhi, and Mother Teresa.
Carly Fiorina is—I am just going to come right out and say it—suffering from a high degree of hair-uncertainty. Tentative is the word that best describes her signature lob. (For the uninitiated: A lob = a low bob.) One suspects that an anxious assistant—shoulder bag groaning with salon paraphernalia—is always following her, à la Tony Hale's character on Veep, whilst anxiously redirecting any stray wisps. It would behoove La Fiorina to adopt a less fragile, more certain style. Were she to ask my opinion—and since I am a hair seer, she would be insane not to—I would say this: Carly, you need to do an Edith Head. The legendary costume designer with the smart-lady glasses and iconic, aggressively neat bangs moved mountains in male-dominated Hollywood. The certainty of her hairdo helped her win eight Oscars and 35 nominations. Debate that, Carly.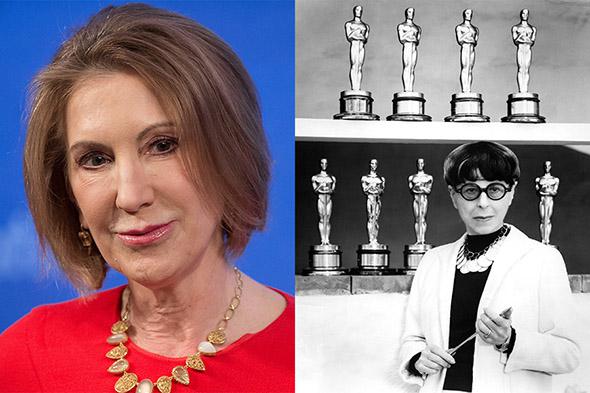 And Hillary? I have saved the best for last. Hillary's hair has survived decades of withering criticism, and it looks more certain than ever. Hillary Clinton's emails may be tripping her up in the media, but the Clintolytes (a lousy attempt at combining Clinton and acolyte) simply don't care. All they care about is her hair, and her hair is, as the young people say, killing it. Whether yanked up or zsooshed forward, her hairstyles are never distracting or artificial. Rumor has it that John Barrett is her coiffeur. If so, Monsieur Barrett is even more of a genius than I thought he was. Regardless of highlights and extensions—I suspect HC relies, albeit subtly, on both—her hair always oozes competence, straightforwardness, and certainty. Neither too butch nor too fem, Hillary's hair is unimpeachable.