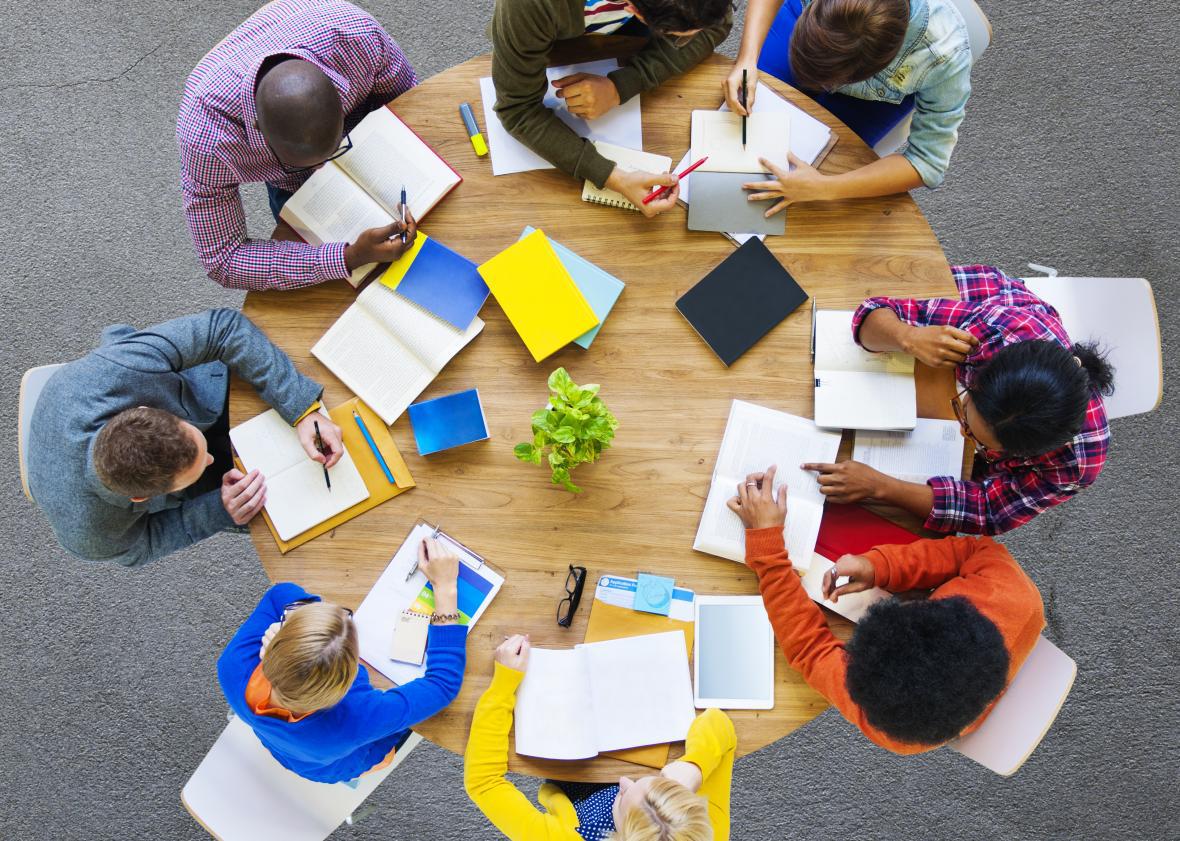 A study released Wednesday by the American Federation of Teachers found that, just as American schools are getting more and more segregated, teachers in several major American cities, including the nation's three largest school districts, are getting progressively less diverse, particularly when it comes to black teachers.
Nationwide, the percentage of nonwhite teachers increased from 12 to 17 percent between 1987 and 2012, but the minority population of students has increased at a much faster rate. Minority students now constitute more than half of the public school student population in the United States, up from 31 percent in 1993 and 41 percent in 2003.
"The State of Teacher Diversity in American Education," released Wednesday by the American Federation of Teachers–affiliated Albert Shanker Institute, studied teacher hiring and retention patterns in nine major U.S. cities—Boston, Chicago, Cleveland, Los Angeles, New Orleans, New York, Philadelphia, San Francisco, and Washington, D.C.—and concluded that achieving the ideal of teacher diversity remains an uphill slog. "As a general rule," the report found,
minority teachers—especially minority male teachers—are underrepresented in these urban workforces, with substantial representation gaps between minority teachers and minority students.
Most distressing of all, the report, which looked at black, Hispanic, Asian, and American Indian teachers, found that, in all nine cities, the "Black share of the teacher workforce declined, at rates from the very small to the quite large." D.C. saw the largest drop in black teachers, from 77 to 49 percent between 2003 and 2011. As Liz Davis, the president of the Washington Teachers Union, said at the press conference announcing the report, "the District of Columbia is seriously hemorrhaging teachers of color." Los Angeles Unified District, by contrast, represented a "rare bright spot," with significant increases in Hispanic teachers at both district and charter schools.
The "diversity gap" between students and their teachers is nothing new: Teaching—which, as Richard Ingersoll from the University of Pennsylvania pointed out at the press conference, represents the "largest occupation in nation"—has long been a white-dominated profession. The real difference is in the changing demographics of the U.S. student population, and the increasing need for the adults at the head of the classroom to reflect that shift.
Teacher diversity matters for several reasons: because minority teachers tend to have higher expectations of minority students than white teachers; because minority students benefit from "relatable" role models; and because a diverse teaching force prepares all students for the realities of life in 21st-century America.  
So what's the problem? It's not recruitment: Minority teachers are being hired at similar rates as white teachers. But they're also leaving the profession at much higher rates than white teachers. The attrition is generally attributed to the "working conditions" at the mostly high-poverty schools where minority teachers are disproportionately employed. These schools also tend to be harder to staff, schools where teachers, whatever their color, are more likely to quit.
The solution is that there's no solution, except to make teacher diversity more of a priority, both at the national and the district level. Randi Weingarten, president of the American Federation of Teachers, asked at the press conference, "If, 60 years after Brown vs. Board of Education, you don't have a real intentional commitment to integration in our teaching force, how are we going to have it in our housing and our schools?" Weingarten ended her remarks by calling on the president to hold a summit on teacher diversity: "Let's see what we can do to create a comprehensive strategy to diversify the teaching force."
---