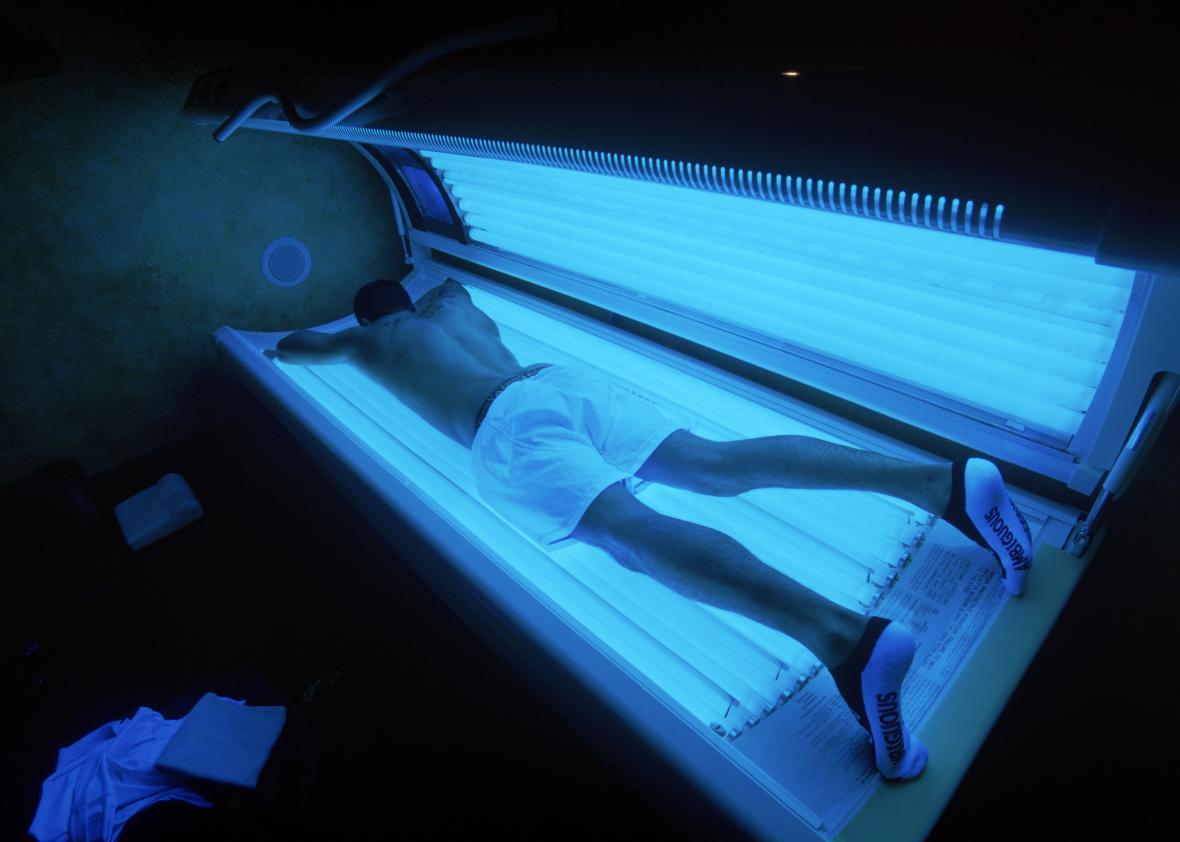 As summer ends and sun-baked skin starts to blanch, New Hampshire wants to make it harder for teens to keep up their tans. The state's legislature passed a bill in March that will prohibit people under the age of 18 from visiting indoor tanning booths and beds starting next Thursday.
Twelve other states have banned minors from indoor tanning, and many more constrain them in other ways. Currently, New Hampshire minors must have signed consent from a parent or guardian to use the tanning devices. But even where it's illegal, and despite the extraordinarily well-publicized risks, teenagers are finding ways onto tanning beds.
"It's weird to say that something that could possibly harm me gives me confidence, but it's the truth," Micki Hirschhorn, 17, told Women's eNews; Hirschhorn says she piles on make-up to avoid being carded on her three-to-five visits to a Texas tanning salon each week. Many teens know that confidence comes with a price, and they're still willing to pay it. "I don't think anybody should be tanning. [But] I still tan," 19-year-old McKenzie Thorpe, who has been tanning regularly since she was 14, told the Concord Monitor.
Tanned skin used to be a marker of outdoor laborers and other members of the underclass in Western society; it first became fashionable in the 1920s, when doctors prescribed sunbathing as a remedy for maladies such as tuberculosis. Once Coco Chanel and Cary Grant took it up, tanning became the new normal for pale seekers of beauty. Impressionable teens aren't the only ones charmed by the allure of a bronzed body; adult women say it makes them feel more confident, too. The sunless-tanning industry has wrung tons of business from the word: Spray-tanning purveyor Mystic Tan markets its goods as "the color of confidence," and plenty of other companies list confidence as one of the main results of their wares. (Incidentally, it's a big day for ladies seeking confidence here at DoubleX!) 
A University of South Florida study found that warnings about the dire health risks of tanning weren't enough to keep women away—but when researchers warned the subjects about skin cancer and gave them magazine articles about the beauty of pale skin, the women were less likely to tan and felt more favorably toward sunscreen. In an Australian study of more than 4,000 adolescents, girls who were least satisfied with themselves sunbathed and used tanning beds more often than girls with high self-esteem. (With boys, it was the opposite, which helps to explain the curious case of Mike "The Situation" Sorrentino.)
It's no wonder, then, that medical warnings and increasingly stringent laws have failed to keep teenage girls away from UV rays. Tan skin in and of itself isn't what women seek when they go to the salon: We seem to have a crisis of confidence, not of tanning beds.
---