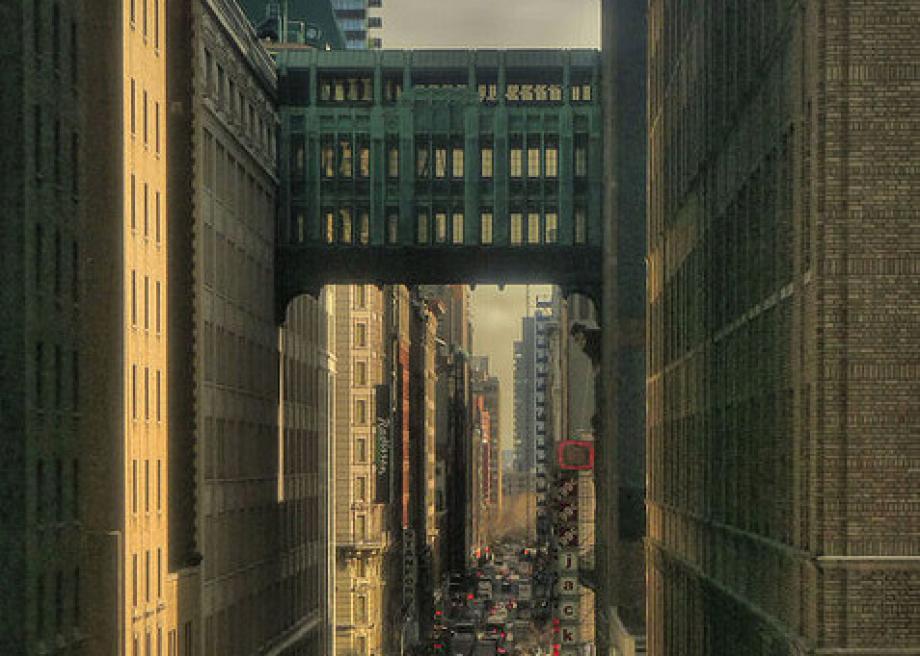 Atlas Obscura on Slate is a blog about the world's hidden wonders. Like us on Facebook and Tumblr, or follow us on Twitter.
If you ever find yourself walking down modern 32nd Street in Manhattan, near 6th or 7th Avenue, be sure to look up or you might miss the opulent three-story skyway built by the same firm that would go on to design the Empire State Building just years later.*
After retail giant Gimbels purchased the Saks Co. in 1923, it became one of New York's largest retailers. Even prior to this, the Gimbels had opened a large New York store taking up the block between 32nd and 33rd Streets, in 1910. After taking ownership of the the Saks-34th Street store, their own store expanded into an annex location in a portion of the building south of 32nd Street. Thus the Gimbels Bridge was born to provide access between their expansion space and the main store.
Built in 1925, the third-story bridge was designed by architectural firm Shreve and Lamb, which would go on to develop the Empire State Building just a few years later. The skywalk is suspended over 32nd Street and features an Art Deco copper facade that has oxidized into a vibrant green. The bridge is in itself almost its own building at three stories tall and featuring wall-to-wall windows on both sides so that people could watch the streets below.
Once open to shoppers, Gimbel's bridge is now mostly sealed off, but visitors rushing to Penn Station can look up and remember a New York where dueling department stores could produce architectural wonders.
For more on Gimbel's Bridge, visit Atlas Obscura!
More wonders to explore:
Correction, Sept. 4, 20015: The post originally misstated that the Gimbel's bridge connected two buildings that made up Saks 34th Street department store.

---