LAS VEGAS—One morning in mid-August, hundreds of newly hired teachers milled about the South Point Casino here—most of them wearing gleaming red capes.
In the current parlance of Vegas schools, teachers are now "superheroes." Beginning in January of this year, the city embarked on a rambunctious teacher-recruitment campaign titled "Calling All Heroes" that aimed to bring about 2,600 new teachers to the district. The effort—which could be considered creative, desperate, or desperately creative, depending on your point of view—featured the superintendent of the Clark County School District, the nation's fifth-largest, zip-lining down Vegas' famous Fremont Street. Last winter, Vegas school officials enlisted volunteers in Boston to spell out the district's website address into a Boston snow bank. And in a district-created Web video, two elementary school–aged news anchors announced: "Breaking news! Turns out that we are in crisis, as we have a severe hero teacher shortage!"
Clark County, like a growing number of school districts across the country—including Providence, Rhode Island; San Francisco; and Los Angeles—does indeed have a severe teacher shortage. Even with the marketing campaign, which recruited slightly more than 1,700 teachers to Clark County, the school district still started the school year short about 800 teachers. While it's tempting to imagine teachers swooping in to fill the gap, red capes flowing in the wind, these openings will be filled with long-term subs who may have no experience in the classroom.
As baby boomers retire and applications drop to both traditional education schools and alternative programs like Teach for America, a growing number of school districts are expected to face teacher shortages comparable to Vegas'. But Sin City's attempted remedies might be most instructive in teaching us what not to do when scrambling to fill teacher vacancies nationally. The emphasis has been on using glitzy, if mostly inexpensive, strategies to get teachers in the door with far less focus on holding onto veterans who are already there.
"Well-paying jobs with good conditions don't have to have gimmicks to attract quality people," says Richard Ingersoll, a professor of education at the University of Pennsylvania who studies teacher demographics and retention. "You have to put your money where your mouth is, or I guess in this case where your zip line is." He says districts should focus on retention instead of flashy recruitment techniques. "It's not that we can't recruit new teachers; it's that we lose too many."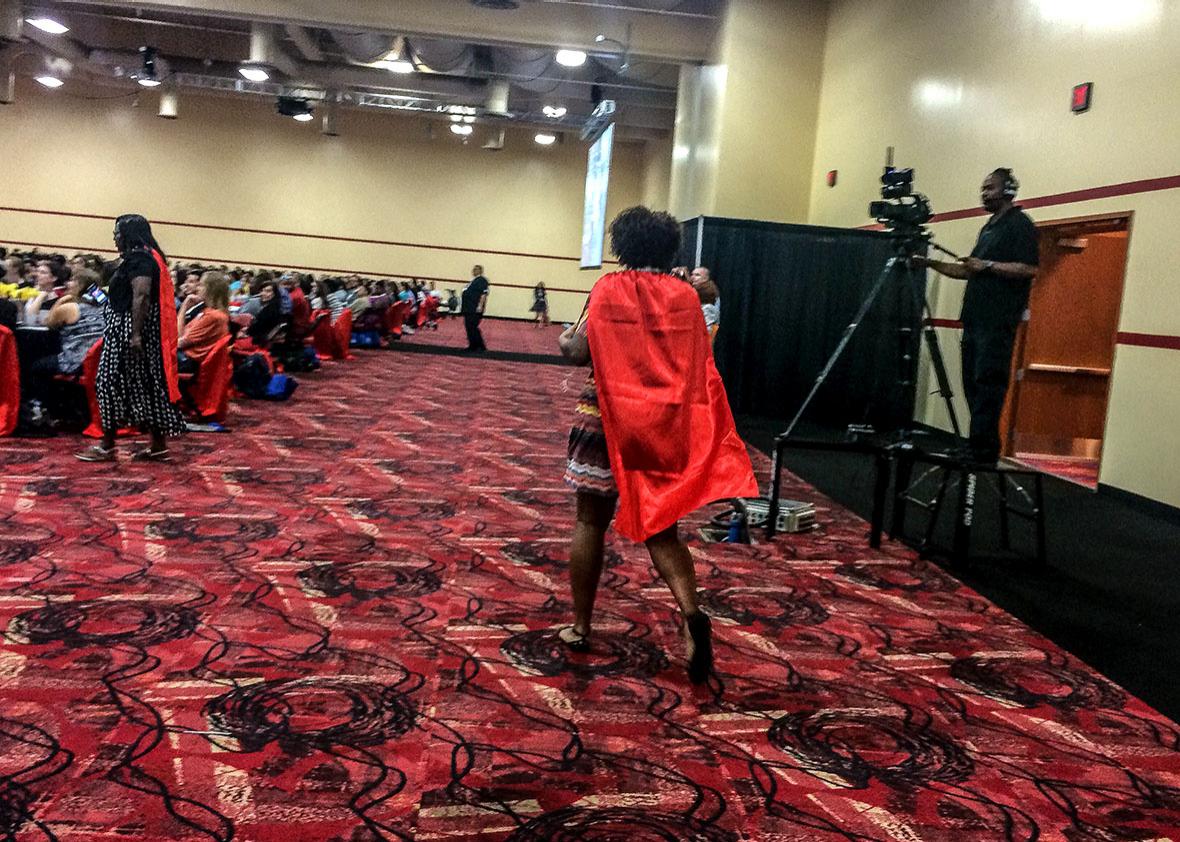 Las Vegas represents an extreme example of a mounting national problem. As with the housing crisis, the teacher shortage has struck Vegas with a force unmatched in most of the country. Given the city's booming student population and comparatively low starting teacher's salary of $35,000, this year's needs were monumental—and came at one of the worst possible times. 
"After the recession, people don't see teaching as stable anymore," says Staci Vesneske, chief human resources officer for the Clark County district.   
The "Calling All Heroes" campaign was a determined effort to solve the problem. Without enough money to hire an external public relations team, the human resources department's administrators—the majority of whom are former teachers—came up with the superhero campaign on their own, bringing in volunteers from public relations departments at some of Vegas' most famous casinos to offer feedback.
"I never feel like I'm just selling a job; I feel like I'm selling a city and a community," says Vesneske, who talks with pride of Vegas' low cost of living and fantastic weather. Her enthusiasm for the campaign is obvious. She's made "Heroes (We Could Be)" by Alesso the ring tone on her phone, set up a flash mob of enthusiastic dancers to draw attention to the campaign, and hosted a cape-bedazzling competition with her human resources staff.
District officials are still awaiting results from a survey they sent out gauging newly hired teachers' views on the superhero campaign, but Vesneske says she is confident that it worked. While the district was still short hundreds of teachers at the start of the school year, it had more success attracting experienced educators than in recent years, she says.
Even as they mingled in their fancy red capes, new teachers say they felt ambivalent about the marketing campaign.
Jayne Gray, a veteran teacher who moved from Los Angeles to teach students with autism in Las Vegas, says she thought it was "interesting" but says the superhero imagery played little role in her decision. While she says moving meant "a significant pay cut," she will be able to draw retirement from her teaching job in California while working full time in Nevada—a place she'd rather eventually retire.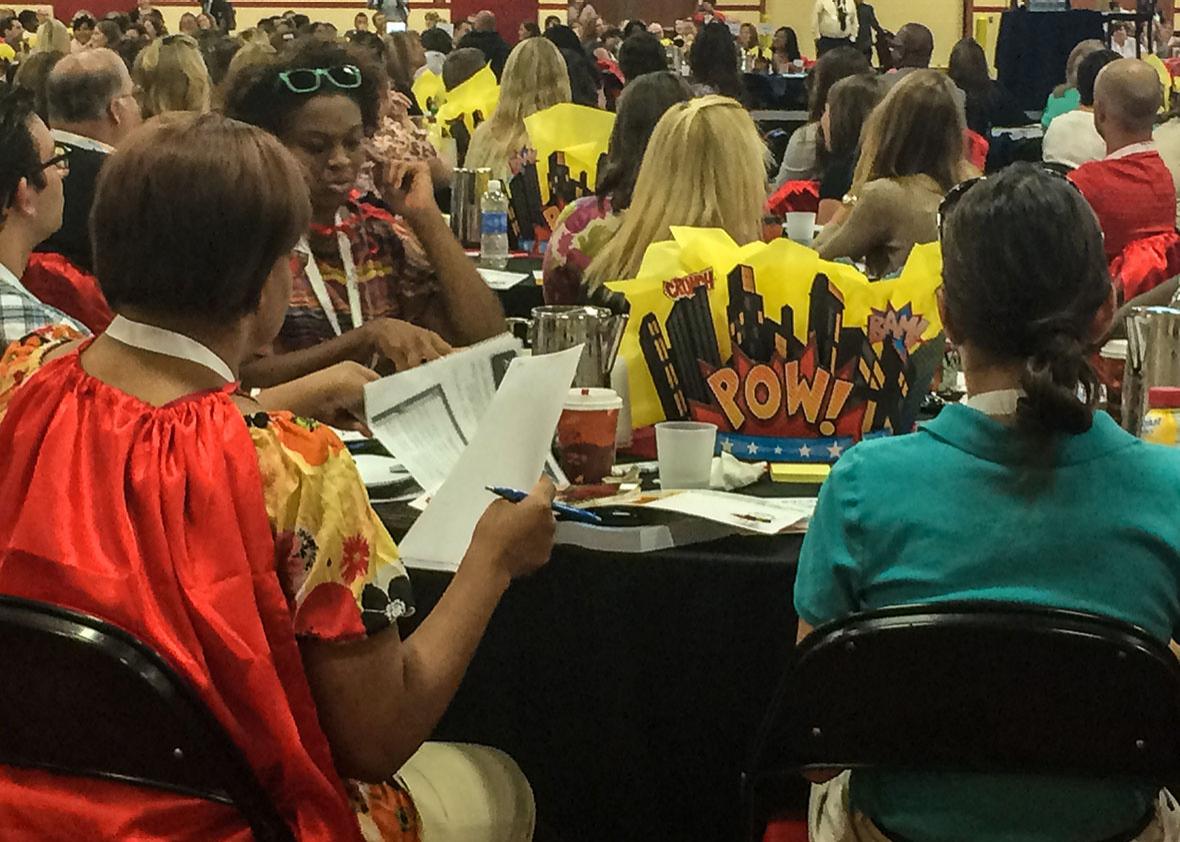 Jessica Recarey will be a first-year Teach for America corps member this year, teaching seventh-grade math at a high-needs middle school. She grew up in Las Vegas and says the campaign "doesn't do it for her."
"I don't believe that I'm a superhero because I don't think my kids or my community need saving," she says. "I just want to give them tools to help themselves."
* * *
So if Las Vegas doesn't need superheroes, what does it need?
According to experts like Ingersoll, the city and others facing similar problems shouldn't try to boost recruitment with glitzy PR blitzes. Instead, he says, they should create a stable, positive environment so that seasoned teachers want to stay.
Unfortunately, the Clark County School District is hamstrung in terms of how much it can do to make working conditions better for teachers, particularly when it comes to pay. Superintendent Pat Skorkowsky says his district works closely with the state legislature but that "there is only so much we can control" when it comes to how much the state spends on education. 
The state of Nevada's per-pupil spending is among the lowest in the country. Las Vegas schools pay first-year teachers slightly less than $35,000 a year. By contrast, many similarly large districts in Texas and California start teachers at around $50,000. Recognizing how low the starting salary is, Clark County heavily advertises its pay structure as a remedy. That structure moves teachers quickly through the pay scale so they can very quickly exceed salary levels in neighboring districts. It also awards raises for hours of advanced degrees earned, instead of waiting to raise pay only after a master's degree has been completed.
"Once you commit to us, there is opportunity to move up that ladder faster than you would in other districts," says Chris Garvey, vice president of the Clark County school board.
But teachers say the new hires are being misled by the advertised structure. The Clark County school board has voted to freeze the schedule four times in the last six years and has been successful twice—including for this school year. (In the other two cases, the teachers union successfully negotiated to reinstate the raises.) 
Ashley Lucas, a Teach for America corps member who will teach second grade in Las Vegas this year, was surprised to learn about the attempted freezes. Other new teachers were similarly unaware of the issue.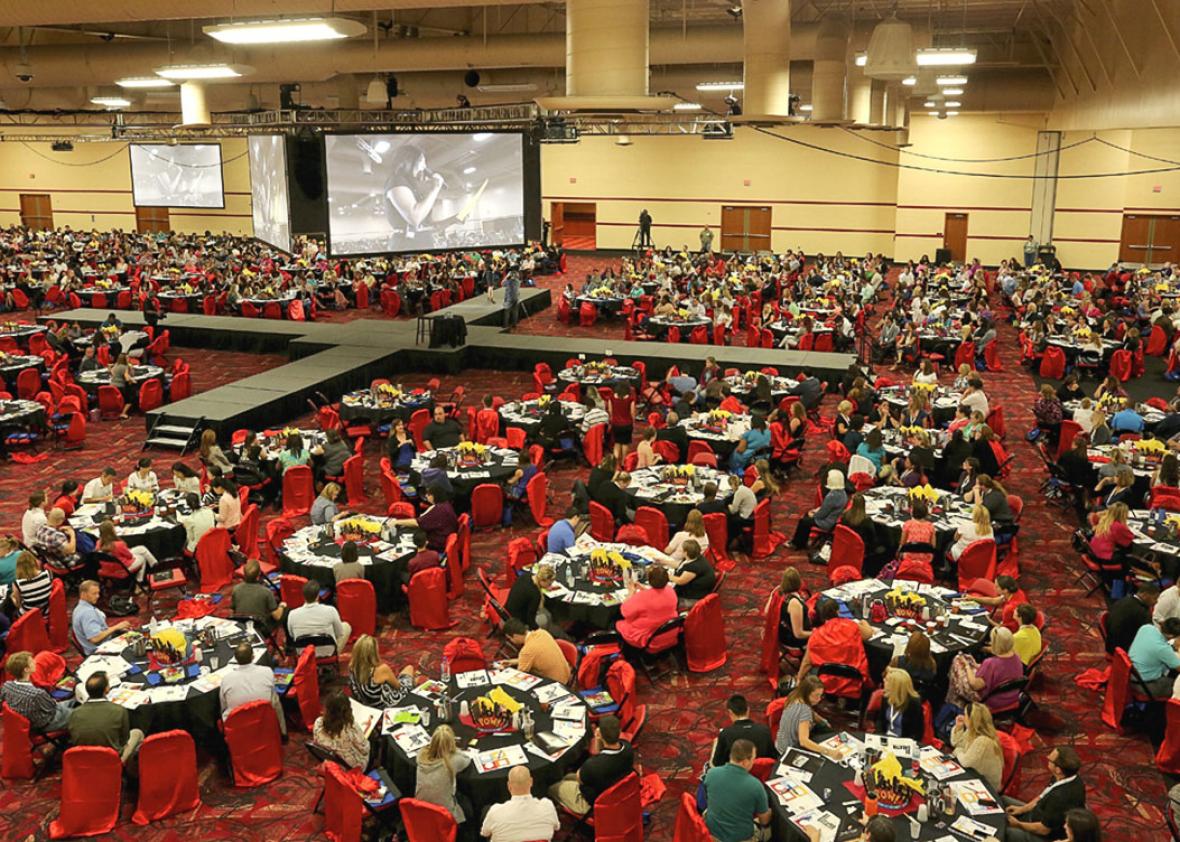 Garvey says the pay freezes have occurred because "we had the recession, just like everyone else but worse." She doesn't think the history of attempted freezes should dissuade new teachers from believing Vegas will stick to the pay schedule as advertised, calling growth a part of Clark County's "culture."
"We're in a transition piece, but the philosophy and our history shows that once committed we do look for ways to move people up the ladder," Garvey says.
But even in negotiations over salaries and budgets, the district seems to prioritize the need to attract new teachers over the need to retain ones who are already there. It recently extended an offer to the union that many consider a slap in the face of veteran educators. It includes a $5,000 raise—but just for first-year teachers. (It also includes scheduled increases for teachers who obtained a master's degree.)
John Vellardita, the executive director of the local teachers union, says the union has already rejected the plan because the raises would have only have been given to about 3,000 of the nearly 18,000 teachers in Clark County.
"It is becoming clear that there is a huge gap between us. If they don't raise their offer, we'll soon be at an impasse," he says. The next step would be arbitration.
Michelle Booth, a spokeswoman for the school district, says the district has no other choice—unless it wants to bleed schools of resources and supplies. Administrators aren't receiving raises this year either, she says.
Still, some veteran teachers feel particularly slighted by the latest round of budget negotiations. 
Jennifer Manning, a high school teacher who has taught in Las Vegas schools for nine years, was one of about 40 teachers protesting this year's pay freeze for teachers in front of a school board meeting in mid-August. She earns $49,000—$6,000 less than she would if the district followed the advertised pay schedule. "We don't feel like we should have to beg every year for something that is agreed upon," she says.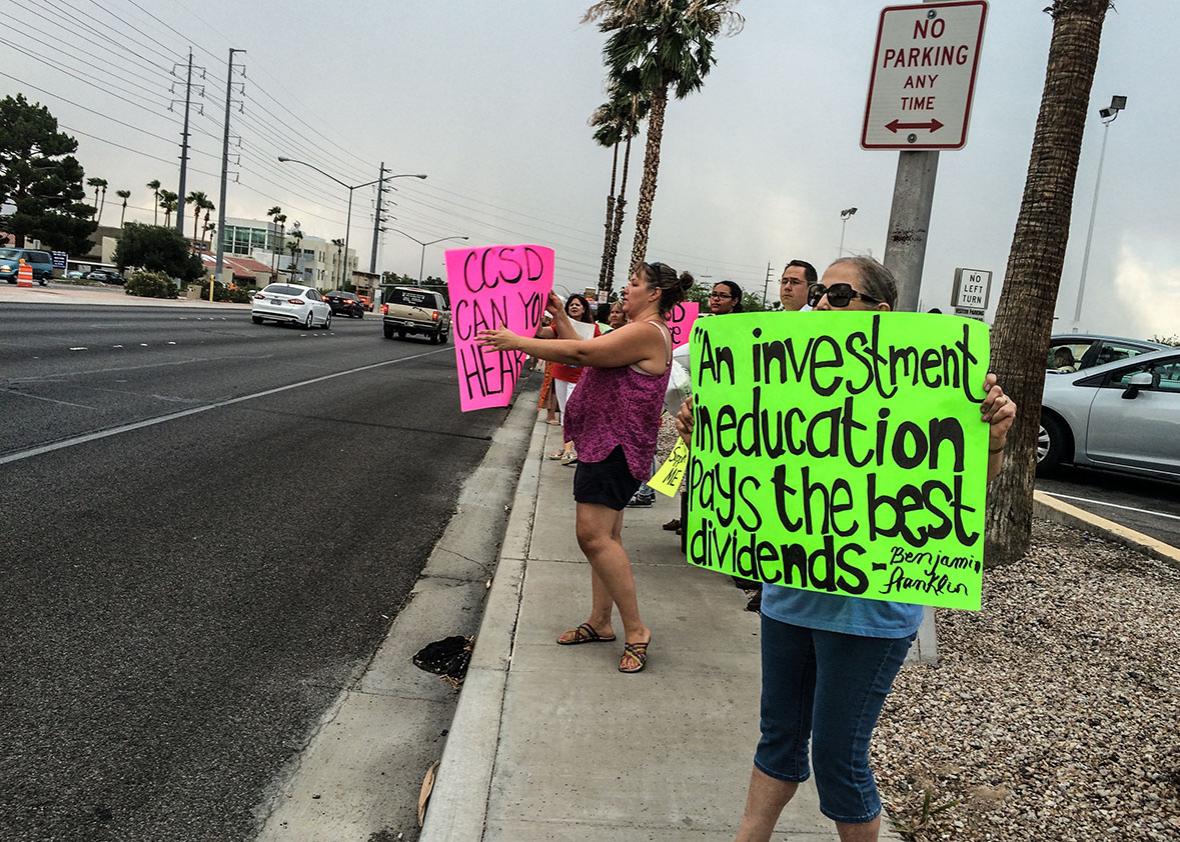 Behind her outside the meeting, dozens of teachers marched with picket signs chanting, "Don't hide it! Don't fudge it! There's money in the budget!" Some wore capes they'd made from scraps of fabric and bed sheets.
* * *
It's not just the salaries. It's also the conditions in Clark County classrooms that drive teachers to leave.
Samantha Jones left Clark County in June after teaching there for eight years. She says she no longer felt respected as a professional. After teaching kindergarten for years, Jones' school assigned her to fill a fifth-grade vacancy over her objections. "I loved kindergarten. I thought I'd be a teacher for 70 years," she says. "But … they moved you around against your will."
While pay is obviously a large concern, Ingersoll says there are dozens of things schools can do to increase teacher retention without spending a dime. He says one of the best ways to improve teacher retention is by "giving them a voice" in the classroom. "One of the largest gripes is the lack of input into the key decisions that impact their jobs," he says. 
Attrition rates have risen in Clark County every year since 2010. Including retiring teachers, the number of educators who left the district grew from almost 5.8 percent in 2010 to 8.7 percent in 2014. About a third of survey respondents don't provide a reason for their departure. Given that lack of specificity, it's difficult to compare Vegas' attrition rates to national averages.
Vesneske says the district is working to solve the problem by improving training for principals in building strong school cultures and communicating more effectively with teachers. She notes that the district has improved its retention of first-year teachers: Eighty-seven percent of first-year teachers from the 2014–2015 school year stuck around for a second year, compared to 80 percent from the previous school year.
Increasingly, Vegas is experiencing something of a chicken-and-egg problem when it comes to improving working conditions for teachers. Because the district doesn't have enough teachers, it often has to shift them around unexpectedly and staff classrooms with long-term substitutes. And that puts pressure on everyone.
Karlana Kulseth, a high school teacher in the district, says the 800 long-term subs place an even greater burden on teachers, who are expected to find the time to mentor them for no extra pay. "Not only do they lack classroom-management skills, they don't understand what instruction even is," she says.
Subs in Clark County must be certified as substitutes before they can begin teaching; they receive several hours of instruction in lesson planning and classroom management. They also must have 62 hours of college credit—far below what's needed to complete a bachelor's degree. The courses do not have to relate to the subject the sub is assigned to teach.
Skorkowsky says the time spent mentoring subs should be negligible. "Depending on the school, most of these teachers already plan together," he says. "Teachers are usually very open to helping each other out."
But Jeremy Christensen, a high school math teacher in Las Vegas, says the minimal requirements for substitutes mean they will always need some mentoring. "You could have 60 credits of art and go sub for math," he says. "It's like going for open-heart surgery and getting a podiatrist."
If Vegas can successfully redirect some of its energies from recruitment to retention, it could become a model for cities grappling with their own teacher shortages. But the city will have to work harder to prevent so many teachers from suffering the fate of a quintessential Vegas tourist: scurrying away from all the glitz a little wiser and a little wearier—accompanied by the feeling that his or her pocket has been picked dry.
Correction, Sept. 22, 2015: Due to a production error, this post was originally published with the wrong byline. It is by Jessica Huseman.