Due to the danger inherent in working with fugitives from slavery, many people who assisted runaways in their escapes either didn't keep records or eventually burned their notes. For years, the records of William Still, a Philadelphian who thought it was important to preserve his documentation in hopes of reuniting families desperate for information about loved ones, were unique in the amount of primary data they could offer about the workings of the Underground Railroad. 
An undergraduate student at Columbia University who was working on a thesis about the career of New York journalist Sydney Howard Gay first told historian Eric Foner about the existence of this book, Gay's Record of Fugitives. Foner, one of our guests on the most recent episode of our History of American Slavery podcast, used the material in Gay's Record to write his book Gateway to Freedom: The Hidden History of the Underground Railroad. (We recently ran an excerpt of Foner's book on Slate.)
Gay's book records the cirumstances of the fugitives before they came north to New York, routes taken and dangers dodged between their points of departure and his office, and, often, their reasons for leaving. "In powerful, contradictory ways, family ties affected slaves' decisions about running away," Foner writes. "Escape from slavery generally involved wrenching choices about whether family members should leave or stay." Gay recorded some details about those family structures, noting when fugitives described plans for reuniting with people left behind. 
Gay also noted how much money he spent on each fugitive. The name of Louis Napoleon, a black collaborator who would often serve as the runaways' first point of contact with Gay's office or physically escort fugitives to their next destinations, appears many times. 
Columbia's library has put together an online version of the Record, with transcriptions of the book's contents, as well as facsimiles of its pages. The transcriptions below come from that website.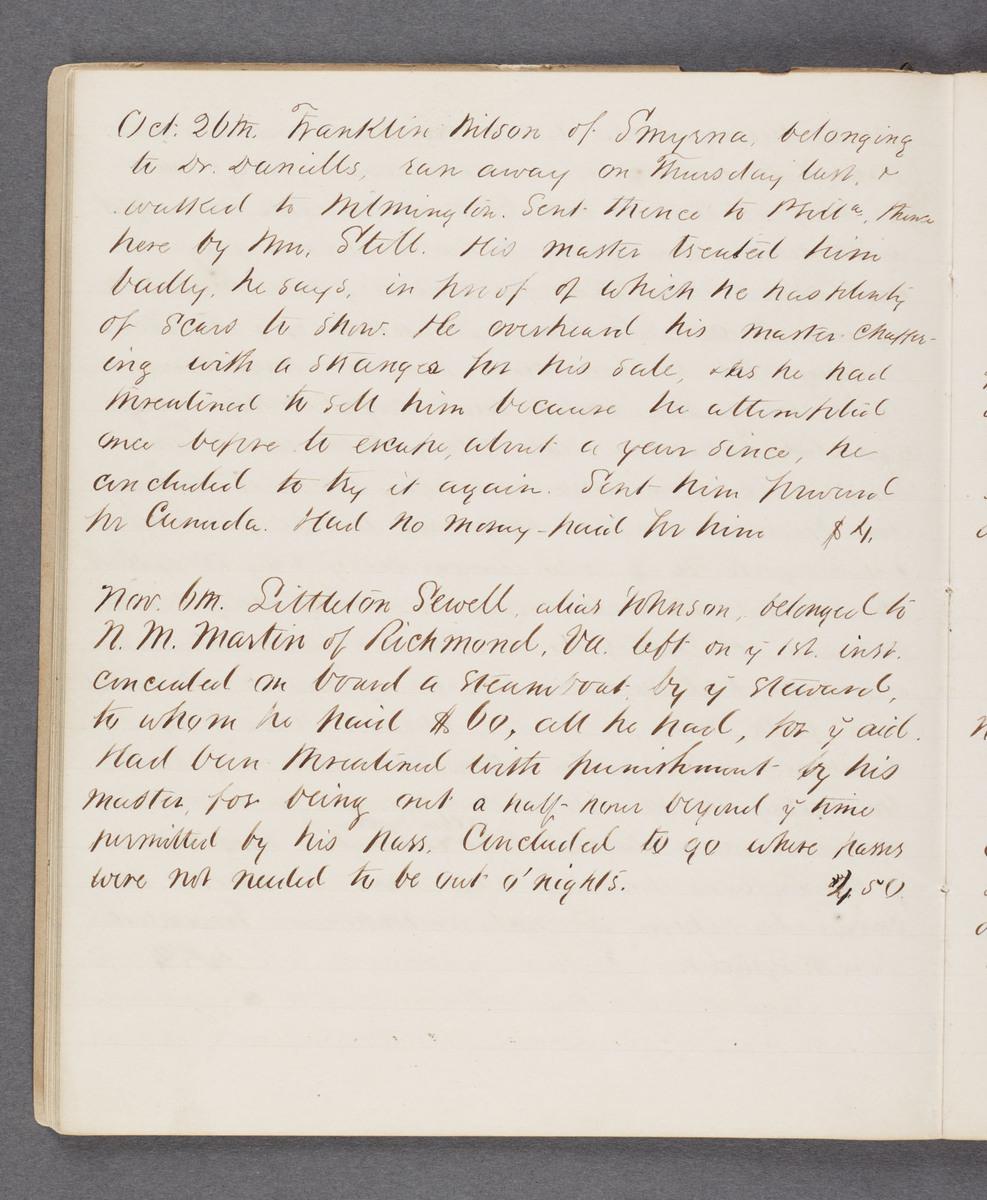 Oct. 26th. Franklin Wilson of Smyrna, belonging to Dr. Daniells, ran away on Thursday last, + walked to Wilmington. Sent thence to Phila, thence here by Wm. Still. His master treated him badly, he says, in proof of which he has plenty of scars to show. He overheard his master chattering with a stranger for his sale, + as he had threatened to sell him because he attempted once before to escape, about a year since, he concluded to try it again.
Sent him forward for Canada. Had no money–paid for him                            $4

Nov. 6th. Littleton Sewell, alias Johnson, belonged to N.M. Martin of Richmond, Va, left on y 1st inst. concealed on board a steamboat by y steward to whom he paid $60, all he had, to y aid. Had been threatened with punishment by his master, for being out a half-hour beyond y time permitted by his pass. Concluded to go where passes were not needed to be out o' nights.                            $4.50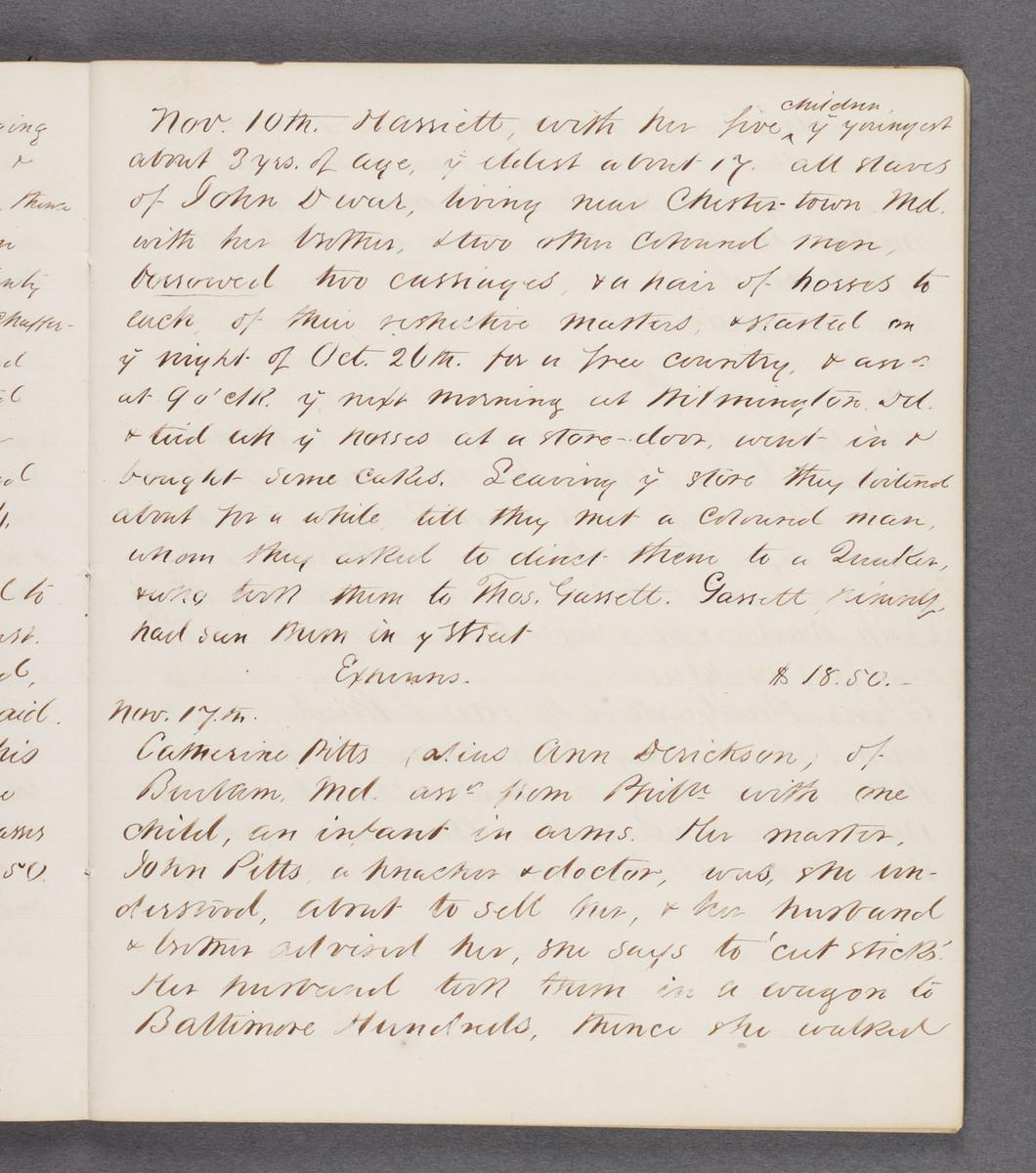 Nov. 10th. Harriett [Shepherd], with her five children, y youngest about 3 yers. of age, y oldest about 17, all slaves of John Dwar, living near Chester-town, Md.
with her brothers, + two other coloured men, borrowed two carriages + a pair of horses to each of their repective masters, + started on y night of Oct. 26th. for a free country, + arrd at 9 o' clk y next morning at Wilmington, Del. + tied up y horses at a store-door, went in + bought some cakes. Leaving y store they loitered
about for a while till they met a coloured man, whom they asked to direct them to a Quaker, + who took them to Thos. Garrett. Garrett himself had seen them in y street
Expenses                                                                                      $18.50

Nov. 17th.
Catherine Pitts (alias Ann Derickson, of Berlin, Md. arrd from Phila with one child, an infant in arms. Her master, John Pitts, a preacher + doctor, was, she understood, about to sell her, + her husband + brother advised her, she says to 'cut sticks.' Her husband took them in a wagon to Baltimore Hundred [Del.], thence she walked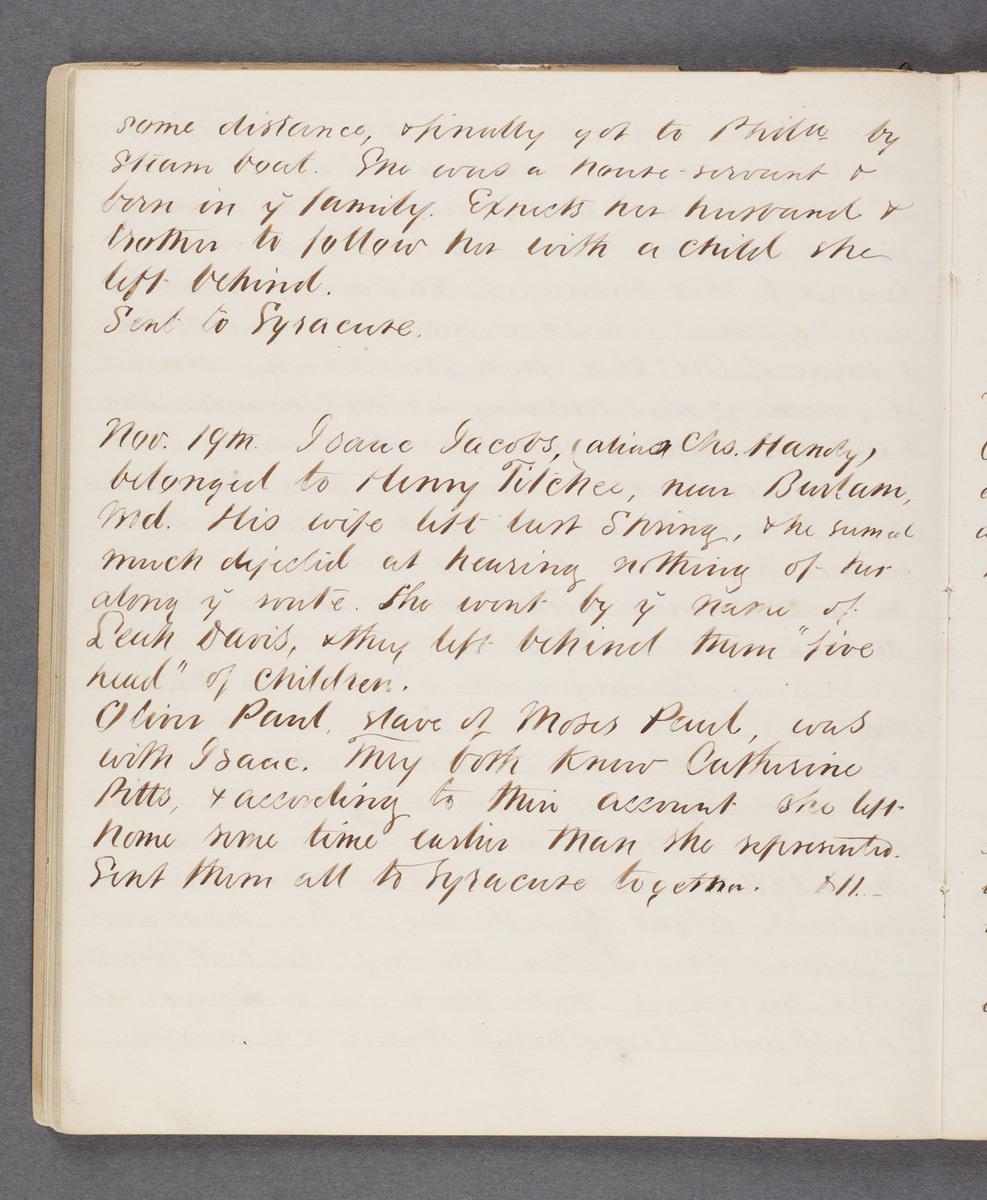 some distance, + finally got to Phila by steam boat. She was a house-servant +
born in y family. Expects her husband + brother to follow her with a child she
left behind.
Sent to Syracuse

Nov. 19th Isaac Jacobs, (alias Chs. Handy) belonged to Henry Tilcher, near Berlin, Md. His wife left last spring, + he seemed much dejected at hearing nothing of her along y route. She went by y name of Leah Davis, + they left behind them "five head" of children.
Oliver Paul, slave of Moses Paul, was with Isaac. They both know Catherine
Pitts, + according to their account she left home some time earlier than she represented.
Sent them all to Syracuse together.                                                   $11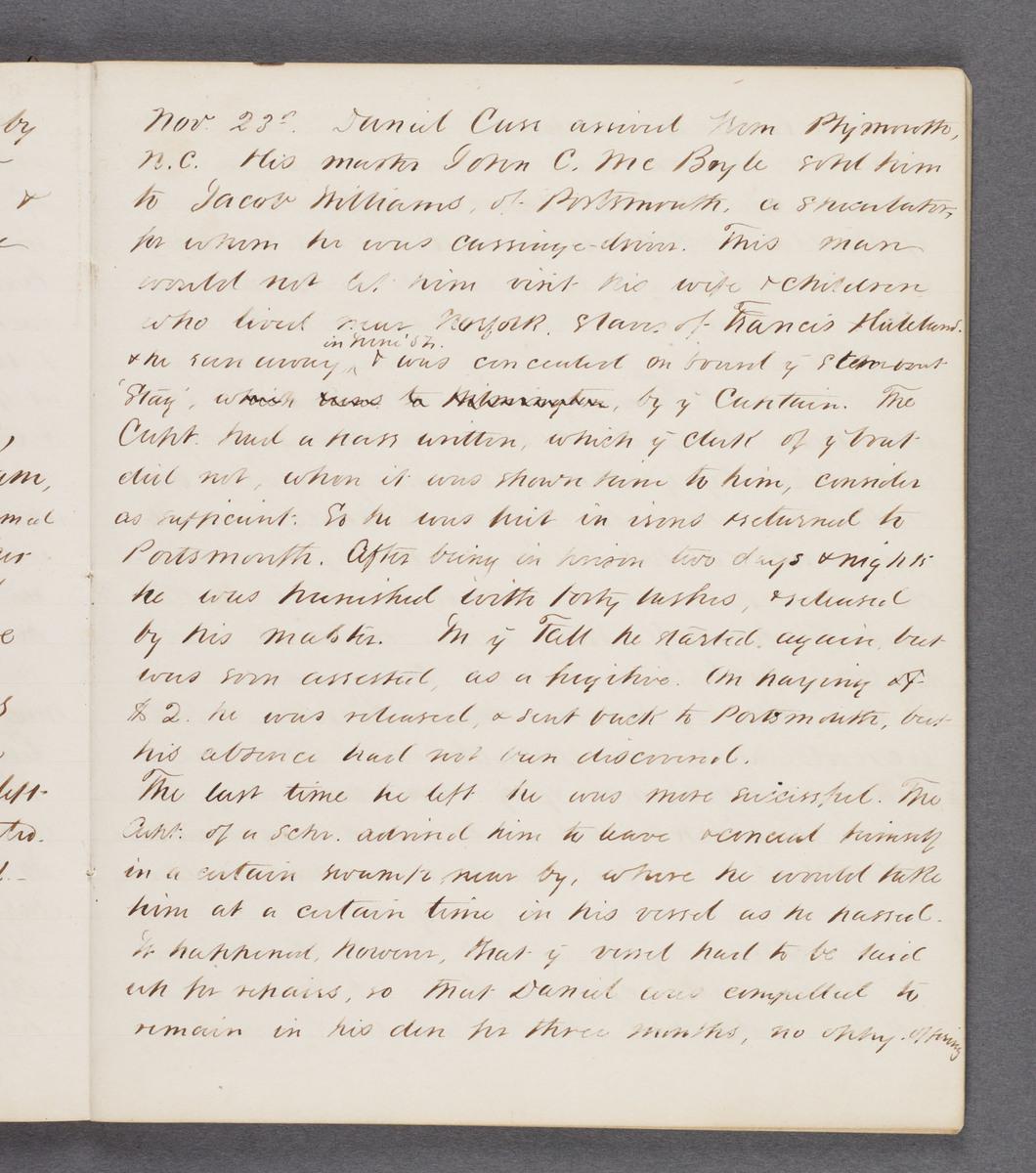 Nov. 23rd. Daniel Carr arrived from Plymouth, N.C. His master John C. McBoyle sent him to Jacob Williams, of Portsmouth, a speculator for whom he was carriage-driver. This man would not let him visit his wife and children who lived near Norfolk. Slaves of Francis Hubbard [?] [Huleband?] + he ran away in June '52 + was concealed on board y steamboat 'Stag,' by y captain. The Capt. had a pass written, which y clerk of y boat did not, when it was shown him to him [sic], consider as sufficient. So he was put in irons returned to Portsmouth. After being in prison two days + nights he was punished with forty lashes, + released by his master. In y Fall he started again but was soon arrested, as a fugitive. On paying of $2 he was released, + sent back to Portsmouth, but his absence had not been discovered.

The last time he left he was more successful. The capt. of a schr. advised him to leave + conceal himself in a certain swamp near by, where he would take him at a certain time in his vessel as he passed. It happened, however, that y vessel had to be laid up for repairs, so that Daniel was compelled to remain in his den for three months, no oppy. offering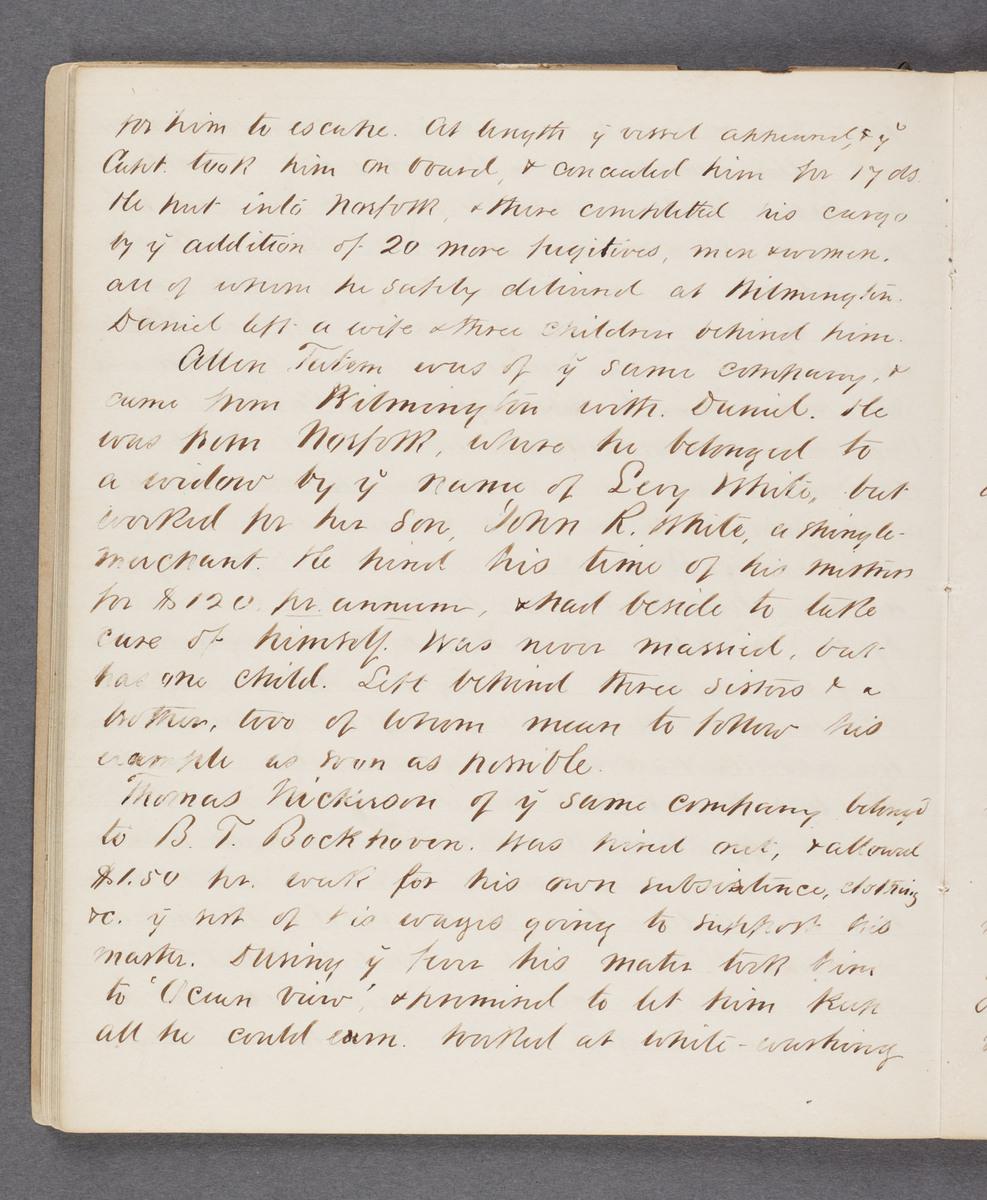 for him to escape. At length y vessel appeared, + y capt. took him on board, + concealed him for 17 ds. He put into Norfolk, + there completed his cargo by y addition of 20 more fugitives, men + women, all of whom he safely delivered at Wilmington. Daniel left a wife + three children behind him.

       Allen Tatem was of y same company + came from Wilmington with Daniel. He was from Norfolk, where he belonged to a widow by y name of Lovy White, but worked for her son, John R. White, a shingle-merchant. He hired his time of his mistress for $120 per. annum. + had beside to take care of himself. Was never married, but has one child. Left behind three sisters + a brother, two of whom mean to follow his example as soon as possible.

      Thomas Nickerson of y same company belonged to P.T. Bockhaven. Was hired out, + allowed $1.50 hr. work for his own subsistence, clothing +c y rest of his wages going to support his master. During y fever his master took him
to 'Ocean View,' + promised to let him keep all he could earn. Worked at white-washing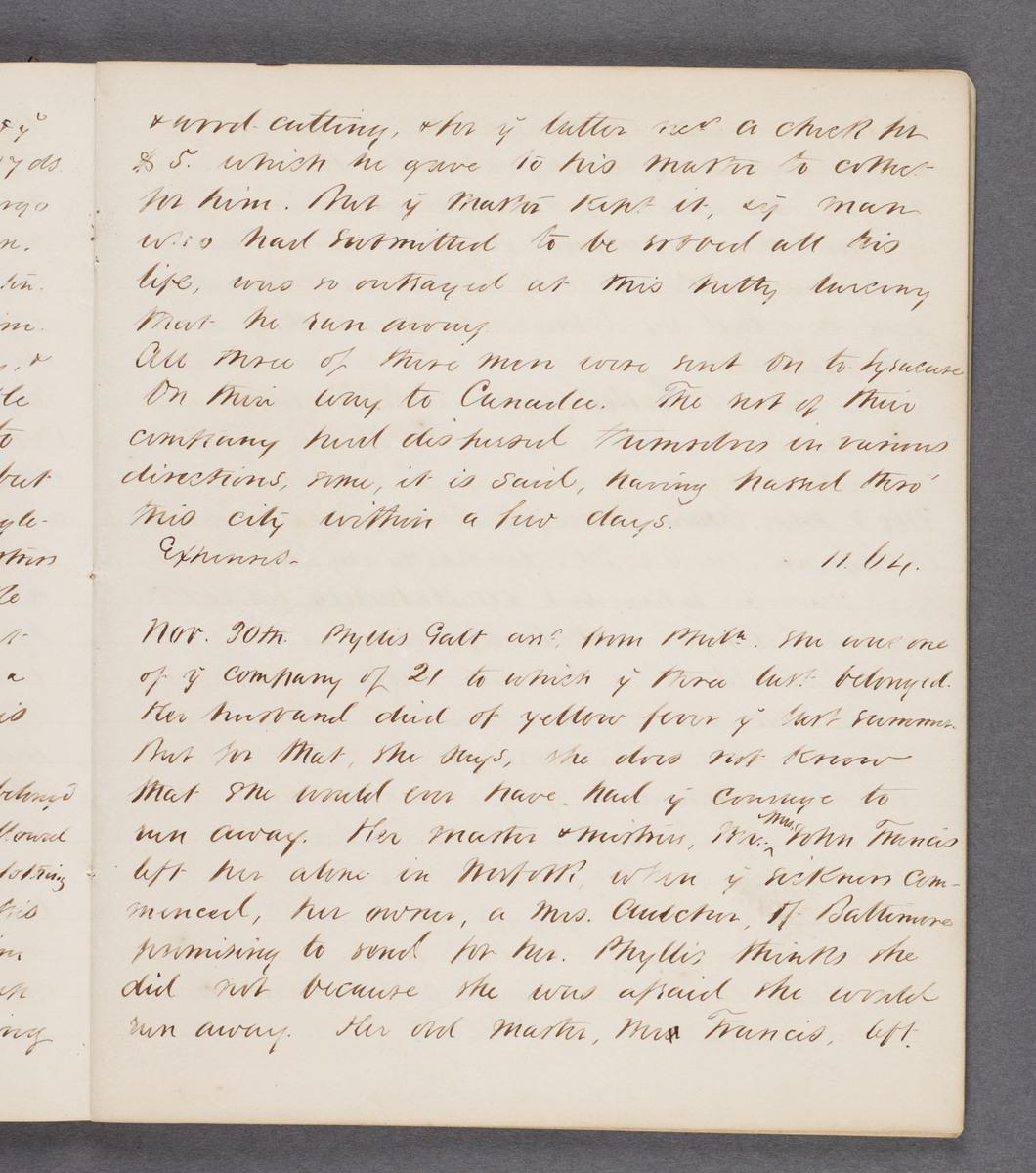 + wood-cutting, + for y latter recd a check for $5 which he gave to his master to collect for him. But y master kept it, + y man who had submitted to be robbed all his life, was so outraged at this petty larceny that he ran away.
 All three of these men were sent on to Syracuse on their way to Canada. The rest of their company had dispersed themselves in various directions, some, it is said, having passed thro' this city within a few days.
Expenses                                                                                       11.64
Nov. 30th. Phyllis Galt arrd from Phila. She was one of y company of 21 to which y three last belonged. Her husband died of yellow fever y last summer. But for that, she says, she does not know that she would ever have had y courage to
run away. Her master + mistress, Mr + Mrs. John Francis left her alone in Norfolk, when y sickness commenced, her owner, a Mrs. Aulcher, of Baltimore promising to send for her. Phyllis thinks she did not because she was afraid she would run away. Her old master, Mr. Francis, left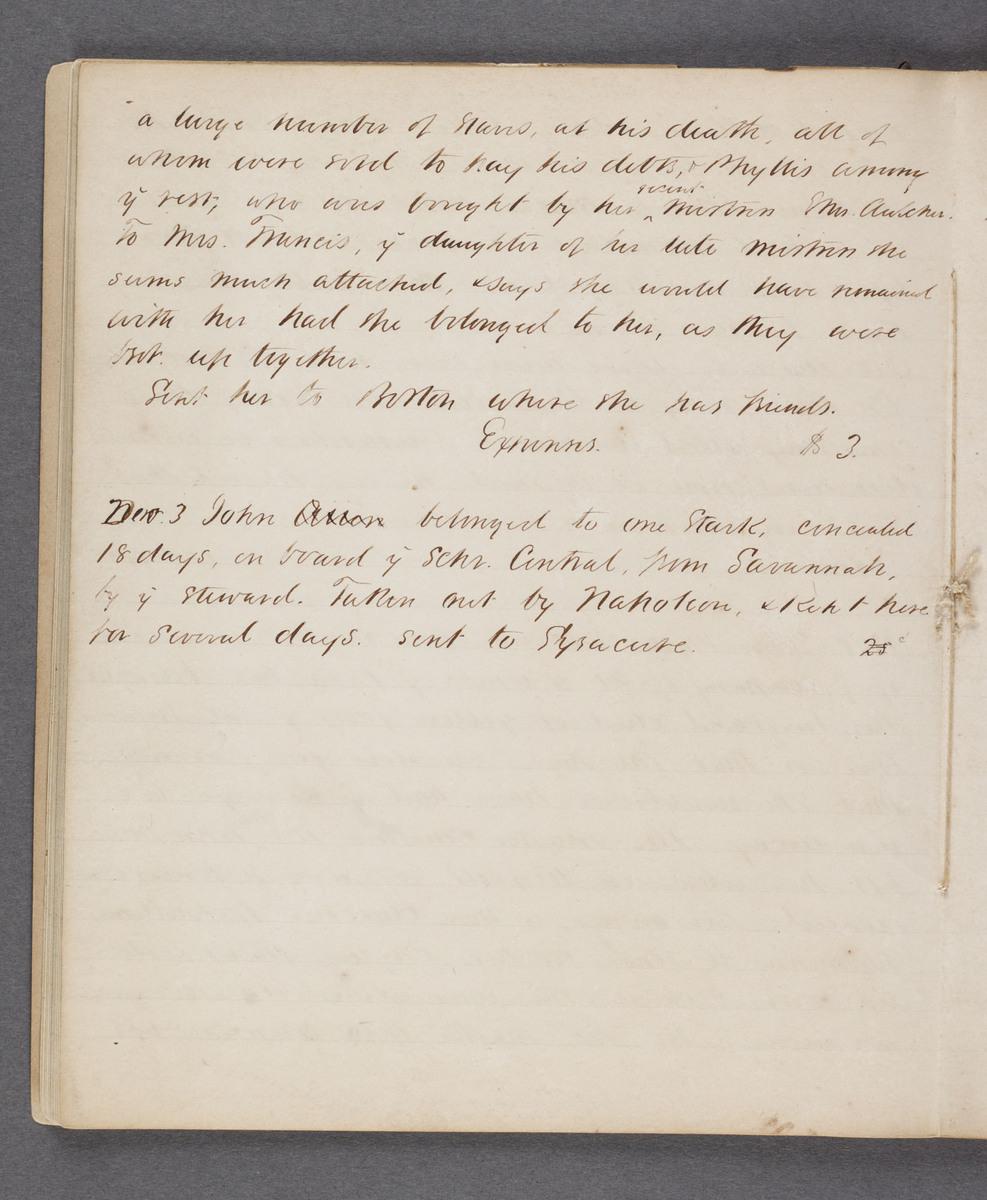 a large number of slaves, at his death, all of whom were sold to pay his debts, + Phyllis among y rest, who was bought by his recent mistress Mrs. Aulcher.
To Mrs. Francis, y daughter of her late mistress she seems much attached, says she would have remained with her had she belonged to her, as they were brot. up together.
            Sent her to Boston where she has friends.
                                    Expenses                                           $3.
 Dec. 3 John belonged to one Stark, concealed 18 days, on board y Schr. Central, from Savannah,by y steward. Taken out by Napoleon, + kept here for several days.
Sent to Syracuse                                 25 [cents symbol][crossed out]